ON THIS DAY in 1908
actor George Dolenz was born in Trieste Italy. He starred as The Count of Monte Cristo in the 1956 TV series of that name (39 episodes.)  He died at age 55 following a heart attack Feb. 8 1963.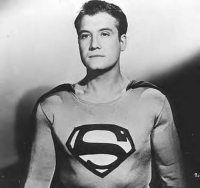 On this day in 1914,  actor George Reeves was born George Lescher Bessolo in Woolstock Iowa.  He starred as Superman in the 1950's TV series, and afterwards found himself cursed as typecast in that role. On June 16, 1959, he was found shot to death at his home in Hollywood. To this day, there remains controversy over whether he killed himself or was murdered because of his affair with the wife of an MGM executive.
On this day in 1923, Sun Records founder Sam Phillips was born in rural Alabama.  His Memphis record studio will always be remembered as the first professional home of Elvis Presley, Jerry Lee Lewis, Johnny Cash, Roy Orbison and Carl Perkins.  He died July 30, 2003 at age 80.
On this day in 1926, TV host Robert Earle was born in Baldwin NY.  He was the second host of GE's College Bowl, an American game show, which had been hosted  on CBS by Allen Ludden, until he left for Password in 1962.  Earle hosted College Bowl during its entire NBC run, from 1962 to 1970.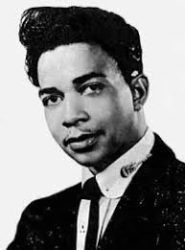 On this day in 1929, singer Wilbert Harrison was born in Charlotte North Carolina. In 1959 he had his only #1 song, Kansas City, one of the earliest collaborations of Jerry Leiber and Mike Stoller. He died Oct. 26 1994 in a Spencer, North Carolina nursing home at the age of 65.
On this day in 1932, one of radio's big hit shows "The Shadow" debuted on the Columbia Broadcasting System (CBS). It would be almost 6 years before Orson Welles became the biggest name to play the title role… just for a year. The melodrama mystery was produced for 22 radio seasons .. and remained on the air for many more years in repeats.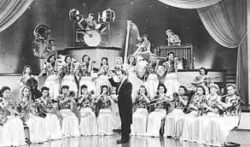 On this day in 1935, Phil Spitalny's All-Girl Orchestra was featured on the debut of CBS radio's "The Hour of Charm".  It ran on various networks until 1946.

On this day in 1938, one of Bing's five sons Lindsay Crosby was born in Los Angeles.  One of the most troubled of the Crosby clan, Lindsay committed suicide  Dec 11, 1989 a month short of his 51st birthday.  He reportedly did it during the Yuletide season because he couldn't bear facing another Christmas — a holiday that brought back graphic, hated memories of the father he despised.
On this day in 1940, the Federal Communications Commission got its very first demonstration of FM radio. The new medium, free of interference, static, and noise in thunderstorms, was developed by Major E.H. Armstrong. The first FM transmitter was put in operation in 1941.
On this day in 1941, Decca record #23210 was recorded. The title: "Chica Chica Boom Chic", by the lovely Carmen Miranda. It seems she sang the song in the film, "That Night in Rio".
On this day in 1950, the No. 1 Billboard Pop Hit was "Rudolph, the Red-Nosed Reindeer" by Gene Autry. The record, which was Autry's only No. 1 song, sold more than 8 million copies and was inducted into the Grammy Hall of Fame in 1985.
On this day in 1952, the song "Slow Poke" by Pee Wee King topped the pop charts and stayed there for 3 weeks.
On this day in 1955, Elvis Presley, along with Scotty Moore and Bill Black were in San Angelo, Texas to begin a three stop tour as the opening act for country headliner Billy Walker. They got $150 per night to split between them.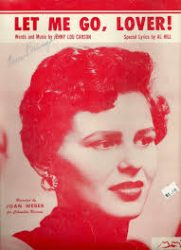 Also in 1955, a tune used in a "Studio One" TV production became the #1 song on the pop music charts. Joan Weber's song, "Let Me Go, Lover", rode the hit parade as the most popular record in the U.S. for four weeks straight.
On this day in 1958, Pat Boone 'signed in' as the mystery guest on the CBS-TV Sunday night panel show "What's My Line?"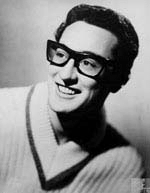 On this day in 1959, "It Doesn't Matter Anymore" backed by "Raining in My Heart" was released by Coral Records. It would be the last release by Buddy Holly before his death in a plane crash less than a month later.
On this day in 1960, the No. 1 Billboard Pop Hit was "El Paso" by Marty Robbins.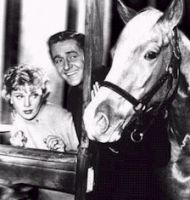 On this day in 1961, the first episode of "Mr. Ed," the talking-horse show starring Vancouver's Alan Young, aired in syndication. It created enough interest that CBS-TV added it to the network schedule that fall, where it played for another 5 years.
On this day in 1963, Leonard Chess of Chess records was quoted by Billboard magazine as declaring, "As it stands today, there's virtually no difference between rock 'n' roll, pop, and rhythm & blues. The music has completely overlapped."
On this day in 1964, CBS-TV's Ed Sullivan Show featured the Singing Nun (Sister Sourire) performing her huge hit "Dominique" as filmed in Belgium. Appearing live were singers Keely Smith and Jane Powell, the Count Basie Orchestra, a magician and a juggler.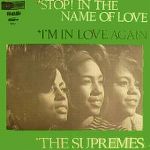 On this day in 1965, in Detroit the Supremes began recording "Stop! In the Name of Love," which would turn out to be their 4th #1 hit in a row. More work was done on the number two days later, and it was completed the following week, on January 11.
On this day in 1967, US folk singer Jesse Winchester crossed the Canadian border at Niagara Falls after being served draft papers for military service in Viet Nam.  He applied almost immediately to became a Canadian citizen..
On this day in 1968, the album "Bob Dylan's Greatest Hits," his 8th LP for the Columbia label, was certified as a Gold Record. It has been his alltime best-seller in the US.
On this day in 1969, Johnny Mathis and Diana Ross & the Supremes headlined CBS-TV's Ed Sullivan Show; the comedy was supplied by the team of Burns & Schreiber plus Rodney Dangerfield.
On this day in 1970, the ABC daytime drama, "All My Children premiered.  The scene: Pine Valley, New York, which later became Pine Valley, Pennsylvania. The story line concerned itself with two families, the Tylers and the Martins. Over the following years, the Martin family was virtually written out of the ongoing trials and tribulations of Dr. Tyler (played by Hugh Franklin and Ruth Warrick as Mrs. Tyler) and their family.  "All My Children" continued each Monday through Friday for more than four decades, concluding its run September 23 2011.
On this day in 1971, ABC's "Alias Smith and Jones" aired for the first time. It ran for three seasons & 48 hour-long episodes.
On this day in 1972, John Denver was awarded a Gold Record for the album "Aerie".
On this day in 1973, Bruce Springsteen released his debut album 'Greetings from Asbury Park, NJ.' It sold only about 25,000 copies in its first year of release.
On this day in 1974, bandleader Roy Bargy, the musical director for the Jimmy Durante radio show, died at age 79.
Also in 1974, The Carpenters went to No.1 on the Billboard album chart with 'The Singles 1969-1973'.
On this day in 1978, the Sex Pistols made their U.S. debut at the Great Southeast Music Hall in Atlanta, while Prince premiered as a solo act in Minneapolis.
Also this date in 1978, Prince performed on stage for the first time in his hometown of Minneapolis. In the audience were scouts from Warner Bros. Records who decided Prince needed a bit more seasoning.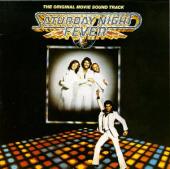 On this day in 1979, the soundtrack LP of "Saturday Night Fever" reached $25 million in sales.
Also this day in 1979, noted jazz bassist Charles Mingus, who suffered from Lou Gehrig's Disease, was felled by a heart attack at age 56.
On this day in 1980, the No. 1 Billboard Pop Hit was "Please Don't Go" by K.C. & the Sunshine Band.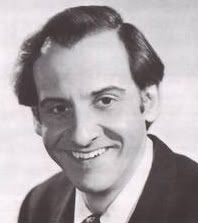 On this day in 1982,  actor Hans Conried died at age 64 of a heart ailment. He was much in demand in bigtime radio, notably in the role of Professor Kropotkin on My Friend Irma.  On TV he played Uncle Toonoose on Make Room for Daddy, and scores of memorable guest roles.
Also this day in 1982, actor Harvey Lembeck, featured with Phil Silvers on the Bilko show, and a regular on The Hathaways, suffered a fatal heart attack at age 56.
On this day in 1984, the group, The Police, announced a farewell concert for March 4 at Melbourne Australia. After nine years together, Sting and the other band members had decided to go their separate ways.
Also this day in 1984, John Lennon's single "Nobody Told Me" was released.
On this day in 1990, noted character actor Arthur Kennedy   died of a brain tumour at age 76.  Although he concentrated on Broadway & bigscreen film work, he did find time for TV in guest roles on the likes of Playhouse 90, Kraft Suspense Theatre, Ford Television Theatre, and The Alfred Hitchcock Hour.
On this day in 1991, the song "Justify My Love" by Madonna topped the charts and stayed there for 2 weeks.
On this day in 1993, original Price is Right model Janice Pennington sued CBS over a show accident. She had been knocked unconscious when a camera hit her during a taping; she eventually received an award of $1.3 million.
On this day in 1994, BBC Radio commentator, Brian Johnston died. He spent 40 years with the BBC.
On this day in 1995, Rogers Cablesystems President Colin Watson said 'We now know we have made a mistake,' as a consumer revolt forced the company to withdraw its negative option billing for seven new specialty cable channels. Unless customers told Rogers they didn't want the channels, they would be automatically billed for them.
On this day in 1998, 
 Rep. Sonny Bono (R-Calif.), the one-time singer/songwriter who gained fame as half of the vocal duo Sonny and Cher, died from head injuries after hitting a tree while skiing at South Lake Tahoe, Calif. He was 62.
On this day in 2000, the Canadian Record Industry Assn. (CRIA) declared Quebec superstar Celine Dion "the best-selling Canadian recording artist of the century."
On this day in 2003, Green Day's lead singer Billie Joe Armstrong was arrested on suspicion of drunk driving after being stopped in California speeding in a black BMW convertible. He failed a breath test and was taken to Berkeley county jail and was later released on $1,053 bail.
Also in 2003, the voice of Little Richard was heard on the "Special Edna" episode of Fox-TV's "The Simpsons."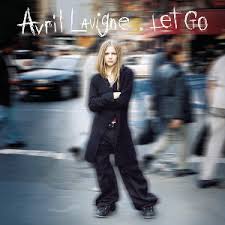 Still in 2003, Canadian singer Avril Lavigne went to No.1 on the UK album chart with her debut release 'Let Go.'
On this day in 2004, the very first HD (High Definition) Radio receiver –
a Kenwood KTC-HR 100 del – went on sale commercially in Cedar Rapids, Iowa.
Also in 2004, Kinks singer Ray Davies was shot in the leg while on holiday in New Orleans. The 59-year-old singer-songwriter was shot when running after two men who stole his girlfriend's purse at gunpoint.
Still in 2004, Britney Spears' marriage to childhood friend Jason Alexander (NOT the Seinfeld star) was annulled. They had been married 55 hours.
On this day in 2008, Josh Groban was at No.1 on the Billboard album chart with his Christmas album 'Noel'.
On this day in 2010, Memphis-based soul musician and producer Willie Mitchell, who shaped the elegant yet gritty sound of Al Green, died of cardiac arrest at the age of 81.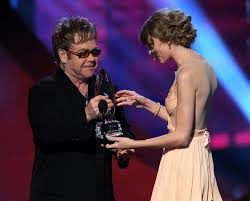 On this day in 2011, Elton John was a presenter at the People's Choice Awards in Hollywood, handing the Favorite Country Artist trophy to Taylor Swift.


Otherwise, hostess Queen Latifah was the only bright spot in an evening cluttered with pop stars and reality show celebrities.
On this day in 2012, Jon Bon Jovi, a member of the Summer Jobs initiative, visited the White House to brainstorm ways to put American youth to work.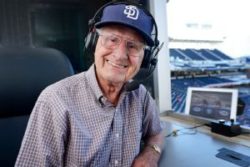 On this day in 2014, baseball player- turned- broadcaster Jerry Coleman, who spent 71 years in the game on the diamond and later in the broadcast booth, passed away after brain surgery. He was aged 89.  Coleman was the play-by-play voice of the San Diego Padres for nearly 40 years beginning in 1972.
Also in 2014, actress Carmen Zapata, who during a six decade career had a regular role on NBC's Santa Barbara, and played the matriarch on Viva Valdez, a 1976 ABC summer sitcom, died at home at age 86. For nine seasons, she starred as the mayor on the PBS bilingual kids show Villa Alegre; she also had guest starred on dozens of episodic TV shows.
On this day in 2016,  Nicholas Caldwell, a co-founding member of the San Francisco-based R&B group The Whispers, died of congestive heart failure at age 71.
On this day in 2017, Sam Lovullo, the longtime producer and driving force behind the country music TV variety show Hee Haw, died at age 88.  When CBS cancelled the show in 1971, he took Hee Haw to syndication where it thrived for another two decades.
Also in 2017, actress Viola Davis was on hand as her new star on the Hollywood Walk of Fame was unveiled.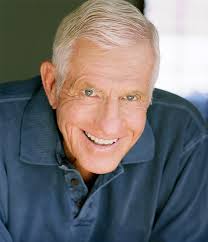 On this day in 2018,Jerry Van Dyke, the younger brother of fellow comedian and actor Dick Van Dyke, died  at home at age 86. He was known for several roles, most notably the assistant football coach on the late '80s and '90s hit ABC show "Coach," the infamous NBC turkey "My Mother the Car," and his several appearances on his brother's classic CBS sitcom "The Dick Van Dyke Show."
Also in 2018, the total number of scripted TV shows during the year reached 487, according to data from FX Networks, surpassing the previous record of 455 the year before.  .
Today's Birthd

ays
Actor Robert Duvall (Broken Trail, Lonesome Dove, Godfather Saga) is 92.
Singer-bassist Athol Guy of The Seekers is 83.
Former PBS talk show host/CBS This Morning's Charlie Rose is 81.
Actress-director Diane Keaton (Northern Lights, Amelia Earhart:Final Flight, Godfather Saga) is 77.
Actor Ted Lange (The Love Boat) is 75.
Rhythm-and-blues musician George "Funky" Brown (Kool and the Gang) is 74.
Rock musician Chris Stein (Blondie) is 74.
Actor Christian De Sica (Mozaart in the Jungle) is 73.
Actress Pamela Sue Martin (Dynasty) is 70.
Actress Cisse Cameron (The Ted Knight Show) is 69.
Actor/voice actor Clancy Brown (SpongeBob SquarePants, Emergence, Justice League, Carnivale) is 64.
Singer Iris Dement is 62.
Actress Suzy Amis (Dead By Midnight, Last Stand at Saber River, The Beneficiary) is 61.
Actor/voicist Wen Jiang (Star Wars: Go Rogue) is 60.
Actor Ricky Paul Goldin (All My Children, Guiding Light) is 58.
Actor Vinnie Jones (Arrow, Deception, Galavant, The Cape) is 58.
Rock drummer Kate Schellenbach (Luscious Jackson) is 58.
Actor Joe Flanigan (Stargate: Atlantis, First Monday, Sisters) is 56.
Actress Emily Longstreth (Rising Son, Too Young to Die, Flying Blind) is 56.
Montreal-born actor Ross Mullan (Game of Thrones, Doctor Who) is 56. 
Dancer and TV judge/TV host Carrie Ann Inaba (Dancing With the Stars, The Talk) is 55.
Guitarist Troy Van Leeuwen of Queens Of The Stone Age is 55.
Actress/TV Personality Heather Paige Kent (AKA Heather Dubrow) (Real Housewives of Orange County, Sequestered, Jenny, That's Life, Stark Raving Mad) is 54.
Actor Shea Whigham (Boardwalk Empire, Agent Carter) is 54.
Vancouver-based actor Paul McGillion (Stargate: Atlantis) is 54.
Actor Guy Torry (As Told to Ginger, The Strip, The Good News) is 54.
Rock singer Marilyn Manson is 54.
Actor Derek Cecil (House of Cards, Banshee, Treme, The Beat) is 50.
Actress-comedian Jessica Chaffin (Big Mouth, Abby's, Man with a Plan) is 49.
Actor Bradley Cooper (Alias) is 48.
Actress January Jones (Last Man on Earth, Mad Men, Huff) is 45.
Actress America Olivo (Degrassi: The Next Generation, Chicago PD) is 45.
Actress Patrice Fisher (Sex Chronicles) is 45.
Actor Garette Ratliff Henson (The Charmings) is 43.
Actor Oscar Isaac (Show Me a Hero) is 43.
Actress/singer Brooklyn Sudano (My Wife and Kids) is 42.
Actress/TV personality Kristin Cavallari (The Hills, Laguna Beach: the Real O.C.) is 36.
Model/actress Suki Waterhouse (The White Princess) is 31.
Actor Franz Drameh (Legends of Tomorrow) is 30.
Actor Maxim Baldry (Hollyoaks) is 27.
Today's

Chart Toppers – Jan 5th
1944
My Heart Tells Me – The Glen Gray Orchestra (vocal: Eugenie Baird)
Paper Doll – The Mills Brothers
People Will Say We're in Love – Bing Crosby
Pistol Packin' Mama – Bing Crosby & The Andrews Sisters
1953
Why Don't You Believe Me – Joni James
Don't Let the Stars Get in Your Eyes – Perry Como
Glow Worm – The Mills Brothers
Don't Let the Stars Get in Your Eyes – Skeets McDonald
1962
The Lion Sleeps Tonight – The Tokens
Run to Him – Bobby Vee
The Twist – Chubby Checker
Walk on By – Leroy Van Dyke
1971
My Sweet Lord /Isn't It a Pity – George Harrison
Knock Three Times – Dawn
Black Magic Woman – Santana
Rose Garden – Lynn Anderson
1980
Please Don't Go – K.C. & The Sunshine Band
Escape (The Pina Colada Song) – Rupert Holmes
Rock with You – Michael Jackson
Coward of the County – Kenny Rogers
1989
Every Rose Has Its Thorn – Poison
My Prerogative – Bobby Brown
Waiting for a Star to Fall – Boy Meets Girl
When You Say Nothing at All – Keith Whitley
1998
Show Me Love – Robyn
Butterfly – Mariah Carey
Together Again – Janet Jackson
Longneck Bottle – Garth Brooks 2007
Irreplaceable – Beyoncé
Fergalicious – Fergie
My Love – Justin Timberlake featuring T.I.
Want To – Sugarland
Today in Broadcast History compiled by Ron Robinson