…'TWAS THE NIGHT BEFORE CHRISTMAS …
ON THIS DAY in 1893
songwriter Harry Warren was born Salvatore Guaragna in Brooklyn. He is regarded as one of America's most prolific but least known composers. Among his many hits are "I Only Have Eyes for You", "42nd Street", "Chattanooga Choo-Choo", "Serenade in Blue", "Jeepers Creepers" and "You're Getting to Be a Habit with Me."   He won Best Song Oscars for "Lullaby of Broadway", "You'll Never Know", & "On the Atcheson, Topeka and Santa Fe." He died Sep 22 1981 at age 87.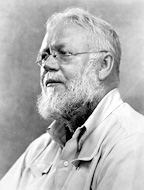 On this day in 1906,  Quebec physicist Reginald A. Fessenden sent his first radio broadcast from Brant Rock, Mass. near Boston. The Christmas Eve program featured a female vocalist and Fessenden himself playing 'O Holy Night' on his violin for telegraph operators and other sailors aboard ships in the Atlantic and Caribbean.
On this day in 1910, orchestra leader Mitchell Ayres was born in Milwaukee.   He became musical director for Columbia records, and directed the orchestra throughout Perry Como's TV career, as well as on ABC-TV's The Hollywood Palace.  He was struck by an automobile and died Sep 05, 1969 in Las Vegas, at age 58.
On this day in 1914, bandleader Ralph Marterie was born in Naples Italy,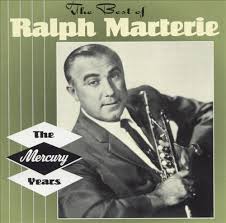 but came to the US as a child.  He began playing on radio as early as 1937.  Called the "Caruso of the trumpet" he was said to have taken his band on the road in 1949, and stayed there for 30 years… one of the last remnants of the big band era.  His lead singers included Vic Damone & Rusty Draper.  He died Oct 10, 1978 at age 63.
On this day in 1916, radio/TV/film writer Morton Fine was born in Baltimore.  With partner David Friedkin he wrote extensively for the network radio series 'Broadway is My Beat', 'Bold Venture', 'The Front Page', 'The Lineup', 'The Philip Morris Playhouse' and 'Crime Classics.'  Later they penned scripts for the early TV westerns 'The Rifleman', 'Maverick', 'The Big Valley', 'The Virginian' &c.  He died March 7 1991 at age 74.
On this day in 1922, the BBC broadcast the first British radio play. It was entitled,"Truth about Father Christmas".
On this day in 1928,  the first broadcast of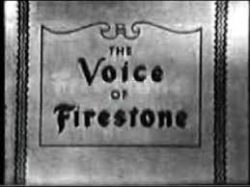 "The Voice of Firestone" was heard, Monday night at 8:30. "The Voice of Firestone" became a hallmark in radio broadcasting, keeping its same night and sponsor for its entire 27 year run. Beginning September 5, 1949, the program of classical and semiclassical music was simulcast on television.
On this day in 1932, "Night and Day" by Fred Astaire with Leo Reisman became #1 for 10 weeks.
On this day in 1937, Toronto radio station CRCT became CBL, more than a year after the Canadian Broadcasting Corporation had replaced the CRBC.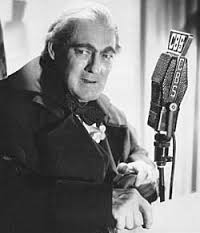 On this day in 1939, the classic radio version of "A Christmas Carol" with Lionel Barrymore as Scrooge aired live for the first time on Orson Welles' Campbell Playhouse on CBS.  On prior Christmasses Barrymore had just read the story beginning in 1934.
On this day in 1944, the Andrews Sisters starred in the debut of "The Andrews Sisters' Eight-to-the-Bar Ranch" on ABC radio. Patty, Maxene and LaVerne ran a fictional dude ranch. George "Gabby" Hayes was a regular guest along with Vic Schoen's orchestra. The ranch stayed in operation until 1946.
On this day in 1948, Perry Como made his television debut when NBC televised the Chesterfield Supper Club 15-minute radio program.
Also this day in 1948, a Midnight Mass was broadcast on television for the first time.  St. Patrick's Cathedral in New York City was the locale for what has become an annual NBC Christmas Eve tradition.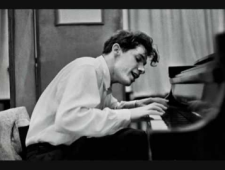 On this day in 1950, Canadian pianist  Glenn Gould made his CBC broadcast debut on 'Sunday Morning Recital.' Gould came to prefer the microphone to the concert stage, and in 1964 gave up performing live.
On this day in 1951, the first opera written for television, Gian Carlo Menotti's "Amahl and the Night Visitors," had its premiere over the 35 stations of NBC-TV.  With Arturo Toscanini conducting, it attracted an estimated audience of 5 million.
On this day in 1953, "Dragnet", starring Jack Webb as Detective Joe Friday, became the first program to be sponsored by a network. (NBC-TV)
Also in 1953, the Ames Brothers recorded their next hit, "The Man With the Banjo."
On this day in 1954, while playing Russian roulette, R&B singer Johnny Ace shot himself and died backstage at a Houston concert. His song "Pledging My Love" became a hit the next year.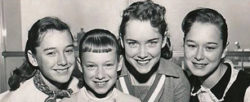 On this day in 1955, the Lennon Sisters debuted as featured vocalists on "The Lawrence Welk Show" on ABC-TV. They became regulars with Welk within a month and stayed on the show until 1968.
On this day in 1956, a special Christmas episode of "I Love Lucy" aired on CBS, but was never put into syndication. Its next airing would be 33 years later.
On this day in 1961, "The Lion Sleeps Tonight" by The Tokens became the first African song to reach number one on the North American pop charts.
On this day in 1962, the No. 1 Billboard Pop Hit was "Telstar" by The Tornadoes. The Tornadoes were the first British group to have a No. 1 hit in North America.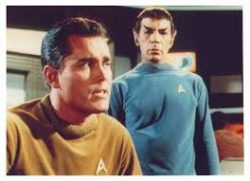 On this day in 1964, shooting began on "The Cage," the original pilot for the NBC-TV series "Star Trek." The captain was played by Jeffrey Hunter, but the network rejected the show and ordered a second pilot.  It was this version that starred William Shatner and made him a star.
On this day in 1965, The Beatles earned a Gold Record for the album "Rubber Soul," just 2.5 weeks after it was released.
On this day in 1966, at Graceland in Memphis on Christmas Eve Elvis Presley presented his houseguest Priscilla Beaulieu with a three-carat diamond ring, saying, "We're going to be married."
Also in 1966, "I Think We're Alone Now" was recorded for Roulette Records by Tommy James and the Shondells.
It soon became a Top Five hit for the group.
On this day in 1967, The Cowsills made one of their two appearances on CBS-TV's Ed Sullivan Show, performing their new single "We Can Fly."  Also on the show wereBobbi Gentry, Arthur Godfrey, the Muppets, and comedian George Carlin.
Also in 1967, The Bee Gees performed their Christmas special 'live' from Liverpool Cathedral, England which was broadcast on UK TV.
On this day in 1968, the moon seemed a little closer to Earth … and the world got a little smaller. Three astronauts, James A. Lovell, William Anders and Frank Borman, had reached the moon. The astronauts would orbit the moon ten times, paving the way for the first Earthling to walk on the lunar surface some seven months down the road. People all around the globe were able to see (via direct TV transmission) the most important parts of the Apollo 8 mission. On this Christmas Eve, the three, 250,000 miles out in space, were reading verses from their bible and calling for "peace on earth."
Also in 1968, Castlegar BC got its second local radio station as CKQR was approved for 1230 KHz with 1000 watts day and 250 watts night. The station has since moved to FM at 99.3 MHz, and is branded as The Goat, part of the Vista group.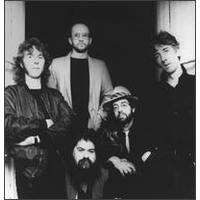 On this day in 1972, police in Miami responding to a noice complaint cut short a concert by Manfred Mann and his Earth Band. Unhappy fans rioted for about two hours while the band members hid in a dressing room.
Also in 1972, David Bowie appeared at the Rainbow Theatre in London, giving a special Christmas Eve concert.
On this day in 1973, Tom Johnson of the Doobie Brothers was arrested in Visalia, Calif, on charges of marijuana possession.
On this day in 1974, Canadian folksinger/songwriter Joni Mitchell went Christmas caroling in her suburban L.A. neighborhood with James Taylor, Carly Simon and Linda Ronstadt.
On this day in 1975, the No. 1 Billboard Pop Hit was "Let's Do It Again" by The Staple Singers.
On this day in 1976, The Eagles' "Hotel California" album was certified to be a  Gold Record.
On this day in 1977, the Bee Gees started a three week run at No.1 on the Billboard singles chart with 'How Deep Is Your Love', the group's 4th No.1. It stayed in the top 10 for 17 weeks giving it the longest chart run in history.
On this day in 1978, Bjorn Ulvaeus & Agnetha Falkstad (half of ABBA) announced their separation and that they were filing for divorce.
On this day in 1984, 
 actor Peter Lawford died of liver & kidney disease at age 61.  As well as an active film career he had leads in two TV series, The Thin Man and Dear Phoebe.  He was also a member of the famous Hollywood Rat Pack, with Frank Sinatra, Dean Martin, Sammy Davis, & Joey Bishop.
On this day in 1988,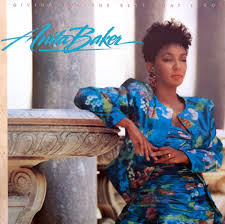 "Giving You the Best that I've Got", by Anita Baker, was #1 on U.S. album charts for four weeks. The other albums in the top five that week: "Rattle and Hum" by U2; The soundtrack from "Cocktail"; "Appetite for Destruction" by Guns N' Roses; and Bon Jovi's "New Jersey". Top pop single was "Every Rose Has Its Thorn" by Poison; it stayed on top for 3 weeks.
Also in 1988, Poison started a three-week run at No.1 on the Billboard singles chart with 'Every Rose Has Its Thorn.'
On this day in 1992, percussionist/vocalist Bobby Lakind, who joined the Doobie Brothers when they re-formed in 1978, succumbed to terminal cancer aged just 47.
On this day in 1994, Pearl Jam's album "Vitalogy" hit #1 for one week in the U.S. 

The other top-five albums of the week were: "Miracles: The Holiday Album", by Kenny G; "Live at the BBC", by The Beatles; Mariah Carey's "Merry Christmas"; and "II", by Boyz II Men.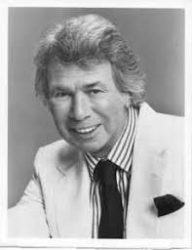 On this day in 1997, actor/writer/producer James Komack, who developed The Courtship of Eddie's Father & My Favorite Martian, among many TV series, died of heart failure at age 67.
On this day in 1999, Zeke Carey of The Flamingos died following a heart attack at age 66. They had the 1959 US No.11 single 'I Only Have Eyes For You', (which was also a 1975 UK No.1 hit for Art Garfunkel).
On this day in 2000, founding member of The Four Seasons, bassist/bass singer/vocal arranger (1960-65) Nick Massi lost his battle with cancer at age 73.  He was with the group for their #1 hits in the early '60's 'Sherry' and 'Rag Doll.'
On this day in 2003, Jack White of The White Stripes turned himself in to Detroit police to face aggravated assault charges stemming from a bar room altercation in which he allegedly attacked Jason Stollsteimer of The Von Bondies.
On this day in 2005, rapper Foxy Brown was handcuffed and threatened with jail after she stuck her tongue out at a New York judge who asked her to stop chewing gum. Judge Melissa Jackson told the singer she had shown disrespect to the court. Brown was up on charges of assaulting two nail salon workers during a row over payment.
On this day in 2006, former CBS president (1946-71) Frank Stanton died at age 98.  Among his many accomplishments he brought about the first Presidential Debate (1960) and led the drive for color TV.
Also this day in 2006, it was announced that U2's Bono had been appointed an honorary knight by Queen Elizabeth II. The British Embassy in Dublin said Bono was being recognized for "his services to the music industry and for his humanitarian work."
On this day in 2008, Linkin Park's "Road to Revolution: Live At Milton Keynes" DVD streamed online for free for 24 hours via the media player on the band's official website. "We wanted to give the fans something special for the holidays," said frontman Chester Bennington.
On this day in 2009, former WABC disc jockey and pioneering TV sports highlights host George Michael lost his long battle with leukemia at age 70.  With 'George Michael's Sports Machine' in the 1980's he is credited with inventing the hyper-clip-style format of shows like ESPN & TSN's SportsCenter.
On this day in 2010, singer Myrna Smith of the r & b group Sweet Inspirations, died in a California hospital at age 69.  She had been a backup singer early in her career for the likes of Elvis Presley, Aretha Franklin, Dusty Springfield and Van Morrison.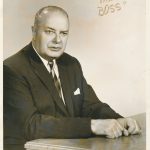 On this day in 2011, Dr G.R.A."Dick" Rice, the founder of CFRN Radio and CFRN-TV(195??) died.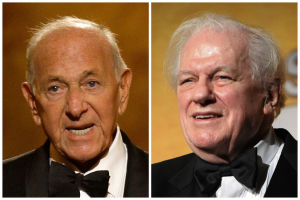 On this day in 2012, we lost two familiar faces on the TV scene. Jack Klugman, who starred in the NBC series Quincy ME and ABC's The Odd Couple, succumbed to prostate cancer at age 90.  And Charles Durning, dubbed "king of the character actors," who had prominent supporting roles on the CBS-TV series Evening Shade and FX's Rescue Me, and played Santa Claus in 4 different TV movies, died of natural causes at age 89.
Also in 2012, Mothers Of Invention co-founder and lead singer Ray Collins died at age 69, after suffering a massive heart attack nearly a week earlier. Collins invited Frank Zappa to join the Soul Giants, the band that eventually became the Mothers Of Invention.
On this day in 2013, Billboard magazine declared "Elvis' Christmas Album" from 1957 as the best-selling Christmas album of them all, having been certified with 10 million copies sold. Kenny G's "Miracles: The Holiday Album" ranked second with sales totalling 7.3 million units.
On this day in 2014, renowned jazz clarinetist Buddy DeFranco died at age 91.  He worked with singers Frank Sinatra, Tony Bennett, Ella Fitzgerald and Billie Holliday, and played with the big bands of Count Basie, Tommy Dorsey, Gene Krupa and Charlie Barnet.
On this day in 2015,  singer William Guest, a founding member of Gladys Knight and the Pips, died of congestive heart failure at age 74.
On this day in 2017, Toronto-born actress Heather Menzies-Urich, who played Louisa Von Trapp in the iconic 1965 film "Sound of Music," who had a co-starring role in the 1977 CBS TV series Logan's Run, succumbed to brain cancer some 6 weeks after receiving a terminal diagnosis at age 68. 
On this day in 2018, reaching a younger audience, "Rock The Rock," by Guns N' Roses singer Axl Rose, premiered in "New Looney Tunes," on the Boomerang streaming service. In the episode, an animated Rose performed with his band Steel Underpants as a giant asteroid headed toward earth.
Today's Birthdays
Actress Sharon Farrell (Hawaii Five-0 1977, Saints And Sinners, The Young & the Restless) is 82
Former Calif. Lt. Governor/record executive/producer Mike Curb (Mike Curb Congregation) is 78.
Toronto-born comedian Steve Smith (Red Green) is 77.
Actor Timothy Carhart (Island Son) is 69.
Actor Clarence Gilyard Jr. (Walker Texas Ranger, Matlock, Chips) is 67.
Actor Grand L. Bush (The Visitor, Hunter) is 67.
Actress Stephanie Hodge (Unhappily Ever After,  Nurses) is 66.
Bassist-synthesizer player Ian Burden of Human League is 65.
Producer/director Lee Daniels (Empire, Star) is 63.
Actor Anil Kapoor (24) is 63.
Actress Eva Tamargo (Passions, The Haves & the Have Nots) is 62.
Actor Wade Williams (Prison Break, The Bernie Mac Show) is 61.
Singer Mary Ramsey of 10,000 Maniacs is 59.
Actor Mark Valley (Crisis, Body of Proof, Harry's Law, Human Target,  Boston Legal) is 58.
Actor/voicist Diedrich Bader (The Drew Carey Show, American Housewife, Miles from Tomorrowland) is 56.
Actor Sean Cameron Michael (Black Sails) is 53.
Actor Amaury Nolasco (Prison Break, The Chase) is 52.
Singer Ricky Martin is 51.
Actor Jeremy Davidson (Army Wives, Pan Am) is 51.
Vancouver-born actress Carmen Moore (Blackstone, Arctic Air, Godiva's) is 50.
Actor Matt Passmore (Satisfaction, The Glades) is 49.
"American Idol" host/radio personality Ryan Seacrest (Live! w/Kelly & Ryan) is 48.
Actor Thure Lindhardt (The Borgias) is 48.
Actress Lynn Chen (Nice Girls Crew, All My Children) is 46.
Actor Michael Raymond-James (Once Upon a Time, True Blood) is 45.
Actress Meghan Glennon (Deadwood) is 42.
Rooney lead singer Robert Schwartzman is 40.
Actor Austin Stowell (Catch-22, Public Morals, The Secret Life of the American Teenager) is 38.
Actress Abigail Klein (Code Black, There's..Johnny) is 34.
Actress Camille Balsalmo (Murder in the First, Treme) is 34.
Actress Sofia Black-D'Elia (Your Honor, The Mick, The Messengers, All My Children) is 31.
Singer Louis Tomlinson of One Direction is 31.
Chart Toppers – Dec.24
1950
Rudolph, the Red-Nosed Reindeer – Gene Autry
White Christmas – Bing Crosby
Nevertheless – Jack Denny
If You've Got the Money Honey I've Got the Time – Lefty Frizzell
1959
Heartaches by the Number – Guy Mitchell
Why – Frankie Avalon
The Big Hurt – Miss Toni Fisher
El Paso – Marty Robbins
1968
I Heard It Through the Grapevine – Marvin Gaye
Abraham, Martin and John – Dion
Stormy – Classics IV featuring Dennis Yost
Wichita Lineman – Glen Campbell
1977
How Deep is Your Love – Bee Gees
Blue Bayou – Linda Ronstadt
(Every Time I Turn Around) Back in Love Again – L.T.D.
Here You Come Again – Dolly Parton
1986
Walk Like an Egyptian – Bangles
Everybody Have Fun Tonight – Wang Chung
Notorious – Duran Duran
Too Much is Not Enough – The Bellamy Brothers
1995
One Sweet Day – Mariah Carey & Boyz II Men
Exhale (Shoop Shoop) – Whitney Houston
Hey Lover – LL Cool J
That's as Close as I'll Get to Loving You – Aaron Tippin
2004
Over And Over – Nelly featuring Tim McGraw
I Don't Want to Be – Gavin DeGraw
My Boo – Usher & Alicia Keys
Back When – Tim McGraw
Today in Broadcast History compiled by Ron Robinson