ON THIS DAY in 1898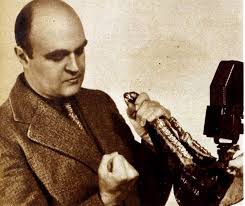 drummer/bandleader Lud Gluskin was born in Manhattan.  He became director of music at CBS in 1937, and his work was heard all over the radio dial on programs originating in Hollywood for the next 15 years.  He led the orchestra for a year or two of Amos 'n' Andy, Suspense, My Friend Irma, Life with Luigi, My Little Margie, Sweeney & March, The Philip Morris Playhouse, Campana Serenade, and dozens of lesser-known, lower-budget programs. He died Oct. 13 1989 at age 90.
On this day in 1901, Guglielmo Marconi was officially notified by the Anglo-American Telegraph Company that it would take legal action against him unless he immediately ceased his wireless experiments and removed his equipment from Newfoundland.  Anglo-American had a fifty-year monopoly on electrical communications in Newfoundland, that began in 1858, and it was determined to hinder radio telegraphy, which was a serious threat to its transatlantic electric telegraph business operated by submarine cables.  Marconi soon decided to move his base of operations to Cape Breton Island, and was welcomed there on Dec. 26 with open arms.

On this day in 1905, the entertainment trade publication Variety came out with its first weekly issue.
On this day in 1907, opera star Eugenia H. Farrar became the first singer to broadcast over the radio, courtesy of inventor Lee De Forrest.  Her performance originated from the Brooklyn Navy Yard in New York where she sang.
On this day in 1920, director George Schaefer was born in Wallingford Connecticut.   In a career that spanned six decades, Schaefer directed almost 100 television productions, including more than 50 Hallmark Hall of Fame presentations.  He also handled TV-movies that featured several of America's most renowned film stars, such as James Stewart, Bette Davis and Katharine Hepburn. He died Sep 10, 1997 at 76.
On this day in 1925, radio listeners would soon be freed from their earphones after the first dynamic loudspeaker was designed by Chester Rice and Edward Kellogg.
On this day in 1936, legendary Seattle DJ Lan Roberts (KJR/KOL) was born Lanny Lipford in Bonham, Texas. That's the same small hometown where he was living when he died on December 30, 2005, at age 69.
On this day in 1940,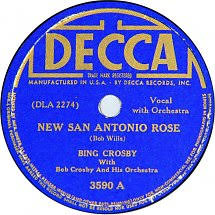 Bob Crosby and his Bobcats backed up brother Bing  to record the western swing number 'New San Antonio Rose' for Decca Records.  Already the first national country hit for Bob Wills and his Playboys, it soon became a Top 10 pop hit for Bing & Bob.
On this day in 1943, innovating TV producer Steven Bochco was born in New York City.  His boundary-pushing series "Hill Street Blues, " "L.A. Law" and "NYPD Blue" helped define the modern TV drama, helping to create the template for modern hourlongs featuring large ensemble casts, serialized storylines and edgy content.  After a years-long battle with leukemia Bochco died April 1 2018 at age 74.
Also in 1943, voice actress/comedienne Patti Deutsch was born in Pittsburgh. In the 1970s, she was a frequent panelist on Match Game and Tattletales, and much of her fame is due to those game shows. She was a member of the improvisational comedy group Ace Trucking Company, and did voiceover work for Hanna Barbera cartoons and PBS' The Electric Company, among others.  She died of cancer July 26, 2017  at age 73.
On this day in 1950,  "The Tennessee Waltz" by Patti Page topped the charts and stayed there for 13 weeks.
On this day in 1951, NBC-TV debuted Dum-de-dum-dum. Dum-de-dum-dum-daa.  Dragnet made it to TV, in a special preview, on 'Chesterfield Sound Off Time'. The Jack Webb (Sgt. Joe Friday) police drama, which had already been on NBC Radio for two years, opened its official TV run on January 3, 1952. Trivia factoid: Sgt. Friday's boss in this preview was played by New Westminster BC's Raymond Burr (later of Perry Mason and Ironside fame).
On this day in 1953, Vancouver's first TV station CBUT (2) signed on using a tower atop Mt

. Seymour. It featured an opening night special from 6-7

 pm followed by the CBC News at 7 pm.
Most programs were sent on tape from Toronto for the first 4 years.   CBUT was on the air daily from 5-6 pm then 7 pm-midnight.  In the Vancouver area at the time with a roof-top antenna you could also receive KOMO CH. 4 Seattle, KING CH. 5 Seattle, KTNT CH. 11 Tacoma and KVOS CH. 12 Bellingham. In Victoria, several of the early tv settlers put together a Rhombic Antenna, enabling Victoria viewers additional channels KIRO Channel 7 Seattle, and KMO/KTVW Channel 13.
On this day in 1954, Bill Hayes recorded "The Ballad Of Davy Crockett," the most popular of three versions (also Fess Parker, Tennessee Ernie Ford) to appear on the Billboard pop chart in 1955 following the success of Davy Crockett stories on TV's "Disneyland" series. Hayes' version was the #1 pop hit for five weeks.
On this day in 1956, an Episcopal minister in New York forecast that the whole "Elvis Presley craze" would pass. He called Presley a "whirling dervish of sex." Colonel Parker couldn't have asked for a better endorsement!
On this day in 1957, the song "April Love" by Pat Boone 
 topped the charts and stayed there for 6 weeks.
On this day in 1960, Lucille Ball took a respite from her weekly TV series to star in the Broadway production of Wildcat. It opened this night at New York's  Alvin Theatre and ran for 171 performances.
Also this day in 1960, George Harrison was deported from Germany for being too young to perform there with the Beatles.
On this day in 1963, Brandon radio station CKX-FM signed on to 96.1 MHz with 29,000 watts in stereo, becoming the first stereo station in Manitoba. 
On this day in 1964, the No. 1 Billboard Pop Hit was "Come See About Me" by The Supremes. The song was the third consecutive No. 1 single from the album "Where Did Our Love Go," making the group the first to accomplish that feat.
On this day in 1965, the British duo of Peter & Gordon recorded "Woman," which had been written by Paul McCartney using the alias Bernard Webb.
On this day in 1966, Jimi Hendrix released his first single, "Hey Joe" in the UK on the Polydor label. It became a top ten hit there, but failed to chart in North America.
On this day in 1967, the Lemon Pipers released Green Tambourine 
on an unsuspecting psychedelic world. The single made #1 six weeks later. Far out, man!
On this day in 1970, five singles and five albums by Creedence Clearwater Revival were certified gold. The singles were "Travelin' Band," "Up Around the Bend," "Lookin' Out My Back Door," "Down on the Corner" and "Bad Moon Rising."  The LPs were 'Cosmo's Factory', 'Willy and the Poor Boys', 'Green River', 'Bayou Country' and 'Credence Clearwater Revival'.
On this day in 1971, Melanie (Safka) received a gold record for the single, Brand New Key, about roller skates and love and stuff like that. This one made it to #1 on Christmas Day (9 days later.)
Also on this day in 1971, Don McLean's eight-minute-plus (8:32) version of American Pie was released. It became one of the longest songs with some of the most confusing (pick your favorite interpretation) lyrics to ever hit the pop charts. It was a disc jockey favorite since there were few songs long enough for potty breaks at the time. American Pie hit #1 on January 15, a month later.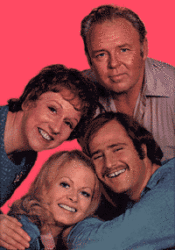 On this day in 1972, the 50th episode of "All In The Family" aired on CBS TV.
Also this day in 1972, Paul McCartney's single, Hi, Hi, Hi, was released. Two months later it peaked at #10 on the top tune tabulation.
Still this day in 1972, Billy Paul started a three week run at No.1 on the Billboard singles chart with 'Me and Mrs Jones.'
On this day in 1974, guitarist Mick Taylor announced he was leaving The Rolling Stones, saying he felt it was time to do something new.
Also in 1974, Apple Records released John Lennon's single "#9 Dream" in North America, six weeks before it hit store shelves in the UK. Singing backup was May Pang, Lennon's girlfriend at the time.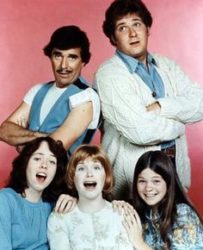 On this day in 1975, the sitcom "One Day at a Time" which introduced us to a 15-year-old Valerie Bertinelli (lower right), began its 9-year run on CBS TV.
Also in 1975, the tartan-trousered Bay City Rollers saw their single "Saturday Night" certified Gold.
On this day in 1977, the Bee Gees were awarded a Gold Record for the single "How Deep is Your Love."
On this day in 1981, Ray Charles was on hand to help unveil his new star on the Hollywood Walk of Fame.
On this day in 1983, after Pete Townshend announced he was leaving, one of rock's great touring bands The Who disbanded, only to rise from the ashes when Townshed changed his mind.
On this day in 1986, the No. 1 Billboard Pop Hit was "Walk Like an Egyptian" by the Bangles.
On this day in 1987, the No. 1 Billboard Pop Hit was "Faith" by
George Michael.
Billboard ranked the song as the No. 1 single of the year.
On this day in 1989, actor Lee Van Cleef died at age 64 following a heart attack.  In the first 15 years of the TV era he played supporting roles all over the small screen, especially on The Adventures of Kit Carson, Schlitz Playhouse, Lawman, The Rifleman, Laramie, & the Lone Ranger.
Also this day in 1989, Billy Joel went to No.1 on the Billboard album chart with 'Storm Front'.
On this day in 1991, Chubby Checker filed a lawsuit against McDonald's in Canada, seeking $14 million for the unauthorized use of an imitation of his voice. The song 'The Twist' had been used in a French fries commercial.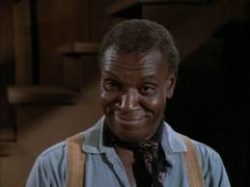 On this day in 1993, actor Moses Gunn died of complications from asthma at age 64.  He was an oft-used black presence in TV, including supporting roles in Roots, Good Times, The Cowboys, Little House on the Prairie, and Father Murphy.
Also this day in 1993, as stories began to surface about Michael Jackson's alleged improprieties with young boys, St. Louis radio station KEZK announced that it would no longer be playing the singer's records.
Still in 1993, actress Shannen Doherty was fired after four seasons with Fox-TV's "Beverly Hills 90210," due to alleged friction with fellow cast members and the film crew.
Again in 1993, MTV aired Nirvana's "Unplugged" performance 
 from the Sony Studios in New York.
On this day in 1994, singer Davy Jones of The Monkees was charged with DWI.
Also in 1994, Canadian pop diva Celine Dion married her long-time manager Rene Anglil.
On this day in 1995, Fox-TV aired a fight between Mike Tyson and Buster Mathis Jr. Tyson knocked Mathis out in the third round. The fight brought in Fox's highest Nielsen rating to date.
On this day in 1997, singer Nicolette Larson who lifted Neil Young's pop hit "Lotta Love" to the top of the charts in the 1970s, died from brain swelling and liver failure at age 45.
On this day in 2000, country star Brad Paisley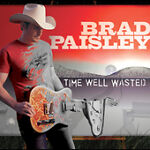 made his 36th guest appearance on the Grand Ole Opry, and then was formally invited to become a member of the show.
Also this day in 2000, the estranged father and former manager of LeAnn Rimes made embarrassing allegations during a legal battle involving millions of pounds. One fact told in court was that LeAnn paid her mother $10,000 every time she styled her hair before a show.
Still this day in 2000, concertgoers at the Shrine Auditorium got more than they bargain for during the KIIS-FM Jingle Ball. Cedric "K-Ci" Hailey, part of the popular R&B duo K-Ci & JoJo, partially undressed onstage during the first set of the evening and exposed his genitals to the mostly young, female audience.
On this day in 2001, Stuart Adamson, lead singer of Big Country was found dead in Hawaii a month after disappearing from his home in the US. The 43-year old Scottish musician had fought a long battle against alcoholism. His body was found in a hotel room.
On this day in 2002, following cancellation of their proposed reality TV show Liza Minnelli and her then-husband, David Gest, filed a $23 million dollar breach of contract lawsuit against VH1, MTV Networks, Viacom and Remote Productions, Inc.
On this day in 2003,  character actress Madlyn Rhue died from pneumonia & multiple sclerosis at age 68.  Her MS never got her down as she guest starred in everything from sitcoms to soaps to drama shows and films for nearly four decades. In her later years she was a regular on CBS-TV's Murder She Wrote.
On this day in 2004, the entertainer known as Haleloke, the Hawaiian member of the Arthur Godfrey radio & TV troupe in the 1950's and early '60's, died at age 82.
Also in 2004, the results of a VH-1 poll asking "What music do you want for Christmas?" were announced. Not surprisingly, Ray Charles, the recently deceased legend and subject of a popular bio-flick, topped the list with "Ray: Original Motion Picture Soundtrack." The Beatles' "The Capitol Albums Vol. 1: Box Set" was second.
On this day in 2005, actor John Spencer, who won an Emmy as the powerful chief of staff on TV's "The West Wing," suffered a fatal heart attack, 4 days short of his 59th birthday.
Also this day in 2005, Howard Stern did his last terrestrial radio show for Infinity Broadcasting (now changed to CBS Radio) before moving to SIRIUS Satellite Radio.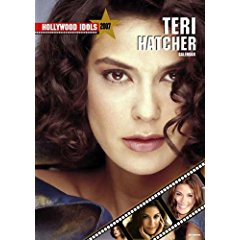 Still in 2005, actress Teri Hatcher (Desperate Housewives, Lois & Clark) won her libel suit against a British tabloid.  The 'Daily Sport' had printed a report claiming she neglected her daughter while engaging in sex romps with a series of men in a VW van parked outside her LA home.
Again in 2005, The Beatles began legal action against EMI for unpaid royalties allegedly worth £30 million. Sir Paul McCartney, Ringo Starr and heirs to the fortunes of George Harrison and John Lennon claimed EMI owed back record royalties to their company Apple Corps.
On this day in 2006, Incubus started a two-week run at No.1 on the US album chart with 'Light Grenades,' the band's sixth album.
Also in 2006, in a London Times interview Sir Paul McCartney said he left EMI, his record label of 45 years, because the company's handling of his music had become "symbolic of the treadmill". The ex-Beatle went on to sign a deal with the Starbucks label, Hear Music.
On this day in 2007, singer/songwriter Dan Fogelberg died at his home in Maine. He was 56 years old and had been battling prostate cancer since 2004. His hits 'Leader of the Band' and 'Same Old Lang Syne' helped define the 'soft-rock' era.
On this day in 2011, actor Dan Frazer, best known for his role as a former partner-turned-supervisor on the 70's CBS-TV police drama Kojak, died of cardiac arrest at age 90.
Also in 2011, former Guns N' Roses bassist Duff McKagan joined Axl Rose and the current edition of GN'R on stage in Seattle for a rendition of "You Could Be Mine," a song written in part by both McKagan and Rose. McKagan's band Loaded was the opening act. McKagan, who left GN'R in '97, did a repeat appearance the following night in Vancouver.

On this day in 2013,  Ray Price, one of the iconic voices of country music, who revolutionized the genre with Number One hit ballads like "Crazy Arms","City Lights," and "For the Good Times," died at home after a long battle with pancreatic cancer, at age 87.
On this day in 2014,  Lynyrd Skynyrd and Fall Out Boy performed on the Season 7 finale of NBC's The Voice. The eventual winner, Craig Wayne Boyd, teamed with Skynyrd on "Sweet Home Alabama," while Matt McAndrew and Fall Out Boy rolled through "Centuries."
On this day in 2015, record producer Thomas 'Snuff' Garrett, a former Texas disc jockey who was forsaken by his own music teachers but became a millionaire by the time he was 30, producing hits for Bobby Vee, Del Shannon, Gary Lewis & the Playboys and other artists, lost his battle with cancer at age 77.  He recorded his own vinyl albums under the title 'The 50 Guitars of Tommy Garrett.'
Also in 2015, the late Michael Jackson's 1982 album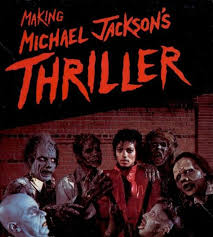 'Thriller' became the only album to sell 30 million copies in the US.  Worldwide sales total more than 100 million units.
On this day in 2017, singer Keely Smith who, with her husband Louis Prima, was part of the most successful Las Vegas lounge act of the 1950s, died of apparent heart failure at age 89.  She had gone on to a successful solo career in the 1960's, and continued recording into the 21st Century.
On this day in 2018, TV personality Lee Leonard, the first voice ever heard on ESPN (1979), died at his New Jersey home at age 89.  He moved to CNN in 1980 as an L.A.-based entertainment reporter.   In 1964 he had been a talk radio host on New York's WNBC. He moved on as a TV sportscaster with first CBS and then NBC.
Today's Birthdays
Actor Terry Carter (Phil Silvers Show, McCloud, Battlestar Galactica) is 94.
Actress Joyce Bulifant (Mary Tyler Moore Show, Flo, Match Game) is 85.
CBS news correspondent Lesley Stahl (60 Minutes) is 81.
Hollies guitarist Tony Hicks is 77.
Richland Wash.-born actor Terence Knox (Tour of Duty, Rescue 77, St. Elsewhere) is 76.
Pop singer/keyboardist/composer Benny Andersson (ABBA) is 76.
Actor Ben Cross (Dark Shadows, The Citadel) is 75.
Rock singer-musician Billy Gibbons (ZZ Top) is 73.
Rock musician Bill Bateman (The Blasters) is 71.
Comedienne Elayne Boosler (Balderdash, Night Court, Comic Relief) is 70.
Actor Xander Berkeley (Walking Dead, Salem, Nikita, 24) is 67.
Actor Larry Poindexter (The Hard Times of RJ Berger, New York Daze) is 63.
Actress Alison LaPlaca (John Laroquette Show, Tom, Jackie Thomas Show) is 63.
Actress/voicist LaChanze (Hercules) is 61.
Actor Sam Robards (Gossip Girl, The West Wing, Spin City) is 61.
Actor Jon Tenney (King & Maxwell, The Closer, The Division, Brooklyn South) is 60.
Actress Gretchen Palmer (The Joe Schmo Show, Robin's Hoods) is 60.
Actress Melanie Smith (As the World Turns, Star Trek: Deep Space Nine) is 59.
Actor Benjamin Bratt (Private Practice, The Cleaner, E-Ring, Law & Order) is 59.
Country singer-songwriter Jeff Carson is 59.
Comedian J.B. Smoove (Last Comic Standing, The Millers, Curb Your Enthusiasm) is 57.
Actress Miranda Otto (Rake, Cashmere Mafia) is 55.
Actress Kathleen Marshall (Happy Days) is 55.
Actress Florencia Lozano (One Life to Live) is 53.
Actor Daniel Cosgrove (Guiding Light, All My Children) is 52.
Actress Nancy Valen (Baywatch) is 52.
Rhythm-and-blues singer Michael McCary (Boyz II Men) is 51.
Toronto-born actor Jonathan Scarfe (Perception, Raising The Bar, Madison) is 47.
Actor Scott Bailey (Guiding Light, Saints & Sinners, The Bay) is 44.
Actor Axle Whitehead (Agents of S.H.I.E.L.D, Shameless) is 42.
Actress Krysten Ritter (Breaking Bad, Don't Trust the B…… in Apt. 23) is 41.
Country musician Chris Scruggs is 41.
Actress Zoe Jarman (The Mindy Project, Huge) is 40.
Miss Great Britain-2006/reality TV contestant Danielle Lloyd (Weakest Link, Celebrity Big Brother) is 39.
Actor Theo James (Golden Boy) is 38.
Toronto-born actress Noelle DuBois (Lingerie) is 37.
Actress Amanda Setton (The Mindy Project, Gossip Girl) is 37.
Bassist Dave Rublin of American Authors is 36.
Actress Hallee Hirsh (ER, JAG) is 35.
Actress Anna Popplewell (Reign, Love in a Cold Climate, Daniel Deronda) is 34.
Actor Julito McCullum (The Wire) is 32.
Toronto-born actor Stephan James (Degrassi: the Next Generation) is 29. 
Actress Jyoti Amge (American Horror Story) is 29.
Singer Zara Larsson is 25.
Actor Bryce Robinson (October Road) is 23.
.
Chart Toppers – Dec. 16
1951
Sin (It's No) – Eddy Howard
Slowpoke – Pee Wee King
Rudolph, the Red-Nosed Reindeer – Gene Autry
Let Old Mother Nature Have Her Way – Carl Smith
1960
Are You Lonesome To-night? – Elvis Presley
Last Date – Floyd Cramer
A Thousand Stars – Kathy Young with The Innocents
Wings of a Dove – Ferlin Husky
1969
Na Na Hey Hey Kiss Him Goodbye – Steam
Leaving on a Jet Plane – Peter, Paul & Mary
Someday We'll Be Together – Diana Ross and The Supremes
(I'm So) Afraid of Losing You Again – Charley Pride
1978
You Don't Bring Me Flowers – Barbra Streisand & Neil Diamond
Le Freak – Chic
Too Much Heaven – Bee Gees
The Gambler – Kenny Rogers
1987
Faith – George Michael
Should've Known Better – Richard Marx
Is This Love – Whitesnake
The Last One to Know – Reba McEntire
1996
Un-Break My Heart – Toni Braxton
Noboby – Keith Sweat featuring Athena Cage
Don't Let Go (Love) – En Vogue
Little Bitty – Alan Jackson
2005
Run It – Chris Brown
Because of You – Kelly Clarkson
Don't Forget About Us – Mariah Carey
Come a Little Closer – Dierks Bentle
Today in Broadcast History compiled by Ron Robinson