ON THIS DAY in 1897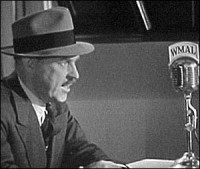 muck-raking columnist & broadcaster Drew Pearson was born in Evanston Illinois.   He emerged as a powerful radio personality during WWII, and tried to transfer the impact to TV in 1952 with limited success.  His column & many of his broadcasts were titled the "Washington Merry-Go-Round." He faced 50 libel suits during his 40 year career, but lost only one.  Pearson died Sept. 1 1969 at age 71.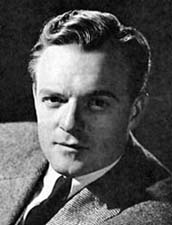 On this day in 1910, Oscar-winning actor Van Heflin was born Emmett Evan Heflin in Walters Oklahoma.
He was very active in OTR radio, the lead in scores of B movies, and a strong supporting actor in several prestige films, before accepting a handful of TV roles in the Hallmark Hall of Fame, The Great Adventure, Playhouse 90, A Case of Libel, & The Last Child.  He died at age 60 July 23, 1971, 17 days after suffering a heart attack while swimming.
On this day in 1914, actor Larry Parks was born Sam Klusman in smalltown Kansas.  Best known for playing Al Jolson in two major bigscreen movies, his career was virtually destroyed in 1951 when he was the first actor to admit belonging to a Communist cell from 1941 to 1945; he was subsequently blacklisted. Parks had limited TV credits, but was called back repeatedly for the Ford Television Theatre.  He died Apr 13, 1975 at age 62 after suffering a heart attack.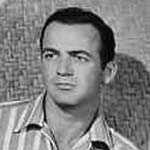 On this day in 1915,  actor Mark Stevens was born in Cleveland.  A second-tier star on the big screen, he had the lead in two early TV series: Big Town, and Martin Kane Private Eye.  He died in Spain Sept. 15 1994 at age 78, due to cancer.
On this day in 1920, actor/director Don Taylor was born in Freeport Pennsylvania.  His major TV credits were for directing the series Dr. Kildare, Cannon & the Barbara Stanwyck Show, plus 2-3 TV movies a year in the 70's & 80's.  He died of heart failure Dec. 29 1998 at age 78.
On this day in 1924, radio station KOA in Denver began transmissions. It was clearly heard on the West Coast (especially after dark) at 850 on the dial, in those simpler, less cluttered times.
On this day in 1925, songwriter Wayne Walker was born in Quapaw Oklahoma. His  first big hit was 1957's I've Got a New Heartache, performed by Ray Price. Later successes include Are You Sincere, Burning Memories, Hello Out There, Leaving on Your Mind, and Memory No. 1.  Walker died Jan 2, 1979 at age 53.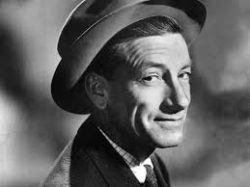 On this day in 1929, singer/songwriter Hoagy Carmichael recorded with Louis Armstrong.
Together they waxed "Rockin' Chair" for Columbia Records.
On this day in 1934, Lulu Belle and Scotty Wiseman, one of the most popular husband-and-wife teams in the history of country music, were married. Lulu Belle and Scotty were regulars on the National Barn Dance radio show, which originated from WLS in Chicago, from 1933 to 1958. Scotty Wiseman wrote the country music standard "Mountain Dew," as well as the duo's biggest hit, "Have I Told You Lately That I Love You?"
On this day in 1940, the two-sided jump tune, "The Anvil Chorus", was recorded by Glenn Miller and his orchestra for Bluebird Records in New York. The 10-inch, 78 rpm record ran six minutes (including flipping).
On this day in 1942,  the characters of "Allen's Alley" were presented for the first time on radio's "Fred Allen Show". This particular segment of the program became very popular and was used by Allen until his last show in 1949. Remember the stops along the way in "Allen's Alley"? They were at the Brooklyn tenement of Mrs. Nussbaum, the farmhouse of Titus Moody, the shack of Ajax Cassidy and the antebellum mansion of Senator Beauregard Claghorn.
Also in 1942, the "Canadian Army Radio Show" debuted on CBC radio. Among the cast of the musical review were comedians Johnny Wayne and Frank Shuster. The success of the musical review prompted a touring stage version to entertain the troops, promote recruitment and bolster civilian morale.
On this day in 1948, the American Federation of Musicians (under Fiorello Petrillo) went back to work after an 11-month strike. During the strike, there was an 11-month ban on phonograph records as well.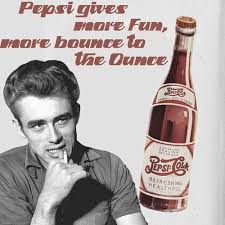 On this day in 1950, 19-year old actor James Dean began his show business career with an appearance in a TV commercial for Pepsi.
On this day in 1956, Cuban bandleader Perez Prado recorded "Patricia" in Hollywood for RCA Victor. When finally released more than a year later the Latin-beat instrumental became Prado's second #1 hit, after striking gold with "Cherry Pink And Apple Blossom White" in 1955.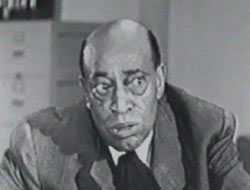 On this day in 1958,  vaudevillian and comic actor Tim Moore, who played George "Kingfish" Stevens in the TV version of Amos 'n' Andy, died of pulmonary tuberculosis four days after his 71st birthday.
On this day in 1959, in Nashville, the Everly Brothers recorded the translated version of a French song, their timeless ballad, "Let It Be Me."
On this day in 1960, soul singer Solomon Burke had his first studio session for Atlantic Records and recorded his future smash "Just Out Of Reach (Of My Two Empty Arms)", which had already scored big in country music (with Faron Young and Patsy Cline).
On this day in 1961, the Beatles signed with manager Brian Epstein.
Also this day in 1961, Jimmy Dean's album "Big Bad John" was country music's 1st million dollar seller.
Still this day in 1961, the No. 1 Billboard Pop Hit was "The Lion Sleeps Tonight" by The Tokens.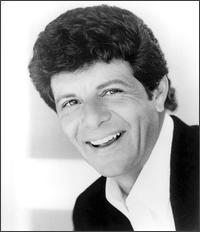 On this day in 1963, singer Frankie Avalon was the guest star on that week's episode of "Burke's Law," ABC-TV's hit show about a millionaire cop.
On this day in 1966, the broadcast rights to the first four Super Bowls were sold to CBS and NBC for a total of $9.5 million.
Also in 1966, Chad & Jeremy and Don Ho guested on ABC-TV's "Batman."
Still in 1966, the Jimi Hendrix Experience recorded "Foxy Lady" for the album "Are you Experienced." When released in North America Reprise Records misspelled the title "Foxey Lady," which is how it is still known by most US and Canadian fans today.
On this day in 1967,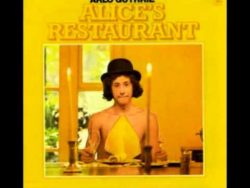 Arlo Guthrie released the future hit "Alice's Restaurant."
On this day in 1969, actor Spencer Williams, Jr., best remembered in the role of Andy Brown on the TV version of "Amos 'n Andy," succumbed to a kidney ailment at age 76.
On this day in 1973, the No. 1 Billboard Pop Hit was "The Most Beautiful Girl" by Charlie Rich.
On this day in 1974, former Beatle George Harrison exchanged buttons with President Gerald Ford over lunch at the White House.  The President gave George a WIN (Whip Inflation Now) pin, while Harrison gave the President an OM (Hindu mantra word expressing creation) button.
On this day in 1975, NBC-TV's Saturday Night Live used a time delay for the first time. It was a precautionary move with the unpredictable (and ofttimes foul-mouthed) comedian Richard Pryor guest hosting.

Also this day in 1975, both David Bowie's "Golden Years" and Foghat's "Slow Ride" were released.
On this day in 1976, just three days after its release the live album "Wings Over America" was certified gold.
On this day in 1977, the Aerosmith album "Draw The Line" earned a platinum award with sales in excess of 1-million units.
On this day in 1981, comedian Dewey "Pigmeat" Markham, featured in the 'Here Comes da Judge' segment of TV's Laugh In, suffered a fatal stroke at age 77.
On this day in 1982, the No. 1 Billboard Pop Hit was "Maneater" by Daryl Hall & John Oates.
On this day in 1983, the Bay Area rock icon of earlier years KYA in San Francisco  changed its call letters to KOIT.
Also his day in 1983, actress Leora Dana died of cancer at age 60.  In her 30 years playing supporting parts on TV, she scored recurring roles in the series Another World, The Dain Curse, Seventh Avenue & The Adams Chronicles.
On this day in 1985,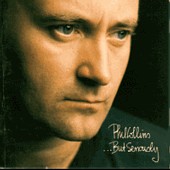 Phil Collins made his first U.S. TV dramatic appearance playing a drug dealer on NBC's "Miami Vice."
On this day in 1986, British-born actress Heather Angel succumbed to cancer at age 77.  North American audiences enjoyed her TV work in the series Peyton Place, Backstage at the White House, and Family Affair.
Also this day in 1986, "The Way it Is", by Bruce Hornsby and the Range, hit #1 for a week in the U.S.: "That's just the way it is; Some things will never change. That's just the way it is; Aw, but don't you believe them."
On this day in 1991, the TV special "John Denver's Montana Christmas Skies" aired in primetime on CBS.
On this day in 1992, the FCC fined Infinity Broadcasting $600,000 over "indecent" broadcasts by shock jock Howard Stern.
On this day in 1993, country singer Faith Hill sang for the first time on the Grand Ole Opry.
On this day in 1994, Prince sang "Dolphin" as the musical guest on CBS-TV's David Letterman show.
On this day in 1998, a composer of children's educational songs, Larry Troxel died in his Newport Beach home. He was 44. Troxel was co-founder with his wife, Kathy, of Audio Memory, which devised educational tools that help children learn subjects such as grammar, history, geography, and math, through songs.
On this day in 1999, Broadcast Music Incorporated (BMI) proclaimed "You've Lost That Lovin' Feelin'" as their most played song of the twentieth century, having been aired more than eight million times on US radio and television.
On this day in 2001, the two surviving members of Nirvana, Krist Novoselic and David Grohl, filed a countersuit against Courtney Love. The charge was that she has manipulated the memory and work of her dead husband, Kurt Cobain, for the benefit of her own career.
Also in 2001, NBC-TV announced that it would begin running hard liquor commercials and issued a 19-point policy that outlined their conditions for accepting liquor ads.
Still in 2001, the Cavern Club in Liverpool was sold as part of a 16-million-dollar real estate deal. The Beatles launched their career in the early 1960's at the nightclub.

On this day in 2002, Canadian guitarist and singer Zal Yanovsky of The Lovin' Spoonful suffered a fatal heart attack at age 57. Was a member of The Mugwumps with Denny Doherty and Cass Elliot. Formed Lovin' Spoonful with John Sebastian in 1964, they scored the 1966 No.1 single 'Summer In The City'.
On this day in 2004, just five days after he suffered a debilitating stroke, ABC-TV announced that Dick Clark would not be able to host the annual "Rockin' New Year's Eve" telecast.
On this day in 2005, Billboard Magazine declared U2's Vertigo tour to be the top-grossing jaunt of the year. The 90 sold-out shows took in $260 million from the more than three million in attendance.
On this day in 2006, New York police charged Koral Karsan with attempted grand larceny for allegedly trying to extort $2 million from John Lennon's widow, Yoko Ono. For more than six years the 50-year-old Karsan had served as Ono's chauffeur.
On this day in 2007, singer Joe Cocker received an Officer Of The British Empire (OBE) medal from the Queen at Buckingham Palace.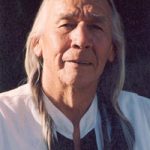 Also in 2007, Native American actor Floyd "Red Crow" Westerman (Northern Exposure, Walker Texas Ranger) died due to complications from leukemia at age 71.
On this day in 2008, Kanye West went to No.1 on the Billboard album chart with '808s & Heartbreak', his fourth studio album.
On this day in 2009, the last surviving member of the swing era vocal group the King Sisters, Yvonne King Burch died after a fall at her home at age 89.
On this day in 2010, Oscar-winning actress Gwyneth Paltrow was awarded a star on the Hollywood Walk of Fame.
Also this day in 2010, just two days after his third appearance on NBC's Saturday Night Live, Paul McCartney played a 2-hour concert at the legendary Apollo Theater in Harlem.  McCartney told the audience, "I just want to just soak in the Apollo. This is very special for us British boys. The holy grail."
Still this day in 2010, Bon Jovi's world trek was named the most successful tour of the year by Billboard magazine (beating out U2). The band earned $146.5 million from their 69-show Circle tour which spanned North America, England, Europe, Japan, Australia, and New Zealand.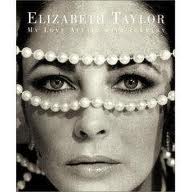 On this day in 2011, a collection of jewels owned by the late Elizabeth Taylor fetched US$116 million at a New York auction. That's more than 5 times the pre-sale estimate of US$20 million for the 80 items.
On this day in 2013, Daniel Escobar, best known for his role on the TV series Lizzie McGuire, died of complications from diabetes at age 49.  He played the character 'Mr. Escobar' opposite Hilary Duff on the TV series from 2001-02.
Also in 2013,  Mick Jagger's passionate letters to his former lover Marsha Hunt were auctioned off for over $300,000 at Sotheby's in London. Hunt inspired the Rolling Stones' '71 hit "Brown Sugar" and she gave birth to Jagger's first child (Karis Hunt Jagger).
On this day in 2014,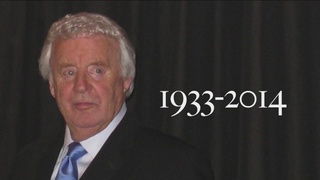 Detroit TV news anchor Bill Bonds, known for three decades for his on-air swagger as much as his colorful behavior off-camera, suffered a heart attack and died at age 82.  For years, Bonds, along with co-anchor Diana Lewis, dominated the Detroit TV market on WXYZ-TV.  His private life was discussed often as he battled alcoholism, buried a daughter and went through a divorce.  The station fired Bonds in 1995, months after a drunken driving arrest which led to his stay for several months in an Atlanta treatment facility.
On this day in 2015, songwriter/record producer Luigi Creatore, who had a long career teamed with his cousin Hugo Peretti, died at age 93. Hugo & Luigi's hits included Wonderful World for Sam Cooke, Elvis Presley's Can't Help Falling in Love, The Lion Sleeps Tonight, Sarah Vaughn's Whatever Lola Wants, and Dance With Me Henry for Georgia Gibbs.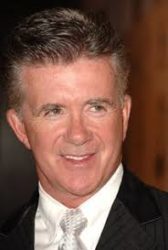 On this day in 2016, Ontario-born Alan Thicke, an actor, songwriter, game and talk show host,best known for his role as Jason Seaver, the father on the ABC TV series Growing Pains, died of a ruptured aorta at age 69.
On this day in 2017, in Cleveland, the Rock and Roll Hall of Fame announced the 2018 inductees: Bon Jovi, Dire Straits, the Cars and the Moody Blues were in. Judas Priest were passed over, and their fans were screaming for vengeance. The official induction ceremony was held  the following April.
On this day in 2018,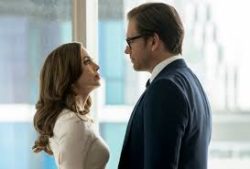 the New York Times reported a $9.5 million dollar payout by CBS to actress Eliza Dushku, who claimed to have been written out of the series 'Bull' after she complained of being sexually harassed by series star Michael Weatherly.
Today's Birthdays
Actor-comedian Dick Van Dyke (Dick Van Dyke Show, Diagnosis Murder) is 97.
Country singer Buck White is 92.
Music/film producer Lou Adler is 89.
Singer/TV host John Davidson (Hollywood Squares, That's Incredible) is 81.
Actress Kathy Garver (Family Affair) is 77.
Singer Ted Nugent is 74.
Rock musician Jeff "Skunk" Baxter (The Doobie Brothers, Steely Dan) is 74.
Guitarist Ron Getman of The Tractors is 74.
Country singer-musician Randy Owen (Alabama) is 73.
Actor Robert Lindsay (My Family, Jericho, Nightingales) is 73.
Actress Wendie Malick (Hot in Cleveland, Just Shoot Me, Frasier) is 73.
Country singer John Anderson is 68.
Singer-songwriter Steve Forbert is 68.
Singer-actor Morris Day is 66.
Actor Steve Buscemi (Horace & Pete, Boardwalk Empire, The Sopranos, Lonesome Dove) is 65.
Writer/producer/actor Billy Van Zandt (The Hughleys, Martin, Yes Dear) is 65.
Actress Amy Stoch (Dallas) is 64.
Actor Johnny Whitaker (Family Affair, General Hospital) is 63.
Actress Karen Witter (One Life to Live, Bedtime) is 61.
Bassist John Munson of Semisonic is 60.
Reality TV star NeNe Leakes (The New Normal, The Real Housewives of Atlanta, Glee, Watch What Happens Live) is 56.
Actor-comedian Jamie Foxx (Jamie Foxx Show, In Living Color) is 55.
Actor Tony Curran (Defiance, Pillars of the Earth) is 53.
Actor Bart Johnson (Hyperion Bay, High School Musical) is 52.
Actor Jeffrey Pierce (The Tomorrow People, The Nine, Charlie Jade) is 51.
Actress Christie Clark (Days of Our Lives) is 49.
TV personality Debbie Matenopoulos (Home & Family, The Insider, The View, Good Day Live) is 48.
Actor James Kyson Lee (Heroes) is 47.
Rock singer-musician Thomas Delonge of Angels and Airwaves (and Blink-182) is 47.
Actress Kimee Balmilero (Hawaii Five-Oh, Hi-5) is 43.
Actress Chelsea Hertford (Major Dad) is 41.
Rock singer Amy Lee (Evanescence) is 41.
Actor Satya Bhaba (New Girl) is 39.
Montreal -born actor Laurence Leboeuf (19-2, Trauma, Being Erica, Durham County) is 37.
Actor Michael Socha (Once Upon a Time in Wonderland) is 35.
Trumpeter Wesley Watkins of Nathaniel Rateliff and the Night Sweats is 35.
Actor Marcel Spears (The Neighborhood, The Mayor) is 34.
Singer/songwriter Taylor Swift is 33.
Actor Nick Roux (Jane by Design) is 32.
Ontario-born actress Maisy Stella (Nashville) is 19.
Actor Aiden Flowers (The Originals) is 18.
Chart Toppers – Dec. 13
1948
Buttons and Bows – Dinah Shore
On a Slow Boat to China – The Kay Kyser Orchestra (vocal: Harry Babbitt & Gloria Wood
Hair of Gold, Eyes of Blue – Gordon MacRae
One Has My Name (The Other Has My Heart) – Jimmy Wakely
1957
Jailhouse Rock – Elvis Presley
Raunchy – Bill Justis
Peggy Sue – Buddy Holly
My Special Angel – Bobby Helms
1966
Good Vibrations – The Beach Boys
Mellow Yellow – Donovan
Devil with a Blue Dress On & Good Golly Miss Molly – Mitch Ryder & The Detroit Wheels
Somebody Likes Me – Eddy Arnold
1975
Fly, Robin, Fly – Silver Convention
Let's Do It Again – The Staple Singers
Saturday Night – Bay City Rollers
Love Put a Song in My Heart – Johnny Rodriguez
1984
Out of Touch – Daryl Hall & John Oates
The Wild Boys – Duran Duran
All Through the Night – Cyndi Lauper
Chance of Lovin' You – Earl Thomas Conley
1993
Again – Janet Jackson
All that She Wants – Ace of Base
Hero – Mariah Carey
My Second Home – Tracy Lawrence
2002
Lose Yourself – Eminem
Die Another Day – Madonna
Jenny from the Block  – Jennifer Lopez
These Days – Rascal Flatts
2011
We Found Love – Rihanna featuring Calvin Harris
Sexy and I Know It – LMFAO
It Will Rain – Bruno Mars
We Owned the Night – Lady Antebellum
Today in Broadcast History compiled by Ron Robinson