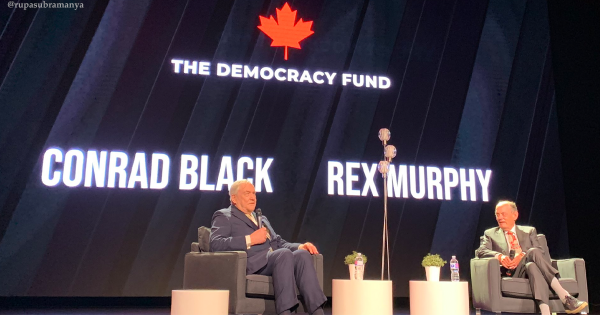 September 25, 2022
Columnists and authors Conrad Black and Rex Murphy have blamed the regrettable state of Canadian civil liberties on the "incompetent" and "stupid" legacy media.
Black and Murphy were both keynote speakers at the Democracy Fund's event The History of Civil Liberties in Canada held at the Canada Christian College in Whitby, Ontario. 
After quickly summarizing Canada's exemplary historical role in dismantling the transcontinental slave trade and boldly challenging the idea that Canada is a "systemically racist" country, Black and Murphy took aim at the legacy media.
During his remarks, Black, the former owner of the National Post and current historian-in-residence with The Democracy Fund, said the legacy media is one of the main threats to civil liberties in Canada.
"One of the threats to our civil rights in this country is the utterly, unacceptably, incompetant performance of 90% of our media in this country," Black said.
Murphy, the former CBC Radio host and current National Post columnist, proudly called himself a "demented climate denier" and lambasted the media.
"It seems to me that at least a good portion of the Ottawa Press Gallery has come to the determination that its main function is to act as an opposition to the Leader of the Opposition," said Murphy.
"If you are concerned with civil liberties and the operation of a democracy, if the press is deliberately corrupt or corrupt from simple inadequacy, then our democratic system will fall."
Read More HERE