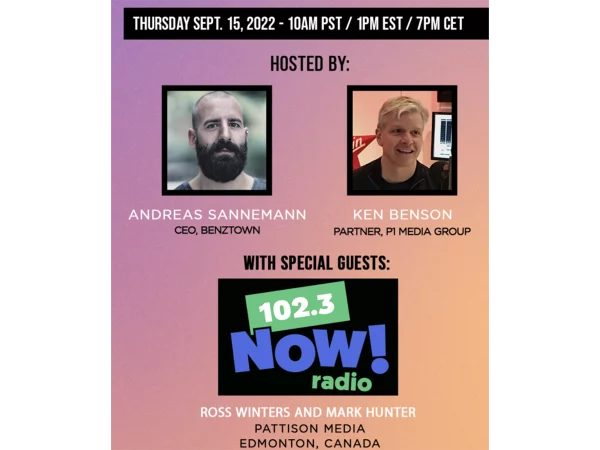 September 13, 2022
Benztown and P1 Media Group will host a free webinar on Thursday, September 15, 2022, for radio professionals around the globe, entitled Join the Conversation: The Incredible NOW! Radio Success Story.
 The webinar will be hosted by Andreas Sannemann, CEO, Benztown, and Ken Benson, Partner, P1 Media Group, and features Mark Hunter, VP of Programming, NOW! Radio, and Ross Winters, Director of Programming, Pattison Media, Canada's largest western-based media company. 
 This is the 24th in the webinar series from top radio experts from around the world.
Mark Hunter started his radio career in 1985, when he was hired on his 19th birthday to work with Rawlco in Saskatchewan, in Saskatoon, Prince Albert and Regina.
He was on-air, producer, creative director, and News/Talk producer before he got his dream job as Program Director in 2000. In 2009, Hunter was named Program Director of a new license in Edmonton, CKNO-FM, and eight months later, NOW! Radio was born.
Read More HERE
© RadioInfo Australia