ON THIS DAY in 1901
actor & comedian Ben Blue was born Benjamin Bernstein at Montreal; he died Mar 7, 1975 at age 73.
Blue was a celebrated comedian and dancer whose origins in Vaudeville translated to the silent screen, then to films and TV. He acted with Jerry Van Dyke in the sitcom Accidental Family, and was a regular on  the Frank Sinatra Show.
On this day in 1915, singer Billy Daniels (That Old Black Magic) was born in Jacksonville Fla.
On this day in 1920, actress Irene Dailey was born in New York City.  She was the sister of movie song-and-dance man Dan Dailey.  She is best remembered for her 20-plus years portraying Elizabeth 'Aunt Liz' Matthews on the NBC TV daytime drama 'Another World.'  She died of colon cancer Sept. 24th 2008 at age 88.
On this day in 1921, former NBC news host (Today show) & anchor Frank McGee was born in Oklahoma City.  He succumbed to bone cancer at age 55.
On this day in 1924, singer Ella Mae Morse was born in Mansfield Texas. Her hits include Cow Cow Boogie, Shoo Shoo Baby, & The Blacksmith Blues.  She was the 1st artist to record for Capitol Records; died Oct 16, 1999 at age 75.
In 1932, Edgar Rice Burroughs' creation, Tarzan of the Apes began a syndicated three-times-a-week 15-minute run on New York's WOR radio and other US stations.  Burroughs' daughter Joan played the part of Jane, her husband James Pierce portrayed Tarzan.
In 1938, H.V. Kaltenborn made broadcasting history on CBS radio with his marathon coverage of a crisis in Czechoslovakia beginning on this day.  Kaltenborn was so devoted to his work that he slept in the studio for 18 days while bringing frequent updates to his appreciative audience.

On this day in 1940, Johnny Long's orchestra recorded the classic In a Shanty in Old Shanty Town for Decca Records.
On this day in 1944, singer Barry White .. he of the deep voiced, sexy singing style .. was born in Galveston Texas.  He died of kidney failure July 4, 2003 at age 58.
On this day in 1948, a 13-year-old Elvis Presley moved with his parents Gladys & Vernon from Tupelo Mississippi to Memphis Tennessee.
On this day in 1951, actor Joe Pantoliano (Sopranos) was born in Hoboken New Jersey.
On this day in 1952, heavy metal drummer Neil Peart, of the Canadian supergroup Rush, was born on the outskirts of Hamilton.
On this day in 1953, actor Lewis Stone died at 73 of a heart attack.  He was Judge Hardy in The Hardy Family (With Mickey Rooney & Judy Garland) on radio and in film.
On this day in 1954, Lassie was seen on CBS-TV for the first time. Despite being called "girl" by Tommy Rettig, who starred as Jeff Miller, and Jan Clayton, who starred as Jeff's mom, Ellen, Lassie was, in reality, a male dog. In fact, there were more than a half-dozen Lassie dogs doing stunts. Lassie ran on CBS for exactly 17 years. The last show aired on September 12, 1971.
Also in 1954, the original 'teen idol', Frank Sinatra was at No.1 on the UK singles chart with 'Three Coins In The Fountain.'  The song was the Academy Award winning Best Original Song of 1954.
On this day in 1958, electrical engineer Jack S. Kilby staged the first successful demonstration of an integrated circuit — the microchip — at Texas Instruments in Dallas, thereby rendering the transistor obsolete after just four short years
Also this day in 1958, The Crickets released the single "It's So Easy." Although it is today considered to be one of Buddy Holly's successes it failed to chart in '58.
On this day in 1959, NBC aired its western drama Bonanza for the first time, starring Toronto-born Lorne Greene.  It was the first western broadcast in colour, and went on for 14 seasons, 11 of them on Sunday night at 9.
On this day in 1963, the last episode of "Leave it to Beaver" was aired. The show had debuted on October 4, 1957.
Also in 1963, The Beatles were at No.1 on the UK singles chart with 'She Loves You', the group's second No.1. It became the biggettle Anthony and the Imperials were all on the bill.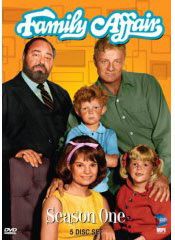 On this day in 1966, the sitcom "Family Affair starring Brian Keith and Sebastian Cabot premiered on CBS television.                            The show appealed to kids and their parents and lived on through 138 episodes over five seasons.
Also in 1966, the Beatles received a gold record this day for Yellow Submarine.
Again in 1966, NBC-TV kicked off the fun-filled weekly series "The Monkees" starring 4 young men in a Beatles-wannabee group. It was 30 minutes of "A Hard Day's Night" take-offs each week. The show lasted two TV seasons and sold millions of records.
One more significant  premiere this date in 1966 was "The Roger Miller Show" on ABC-TV.  But the half-hour didn't catch public favor & was cancelled by the end of the year.
On this day in 1970, more than 18-thousand people attended the Woody Guthrie memorial concert at the Hollywood Bowl in Los Angeles. Joan Baez, Bob Dylan and Guthrie's son Arlo were among the performers.
Also this day in 1970, James Taylor's first single, Fire and Rain, was released.  It was the first of 14 Taylor hits on the charts in the 1970s and 1980s.
On this day in 1972, cowboy actor William Boyd (Hopalong Cassidy on radio, TV & the movies), died at age 77.
Also in 1972, the first episode of the sitcom "Maude" starring Bea Arthur aired on CBS TV. The hit spinoff from "All in the Family" ran for 141 episodes over six years.
On this day in 1975, Pink Floyd's second #1 album "Wish You Were Here" was released.
On this day in 1978, the hit sitcom "Taxi" had its premiere showing on ABC television. It ran for 114 episodes over five years; the final season was on NBC.
On this day in 1980, an in-depth report on the death of Elvis Presley aired on ABC-TV's 20/20. It raised so many issues that officials reopened the investigation into the superstar's demise.
Also in 1980, actress Lillian Randolph (TV's Roots, Amos n Andy, radio's Great Gildersleeve & Baby Snooks Show) lost her battle with cancer at age 65.
On this day in 1981, Journey's "Escape," with "Don't Stop Believin'," and a couple of major ballads, was Billboard's #1 Pop Album.
On this day in 1984, the first episode of "Punky Brewster" aired on NBC.
On this day in 1986, character actor Frank Nelson 
 (I Love Lucy, Jack Benny Show), died from cancer at age 75.  The man with the speaking style dripping with sarcasm & irony worked for Benny over an incredible 38 years on radio & TV.
Also in 1986, Vancouver's 1040 AM radio signed on at 7 pm Friday with a commercial free music weekend of adult contemporary music.  Official sign on was Monday the 15th at 5:30 am with Huey Lewis & the News: "Stuck with you".  Veteran broadcaster Don Hamilton was the original owner. You know the station now as the all-sports TSN 1040.
On this day in 1987, Michael Jackson kicked off his Bad World Tour by playing the first of three sold-out nights at Korakuen Stadium in Tokyo. By the end of the 123-date tour, Jackson had played to over 4 million fans across fifteen countries.
Also in 1987, the soundtrack album 'La Bamba' featuring Los Lobos started a two-week run at No.1 on the Billboard album chart.
On this day in 1989, Aerosmith released their second Top 5 charting album, "Pump."
On this day in 1990, Stevie Nicks and Christine McVie of Fleetwood Mac announced their departure from the band at the end of the current tour, due to relationship breakups with other band members.  They did leave, but then returned for "reunions" through the following decade.
On this day in 1993, New Westminster-born actor Raymond Burr (Perry Mason, Ironside) lost his battle with liver cancer at age 76.
Also in 1993, the pilot episode of "Lois and Clark" aired on ABC. And the 10th season of "Murder, She Wrote" began on CBS.
On this day in 1994, the first episode of "Party of Five" aired on FOX.
On this day in 1995, the first episode of the sitcom "The Jeff Foxworthy Show" (based on the star's standup comedy material) aired on ABC.
On this day in 1997, songwriter, producer, record label founder and Abba's manager Stig Anderson died of a heart attack at age 66. Anderson co-wrote some of Abba's biggest hits, such as 'Waterloo', 'Mamma Mia', 'S.O.S', 'Fernando', 'Dancing Queen', 'Knowing Me, Knowing You' and 'The Name of the Game.'
On this day in 1998, a concert by Shania Twain was televised live on DirecTV.
It was the first time a satellite broadcast service had originated a country concert.
Also in 1998, CNN journalist John Holliman, one of CNN's "Boys of Baghdad" during the Persian Gulf war, died of injuries sustained in a car crash at age 49.
Also this day in 1998, country singer Vince Gill made his 100th appearance on the Grand Ole Opry.
On this day in 1999, singer Graham Nash was injured in a freak boating accident in Hawaii. He broke both his legs.
Also in 1999, Bristow Virginia hosted Farm Aid '99, as organized by Willie Nelson, John Mellencamp and Neil Young who also performed.
On this day in 2000, to trumpet its entry into the New York metropolitan market with 15 stores, retail chain Best Buy presented a free Sting concert in the city's Central Park.
On this day in 2001, concerts around the U.S. were cancelled in the wake of the terrorist attacks on the World Trade Center and the Pentagon. Shows from acts as diverse as Stevie Nicks and Crosby, Stills & Nash to Weezer and The Black Crowes were postponed.
Also in 2001, XM Satellite Radio was slated to begin service in the US. But because of the terrorist attacks of the previous day XM's debut was postponed for two weeks to Sept. 25th.
On this day in 2003, country superstar Johnny Cash died of complications from diabetes and emphysema, at age 71.
On this day in 2004, Tim McGraw went to No.1 on the Billboard album chart with 'Live Like You Were Dying.'
Also in 2004, Saliva's "Survival of the Sickest" was the theme song for the WWE Pay-Per-View TV special Unforgiven!
On this day in 2006, a 10-disc box set spanning Robert Plant's entire post-Led Zeppelin career was issued by Rhino Records. "Nine Lives" had remastered versions of all nine Plant solo albums to date, each with extra tracks, plus a bonus DVD featuring interviews, music videos and live performances.
On this day in 2007, the surviving members of Led Zeppelin announced they would reform for a star-studded tribute concert in London. Robert Plant, Jimmy Page and John Paul Jones would play at a London show to remember the late Atlantic Records founder Ahmet Ertegun. Proceeds from the Nov. 26th concert in London would fund scholarships in Ertegun's name.
On this day in 2008, noted Los Angeles TV newsman George Putnam who anchored over time for all 4 LA independent TV stations, died at age 94.
Also in 2008, Queen and Paul Rodgers headlined a free outdoor benefit concert in Kharkov, Ukraine, for the ANTIAIDS Foundation's "On the Edge" campaign. The show kicked off the group's European tour.
On this day in 2009, Colbie Caillat was at No.1 on the Billboard album chart with 'Breakthrough', the American singer/songwriter's second album.
On this day in 2011, Jonathan Demme's documentary Neil Young Journeys premiered at the Toronto International Film Festival.
On this day in 2012, Motley Crue singer Vince Neil tripped on stage and broke his left foot during a concert in Cuyahoga Falls, OH.
In 2013, sound innovator Ray Dolby died in San Francisco from Alzheimer's Disease and acute leukemia, aged 80.  A pioneer in the field of sound, Dolby is remembered as the man who took the hiss out of sound recordings. With a fortune of $2.4 billion at his death, Dolby truly did make silence golden.
Also in 2013, ten years after his death singer Barry White was posthumously awarded a star on the Hollywood Walk of Fame.
In 2014, iconic jazz pianist and composer Joe Sample, one of the fathers of jazz-funk-fusion, who spent more than five decades creating awe-inspiring music that transcended genres and inspired countless musicians, succumbed to complications from lung cancer at age 75.  He was one of the founding members of the Jazz Crusaders, which in 1971 became simply The Crusaders.
In 2015, founding Guns N' Roses members Slash and Duff McKagan reunited to perform at a benefit event for the Wonderland Avenue School in L.A. They were joined by their Velvet Revolver bandmate Dave Kushner.
Today's Birthdays
Singer Maria Muldaur is 79.
Singer Andrea Simpson of The Caravelles is 76.
Actor Joe Pantoliano (Sopranos) is 71 (see 1951 above).
Singer-guitarist Gerry Beckley of America is 70.
MTV VJ/radio host/actress Nina Blackwood (Roseanne & Tom: Behind the Scenes, Rock 'n' Roll Mom) is 70.
Actress Rachel Ward (Thorn Birds) is 65.
Actor Robert John Burke (Law & Order:SVU, Person of Interest, Army Wives, Gossip Girl, Rescue Me) is 62.
Actress Felicity Montagu (Doc Martin) is 62.
Actress Amy Yasbeck (Wings, I've Got a Secret) is 60.
Actor Ramon Franco (The Bridge, Weeds, Tour of Duty) is 59.
Bassist Norwood Fisher of Fishbone is 57.
CTV (BC) news anchor/reporter Mi-Jung Lee is 56.
Actor Darren E. Burrows (Northern Exposure) is 56.
Singer Ben Folds (Ben Folds Five) is 56.
Comedian/writer/actor/director Louis C.K. (Louie, Late Night w/Conan O'Brien) is 55.
Actor/voicist Paul F. Tompkins (BoJack Horseman, Dag) is 54.
Actor Josh Hopkins (Cougar Town, Swingtown, Pepper Dennis, Ally McBeal) is 52.
Actor Will Chase (Nashville, Smash) is 52.
Writer/producer/comedienne Jessica Seinfeld (The Marriage Ref) is 51.
Actor Gideon Emery (Teen Wolf) is 50.
Actor Paul Walker (Young & the Restless) is 49.
Country singer Jennifer Nettles of Sugarland is 48.
Actress Lauren Stamile (Burn Notice, Community, Grey's Anatomy) is 46.
Actress Elisabetta Canalis (Leverage) is 44.
Actor Ben McKenzie (Gotham, Southland, The O.C.) is 44.
Singer Ruben Studdard (American Idol) is 44.
Singer-actress Jennifer Hudson (American Idol) is 41.
Actor Hosea Chanchez (Major Crimes, The Game, For Your Love) is 40.
Actor Andreas Wigand (Angie Tribeca) is 36.
Actress Emmy Rossum (Shameless, As The World Turns) is 36.
Actor Alfie Allen (Game of Thrones) is 36.
Vancouver-born actress Alexia Fast (Manhattan, Kaya) is 30. 
Actress Molly Tarlov (Awkward) is 30.
Country singer Kelsea Ballerini is 29.
Actor Colin Ford (Under the Dome, Supernatural) is 26.
Chart Toppers – Sept. 12
1946
To Each His Own – Eddy Howard
They Say It's Wonderful – Frank Sinatra
Surrender – Perry Como
Wine, Women and Song – Al Dexter
1955
The Yellow Rose of Texas – Mitch Miller
Maybellene – Chuck Berry
Autumn Leaves – Roger Williams
I Don't Care – Webb Pierce
1964
The House of the Rising Sun – The Animals
Because – The Dave Clark Five
Bread and Butter – The Newbeats
I Guess I'm Crazy – Jim Reeves
1973
Let's Get It On – Marvin Gaye
Say, Has Anybody Seen My Sweet Gypsy Rose – Tony Orlando & Dawn
Loves Me Like a Rock – Paul Simon
You've Never Been This Far Before – Conway Twitty
1982
Hard to Say I'm Sorry – Chicago
Jack & Diane – John Cougar
You Should Hear How She Talks About You – Melissa Manchester
She Got the Goldmine (I Got the Shaft) – Jerry Reed
1991
(Everything I Do) I Do It for You – Bryan Adams
The Promise of a New Day – Paula Abdul
Motownphilly – Boyz II Men
Brand New Man – Brooks & Dunn
2000
Jumpin', Jumpin' – Destiny's Child
Doesn't Really Matter – Janet Jackson
Music – Madonna
It Must Be Love – Alan Jackson
2009
I Gotta Feeling – Black Eyed Peas
You Belong With Me – Taylor Swift
Use Somebody – Kings Of Leon
Big Green Tractor – Jason Aldean
Today in Broadcast History compiled by Ron Robinson