ON THIS DAY in 1896
actor Raymond Massey was born in Toronto.  He played many roles on the big screen and small (including President Abraham Lincoln), but he is best remembered as Dr. Gillespie, mentor to the young Dr. Kildare, played by Richard Chamberlain in all 191 episodes of the 60`s TV series. He died of pneumonia on July 29, 1983 at age 86.
In 1898,  actress Shirley Booth was born in Brooklyn.  Primarily a stage actress Shirley left an indelible mark on broadcasting in the early 1940's as the brassy daughter of the title character in OTR's Duffy's Tavern, then two decades later as the star of TV's Hazel for five years.  She died Oct. 16 1992 at age 94.
In 1908, actor Fred MacMurray was born in Illinois.  He played many roles on the big screen, some bad guys, some romantic leads, but he will always be remembered for his TV role as Steve Douglas, everyone's favorite 60s Dad in the TV sitcom My 3 Sons, with William Demerest and, later, William Frawley.  The family comedy ran for 12 television seasons. He died of pneumonia Nov. 5 1991 at age 83.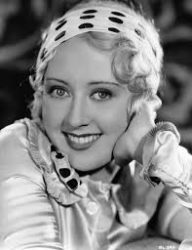 In 1909, actress Joan Blondell was born in New York City.  The blonde bombshell played cute as the Dickens in a string of 30's & 40's madcap comedies and romances. In the late 1960's she was a star of ABC's TV western series Here Come the Brides, set in the Pacific Northwest of the 19th century. She died of leukemia Christmas Day 1979 at the age of 73.
In 1922, the New Orleans Rhythm Kings recorded "Tiger Rag", one of the most familiar ragtime jazz tunes ever.
In 1931, gossip columnist Walter Winchell began his long distinctive radio career with a quarter hour Tuesday nights coast-to-coast on CBS, after a 3-month trial run on the local New York affiliate.
In 1935, singer/songwriter John Phillips, the leader of The Mamas & The Papas was born in South Carolina.  Two of his bext known songs are California Dreamin', and San Francisco [Be Sure to Wear Flowers in Your Hair] which was a smash for Scott McKenzie. He died of heart failure Mar 18, 2001 at age 65.
In 1949, Hank Williams recorded two future country classics, "I'm So Lonesome I Could Cry" and "My Bucket's Got A Hole In It."
In 1951, "Screen Directors Playhouse" was heard for the final time on NBC Radio. During its 2.5 year run the radio program had featured some of the biggest stars in Hollywood.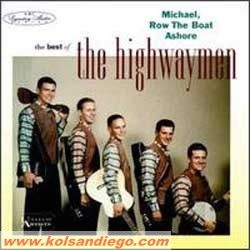 In 1961, the No. 1 Billboard Pop Hit was "Michael" by the Highwaymen. The five members were all freshmen from the same fraternity at Wesleyan University at Middletown, Conn.
Also in 1961, Gene Chandler with his group the Dukays recorded "Duke of Earl."  It would zoom up to #1 on the charts and change his life. Still in 1961, three girls from San Francisco, The Paris Sisters released their million-selling signature song "I Love How You Love Me".
Again in 1961, Brenda Lee was in Nashville to record her next two Top 10 pop singles, "Fool #2" and "Break It To Mr Gently."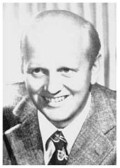 In 1963, arranger/conductor Axel Stordahl, whose name had been synonymous with that of Frank Sinatra on radio & records, lost his battle with cancer at age 50.
Still in 1963, "American Bandstand" aired for the final time as a daily show on ABC-TV, as it evolved into a weekly hour on Saturdays for another 26 years.
Also this day in 1963 was the third and final day of filming by The Beatles for a UK TV show on 'The Mersey Sound.'  Their performance of 'She Loves You' served as their introduction to North America when it was aired on NBC's Jack Paar Show on January 3, 1964.
In 1965, The Beatles appeared at the Hollywood Bowl in Southern California. Tickets cost just $3.00! In 1968, The Beatles recorded their first songs for their own Apple label. The initial session included the big hits "Revolution" and "Hey Jude".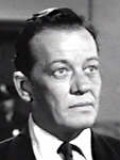 Also in 1968, actor William Talman, who played DA Hamilton Berger who got beat every week by TV's Perry Mason, died of cancer at age 53.
Still in 1968, The Byrds released their sixth  album "Sweetheart of the Rodeo" on the Columbia label. It was influential as the first example of "country-rock" music from an established group.
In 1969, two weeks after the Woodstock festival in the US, the second Isle of Wight Festival took place in the UK. More than 150,000 turned up over the two days to see Bob Dylan, The Band, Joe Cocker, Richie Havens, The Moody Blues, Tom Paxton, The Who, and numerous lesser lights. Tickets were 25 shillings, about $3.00.
In 1970, actor/announcer Del Moore, who co-starred with Betty White in early TV's Life with Elizabeth, and had a recurring role in the John Forsythe sitcom Bachelor Father, died after a heart attack at age 54.
Also in 1970, the third Isle of Wight Pop Festival was held in England, and featured Jimi Hendrix, the Doors, the Who, Joni Mitchell, Jethro Tull, Free, the Moody Blues, and others.
In 1972, the "One On One" benefit concert for mentally disabled children, instituted by John Lennon and Yoko Ono at the behest of friend Geraldo Rivera, took place at New York's Madison Square Garden. Performances were by Stevie Wonder, Roberta Flack, and Sha Na Na as well as John & Yoko. The two shows, one in the afternoon and the other that evening, raised nearly a quarter million dollars.
In 1973, The Doors officially disbanded, two years after Jim Morrison's death (though they "reunited" 29 years later.)
In 1974, "The Brady Bunch", a typical 1970s scrubbed-face American family sitcom which first aired on TV September 26, 1969, came to an end. The Bradys went on to make movies, and were resurrected for some TV specials and big-screen stuff later on, as has just about everything with nostalgia value.
In 1975, radio station KTW 1250-AM in Seattle changed call letters to KYAC (later KKDZ, Radio Disney.)
Also in 1975, KC and the Sunshine Band went to No.1 on the Billboard Hot 100 singles chart with, 'Get Down Tonight', their first of five No.1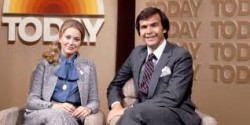 In 1976, newsman Tom Brokaw started as co-anchor (with Jane Pauley) of  NBC-TV's Today Show. Six years later he would become anchor (for 22 years!) of NBC Nightly News.
.
In 1980, Christopher Cross rode the wind to #1 on the North American pop charts with "Sailing".
In 1981, The Rolling Stones released the album "Tattoo You."
In 1982, during a North American tour Queen appeared at McNichols Arena in Denver.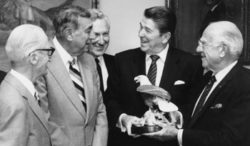 In 1984, President Ronald Reagan, along with radio pioneers Red Barber, Bill Stern, Graham McNamee, Don Dunphy and Ted Husing were inducted into the Sportscasters Hall of Fame, in ceremonies at New York's Waldorf-Astoria Hotel.
Also in 1984, a London auction of Beatles memorabilia netted over $271 thousand.
In 1985, CJAT-AM Trail was granted approval to purchase CKKC Nelson and CFKC Creston. The new group was named Kootenay Broadcasting System (KBS).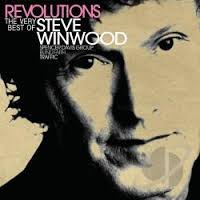 In 1986, Steve Winwood went to No.1 on the Billboard Hot 100 chart with, 'Higher Love.'
In 1988, Brenda Lee sued MCA Records (formerly Decca) seeking $20 million in unpaid royalties (the suit was eventually settled out-of-court, the dollar amount undisclosed,)
In 1989, Guns N' Roses guitarist Izzy Stradlin was arrested for making a public disturbance on a US Airlines flight. He allegedly urinated on the floor, verbally abused a flight attendant and smoked in a non-smoking section.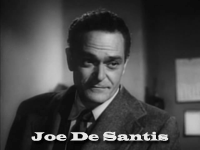 Also in 1989, actor Joe De Santis died of obstructive lung disease at age 80.  He started in 1940 radio with Pepper Young's Family, and continued with major network shows including Mr. District Attorney, March of Time, Gangbusters, Kate Smith, and many others. A radio highlight was his narration of Norman Corwin's On a Note of Triumph at the conclusion of World War II.  In early television he took featured roles on several Playhouse 90 and Studio One productions, and appeared regularly on the Red Buttons, Martha Raye and Sid Caesar shows.
Still in 1989, Billy Joel fired his manager and former brother-in-law Frank Weber, after an audit revealed discrepancies. Joel took Weber to court and sued for $90 million.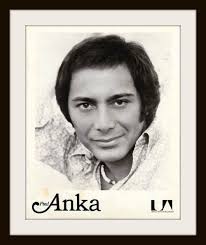 In 1990, Ottawa-born Paul Anka was naturalized as an American citizen in Las Vegas (even as his car was towed away for being illegally parked.)
In 1991, country music singer Dottie West was critically injured in an accident while driving to a gig at the Grand Ole Opry in Nashville. She died during surgery five days later.
In 1992, "Northern Exposure" and "Murphy Brown" were big winners at the annual Emmy Awards. Bette Midler picked up an Emmy for her appearance on the "Tonight Show" just before Johnny Carson retired.
In 1993, "Late Show with David Letterman" debuted on CBS-TV. CBS remodeled the Ed Sullivan Theater (on 54th Street in New York City) for Letterman, who had spent over a decade on NBC ("Late Night with David Letterman.") The first guests to appear on the new show were Bill Murray and Billy Joel.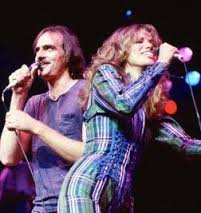 In 1995, James Taylor and his former wife Carly Simon got back together for their first concert together in 16 years. "Livestock '95" was a benefit performance on Martha's Vineyard, Massachusetts to raise funds for a new barn for the island's agricultural society.
Also in 1995, Sterling Morrison, founding member of the Velvet Underground, died of non-Hodgkins lymphoma, two days after his 53rd birthday.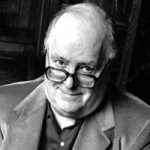 in 1996, the last of Bob Kerr's Off the Record programs was aired nationally on CBC Radio Two. Kerr had hosted the classical music program since 1960 from CBC Vancouver.
In 1997, Diana, Princess of Wales, died in a traffic crash in Paris. Her death dominated radio & TV around the world for days, weeks and Months.
Also in 1997, members of The Wu-Tang Clan were arrested after the alleged assault on a record promotions manager after a show in Chicago.
Still in 1997, The Notorious B.I.G. featuring Puff Daddy & Mase went to No.1 on the Billboard singles chart with 'Mo Money Mo Problems.'

On 1999, the U.S. Postal Service unveiled the Yellow Submarine stamp (to commemorate Beatles International Week).
In 2003, Michael Stipe of R.E.M. joined Radiohead onstage at UBC in Vancouver to perform "Karma Police."
In 2004, winners at the MTV Video Music Awards included, Usher for Best Male Video for 'Yeah', Best Video went to Outkast for 'Hay Ya', Best Group Video No Doubt for 'It's My Life' and Best Rock Video went to Jet for 'Are You Gonna Be My Girl.'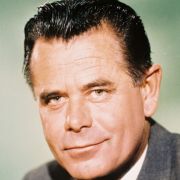 In 2006, Quebec City-born movie star Glenn Ford, who headed up two TV series Cade's County & The Family Holvak, died at age 90, after a series of small strokes in his later years.
In 2007, rap star Lil Wayne was sued by a woman for $1 million who claimed she was crushed at his concert in Maryland, after a large amount of cash was thrown into the audience.
In 2010, the first video images of the 33 workers trapped in a Chilean gold-and-copper mine were aired on newscasts around the world.  The miners also enjoyed their first family phone calls since the good news they were alive 8 days previous.
In 2011, the estate of the late Elvis Presley sued the German-based Arista Music (which bought out RCA Victor records) for unpaid royalties from ringtones, downloads and apps that feature the icon's hit songs.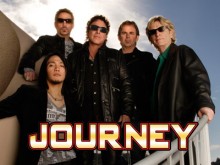 In 2012, Journey headlined a fundraising concert for Mitt Romney at the Republican convention in Tampa Bay. The group was paid $500,000 for the 90-minute set.
In 2013, Aerosmith headlined at Harley-Davidson's 110th Anniversary Celebration in Milwaukee over Labor Day weekend. Kid Rock performed the following day.
in 2014, film and TV director Andrew V. McLaglen, a specialist with westerns who helmed 96 episodes of the CBS series Gunsmoke and all 116 episodes of Have Gun — Will Travel, died at age 94, at his home at Friday Harbour Washington.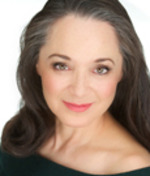 Also in 2014, actress Victoria Mallory, who played Leslie Brooks on CBS-TV's The Young & the Restless from 1977 – '84, and had recurring roles on Santa Barbara, Promised Land, Touched by an Angel and Everwood, passed away at age 65 after a battle with pancreatic cancer.
In 2015, writer/director Wes Craven, who worked extensively on the TV series Twilight Zone and Freddy's Nightmares while pursuing a star-making horror movie career on the big screen, succumbed to brain cancer at age 76.
In 2017, drummer Skip Prokop, the leader and co-founder of the legendary 1970's Canadian band Lighthouse, died of heart complications at age 73.  At its peak the band won three consecutive Juno Awards for Best Canadian Group.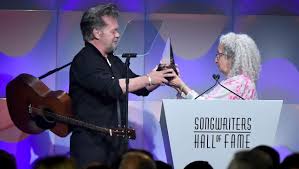 In 2018, John Mellencamp was recipient of the Woody Guthrie Prize in Tulsa, home of the late legendary Folk singer/songwriter.
Today's Birthdays
Actress Elizabeth Ashley (Evening Shade) is 83.
UK singer/guitarist John McNally of The Searchers is 81.
Actor-turned-politician Ben Jones (The Dukes of Hazzard) is 81.
Actress Peggy Lipton (The Mod Squad, Twin Peaks) is 76.
Comedian/actor/voicist Lewis Black (The Daily Show, Scooby Doo! Mystery Incorporated, Root of All Evil) is 74.
Actor Timothy Bottoms (That's My Bush, Land of the Lost} is 71.
Actor David Paymer (The Good Wife, Line of Fire, Larry Sanders Show) is 68.
Actress Dorian Lopinto (The Secret World of Alex Mack, Nine to Five) is 65.
Jazz saxophonist Gerald Albright is 65.
Actress Joan McMurtrey (Simon & Simon, The Bold & the Beautiful) is 64.
Actress Ely Pouget (Dark Shadows, Friday's Curse) is 62.
Actor Michael Chiklis (Gotham, Am. Horror Story, Vegas, No Ordinary Family, The Commish, The Shield) is 59.
Actor Mark Strong (Low Winter Sun) is 59.
Writer/actor Nelson Ascencio (MADtv) is 58.
Actress Michael Michele (Star, Kevin Hill, ER, Homicide: Life On The Street) is 56.
Country singer Sherrie Austin is 51.
Guitarist Lars Frederiksen of Rancid is 51.
Actress/voicist Cameron Diaz  (Shrek the Halls) is 50.
TV personality Lisa Ling (This is Life w/Lisa Ling, Our America w/Lisa Ling, National Geographic Explorer, The View, Hollywood Squares) is 49.
Vancouver-born actress Kimberley Joseph (Lost, Tales of the South Seas) is 49.
Singer-guitarist Aaron Barrett of Reel Big Fish is 48.
Singer Rich Cronin of LF0 is 47.
Actress Sarah-Jane Potts (Gracepoint) is 46.
Actor Michael Gladis (Penny Dreadful: City of Angels, Feed the Beast, Reckless, Mad Men) is 45.
Actor Elden Henson (Daredevil, A Gift of Love:The Daniel Huffman Story) is 45.
Montreal-born actor Gianpaolo Venuta (Being Human, The Firm, Naked Josh) is 44.
Tacoma-born actress Stacy Fuson (The Sullivan Sisters) is 44. 
Drummer Matt Taul (Tantric, Days of the New) is 44.
Actress Marin Ireland (Sneaky Pete, The Slap, The Divide, Homeland, Mildred Pierce) is 43.
Actress Angel Coulby (Dancing on the Edge, Merlin) is 42.
Actress Vanessa Britting (The Young & the Restless, Corn Star) is 42.
Singer Rachael Price of Lake Street Dive is 37.
Guitarist Ryan Ross (Panic At The Disco) is 36.
Actress Johanna Braddy (Quantico, Un-Real, Greek) is 35.
Actor Cameron Finley (Baywatch, The Lionhearts) is 35.
Singer/songwriter Bebe Rexha is 33.
Actress Gaia Weiss (Vikings) is 31.
Actress Jessica Henwick (Game of Thrones, Silk) is 30.
Chart Toppers – Aug. 30
1951
Too Young – Nat King Cole
Because of You – Tony Bennett
My Truly, Truly Fair – Guy Mitchell
Hey, Good Lookin' – Hank Williams
1960
It's Now or Never – Elvis Presley
Walk — Don't Run – The Ventures
The Twist – Chubby Checker
Alabam – Cowboy Copas
1969
Honky Tonk Women – The Rolling Stones
Sugar, Sugar – The Archies
Put a Little Love in Your Heart – Jackie DeShannon
A Boy Named Sue – Johnny Cash
1978
Grease – Frankie Valli
Miss You – The Rolling Stones
Boogie Oogie Oogie – A Taste of Honey
Talking in Your Sleep – Crystal Gayle
1987
La Bamba – Los Lobos
Don't Mean Nothing – Richard Marx
Only in My Dreams – Debbie Gibson
Born to Boogie – Hank Williams, Jr.
1996
Macarena (Bayside Boys Mix) – Los Del Rio
I Love You Always Forever – Donna Lewis
Loungin – LL Cool J
Carried Away – George Strait
2005
We Belong Together – Mariah Carey
Pon De Replay – Rihanna
Don't Cha – Pussycat Dolls featuring Busta Rhymes
As Good As I Once Was – Toby Keith
Today in Broadcast History compiled by Ron Robinson