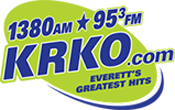 KRKO Everett would like to hear from former employees to help celebrate its 100th birthday in August. Contact [email protected] for further information.
Courtesy of Wikipedia
KRKO (1380 kHz, "Everett Radio") is a commercial AM radio station licensed to Everett, Washington. The station broadcasts an oldies–classic hits–sports radio format to the Seattle metropolitan area. The station was established in 1922, and is currently operated by S-R Broadcasting Co., Inc., a locally owned company.
KRKO broadcasts on a regional frequency of 1380 kHz with 50,000 watts, the maximum power for United States AM radio stations. The signal is non-directional during daytime hours, but employs a directional antenna at night, in order to avoid interfering with other stations.[2] KRKO broadcasts using HD Radio technology alongside its analog signal.[3]
KRKO's programming is also carried over a 250 watt FM translator, K237GN, 95.3 MHz in Everett.[4]
Read More HERE
I've been listening to the KRKO live stream for the last hour. Great music mix. nice jingles. Sounds Local. Also heard Heidi May say a word. Overall, I Love it
Enjoy
Michael Easton
Listen HERE