ON THIS DAY in 1909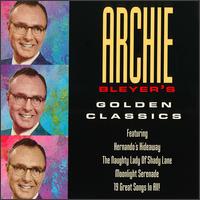 bandleader/arranger Archie Bleyer was born in Corona/Queens NY. From 1946-53 he was orchestra leader for Arthur Godfrey's many broadcasts on radio & TV. Godfrey fired singer Julius LaRosa in the fall of '53, and days later, terminated Bleyer, who had founded Cadence records, which first signed The Everly Bros., & Andy Williams.  He died from Parkinson's disease March 20 1989 at age 79.
Also in 1909, the oldie-but-goodie "Shine On, Harvest Moon" by Ada Jones and Billy Murray hit #1 on the Hit Parade.
In 1911, the consummate radio actress Claudia Morgan was born in Brooklyn.  Throughout the 1940's she played Nora Charles opposite Les Tremayne in The Adventures of the Thin Man. She was married to radio announcer and actor Ernest Chappell, and performed with him on the late '40s horror show, "Quiet Please." She was also a regular on The O'Neills, David Harum, Ford Theatre, Joyce Jordan, M.D., The Right to Happiness, Grand Central Station, Inner Sanctum Mysteries, On Stage and Dimension X.  In the early '70s, Morgan was heard on Himan Brown's CBS Mystery Theater.  She died Sept. 17 1974 at age 63, cause undisclosed.
In 1914, actor William Lundigan was born in Syracuse NY.  He began as an adolescent announcer for a hometown radio station in a building owned by his father. He spent thirteen years as announcer before being discovered by a Universal film executive in 1937.  When bigscreen roles dried up in the mid-50′s he returned to announcing as host of TV's dramatic anthology Climax, and Shower of Stars, on which he did commercials for the sponsor Chrysler. He also starred in the 1959 TV series Men into Space.  He died of heart failure Dec 20, 1975 at age 61.
In 1922, pioneer Toronto radio station CFCA had its Grand Opening.  The station, which began experimentally in 1921 as 3EC, was owned and operated by The Toronto Daily Star.  Foster Hewitt broadcast his first hockey game on CFCA Feb. 16 1923.  It signed off forever September 1, 1933, after the Star became convinced the federal government was about to create a broadcast monopoly and take over private stations.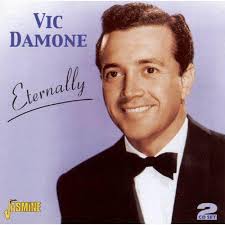 In 1928, singer/radio-TV host Vic Damone was born in Brooklyn. He entered the talent search on CBS Radio's Arthur Godfrey's Talent Scouts and won in April 1947. This led to his becoming a regular on Godfrey's show. By mid-1947, Damone had signed a contract with Mercury Records. In 1948, he got his own weekly CBS radio show, Saturday Night Serenade. In January 1950 he made his first of several guest appearances on Ed Sullivan's Toast of the Town, including a duet with future TV hostess Dinah Shore. Over the next thirty years he became a regular featured guest on every major variety series on network television. He died Feb. 11, 2018 from complications of respiratory illness at age 89.
In 1930, singer/actor/comedian Jim Nabors was born in smalltown Alabama. After moving to southern California he was discovered by Andy Griffith while working at a Santa Monica nightclub, and later joined CBS-TV's The Andy Griffith Show as Gomer Pyle. The character proved popular, and Nabors was given his own spin-off show Gomer Pyle, U.S.M.C..  In the 1960's & 70's he became a popular guest on variety shows which showcased his rich baritone singing voice. He subsequently recorded numerous albums and singles, many containing romantic ballads. Nabors was also known for singing "Back Home Again in Indiana" at the start of the annual Indianapolis 500 car race. He died at his Honolulu home on Nov.30 , 2017, at age 87.
In 1935, 17-year old Ella Fitzgerald recorded her first sides for Brunswick Records. The tunes were Love and Kisses and I'll Chase the Blues Away. She was featured with Chick Webb and his band, and Ella fronted the Webb band for three years following his death in 1939.
in 1936, the first 50 thousand watt radio station began experimenting in Pittsburgh, Pennsylvania.(KDKA).
In 1942, Paul Whiteman and his orchestra recorded Travelin' Light on Capitol Records. On the track with Whiteman's orchestra was the vocal talent of "Lady Day", Billie Holiday.
In 1943, the No. 1 Billboard Pop Hit was "Taking a Chance on Love," by the Benny Goodman Orchestra. Steve Allen portrayed the King of Swing in the 1955 film "The Benny Goodman Story."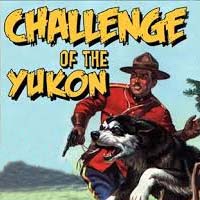 In 1947, folks gathered around the radio to listen to Challenge of the Yukon in a 30-minute format for the first time. The show, which had been a 15-minute action drama on WXYZ Detroit for the previous nine years, was later re-named Sgt. Preston of the Yukon, featuring the Mountie and his trusty dog, King. It continued on network radio until 1955, then went to TV from 1955-1958. Sgt. Preston was created by George W. Trendle and Fran Striker, who earlier brought us The Lone Ranger and The Green Hornet.
In 1948, the Sunday night TV extravaganza that would be must-see family viewing for the next twenty years, "Toast of the Town," (later the Ed Sullivan Show), made its debut on CBS.                                                                                                                                       
The team of Dean Martin & Jerry Lewis were Ed's first headliners.
Also in 1948, "The William Tell Overture" (the Feetlebaum song) by Spike Jones & his City Slickers peaked at #6 on the Billboard Top 100.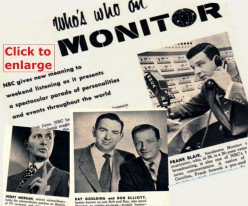 In 1955, "This is Monitor, a weekend program service of NBC Radio," was heard for the first time. Notable hosts such as Bill Cullen, Ed McMahon, Hugh Downs, and Dave Garroway recited this line. It was a network cue to NBC radio stations across the nation who carried the long form news, entertainment and variety broadcast from New York City. Stations and listeners who were "on the Monitor beacon" were entertained for six hours or more each Saturday and Sunday night for nearly two decades. NBC's Monitor was one of the last live network radio programs of the era.
Also in 1955, the first network show to have been produced with no script, The University of Chicago Round Table, was heard for the final time after 24 years on NBC radio. The program was the first network radio program to win the coveted George Foster Peabody Award.
Still in 1955, the TV comedy hit "Mr Peepers" starring Wally Cox with Tony Randall, aired for the last time on NBC.
In 1957, Jerry Lee Lewis' "Whole Lotta Shakin' Goin' On" entered the Billboard country and western chart. The next week, the record debuted on the Billboard pop chart as well. After Lewis appeared on Steve Allen's T-V show, "Whole Lotta Shakin' Goin' On" sold more than six-million copies. It would eventually top both the country and rhythm-and-blues charts, and rise to number three on the Hot 100 pop survey.

Also on this date in 1957, alto saxophonist and big band leader Jimmy Dorsey died in New York of cancer at age 53. Shortly after his death, his band scored high on the charts with "So Rare." Both Jimmy and his brother Tommy played with such bands as Jean Goldkette, Red Nichols and Paul Whiteman in the '20s and early '30s. The Dorsey Brothers had a joint band before Tommy split in 1935. Most of the band members stayed with Jimmy, and the Jimmy Dorsey Orchestra became very popular in the early '40s. With featured vocalists Helen O'Connell and Bob Eberly, the band's hits included "The Breeze and I," "Amapola" and "Green Eyes."
.
In 1958, the TV game show "Make Me Laugh," hosted by Robert Q. Lewis, ended its short run on ABC-TV. A syndicated version hosted by Bobby Van was tried in 1979.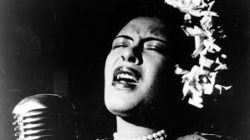 In 1959, police in New York raided a hospital room where singer Billie Holiday was being treated for a kidney infection and cirrhosis of the liver. They found an envelope of heroin and charged her with possession.
Also in 1959, singer Sam Cooke insisted on racially integrated seating for that night's show in Norfolk, Virginia with co-headliner Jackie Wilson.
In 1960, Connie Francis headlined CBS-TV's Ed Sullivan Show on its 12th Anniversary, singing the song that was rocketting up the charts to become her first #1, "Everybody's Somebody"s Fool."  Louis Prima and Keely Smith sang "Up a Lazy River," while Canada's Wayne & Schuster and Victor Borgesupplied the laughs.
In 1961, singer Frankie Avalon began a 12-day tour of South America, one of the first rock tours to play there.
In 1962, 17-year old singer Brenda Lee dislocated her neck while performing at the Latin Casino in New Jersey, and was hospitalized.
Also in 1962, radio station CKNL 970 signed on the air in Fort. St. John, B.C. with 1000 watts day, 500 watts at night. NL stands for "Northern Lights."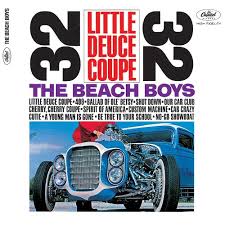 In 1963, the 
Beach Boys
 recorded "Little Deuce Coupe" and "Surfer Girl", both sides of the single would reach the Billboard Top 20.
.
In 1964, The Beatles arrived in Adelaide, Australia and were greeted by an estimated 250,000 fans (the biggest welcome the band would ever receive). People lined the ten mile route from the airport to the city centre.
Also in 1964, in London, The Zombies recorded their first single (and first hit) "She's Not There."
In 1965, the office of Queen Elizabeth announced the Beatles would be made members of the Order of the British Empire. Some M-B-E holders were so upset they returned their medals. The Beatles were honoured at Buckingham Palace in October, but John Lennon returned his medal in 1969 to protest British support for the Vietnam War.
Also in 1965, "Back in My Arms Again" by the Supremes topped the charts, the girl group's fifth straight #1.
Still in 1965, the Rolling Stones' "(I Can't Get No) Satisfaction" was released, and would soon become their first US #1.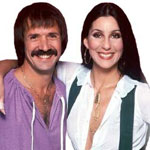 Again in 1965, Sonny & Cher appeared on TV for the first time, performing 'I Got You Babe' on Dick Clark's "American Bandstand."
Also in 1965, Tex Ritter was inducted into the Grand Ole Opry, nearly 30 years after beginning his career as a singing cowboy. Ritter made more than 60 films, and was one of country music's biggest stars in the 1940′s. The father of late TV star John Ritter died at 67 in 1976.
In 1966, the UK's Dave Clark Five headlined CBS-TV's Ed Sullivan Show, singing "Please Tell Me Why." Young Wayne Newton also sang, while Joey Adams, Jackie Vernon and Jacki Kahane supplied the comedy.
In 1970, Calgary's CFAC radio was approved for a power increase from 10,000 to 50,000 watts.  Today the Rogers-owned station is Sportsnet 960 The Fan.
In 1971, the South African Broadcasting Company lifted its five-year ban on Beatles records. The ban was occasioned by John Lennon's remark that the group was more popular than Jesus.
Also in 1971, "Want Ads" by Honey Cone topped the charts for just the one week.
 In 1972, John Lennon & Yoko Ono released the political album "Some Time In New York City," including "Woman is the Nigger of the World" "Attica State" and "Luck of the Irish."  It was John's third post-Beatles LP, and was not received well critically or commercially.
Also in 1972, the Sound Broadcasting Act was passed in the UK, providing for 21 new commercial radio stations, the very first legal competition for the state-owned BBC.
In 1973, Grand Funk started work on their 7th studio album "We're An American Band."
In 1977, the No. 1 Billboard Pop Hit was "Dreams," by Fleetwood Mac.
In 1978, singer Johnny Bond died of a heart attack at age 63. Bond was a guitar-playing sidekick in western films starring Gene Autry, Roy Rogers and Hopalong Cassidy. His hit recordings in the '40s and early '50s included "Cimarron," "Oklahoma Waltz" and "Sick, Sober and Sorry." Pop music fans remember Bond best for his 1960 Top-30 hit "Hot Rod Lincoln."
In 1979, "The Kids Are Alright" film and album were released by the Who. The movie was a documentary of the group's early years.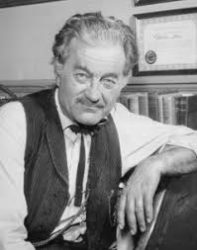 In 1980, actor Milburn Stone, forever identified with his long-running role as Doc on CBS TV's Gunsmoke, died after a heart attack at age 75.
In 1982, Bruce Springsteen, James Taylor, Jackson Browne, Linda Ronstadt and Gary 'US' Bonds all appeared at a rally for nuclear disarmament in Central Park, New York, before more than 450,000 fans.
In 1987, Fox Broadcasting cancelled Frank Zappa's one-night shot as guest host of "The Late Night Show." Zappa said he wanted to interview radio commentator Daniel Schorr and Gerard Thomas Straub, who wrote a book about being fired as producer of "The 700 Club" religious television show. Fox said Zappa's proposed guests would have the audience "nodding out."
In 1988, a dozen of Canada's top songwriters were honoured in Vancouver for writing songs that, since 1965, had been played on Canadian radio at least 100-thousand times.

Gene MacLellan (pictured) won three awards from the Performing Rights Organization of Canada — for Anne Murray's hit, "Snowbird," "Put Your Hand in the Hand" and "The Call." Burton Cummings also won three awards — for "These Eyes," "Stand Tall,"and "Break It to Them Gently."
Also in 1988, the No. 1 Billboard Pop Hit was "Together Forever," by Rick Astley.
In 1989, the Elvis Presley Autoland Museum was opened at Graceland in Memphis. It featured more than 20 cars owned by Elvis.
Also in 1989, Memphis radio station WHBQ, the first to air an Elvis record, announced it was banning all Presley music. As program director Ron Jordan put it, "we overdo the Elvis bit here." Jordan rescinded the order two days later after hundreds of Elvis fans called to protest. Presley's first single, "That's All Right," made its debut on WHBQ in 1954.
Again in 1989, the TV sitcom, "Doctor Doctor" starring Canadian resident Matt Frewer, debuted on CBS-TV.
Still in 1989, Vivian Carter, the co-founder of Chicago's Vee-Jay Records died of complications from diabetes. She was 69. Vee-Jay was the largest black-owned label of the '50s, with such artists as Gene Chandler, Betty Everett, the Dells and Jimmy Reed. Vee-Jay went bankrupt in 1966.
In 1990, Columbia Records released Mariah Carey's self-titled debut album, which would go on to sell 9 million copies.
In 1991, F-B-I agents smashed a counterfeiting ring that peddled thousands of phoney tickets for Grateful Dead shows across the U-S. Agents who raided a New York printing plant seized two-thousand fake tickets and made two arrests. The phoney ducats were sold to "Deadheads" for up to 50 dollars each.
In 1992, k-d lang  cancelled a show in Owen Sound, Ontario after local cattlemen threatened to block the parking lot with farm vehicles and tractor-trailer rigs. A confirmed vegetarian, k-d had upset the beef farmers by taking part in a "Meat Stinks" ad campaign.
In 1994, the Rolling Stones arrived in Toronto to begin rehearsals for their "Voodoo Lounge" world tour. The sessions were held in an empty hangar at Pearson Airport. Before the tour's official start August 1st in Washington D-C, the band staged a surprise gig at a Toronto club.
Also in 1994, bandleader Cab Calloway suffered a debilitating stroke at his Westchester, N.Y., home. The 86-year-old was later moved to a nursing home where he died Nov. 18.
In 1995, the No. 1 Billboard Pop Hit was "I Swear," by All-4-One.
In 1998 at noon, Montreal's CKGM-990 returned to the air with a newly adopted Oldies format.  The station had relinquished its transmitter to fellow Montreal English-language station CJAD, which lost all four transmitting towers in a January ice storm.
In 1999, "If You Had My Love" by Jennifer Lopez topped the charts and stayed there for 5 weeks.
In 2000, r & b singer Bobby Brown was sentenced to 75 days in a Ft. Lauderdale, Fla., jail for probation violation stemming from a 1998 drunken driving sentence.
Also in 2000, singer and activist Sinead O'Connor came out of the closet and announced that she was a lesbian. The mother of two told the magazine Curve that she'd  "gone out with blokes because I haven't necessarily been terribly comfortable about being a lesbian."
Still in 2000, the third George Strait Country Music Festival wrapped with a sold-out show at Houston's Enron Field, after grossing about $22 million from only 10 stadium dates.
In 2001, the town of Hiram, Georgia, honored its most famous resident by renaming a stretch of Route 92 as the "Travis Tritt Highway."
In 2003, Oscar-winning (To Kill a Mockingbird [1962]) actor Gregory Peck died in Los Angeles at 87 years of age. His more than  50 films included Moby Dick, The Keys of the Kingdom, The Yearling, Gentleman's Agreement, and Twelve O'Clock High.  On television he played Abraham Lincoln in the miniseries "The Blue & The Gray," and starred in three TV movies.
In 2004, country singing star Terri Clark became the first Canadian woman to be inducted into the Grand Ole Opry.
In 2005, Pink Floyd announced they would reunite with former bassist Roger Waters, who left the band in 1985, for the Live 8 London concert on July 2nd. This would be the first time the band had played together as a quartet since The Wall tour in 1981.
In 2006, the artist once again known as Prince received a Webby Lifetime Achievement Award in recognition of his "visionary" use of the Internet.  Prince was the first major artist to release an entire album, 1997′s Crystal Ball, exclusively on the World Wide Web.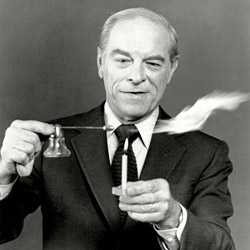 In 2007, Don Herbert, TV's Mr. Wizard, died at home at age 90.  'Watch Mr. Wizard' (1951-1965) introduced generations of young viewers to the joys of science. In the 70′s and 80′s Herbert hosted two revival series of Mr. Wizard which originated in Canada (Ottawa & Calgary).
Also in 2007, Canada Post issued postage stamps honoring Canadian singers Paul Anka, Joni Mitchell, Anne Murray, and Gordon Lightfoot.
In 2008, longtime NBC TV sportscaster Charlie Jones suffered a massive heart attack and died at age 77.  He had a more-than-45 year career in sports playbyplay, notably with the American Football League and its successor conference in the NFL.
Also in 2008, Nashville Brass leader Danny Davis died after suffering a fatal heart attack at age 83.
Still in 2008, the Hollywood Chamber of Commerce selected a number of performers, including the Toronto-based band Rush, to have stars embedded on the Hollywood Walk of Fame in 2009.
In 2009, U.S. broadcasters completed the switch from Analog TV transmission to Digital.
In 2010, to the consternation of many in the gay community, Elton John entertained at the Florida wedding of conservative talk show host Rush Limbaugh.  A million-dollar performance fee may have had something to do with it.
In 2011, a founder and lead vocalist with the late 50′s group The Coasters on such hits as "Yakety Yak", "Charlie Brown", "Poison Ivy" and "Searchin,'" Carl Gardner succumbed to congestive heart failure at age 83.
Also in 2011, Clarence Clemons, the saxophonist for Bruce Springsteen's E Street Band, suffered a stroke at his home in Florida. The 69-year-old musician was initially listed as "responsive and in stable condition" after two brain surgeries. However, he passed away six days later.
In 2012, Toronto's Rush released their 19th studio album, "Clockwork Angels." It debuted in Canada at #1, #2 on the Billboard 200, and went on to win the Juno Award for Album of the Year.
In 2013, Queens Of The Stone Age's sixth album, "… Like Clockwork" debuted at #1 on the Billboard 200.
In 2014,   Geddy Lee and Alex Lifeson of Rush received honorary Doctorate of Music degrees from Nipissing University, a public liberal arts school in North Bay, Ontario.
In 2015, Saskatchewan-born Rick Ducommun, the comic character actor best known for playing Tom Hanks' prankster neighbor Art Weingartner in The 'Burbs, died in a Vancouver hospice of complications from diabetes at age 62.  He had played Bart, half of the team of Biff & Bart on the BCTV kids' series Zig Zag; in the mid 80's he had been a regular on the failed Stephen J. Cannell police sitcom, The Last Precinct.
Also in 2015, singer Monica Lewis, who sang with Benny Goodman, who sang on the first Ed Sullivan Show when it was called Toast of the Town, and who beginning in 1947 provided the voice of 'Chiquita Banana' on radio & TV commercials, died of natural causes at age 93.
Still in 2015, Rock 'n' Roll Hall of Famer Van Morrison was awarded an honorary knighthood via Queen Elizabeth's annual Birthday Honours list.
In 2016, Yakima Wa.-born actress/voicist Janet Waldo, who began in OTR radio portraying the title character in the family comedy Meet Corliss Archer, who supplied the voice of daughter Judy Jetson on the space-age cartoon The Jetsons, died at age 96. She also had a recurring role on both radio & TV versions of  The Adventures of Ozzie & Harriet, and voiced youthful TV characters Penelope Pitstop and 'Josie' on Josie and the Pussycats, among a score of other cartoon roles.
In 2017, Black Sabbath received the Golden God award at the Metal Hammer Golden God Awards in London.
In 2018, Jon Hiseman, the British drummer, composer and progressive-rock innovator who led the bands Colosseum and Tempest and melded rock with jazz and blues, succumbed to a brain tumor at age 73.  His band Colosseum, often billed as Jon Hiseman's Colosseum, had UK Top 20 albums with Those Who Are About to Die Salute You and Valentyne Suite, both in 1969.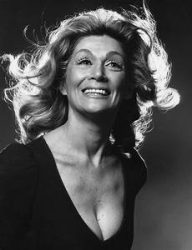 In 2019, actress Sylvia Miles  — who rose to fame in "Midnight Cowboy" –and went on to a long and fulfilling career in film, TV and theatre, died in the back of an ambulance on the way to hospital at age 94.
Also in 2019, St. Louis Blues won their first Stanley Cup with a 4-3 win over Boston in game 7.
Today's Birthdays
Jazz musician Chick Corea is 81.
Sports announcer Marv Albert is 81.
Singer Roy Harper is 81.
Pop singer Len Barry is 80.
Actor Roger Aaron Brown (The District, The LXD: The Legion of Extraordinary Dancers) is 73.
Actress/voicist Sonia Manzano (Sesame Street, Law & Order: SVU, the Loud House) is 72.
Drummer Bun E. Carlos of Cheap Trick is 71.
Actor Alan Dysert (All My Children) is 71.
Country singer-guitarist Junior Brown is 70.
Ontario-born actor Gary Farmer (The Red Road, Blackstone, Forever Knight) is 69.
Actor David Thornton (Law & Order, Law & Order: SVU) is 69.
Singer-songwriter Rocky Burnette is 69.
Actress Ella Joyce (Roc) is 68.
Actor Gregory Alan Williams (Greenleaf, Drop Dead Diva, Necessary Roughness, Baywatch) is 66.
Actor Timothy Busfield (thirtysomething, West Wing, Studio 60, Designated Survivor) is 65.
Comedian/impressionist Jim Morris (Sat. Night Live) is 65.
Actress Jenilee Harrison (Dallas, Three's Company) is 64.
Actress/singer Rebecca Holden (Knight Rider) is 64.
Actress Jenilee Harrison (Dallas, Three's Company) is 64.
Singer Meredith Brooks is 64.
Rock musician John Linnell (They Might Be Giants) is 63.
North Bay-born actor/comedian Scott Thompson (Hannibal, Kids in the Hall, Larry Sanders Show, Providence) is 63.
Actor Eamonn Walker (Chicago Fire, Oz) is 60.
Actor Paul Schultze (Nurse Jackie, The Sopranos, 24) is 60.
Actor John Enos III (The Young and the Restless, Days of Our Lives, Melrose Place) is 60.
Toronto-born actress Camilla Scott (The Guiding Light, Due South) is 60.
Rapper Grandmaster Dee of Whodini is 60.
Actor Tim DeKay (White Collar, Carnivale) is 59.
Actress Patrice Martinez (Zorro) is 59.
Actress Paula Marshall (Gary Unmarried, Out of Practice) is 58.
Actress Frances O'Connor (Mr. Selfridge, The Missing) is 55.
Actress Sarah Trigger (Turks, EZ Streets) is 54.
Bassist Bardi Martin (Candlebox) is 53.
Actor Rick Hoffman (Suits, Jake in Progress, Bernie Mac Show) is 52.
Hamilton-born actor Gordon Michael Woolvett (Andromeda, The Guard) is 52. 
Actor-comedian Finesse Mitchell (Roadies, A.N.T. Farm, Saturday Night Live") is 50.
Actor Mel Rodriguez (Enlisted, Running Wilde) is 49.
Actor Jason Mewes (Clerks: the Animated Series, Todd & the Book of Pure Evil) is 48.
Actor Michael Muhney (The Young and the Restless, Veronica Mars) is 47.
Actress Stephanie Szostak (Satisfaction) is 47.
Blues guitarist Kenny Wayne Shepherd is 45.
Actor Timothy Simons (Veep) is 44.
Actor DJ Qualls (The Man in the High Castle, Perception, Z Nation, Memphis Beat, Legit) is 43.
Singer Robyn is 43.
Actress Carly Craig (Burning Love) is 43.
Actor/voicist Malachi Pearson (The Spooktacular New Adventures of Casper, Capitol) is 41.
Actor Jeremy Howard (Mighty Med) is 41.
Model/actress Adriana Lima (The Victoria's Secret Fashion Show) is 41.
Actor Dave Franco (Scrubs, Greek) is 37.
Actress/model Kendra Wilkinson (Kendra on Top, The Girls Next Door) is 37.
Country singer Chris Young is 37.
Actress Jenna Willis (American Crime Story) is 36.
Actor Luke Youngblood (Galavant, Community) is 36.
Actor Chris Galya (Jessie, Acting Dead) is 35.
Actress Cody Horn (Rescue Me) is 34.
Actress Valentina de Angelis (As the World Turns, Gossip Girl) is 33.
Actor Ryan Malgarini (Gary Unmarried) is 30.
Actress Allie DiMeco (The Naked Brothers Band) is 30.
Actress Anna Margaret (Scream Queens) is 26.
Chart Toppers – June 12
1944
Long Ago and Far Away – Helen Forrest & Dick Haymes
I'll Get By – The Harry James Orchestra (vocal: Dick Haymes)
I'll Be Seing You – Bing Crosby
Straighten Up and Fly Right – King Cole Trio
1953
Song from Moulin Rouge – The Percy Faith Orchestra
April in Portugal – The Les Baxter Orchestra
Pretend – Nat King Cole
Take These Chains from My Heart – Hank Williams
1962
I Can't Stop Loving You – Ray Charles
Lovers Who Wander – Dion
(The Man Who Shot) Liberty Valance – Gene Pitney
She Thinks I Still Care – George Jones
1971
Want Ads – The Honey Cone
Rainy Days and Mondays – Carpenters
It's Too Late/I Feel the Earth Move – Carole King
You're My Man – Lynn Anderson
1980
Funkytown – Lipps, Inc.
Coming Up – Paul McCartney & Wings
Biggest Part of Me – Ambrosia
My Heart – Ronnie Milsap
1989
Wind Beneath My Wings – Bette Midler
I'll Be Loving You (Forever) – New Kids on the Block
Every Little Step – Bobby Brown
A Better Man – Clint Black
1998
My All – Mariah Carey
Too Close – Next
I Get Lonely – Janet Jackson
I Just Want to Dance With You – George Strait
2007
Summer Love – Justin Timberlake
Girlfriend – Avril Lavigne
Makes Me Wonder – Maroon 5
Good Directions – Billy Currington
Today in Broadcast History compiled by Ron Robinson