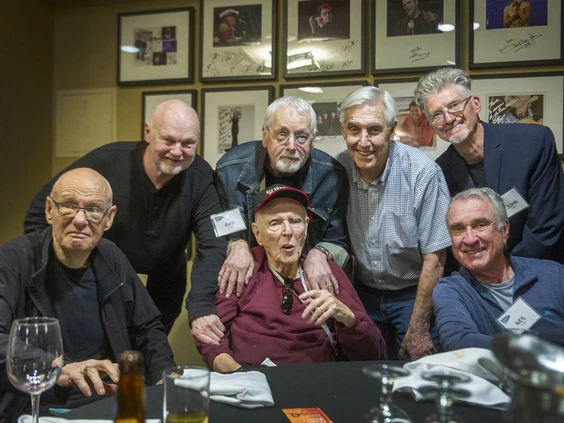 by John Mackie
Vancouver Sun
June 4, 2022
Vancouver radio legend Red Robinson turned 85 on March 30. Many of his old colleagues were supposed to celebrate with him at a lunch, but it was delayed due to the pandemic.
Finally about 90 old radio people got together May 31 at the River Rock Casino. They celebrated Red, snacked on White Spot burgers, and swapped old war stories from the golden era of local radio.
The meet-and-greet was is called WRPM, for Where Radio People Meet. Pre-COVID, they were meeting twice per year, but this was the first one since the fall of 2019.
It's an older crowd, but they retain their dulcet tones — you've never been in a room with so many mellifluous voices.
Doc Harris was there, as was John Tanner, Stirling Faux, Joe Leary, Jody Vance, Cathy Baldazzi, Brother Jake Edwards, Larry Hennessey, "RC-Ray" Ramsay, Norm Grohmann, Michael Godin and John McKeachie, among others.
But the star of the event was Red Robinson, who Faux calls "the Godfather of Vancouver broadcasting."
Read More HERE