ON THIS DAY in 1894
comedienne and singer Beatrice Lillie was born in Toronto. She moved to England at the age of 16, and later became a star in London's West End and on Broadway. She made a series of US radio guest appearances including a memorable one on the Fred Allen Show.  In TV she twice was host of the Colgate Comedy Hour and guested 5 times on the Ed Sullivan Show. She died at her home in England Jan. 20 1989 of Alzheimers at age 94.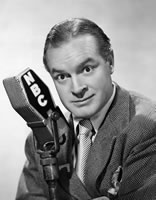 In 1903, comedian Bob Hope was born Leslie Townes Hope in London England. He debuted on NBC radio in 1935, and was heard on a weekly basis for the next 23 years, though the last 4 years were repeats.  His TV show debuted in 1952, and his final special aired in 1996 when he was 93.  He died July 27, 2003 at the remarkable age of 100.
In 1914, actor (Walter) Stacy Keach Sr. was born in Chicago.  He made his TV debut in 1955, and for the next 43 years appeared in supporting roles in such series as Get Smart, Lone Ranger, Thundarr the Barbarian, Dr. Quinn Medicine Woman, The Rockford Files, Bonanza, Longstreet, Maverick etc. He was the father of actors Stacy and James Keach; he died of congestive heart failure Feb 13, 2003 at age 88.
In 1918, humourist/radio-TV host Herb Shriner was born in Toledo.  He had his own CBS radio show in the late 40's, and later scored on TV as quizmaster (a la Groucho) on Two for the Money.  Homespun humour (a la Will Rogers) was a feature of all his appearances.  He died in an MVA April 23 1970 at age 51.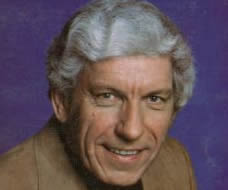 In 1930, future broadcaster Roy Bonisteel was born in Ameliasburg, Ontario. After beginning his career in small newspapers he moved into local radio in 1951 at CJBQ Belleville and CKTB St. Catherines.  In 1965 he was hired as director of broadcasting for the United Church at CKWX Vancouver. There he introduced a Christian open-line show, "God Talk." Within a few years he was chosen by the CBC to host an ecumenical TV show, "Man Alive," which he produced to wide acclaim for the next 22 years. Bonisteel succumbed to cancer Aug. 16 2013 at age 83.
In 1939, the popular daytime soap opera When a Girl Marries was first heard on CBS Radio. It moved to NBC in 1941 and to ABC in 1951 for a total run of 18 years. During much of the '40's it was the #1 rated daytime drama.
In 1941, Robert David "Bob" Simon was born in the Bronx New York.  During his 48-years as reporter and correspondent for CBS News, he covered crises, war, and unrest in 67 countries.During the Persian Gulf War in 1991, he and four of his TV crew were captured and imprisoned by Iraq for 40 days. He became a correspondent for CBS's 60 Minutes in 1996, and continued providing compelling stories to that program until his untimely death in a New York City traffic accident Feb. 11 2015 at age 73.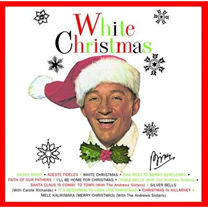 In 1942, Bing Crosby recorded what would become the world's biggest-selling record — "White Christmas." It's estimated to have sold more than 30-million copies. (It was only overtaken by the 1997 Elton John version of 'Candle In The Wind'.)
In 1943, The Million Dollar Band was heard for the first time on NBC radio. Charlie Spivak was the first leader of the band that featured Barry Wood as vocalist. The unusual feature of the show was the awarding each week of five diamond rings!
In 1949, Allen Funt's "Candid Camera," which began on radio as "Candid Microphone," debuted on NBC TV.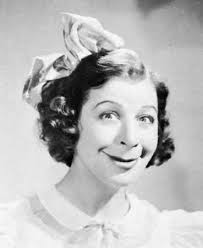 In 1951, actress Fanny Brice, a star of the Ziegfeld Follies who struck it rich on radio as Baby Snooks for 15 years, died of a cerebral hemmorhage at age 59.  She was still playing Snooks weekly until the end.
.
In 1952, country singer Hank Williams was divorced by his wife, Audrey Shepherd. Williams, who had less than a year to live, soon married Billie Jean Jones.
In 1954, "Little Things Mean a Lot" by Kitty Kallen hit #1 for 10 weeks on the Billboard Pop Music chart.
In 1957, Buddy Holly was back at Norman Petty's studio in Clovis, New Mexico, where he taped two of his most memorable & important tracks, "Everyday" and "Not Fade away."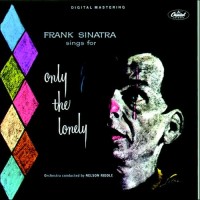 In 1958, crooner Frank Sinatra was at the Capitol Tower in Hollywood to tape six songs for his next LP, "Frank Sinatra Sings For Only The Lonely." The ballads included "Ebb Tide," "Angel Eyes," "Only The Lonely," "Spring Is Here," "Guess I'll Hang My Tears Out To Dry," and "Willow Weep For Me."
Also in 1958, In New York City, Little Anthony and the Imperials recorded their future million-seller, "Tears On My Pillow."
In 1959, Ray Charles, B.B. King, Jimmy Reed and The Drifters gave a concert for about 9,000 people at Herndon Stadium in Atlanta, in one of music's first outdoor rock & roll events.
In 1960, "Cathy's Clown" by the Everly Brothers reached the top of Billboard's Hot 100 chart. It was their most successful single, selling more than two-million copies.
In 1961, Ricky Nelson reached the top spot on the Billboard singles chart with Travelin' Man. It was was Nelson's second chart-topping hit. Poor Little Fool made it to the top in August of 1958.
In 1962, Henry Mancini's "Moon River" won a Grammy for Record of the Year, and Judy Garland's "Judy at Carnegie Hall" won a Grammy for Album of the Year.
Also in 1962, 20-year-old Barbra Streisand appeared on CBS TV's "The Garry Moore Show."
She sang "When The Sun Comes Out," and debuted her now-classic slow-tempo version of "Happy Days Are Here Again."
In 1963, Del Shannon's cover version of "From Me to You" became the first Lennon-McCartney composition to appear on North American charts. He'd learned the song while touring the UK with The Beatles.
In 1965, the No. 1 Billboard Pop Hit "Help Me, Rhonda," by The Beach Boys.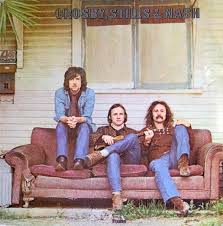 In 1969, Atlantic Records released the debut album "Crosby, Stills & Nash" which lifted the unkown trio to stardom.
In 1971, "Brown Sugar" by the Rolling Stones topped the charts and stayed there for 2 weeks.
Also in 1971, Paul McCartney released "Mary Had A Little Lamb," after seeing his protest song "Give Ireland Back To The Irish" banned by the BBC.
In 1972, the Osmonds received a gold record for their album, Phase III.
In 1973, record executive Clive Davis was fired from Columbia Records for misappropriating $100,000.
Also in 1973, the breakup of The Byrds became official as founding member Roger McGuinn made his solo debut in concert in New York.
In 1977, Columbia Records president Goddard Liebersondied of cancer at age 66. Lieberson was responsible for the introduction of the LP record and for popularizing soundtracks and original cast albums.
Also in 1977, the NBC News & Information Service, which was a 24-hour-a-day radio news service, came to an end.
Still in 1977, Elvis Presley left the stage in Baltimore in the middle of a concert, upset with his performance.  It was the first time he terminated a show in this manner.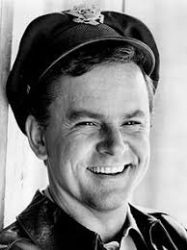 In 1978, former disc jockey and actor Bob Crane (Donna Reed Show, Hogan in Hogan's Heroes), died at age 49, the victim of a brutal murder.
In 1979, "The Source", considered radio's first rock news network, made its debut.
Also in 1979, the No. 1 Billboard Pop Hit was "Hot Stuff," by Donna Summer.
In 1981, Burnaby's Michael J. Fox made his professional acting debut in the CBC TV series "Leo and Me."  At the time of its filming 2 years earlier, the 16-year old Fox had been chosen to play the 12-year old "Me" in the title because he appeared small and youthful for his age.
In 1982, Paul McCartney started a three-week run at No.1 on the Billboard album chart with 'Tug Of War'.
In 1987, George Michael's single "I Want Your Sex" was released.
In 1988, Bob Dylan dueted with Band drummer Levon Helmon the group's "The Weight" at a Helm show at New York's Lone Star Cafe. The duo also performed Chuck Berry's "Nadine."
In 1989, guitarist John Cipollina, a founder of the 1960's San Francisco band Quicksilver Messenger Service, died of emphysema at age 45.
In 1991, after just completing the recording of the 'Nevermind' album, Nirvana played a last-minute show at the Jabberjaw in Los Angeles. In the audience was Iggy Pop, Dave Grohl's girlfriend and L7 bassist Jennifer Finch who brought along her best friend Courtney Love.
In 1992, actor Bill Beyers (Wally on the TV soap Capitol), died of AIDS at age 37.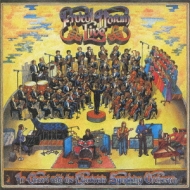 Also in 1992, Procul Harum and the Edmonton Symphony Orchestra got together for the first of two reunion concerts. Twenty-one years earlier, the British rock group and the orchestra performed a legendary show that resulted in a million-selling album and a hit single, "Conquistador."
In 1995, in Los Angeles, a guard at Madonna's mansion shot and wounded a pschotic intruder carrying a wooden heart with the words  — "Love to my wife, Madonna." 37-year-old Robert Dewey Hoskins had allegedly threatened to slit the throat of the pop star. After a jury trial he was sentenced to 10 years in prison.
Also in 1995, the No. 1 Billboard Pop Hit was "Have You Ever Really Loved a Woman," by Bryan Adams.
In 1996, jazz pianist James George "Jimmy" Rowles died at the age of 78.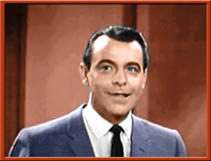 In 1997, announcer George Fenneman, who was best known for his work on radio's Dragnet and You Bet Your Life on both radio & TV, died of emphysema at age 77.
Also in 1997, Tom Cochrane performed a private concert for the students of Burnsview Secondary School in the Vancouver suburb of North Delta. The singer's performance honoured the students for their fundraising efforts for World Vision, a Christian humanitarian relief organization. Cochrane's hit, "Life Is a Highway," was inspired by a trip he took to World Vision projects in Mozambique.
In 1998, country star Shania Twain opened her long-awaited first concert tour in Sudbury, one of several Ontario communities where she spent her youth. She had sold 12 million copies of her 1993 debut album, "The Woman in Me," and had just released her second, "Come on Over."
In 1999, the body of Philip "Taylor" Kramer (Iron Butterfly) was found in a valley in Malibu, Calif. He had been missing since 1995.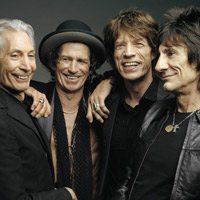 Also in 1999, the Rolling Stones launched the European leg of their Bridges to Babylon tour, performing in front of 80,000 enthusiastic fans in an open-air concert in Stuttgart, Germany.
In 2002, Frasier star Kelsey Grammer and his production company, Grammnet Inc., were ordered to pay more than $2 million in unpaid commissions to his former talent agency.
Also in 2002, Australian actress and singer Natalie Imbruglia became the new face of L'Oreal when she signed a deal worth $170,000 with the French cosmetics manufacturer.
In 2005, singer/songwriter/civil rights activist Oscar Brown Jr. died of complications from an infection in his lower spine at age 78.
Also in 2005, System of a Down were at No.1 on the Billboard album chart with 'Mezmerize.'
In 2006, Pink Floyd singer-guitarist David Gilmour played the first of two solo shows at London's Royal Albert Hall, which were filmed for a DVD. David Bowie joined in on the Floyd classics — "Arnold Layne" and "Comfortably Numb." David Crosby and Graham Nash were also on hand.
In 2007, a piano used by John Lennon on the night he died was put up for sale for $375,000 on The Moments in Time memorabilia website. The upright grand piano was part of the Record Plant Recording Studios in New York where the former Beatle taped his 1971 LP "Imagine."
In 2008, comedian Harvey Korman died of heart failure at age 81. Korman won four Emmys for his outrageously funny antics on CBS-TV's The Carol Burnett Show, and played the conniving politician Hedley Lamarr to hilarious effect in the film Blazing Saddles.
In 2009, 69-year old record producer Phil Spector was sentenced to 19-years-to-life after his conviction for murdering actress Lana Clarkson at his home in 2003.
In 2010, actor/director Dennis Hopper died of prostate cancer at age 74. Both before and after an extensive career on the big screen he worked in TV; his final assignment was as star of a cable-TV series, "Crash" for Showtime.
In 2012, radio/voice actor Dick Beals, perhaps best remembered as the voice of Speedy Alka Seltzer in 40 years of TV commercials, died at age 85.  He started as a child at WXYZ Detroit playing boys on radio's Lone Ranger, Green Hornet and Challenge of the Yukon shows. Due to a lifelong glandular problem his voice did not mature, and he was able to supply cartoons with the voice of 10 year olds the rest of his life.
Still in 2012, bluegrass singer/songwriter/guitarist Arthel Lane "Doc" Watson died after colon surgery at age 89. He was a seven time Grammy winner, and also was awarded a Lifetime Achievement Grammy.
In 2013,  a benefit concert aired on NBC to aid the victims of the Oklahoma City tornado. The "Healing in the Heartland Relief Benefit Concert" starring Blake Shelton, Miranda Lampert, Usher, Vince Gill, Reba McIntyre, Rascal Flatts and others, raised over $6 million.
In 2014,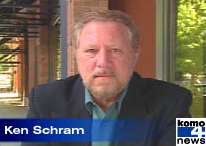 longtime Seattle radio/TV personality Ken Schram, who for two decades hosted 'Town Meeting' Sunday nights on KOMO-TV,  died of kidney, liver, and heart failure at age 66.  After the TV program ended in 1999 Schram was mainly a KOMO (and KVI) radio talk show host and TV news commentator until his contract was bought out in 2012.
In 2015, Betsy Palmer, the veteran character actress who early in her career was a TV star on I've Got a Secret, Girl Talk and Today, died of natural causes at age 88. On the big screen she achieved lasting, though not necessarily sought-after, fame as the murderous camp cook in the cheesy horror film Friday the 13th. 
In 2017, guests at Noel Gallagher's 50th birthday party in Oxfordshire (UK) included Madonna, U2's Bono and Stella McCartney (Paul's daughter), but not Noel's estranged former Oasis bandmate and younger brother, Liam.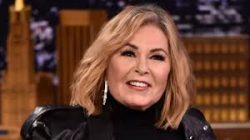 In 2018, ABC cancelled the revival of Roseanne, due to what was widely regarded as a racist tweet by the star.  But the producers came up with a storyline that wrote Roseanne out, and The Conners became a hit that continues to this day.
Today's Birthdays
Singer/actor Monti Rock III is 80.
Actor Helmut Berger (Dynasty) is 78.
Singer Gary Brooker of Procol Harum is 77.
Actor Anthony Geary (General Hospital) is 75.
Ontario-raised actor Nick Mancuso (Matrix, Stingray) is 74.
Singer Rebbie Jackson is 72.
Composer Danny Elfman is 69.
Bassist Michael Porcaro of Toto is 67.
Singer LaToya Jackson is 66.
Actor Ted Levine (Monk, The Bridge,  Justice League) is 65.
Actress Annette Bening (Mrs. Harris, Liberty's Kids: Est. 1776) is 64.
Actor Wayne Duvall (The District, BrainDead) is 64.
Actor Rupert Everett (Boston Legal, Far Pavilions) is 63.
Actor Adrian Paul (Tracker, The Highlander, War of the Worlds, The Colbys) is 63.
Toronto-born actor/voicist Neil Crone (Little Mosque on the Prairie, Total Drama Presents: The Ridonculous Race, Really Me, Erky Perky) is 62.
Singer/songwriter Melissa Etheridge is 61.
Actress Debra Stipe (Blossom) is 60.
Actress Lisa Whelchel (The Facts of Life) is 59.
Actress Tracey E. Bregman (Young & the Restless, The Bold & the Beautiful) is 59.
Actor Matthew Porretta (The New Adventures of Robin Hood, Beverly Hills 90210, Deadbeat) is 57.
Actor Peter Breitmayer (Fargo, The Middle) is 57.
Singer Jayski McGowan of Quad City DJ's is 55.
Guitarist Noel Gallagher of Oasis is 55.
Actress Michole Briana White (Reed Between the Lines, 100 Centre Street, Muscle) is 53.
Actor Anthony Azizi (Threat Matrix, Commander in Chief, Lost) is 53.
Guitarist Chan Kinchla of Blues Traveler is 53.
Actress Laverne Cox (Orange is the New Black) is 50.
Guitarist Mark Lee of Third Day is 49.
Actor David Burtka (How I Met Your Mother) is 47.
Singer Melanie Brown (Scary Spice) of the Spice Girls is 47.
Rapper Playa Poncho is 47.
Actor Jay Paulson (Mad Men, Happy Town, October Road, Cybill) is 44.
Actor Richard Lee Jackson (Saved By The Bell: New Class) is 43.
Actress Zulay Henao (If Loving You is Wrong, Love Thy Neighbour) is 43.
Calgary-born actress Crystal Balint (Prison Break: Resurrection, Mech-X4) is 41.
Actor Justin Chon (Deception, Dr. Ken, Just Jordan) is 41.
Actor Mark Hapka (Days of Our Lives) is 40.
Actress Anita Briem (The Tudors) is 40.
Actress Kaycee Stroh (High School Musical) is 38.
Actor Blake Foster (Power Rangers Turbo) is 37.
Actor Billy Flynn (Days of Our Lives) is 37.
Actress Alessandra Torresani (The Big Bang Theory, Husbands, Caprica) is 35.
Actress Pearl Mackie (Doctor Who) is 35.
Actress Shara Connolly (American Playboy: The Hugh Hefner Story) is 34.
Actor Brandon Mychal Smith (Sonny With a Chance, So Random) is 33.
Actress Riley Keough (The Girlfriend Experience) is 33.
Actor Gregg Sulkin (Faking It, Wizards of Waverly Place) is 30.
Actress Maika Monroe (Flying Monkeys) is 29.
Vancouver-born actress Paloma Kwiatkowski (Bates Motel) is 28. 
Chart Toppers – May 29th
1948
Nature Boy – Nat King Cole
Now is the Hour – Bing Crosby
Baby Face – The Art Mooney Orchestra
Texarkana Baby – Eddy Arnold
1957
All Shook Up – Elvis Presley
Love Letters in the Sand – Pat Boone
A White Sport Coat (And a Pink Carnation) – Marty Robbins
Four Walls – Jim Reeves
1966
When a Man Loves a Woman – Percy Sledge
A Groovy Kind of Love – The Mindbenders
Paint It, Black – The Rolling Stones
Distant Drums – Jim Reeves
1975
Shining Star – Earth, Wind & Fire
Before the Next Teardrop Falls – Freddy Fender
How Long – Ace
I'm Not Lisa – Jessi Colter
1984
Let's Hear It for the Boy – Deniece Williams
Time After Time – Cyndi Lauper
Oh Sherrie – Steve Perry
As Long as I'm Rockin' with You – John Conlee
1993
That's the Way Love Goes – Janet Jackson
Freak Me – Silk
Knockin' da Boots – H-Town
I Love the Way You Love Me – John Michael Montgomery
2002
Foolish – Ashanti
A Thousand Miles – Vanessa Carlton
Don't Let Me Get Me – Pink
Drive (For Daddy Gene) – Alan Jackson
2011
Rolling in the Deep – Adele
E.T. – Katy Perry featuring Kanye West
The Edge of Glory – Lady Gaga
Heart Like Mine – Miranda Lambert
Today in Broadcast History compiled by Ron Robinson