ON THIS DAY in 1844
Samuel F.B. Morse tapped out the message "What hath God wrought" in Morse Code. The development inaugurated North America's telegraph industry. The message was sent from Washington, DC to Baltimore.
In 1876, the band of the North West Mounted Police, the forerunner of the RCMP, made its debut in Swan River, Manitoba. The instruments were purchased by the 20 band members themselves and shipped from Winnipeg by dog sled.
In 1901, at Hamilton Ontario, Clementina Fessenden originated a public holiday called Victoria Day to honour the Empire by celebrating the Queen's birthday. A schoolteacher, she was the mother of Canadian radio pioneer Reginald Fessenden.
In 1902,  orchestra leader/composer Wilbur Hatch was born in smalltown Illinois.  Considered a musical prodigy he started in Chicago radio almost at the start of broadcasting (1922) and by 1930 became director of music at KNX Hollywood.  With his connection to the CBS west coast flagship he created music for such radio shows as Frontier Gentleman, December Bride, The Screen Guild Theater, The Whistler, Suspense, Meet Corliss Archer, My Favorite Husband, Broadway Is My Beat, Mayor of the Town, and Our Miss Brooks, to mention just a few. His most lasting television credit was for composing some of the music and conducting the Desi Arnaz Orchestra on I Love Lucy. He died Dec. 22 1969 at age 67.
In 1932, the Canadian Parliament passed a bill establishing a national broadcasting system – the Canadian Broadcasting Corporation (CBC).
In 1935, the 9-month old Mutual Broadcasting System aired its first live event–the first-ever night baseball game featuring the Cincinnati Reds and Philadelphia Phillies. Mutual would be the radio home of the World Series for the next 21 years.
In 1938, Art Kassel's orchestra recorded a song for Bluebird Records that may not have been a smash hit, but had a title to die for: 'So You Left Me for the Leader of a Swing Band.'
In 1940, with her country Holland occupied by German troops, Queen Wilhelmina spoke from London on BBC Radio.
In 1949, radio station CHUB 1570 became "The Hub City" of Nanaimo's first full service broadcaster.  On its first day on the air it aired live coverage of the Empire Day Parade.  CHUB's studios were in the Malaspina Hotel.  Power was 250 watts. Its broadcast day was 6:25 am-11 pm daily and until midnight Saturdays.
In 1952, "A Guy Is a Guy" by Doris Day topped the charts, but only remained #1 for a week.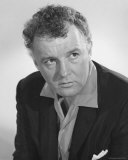 In 1953, a previously unknown actor, Rod Steiger, starred in "Marty" on TV's Goodyear Playhouse. Paddy Chayefsky wrote the original TV play and then adapted it for the Oscar-winning film.
In 1959, the early rock 'n' roller Fabian headlined CBS-TV's Ed Sullivan Show, singing two of his biggest hits,"Turn Me Loose" & "Tiger." Others appearing were singers Carol Lawrence and Billy Storm, and comics Ed Wynn and Myron Cohen.
In 1960, country singer Ferlin Husky was in Nashville to record the second huge hit of his career (after "Gone"), "Wings of a Dove."
In 1963, Elmore James, one of the most influential urban blues guitarists, died of a heart attack in Chicago at age 45. James' slide-guitar technique was copied by many rock musicians, including Eric Clapton, Duane Allman and Brian Jones. His best-known recording is "Dust My Broom."
Also in 1963, The Beatles recorded the first program of their own BBC radio series, "Pop Go the Beatles". The theme song was a version of "Pop Goes the Weasel".
In 1964, on CBS TV's "Ed Sullivan Show," a taped Beatles performance was aired. The Beatles performed "You Can't Do That" from the set of "A Hard Day's Night." Appearing live on the show were Liza Minnelli, Duke Ellington and UK comedianProfessor Backwards.
In 1966, Captain Beefheart appeared at the Whisky a Go Go in West Hollywood.  His opening acts were Buffalo Springfield and The Doors, whose careers didn't take off until the following year.
In 1967, the Jimi Hendrix Experience wrapped up their first tour of Europe with a concert in Stockholm.
In 1968, CBC/Radio-Canada started building a new Montreal headquarters called Maison de Radio-Canada, to be finished by April of 1972.
Also in 1968, The Rolling Stones released "Jumpin' Jack Flash" in the UK. It was issued in North America a week later.
In 1969, child actress Mitzi Green, who as an adult was featured on the early TV sitcom So This is Hollywood, and made personal appearances on the Ed Wynn and Ed Sullivan Shows, died of cancer at age 48.
Also in 1969, Mick Jagger and Marianne Faithfull were arrested for marijuana possession at their home in London.
Still in 1969, the Beatles hit number one with Get Back. The song stayed parked at the top of the hit heap for five weeks.
Again in 1969, Canada's Guess Who made their U.S. television debut on ABC's "American Bandstand," performing their breakthrough hits "These Eyes" and "Laughing."
In 1970, Peter Green played his last show with the band he founded, Fleetwood Mac, at the Bath Festival in England, before joining a religious cult.
In 1972, actor Gavin Muir, who had a supporting role on TV's Betty Hutton Show, died at age 64.
In 1974, bandleader and composer Duke Ellington died of lung cancer at age 75. Considered by many the greatest jazz musician ever, Ellington's career as a bandleader lasted for 50 years. He wrote such standards as "Mood Indigo," "I Got It Bad and That Ain't Good" and "Satin Doll."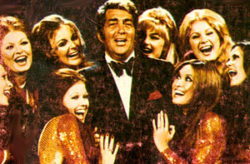 Also in 1974, after a nine year run, the last Dean Martin Show was seen on NBC. Dean's group of lovelies, The Golddiggers, returned to bid farewell in the show that had been seen in a variety of formats on Thursday and, later, on Friday evenings.
Still in 1974, on NBC-TV's "Midnight Special," Richard Pryor was host to hitmakers Olivia Newton-John and Boz Scaggs.
In 1975, "Shining Star" by Earth Wind & Fire topped the charts .. but only for the one week.
In 1978, the debut album by the heavy metal band Van Halen was certified gold in the U-S. It eventually sold more than two-million copies.
In 1980, the three members of Genesis, Phil Collins, Mike Rutherford and Tony Banks, gave fans a thrill by manning the box office and selling tickets to their upcoming show at the Roxy in Los Angeles.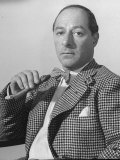 In 1981, actor/comedian/radio-TV host & frequent guest George Jessel, who often performed with the nickname "America's toastmaster general," died after a heart attack at age 83.
In 1982, The Grateful Dead, Jefferson Starship, Boz Scaggs, and Country Joe and the Fish played a benefit concert for Vietnam vets at the Moscone Center in San Francisco.
In 1984, the No. 1 Billboard Pop Hit was "Let's Hear It for the Boy," by Deniece Williams. The song was featured in the film "Footloose." Williams was a member of Stevie Wonder's backup group, Wonderlove, from 1972-75
In 1986, Whitney Houston's Greatest Love of All was starting week number two of a three-week stay at #1.
Also in 1986, Davy Jones, Mickey Dolenz, and Peter Tork reunited as The Monkees. They kicked off their reunion tour in New York's Catskills Mountains.
In 1987, English comic actress Hermione Gingold, a frequent guest on the couch of Jack Paar's NBC TV shows, died of pneumonia at age 89.
In 1988, Jon Bon Jovi joined Bryan Adams on stage as Adams gave an impromptu performance at a Vancouver nightclub. All 900 tickets for Adams's show, which wasn't announced until that day, were snapped up within seven minutes. Adams donated the 20-thousand dollars raised to Vancouver Children's Hospital for treatment of young cancer patients.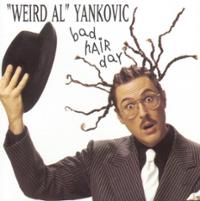 In 1989, "Weird Al" Yankovic recorded "Generic Blues," "Biggest Ball of Twine in Minnesota," "Hot Rocks Polka," "Attack of the Radioactive Hamsters," and "Spam." The five tracks all appeared on the soundtrack to his film "UHF."
In 1991, Gene Clark, a founding member of the Byrds, died of natural causes at his home in Sherman Oaks, California. Clark had a history of alcohol and drug abuse. He was either 49, as noted in reference books, or 46, as claimed by his manager. Clark, a singer-guitarist-songwriter, performed on the Byrds' hits "Mr. Tambourine Man" and "Turn! Turn! Turn!" but left the pioneer folk-rock group in 1966. The split was due to differences with Byrds' leader Roger McGuinn — and to Clark's fear of flying, which made touring difficult.
In 1993, the final episode of the sitcom "Designing Women" was aired on CBS-TV.
In 1994, fiddler King Ganam, one of the most popular western musicians on Canadian television in the 1950's, died in Carlsbad, California at age 78. Ganam was one of the stars of "Country Hoedown" on CBC T-V from 1956 to '59, and host of "The King Ganam Show" on C-T-V in 1961. He had earlier performed regularly on C-B-C Radio. At the peak of his fame, Ganam was reported to be receiving 700 fan letters a week.
Also on this date in 1994, Poison lead singer Bret Michaels suffered multiple broken bones and other injuries when he crashed his Ferrari into a light pole in Los Angeles. Michaels wasn't charged, but had to pay for the pole.
In 1997, "Mmm Bop" by Hanson topped the charts and stayed there for 3 weeks.
Also in 1997, actor Edward Mulhare, who was the love interest opposite Hope Lange in the late '60's TV series The Ghost and Mrs. Muir, and co-starred in the action series Knight Rider, died of lung cancer at age 74.
Again in 1997, the Tragically Hip's "Live Between Us" was released. It became the third straight Hip album to debut at Number One on the Canadian music chart.
Still in 1997, The Spice Girls went to No.1 on the Billboard album chart with 'Spice', making them only the third all girl group to do so after The Supremes and The Go-Go's.
In 1999, David Bowie wrote and recorded the song "What's Really Happening" during a live Webcast. The song appeared on the album "Hours."
Also in 1999, the final episode of "Mad About You" aired on NBC.
In 2000, a New York Judge told Pretenders singer Chrissie Hynde that if she wanted her March arrest for protesting the sale of leather goods in a Gap store dismissed, she'd better keep her nose clean for the next six months.
Also in 2000, Andrea and Sharon Corr from The Corrs both collapsed in the mid-day sun while shooting their new video in Califormia's Mojave Desert. The pair were treated in hospital for heat exhaustion and were back on the set within 24 hours.
In 2003, Paul McCartney made his first ever live performance in Russia when he appeared in-front of 20,000 fans in Red Square.
In 2004, Madonna kicked off the North American leg of her Re-invention World Tour by playing three sold out nights at the Los Angeles Forum. The tour became the top grossing of the year, with ticket sales of nearly $125 million, with over 900,000 fans attending the 60 date tour.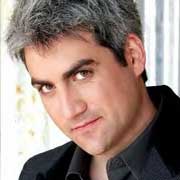 In 2006, Taylor Hicks beat out Katherine McPhee to win the fifth season of "American Idol."
Also in 2006, Elton John accepted $188,000 in libel damages from London's Daily Mail newspaper over their allegations that he had asked guests not to approach him at a charity ball.
In 2008, comedian Dick Martin, a co-star with Dan Rowan on NBC TV's iconic "Rowan and Martin's Laugh-In", died of respiratory problems at age 86.  Early in his career he'd written for radio's "Duffy's Tavern."
Also in 2008, Rush played their first Winnipeg concert in 26 years. Ticket sales raised funds to help finance the building of the Canadian Museum for Human Rights in that city. Rush also sold special T-shirts on Canadian dates to raise a promised $100,000 for the project.
In 2009, Billy Joel was being sued by his former drummer for hundreds of thousands of dollars in unpaid royalties. Liberty Devitto, claimed that Joel hadn't paid him proper royalties for 10 years of his work.
In 2010, the Bee Gees' Robin Gibb had a "meltdown" at London's Heathrow Airport as he hurled expletives at the British Airways staff and refused to board a plane bound for Los Angeles after he was randomly selected for an extra security check.
In 2013, Ed Shaughnessy, the drummer for The Tonight Show  band from 1963-92, died at age 84 of a heart attack while at home in Calabasas, Calif.
In 2014, Knowlton Nash, the longtime CBC News correspondent & anchor of 'The National' (1978-88), died at age 86. He had been suffering with Parkinson's Disease for some time.
In 2015, the Rolling Stones opened their 15-city 'Zip Code' tour of North America before a sold-out crowd of 42,000 at San Diego's Petco Park.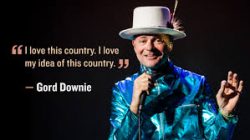 .In 2016, we first learned that 52-year-old Gord Downie, the lead singer with Canada's own Tragically Hip, had been diagnosed with terminal brain cancer.
Also in 2016, a very busy British actor, Burt Kwouk, who was seen on TV screens on this side of the Atlantic in such series as Last of the Summer Wine, The Avengers, Noble House, Howard's Way and Doctor Who, died at age 85.
In 2017, actor Jared Martin, who portrayed Dusty Farlow, the rodeo cowboy and Sue Ellen Ewing seducer on the CBS prime time soap Dallas, and who perished in a plane crash, only to have producers resurrect his character by popular demand, succumbed to pancreatic cancer at age 75.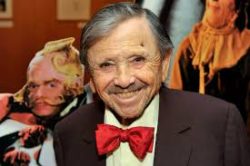 In 2018, Jerry Maren, a 'little person' featured in the 1939 film Wizard of Oz, who had a continuing role in the TV series Mary Hartman Mary Hartman, No Soap Radio, & Lidsville, died at age 98.
Today's Birthdays
Jazz saxophonist Archie Shepp is 85.
Edmonton-born actor-comedian Tommy Chong (That 70's Show, Dancing w/the Stars) is 84.
Singer/songwriter/author Bob Dylan is 81.
Actor Gary Burghoff (MASH) is 79.
Singer Patty Labelle (The Masked Singer, Dancing With the Stars) is 78.
Actress Priscilla Presley (Dallas, Melrose Place) is 77.
Country singer-songwriter Mike Reid is 75.
Actor Jim Broadbent (Blackadder, Chronicles of Narnia) is 73.
Actor Alfred Molina (Feud, Angie Tribeca, Matador, Monday Mornings, Law & Order: Los Angeles) is 69.
Singer Rosanne Cash is 67.
Actress Kristin Scott Thomas (Mistral's Daughter) is 62.
Actor Cliff Parisi (Call the Midwife, Hollyoaks, Eastenders) is 62.
Actor Doug Jones (Falling Skies) is 62.
Rock musician Jimmy Ashhurst of Buckcherry is 59.
Keyboardist Vivian Trimble (Luscious Jackson) is 59.
Actor John C. Reilly (Tim & Eric Awesome Show, Great Job) is 57.
Actor Eric Close (Nashville, Without A Trace, Now & Again, Sisters) is 55.
Actor Dana Ashbrook (Twin Peaks, Crash, Dawson's Creek) is 55.
Rapper Heavy D is 55.
Actor Carl Anthony Payne II (Martin, Rock Me Baby, The Cosby Show) is 53.
Actor Benjamin King (Liv & Maddie) is 53.
Guitarist Rich Robinson of The Black Crowes is 53.
Writer/producer Greg Berlanti (Everwood, Arrow, The Mysteries of Laura) is 50.
Actor Dash Mihok (Gotham, Ray Donovan, Pearl) is 48.
Ladner BC-born actor/voicist Will Sasso (Shameless, $#*! My Dad Says, MADtv, Family Guy, Less Than Perfect) is 47.
Actress Naomi Ryan (Mr. Selfridge, Coronation Street) is 45.
Actor Bryan Greenberg (How to Make it In America, Bessie, October Road, One Tree Hill) is 44.
Actor Billy L. Sullivan (Something So Right, The Golden Palace, The Man in the Family) is 42.
Actor-rapper Big Tyme is 41.
Rock drummer Cody Hanson of Hinder is 40.
Quebec-born actor Ricky Mabe (Preacher, Beautiful People, Pig City, Arthur) is 39.
Actress Sarah Hagan (Breaking Fat, Buffy the Vampire Slayer, Freaks and Geeks) is 38.
TV dancer/reality show personality Mark Ballas (Dancing With the Stars) is 36.
Actress Callie Hernandez (Graves) is 34.
Country singer Billy Gilman is 34.
Actress Brianne Howey (I Live With Models, The Exorcist) is 33.
Rapper G-Eazy is 33.
Actress Kimberley Crossman (Hashtaggers, #The Assignment) is 32.
Victoria-born actor Benjamin Sutherland (Love Locks, Cradle to Grave, Saving Hope) is 32. 
Actor Oliver Davis (ER, Rodney) is 29.
Actress Cayden Boyd (Heathers, Close to Home, Crossing Jordan, Century City) is 28.
Actor Cole Sand (Masters of Sex, Hart of Dixie, Austin & Ally, Parenthood) is 19.
Chart Toppers – May 24
1952
Kiss of Fire – Georgia Gibbs
Blue Tango – The Leroy Anderson Orchestra
Be Anything – Eddy Howard
The Wild Side of Life – Hank Thompson
1961
Mother-In-Law – Ernie K-Doe
Daddy's Home – Shep & The Limelites
Travelin' Man – Ricky Nelson
Hello Walls – Faron Young
1970
American Woman /No Sugar Tonight – The Guess Who
Vehicle – The Ides of March
Turn Back the Hands of Time – Tyrone Davis
My Love – Sonny James
1979
Reunited – Peaches & Herb
Hot Stuff – Donna Summer
In the Navy – Village People
If I Said You Had a Beautiful Body Would You Hold It Against Me – Bellamy Brothers
1988
Anything for You – Gloria Estefan & Miami Sound Machine
One More Try – George Michael
Always on My Mind – Pet Shop Boys
Eighteen Wheels and a Dozen Roses – Kathy Mattea
1997
MMMBop – Hanson
Return of the Mack – Mark Morrison
For You I Will – Monica
One Night at a Time – George Strait
2006
Hips Don't Lie – Shakira featuring Wyclef Jean
Temperature – Sean Paul
Bad Day – Daniel Powter
Wherever You Are – Jack Ingram
Today in Broadcast History compiled by Ron Robinson