ON THIS DAY in 1851
Emile Berliner, the inventor of the gramophone, was born in Hanover, Germany.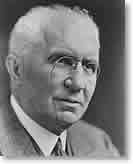 Berliner took out a Canadian patent on his invention in 1897 and established manufacturing facilities in Montreal. The Berliner Gramophone Company, officially chartered in 1904, had begun manufacturing records four years earlier. They were single-sided seven-inch discs. Double-sided records, usually 10 inches but sometimes 12, were introduced in 1908. The Berliner Company was taken over by the Victor Talking Machine Company of the U-S in 1924. Emile Berliner died in 1929 at age 78.
In 1908, actor Jimmy Stewart was born in Indiana Pennsylvania. Although hie career was largely spent on the big screen, he did star in two TV series, Hawkins & The James Stewart Show. In OTR radio, he guest starred in or hosted a wide variety of programs, and played the lead in NBC's excellent 1953 adult western series, The Six Shooter.  He died of cardiac arrest & a pulmonary embolism July 2 1997 at age 89.
In 1919, comedian George Gobel was born in Chicago.
"Lonesome George" was the star of his own top rated NBC TV show from 1954-60, however most people nowadays remember him as a wisecracking regular on the "Hollywood Squares" game show. He died after heart surgery Feb 24 1991 at age 71.
In 1920, the Canadian Marconi Company station X-W-A, later CFCF, in Montreal gave the first scheduled radio broadcast in North America, and possibly the world.   It was a concert by vocalist Dorothy Lutton who sang from the Marconi factory in Montreal. Among those listening was the Royal Society of Canada, whose members gathered to listen at Ottawa's Chateau Laurier.  Prime Minister Sir Robert Borden and future Prime Minister Mackenzie King were both present. The concert was such a hit that many Canadians quickly lined-up at stores to buy radios for their homes.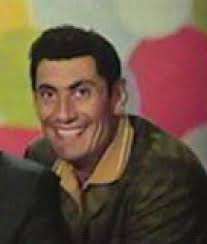 In 1925,  Vic Ames of the singing Ames Brothers was born Vic Urick in Malden Mass. He was the second youngest (two years older than the most famous brother, Ed) and the first to die Jan. 23 1978 at age 52.  Their first big hit 'Rag Mop' led to regular work on TV's Arthur Godfrey Hour and the Ed Sullivan Show, and their own TV show in 1956.
In 1939, the first telecast via telephone wires was sent from New York's Madison Square Garden to the NBC-TV studios at 30 Rockefeller Center. The event was a bicycle race.
Also in 1939, the novelty song "Three Little Fishies" by Kay Kyser & his Orchestra hit #1.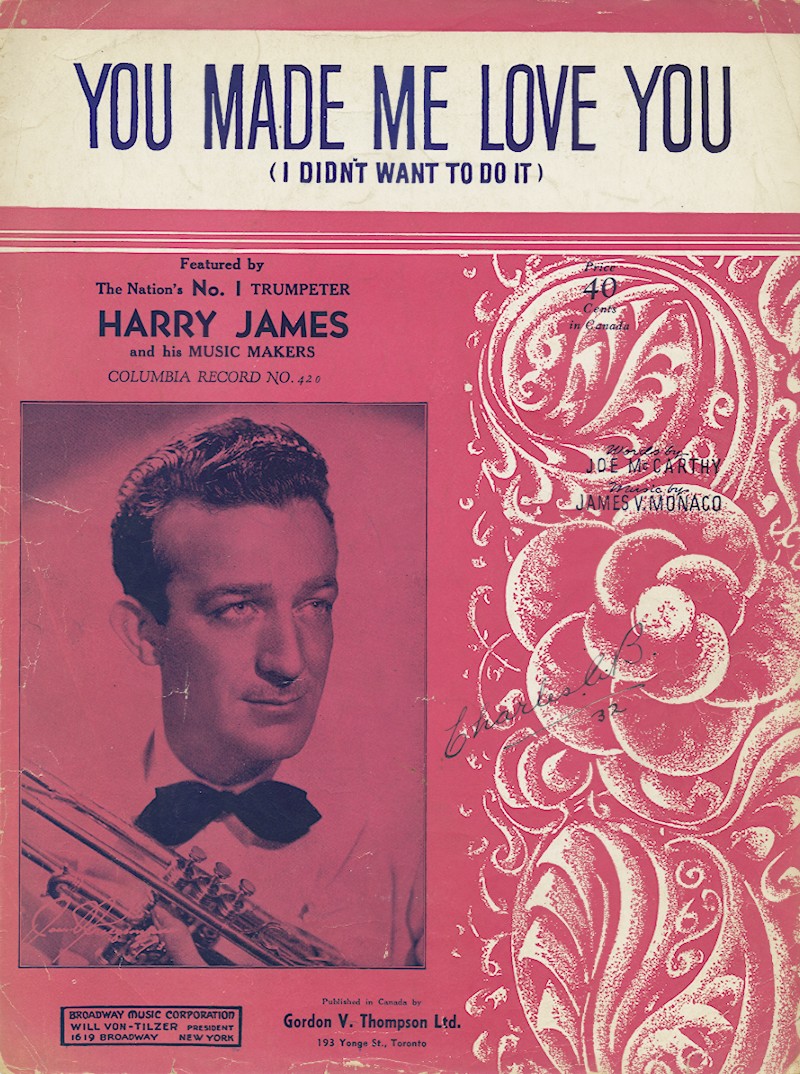 In 1941, Harry James and his orchestra recorded the future standard "You Made Me Love You," with the vocal by Helen Forrest.  It sold more than a million copies.
In 1942, "I've Got A Gal in Kalamazoo" was recorded by Glenn Miller and His Orchestra, with vocal by Tex Beneke, Marion Hutton and the Modernaires. The single spent eight weeks at #1 that summer, and was the best selling record of the year.
In 1946, the No. 1 Billboard Pop Hit was "The Gypsy," by the Ink Spots.
In 1954, Bill Haley's "Rock Around the Clock" was released on the Decca label. The record was not a hit until the following year, after it was included on the soundtrack of the boxoffice hit "Blackboard Jungle."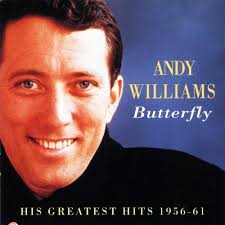 In 1957, crooner Andy Williams was at No.1 on the British singles chart with 'Butterfly', the US singers only UK chart topper, and the first of Andy's 40 entries in the British charts over the next 45 years.
Also in 1957, Ottawa's Paul Anka, just 15 years old, recorded his first single, the #2 hit "Diana," in New York City.
Still in 1957, Frank Sinatra was at the Capitol Tower in Hollywood to record his future Top 20 hit "Witchcraft."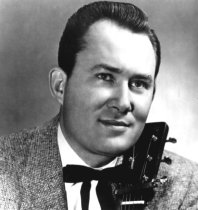 In 1958, country singer Don Gibson joined the Grand Ole Opry. (Six years later he was fired by the Opry for not making the required number of appearances!)
Also in 1958, Sun Records in Memphis released a future hit for Johnny Cash, "Guess Things Happen that Way." It became Cash's fourth #1 country single, and a Top 20 track on the pop chart.
In 1960, future Beatles John, Paul and George, along with bassist Stu Sutcliffe and drummer Tommy Moore, embarked on a tour of Scotland as the backing band for star Johnny Gentle.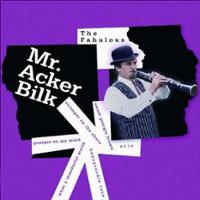 In 1962, the No. 1 Billboard Pop Hit was "Stranger on the Shore," by Mr. Acker Bilk. It was the first British hit to make the top of the U.S. charts.
Also in 1962, CBS-TV's Ed Sullivan Show featured Peggy Lee singing "The Sweetest Sounds," "I'll Get By," and "I Believe In You."  The Brothers Four (from Seattle) sang "This Train" and "This Land Is Your Land." And retired baseball great Jackie Robinson offered batting tips.
In 1964, Rudy Lewis of The Drifters died under mysterious circumstances at age 28, the night before the group was set to record 'Under the Boardwalk'. Former Drifters' backup singer Johnny Moore was brought back to perform lead vocals for the recording session.
In 1966, Pete Townshend and Roger Daltrey of the Who started a show in Windsor, England without Keith Moon and John Entwistle. When the pair finally showed up, Townshend whacked Moon over the head with his guitar. Moon quit the band on the spot, but was back a week later.
In 1967, the BBC banned the Beatle's "A Day in the Life" because of its apparent drug references.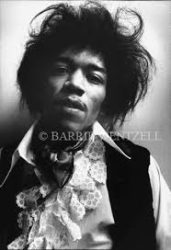 Also in 1967, Seattle-born Jimi Hendrix signed his first U-S recording contract with Reprise in return for $120,000. He became a star just a month later at the Monterey Pop Festival.
.
Still in 1967, "Groovin'" by the Young Rascals topped the charts and stayed there for 4 weeks.
In 1968, The Beatles, armed with a bunch of new material after their visit to India, met at George Harrison's home and taped 23 new songs on George's 4-track tape machine.  Many  would end up on The Beatles' next two albums, the White Album and Abbey Road.
In 1969, in Los Angeles, Chicago rocker Peter Cetera was severely beaten by four men in Marine uniforms at a Chicago Cubs-Dodgers baseball game. The Marines objected to the length of Cetera's hair. Cetera underwent four hours of emergency surgery and remained in intensive care for two days.
In 1970, the last Beatles film, "Let It Be," premiered in London. Three songs from the album of the same name reached No. 1: "Get Back," "The Long and Winding Road" and the title song.
Also in 1970, Winnipeg's The Guess Who's American Woman/No Sugar Tonight stayed at #1 on the Billboard pop chart.
In 1972, T Rex were at No.1 on the UK singles chart with 'Metal Guru', the group's fourth and final No.1.
In 1973, at the 25th Emmy Awards, top honors went to The Waltons, All in the Family & Mary Tyler Moore.
In 1978, the movie "The Buddy Holly Story" premiered in Holly's hometown of Lubbock, Texas, one day after its world premiere in Dallas.
Also in 1978, "With a Little Luck" by Wings topped the charts and stayed there for 2 weeks.
In 1979, Elton John played Leningrad and became the first Western solo pop star to tour the Soviet Union.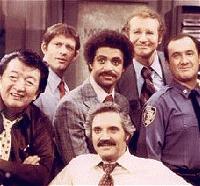 In 1982, the final episode of "Barney Miller" aired on ABC-TV.
In 1985, actor George Memmoli, a member of the comedy troupe Ace Trucking Company, who had a recurring role in the TV sitcom Hello Larry, died at age 46.
Also in 1985, the United States opened "Radio Marti" in Miami and began regular broadcasts in Spanish aimed at Cuba.
Still in 1985, Harlem's Apollo Theatre, a showcase for black talent for 50 years, re-opened after being closed for five years. Although it still featured live stage shows, the new theatre was designed primarily as a TV production facility.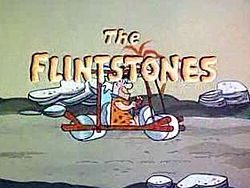 In 1986, a TV special celebrating the 25th Anniversary ot the stone age family The  Flintstones aired on CBS.
In 1986, Yoko Ono brought her critically-maligned Starpeace tour to Montreal. Most North American dates on the tour had been cancelled because of poor ticket sales. European sales also didn't go well either.
In 1988, Dick Jacobs, the producer of Buddy Holly's New York sessions, died in New York at age 70. As A-and-R director for Coral and Brunswick Records, Jacobs also worked with the Johnny Burnette Trio, Jackie Wilson and Teresa Brewer. As an orchestra leader, he also had his own hits in 1956 and '57 with "Main Title" and "Molly-O" from "The Man With the Golden Arm," plus "Petticoats of Portugal" and "Fascination."
Also in 1988, at the peak of the "Is Elvis Dead?" craze, Priscilla Presley held a news conference to confirm that he did, indeed, die in 1977.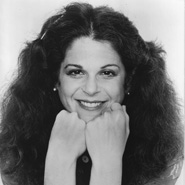 In 1989, Gilda Radner, a comic genius who created some of Sat. Night Live's most memorable characters, lost her battle with ovarian cancer at age 42.
Also in 1989, Paula Abdul started a two week run at No.1 on the Billboard singles chart with 'Forever Your Girl', her second chart topper.
In 1993, the 274th & final episode of the ensemble TV sitcom "Cheers" aired on NBC.
In 1995, CBS News fired Evening News co-anchor Connie Chung.
In 1996, the final episode of "The Fresh Prince of Bel-Air" aired on NBC.
Also in 1996, Melissa Etheridge was named Songwriter of the Year at the annual ASCAP Awards in Beverly Hills.
Still in 1996, the Metallica single "Until It Sleeps" was released world-wide, except in North America, where it was released the next day.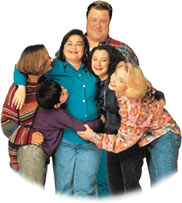 In 1997, the final episode of the original run of "Roseanne" aired on ABC.
Also in 1997, U2 caused traffic chaos in Kansas City, Missouri after they paid to close down five lanes so they could shoot the video for 'Last Night On Earth'. As well as creating major traffic jams, a passing Cadillac crashed into a plate glass window trying to avoid a cameraman.
In 1998, about 400 people attended the invitation-only funeral for Frank Sinatra in Beverly Hills. He had died six days earlier of a heart attack at 82. The mourners included Tony Bennett, Bob Dylan, Liza Minnelli, Jack Nicholson, Tony Curtis, Kirk Douglas, Sophia Loren, Bob Newhart, Faye Dunaway, Angie Dickinson, and Sinatra's ex-wife, Mia Farrow.
Also on this date in 1998, Black Sabbath drummer Bill Ward suffered a heart attack during a London rehearsal. Vinny Appice filled in as the reunited Sabbath toured for the first time in 20 years.
Still in 1998, Motley Crue drummer Tommy Lee was sentenced to six months in jail and three years' probation for kicking his soon-to-be ex-wife, onetime "Baywatch" star Pamela Anderson, as she held their infant son. The verdict also specified that Lee complete 200 hours of community service and donate $5,000 to a battered women's shelter.
In 1999, more than 20 veteran acts, including Jan & Dean, Pat Boone, Freddy Fender, and the Grass Roots sued K-tel International Inc. for breach of contract and non-payment of royalties in connection with 27 compilation albums.
In 2000, an autopsy performed on the exhumed body of Tammy Wynette at the behest of her husband George Richey, shows that she died of heart failure caused by damage from repeated blood clots. The role drugs may have played in the country star's death is impossible to determine since the autopsy took place a year after she died.
In 2005, actor J. D. Cannon, who played the lawman's chief opposite Dennis Weaver in the 1970's TV series McLoud, died at age 83.
Also in 2005, Kylie Minogue had a cancerous lump removed from her breast at a hospital in Melbourne, just as the singer was to begin the 20-date Australian leg of her worldwide Showgirl tour.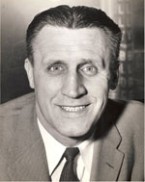 In 2006, former CFL and NHL executive, radio & TV sports commentator Annis Stukus died at his Canmore Alberta home at the age of 91.  His last job was as sportscaster, then Goodwill Ambassador for Vancouver's C-FUN 1410.
Also in 2006, the Beach Boys' hometown of Hawthorne, California dedicated a monument to the three founding Wilson brothers on the site of their boyhood home.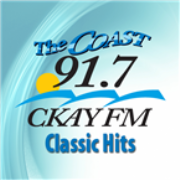 Still in 2006, at noon CKAY FM  'The Coast 91.7' (Sechelt BC) officially signed on with an announcement by General Manager Bob Morris. Its first song was Cyndi Greco's "Making Our Dreams Come True" (the theme from "LaVerne & Shirley" .) CKAY FM would continue commercial free and announcer free until May 29 at 5:30 am.                                                                                                                                                                                                                                                         
In 2008, the US Congress passed a resolution designating May 13th as Frank Sinatra Day to honor his contribution to American culture.
Also in 2008, Santana played the first of two concerts at San Francisco's historic Fillmore auditorium in support of their two-CD career retrospective, "Multi-Dimensional Warrior." The shows were filmed for a fan online special.
In 2009, KISS, Carlos Santana and Queen's Brian May were guest performers on the season finale of FOX-TV's American Idol. Kris Allen got the voters' nod in a surprising victory over the heavily favored Adam Lambert.
Also in 2009, Michael Jackson delayed the opening four nights of his This Is It UK tour at London's O2 arena. Concert promoters said the delay (to July 13th) was because the superstar needed more time for dress rehearsals. But the tour would never take place after Michael's death a month later.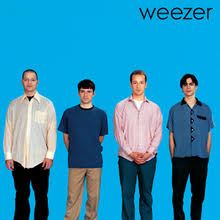 In 2010, Weezer were guests on TV's Ellen DeGeneres Show. The one-time sedate frontman Rivers Cuomo dropped to his knees during a rowdy performance of "(If You're Wondering If I Want You To) I Want You To." DeGeneres described the performance as "fantastic."
In 2012, a co-founder of the Bee Gees, singer Robin Gibb suffered liver and kidney failure and died at age 62.
Also in 2012, a founding member of the Atlanta Rhythm Section, drummer and songwriter Robert Nix died after surgery in Memphis at age 67.
In 2013,   Doors co-founder and keyboardist Ray Manzarek died in Germany at age 74, after a long battle with bile duct cancer.
In 2014, sportscaster Bill Berg,  a popular afternoon-drive talk show host on Chicago's WGN radio in the 1970s, who also called Milwaukee Bucks and Golden State Warriors games, and filled in on Chicago Cubs and Bears broadcasts, died of complications from Parkinson's Disease at age 77.
Also in 2014, Prince Rupert Loewenstein, the Bavarian banker credited with turning The Rolling Stones into the world's richest rock band, died at the age of 80. It was on Loewenstein's advice that the Stones became tax exiles, decamping to the South of France in the 1970s. He famously wrote he was "never a fan of the Stones' music".
In 2015, after 23 years on CBS, the final 'Late Show with David Letterman' was broadcast, with his favorite band 'The Foo Fighters' as the last musical guests.  Letterman had been the star of a late night show longer than anyone, 33 years.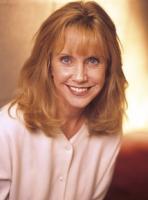 Also in 2015,  actress Mary Ellen Trainor, who appeared in all four Lethal Weapon films and in several movies directed by her then-husband, Robert Zemeckis, succumbed to pancreatic cancer at age 62. On TV, she had regular roles on the Fox sitcom Parker Lewis Can't Lose, the ABC drama Relativity and the UPN-WB drama Roswell.
In 2016, retired CBS News correspondent Jeanne Parr, the mother of actor Chris Noth, died at age 92. In the late 50's she began in small town Wisconsin radio & TV before being hired as a weather person at WCBS New York; this led to her becoming a fullblown CBS News correspondent, and in 1978, her own talk show The Jeanne Parr Show. 
Also in 2016, Pearl Jam guitarist Mike McCready and his Mad Season collaborators, Guns N' Roses bassist Duff McKagan and Screaming Trees drummer Barrett Martin, took part in the 14th annual "Flight To Mars" benefit concert at Seattle's The Showbox.
In 2017,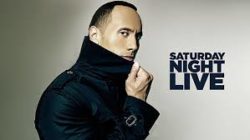 the season finale of NBC's Saturday Night Live was hosted by 'The Rock,' Dwayne  Johnson, with Katy Perry as musical guest.
In 2018, former Journey frontman Steve Perry appeared on American Idol on ABC after finalist Gabby Barrett performed a cover of Journey's "Don't Stop Believing." Perry was impressed and Barrett was blown away. But it was all for naught. Maddie Poppe was crowned the winner of Season 16.
In 2019, HBO announced that "Game of Thrones" set a ratings record for the network Sunday night as 19.3 million viewers tuned in to watch the epic's final episode in the U.S.
Today's Birthdays
Actor James McEachin (First Monday, Matlock, Perry Mason TV Movies) is 92.
Actor Constance Towers (General Hospital) is 89.
Actor Anthony Zerbe (Young Riders, Harry-O) is 86.
Actor David Proval (Sopranos) is 80.
Singer Jill Jackson (Paula of Paul & Paula) is 80.
Singer-actress Cher is 76.
Ontario-born actor/voicist Dave Thomas (Bounty Hunters, King of the Hill, Arrested Development, Grace Under Fire, SCTV) is 73.
Victoria-born musician Warren Cann of Ultravox is 73.
Former CKNW Morning Host Jon McComb is 70.
Prince George-born actor Dean Butler (Buffy the Vampire Slayer, The New Gidget, Little House on the Prairie) is 67.
Actor Matt McCoy (Silicon Valley, We Got it Made) is 65.
Guitarist Jane Wiedlin of The Go-Go's is 65.
Actor Bronson Pinchot (Perfect Strangers, Step by Step) is 64.
Singer Susan Cowsill of The Cowsills is 63.
Actor John Billingsley (TURN: Washington's Spies, Intelligence, True Blood, The Nine, Star Trek:Enterprise) is 62.
Actor Tony Goldwyn (Chambers, Scandal, Outlaw Prophet: Warren Jeffs) is 62.
Actor Owen Teale (Game of Thrones, Ballykissangel) is 61.
Singer Nick Heyward of Haircut 100 is 61.
TV personality Ted Allen (Queer Eye for the Straight Guy) is 57.
Actress Gina Ravera (The Closer, Time of Your Life) is 56.
Actress/voicist Mindy Cohn (What's New Scooby Doo?, Facts of Life) is 56.
Guitarist Tom Gorman of Belly is 57.
Actress Stephanie Niznik (Life is Wild, Everwood, Vanishing Son) is 55.
Actor Timothy Olyphant (Santa Clarita Diet, Justified, Damages, Deadwood) is 54.
Rapper Busta Rhymes is 50.
Actress Daya Vaidya (Bosch, Unforgettable, General Hospital) is 49.
Whitehorse-born actor Tahmoh Penikett (Strange Empire, Dollhouse, Battlestar Galactica, Cold Squad) is 47.
Bassist Ryan Martinie of Mudvayne is 47.
Actor Matt Czuchry (The Good Wife, Fri. Night Lights, Gilmore Girls) is 45.
Alberta-born actor Jason Cermak (Zoo, In My Dreams, Delmer & Marta, The Ramsay Downholers) is 45. 
Actress Angela Goethals (24, Do Over, Phenom) is 45.
Singer Rachel Platten is 41.
TV personality/actress/voicist Candace Bailey (Attck of the Show, Jericho, Robot Chicken) is 40.
Actress Sierra Boggess (What's Your Emergency?) is 40.
Actress Michaela McManus (SEAL Team, Aquarius, Awake, Law & Order: SVU, One Tree Hill) is 39.
Actor Allen Maldonado (Black-ish, You're the Worst, The Young & the Restless) is 39.
Ottawa-born actor Chad Connell (Rumours) is 39.
Actress Darya Ekamasova (The Americans) is 38.
Singer/songwriter/actress Naturi Naughton (Power, The Client List) is 38.
Country singer Jon Pardi is 37.
Actress Louisa Krause (The Girlfriend Experience, Billions) is 36.
Actor Robert Emms (Happy Valley) is 36.
Actor Joel Kelley Dauten (Feud, Misdirected) is 36.
Actor Jack Gleeson (Game of Thrones) is 30.
Actor Christian Antidormi (Spartacus: War of the Damned) is 30.
Chart Toppers – May 20
1948
Now is the Hour – Bing Crosby
Baby Face – The Art Mooney Orchestra
The Dickey Bird Song – The Freddy Martin Orchestra vocal: Glenn Hughes)
Anytime – Eddy Arnold
1957
All Shook Up – Elvis Presley
School Days – Chuck Berry
Love Letters in the Sand – Pat Boone
A White Sport Coat (And a Pink Carnation) – Marty Robbins
1966
Monday Monday – The Mamas & The Papas
Rainy Day Women #12 & 35 – Bob Dylan
Kicks – Paul Revere & The Raiders
Distant Drums – Jim Reeves
1975
He Don't Love You (Like I Love You) – Tony Orlando & Dawn
Before the Next Teardrop Falls – Freddy Fender
Jackie Blue – Ozark Mountain Daredevils
(Hey Won't You Play) Another Somebody Done Somebody Wrong Song – B.J. Thomas
1984
Hello  – Lionel Richie
Let's Hear It for the Boy – Deniece Williams
Time After Time – Cyndi Lauper
To All the Girls I've Loved Before – Julio Iglesias & Willie Nelson
1993
That's the Way Love Goes – Janet Jackson
Love Is – Vanessa Williams & Brian McKnight
Nothin' But a "G" Thang – Dr. Dre
I Love the Way You Love Me – John Michael Montgomery
2002
Don't Let Me Get Me – Pink
All You Wanted- Michelle Branch
A Thousand Miles – Vanessa Carlton
My List – Toby Keith
2011
E.T.  – Katy Perry featuring Kanye West
Rolling in the Deep – Adele
Till The World Ends – Britney Spears featuring Kanye West
A Little Bit Stronger – Sara Evans
Today in Broadcast History compiled by Ron Robinson