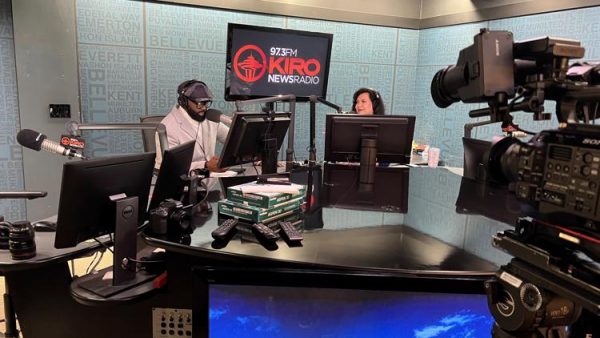 by Angela Poe Russell
May 3, 2022
SEATTLE — Gee Scott and Urusla Reutin host the 9:00 a.m.-noon hour on KIRO Radio 97.3, a slot that hasn't been the same since they took over two years ago.
"Gee and Ursula have a reputation. They are tough and intimidating, but they are fair and kind. They can mix seriousness with humor," explained Seattle Mayor Bruce Harrell, who appears on the show monthly.
Gee jokes that Ursula put her career on the line to work him. And perhaps that's a bit of truth in jest.
Ursula is an award-winning journalist, with 30 years experience at KIRO Radio.
One day her son had an idea, "Why not host a show with Gee?"
"I'm a journalist at heart. A talk show? Give opinions? Who wants to hear my opinion?"  Reutin explained.
And then, the pairing with Gee was unconventional. His experience at KIRO started with a car detailing job.
"I was so excited! Afterwards, I took pictures of the KIRO SUV and sent them to a friend. 'Look where I am,'" Scott shared.