ON THIS DAY in 1908
jazz percussionist, vibraphone virtuoso and bandleader Lionel Hampton was born in Louisville, Kentucky.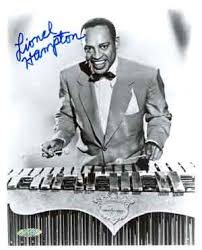 Hampton was with the Benny Goodman quartet for their legendary 1938 Carnegie Hall Jazz Concert, where his performance on such tunes as "Stompin' at the Savoy" and "Avalon" established him as a major jazz soloist. After leaving Goodman in 1940, Hampton led his own band on and off for more than 30 years. Hampton died of a heart attack on August 31st, 2002 at age 94.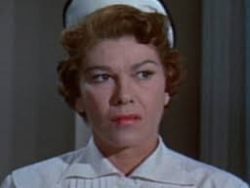 In 1914, busy (mostly radio) actress Betty Lou Gerson was born in Chattanooga Tenn.   Moving to Chicago at age 16, (and later New York and Hollywood), she became a mainstay of radio's daytime dramas such as Women in White, Road of Life, Lonely Women, The Guiding Light, The Story of Mary Marlin, as well as The First Nighter.  She was much in demand on prime time shows like The Adventures of Sam Spade, Box 13, Richard Diamond Private Detective, The Chicago Theatre of the Air, Mr. President, Grand Hotel and The Whistler.  She died of a massive stroke January 12, 1999 at age 84.
In 1922, Radio Specialties Ltd opened CFCQ Vancouver using 40 watts of power on 450 meters (666 khz). Studios were at 791 Dunsmuir. CFCQ became CKMO in 1928 & C-FUN in 1955.
In 1925, Latin bandleader Tito (Ernest) Puente was born in New York City. He is best known for dance-oriented mambo and latin jazz compositions that helped keep his career going for 50 years. He recorded over 100 albums and won 10 Grammys. He died of heart disease June 1, 2000 at age 75.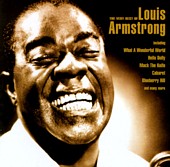 In 1931, Louis Armstrong recorded the classic, "When It's Sleepy Time Down South," for Okeh Records. Satchmo would use the tune as his theme song for decades. The song was waxed in Chicago.
In 1935, "Your Hit Parade" debuted on NBC Radio as a one-hour Saturday night program, with 15 of the week's top songs performed in random order. The dramatic countdown to the #1 song was adopted several years later, after the show had moved to CBS.  Lenny Hayton was the initial orchestra leader, and Kay Thompson one of the first singers.
In 1944, Judy Garland recorded what would become a classic seasonal hit "Have Yourself A Merry Little Christmas" for Decca Records. She introduced the song in the Hollywood musical "Meet Me in St. Louis."
In 1946, "Deirdre of the Sorrows," the first full-length opera commissioned by the CBC, was broadcast on the radio network. In 1966, under the title "Deirdre," it became the first Canadian opera produced by the Canadian Opera Company. The music was by Healey Willan, the text by John Coulter.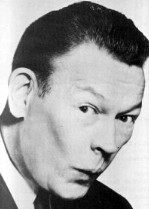 In 1947, comedian Fred Allen of Allen's Alley fame didn't find things so funny when censors cut him off the air during his NBC radio broadcast. Allen was telling a joke about a mythical network vice-president when he was suddenly taken off the air. One moment please…
In 1951, soul singer & songwriter Luther Vandross was born in Manhattan, NY. During his career, Vandross sold over 25 million albums and won eight Grammy awards. He died July 1, 2005 two years after a diabetes-related stroke, at age 54.
 On this day in 1952, "The Big Show" with hostess Talullah Bankhead finished a two year run on the NBC Radio network.  The 90-minute Sunday prime time show had been bigtime radio's last kick at staving off the tidal wave of television.
In 1957, Elvis Presley started an eight week run at No.1 on the Billboard singles chart with 'All Shook Up.' It went on to be the biggest single of 1957 selling over 2 million copies.
In 1958, CBS-TV's Ed Sullivan Show featured The Champs playing their instrumental pop hit, their only #1, "Tequila." Vaudeville veterans Hermione Gingold and Billy Dewolfe were also featured, along with Vivian Blaine and David Wayne from Broadway.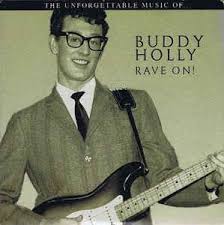 Also in 1958, Coral Records released "Rave On" by Buddy Holly, one of his last hits during his lifetime.
In 1959, Canadian tenor Edward Johnson died in his hometown of Guelph, Ontario at age 81. A triumph in the leading role in the North American premiere of Oscar Straus's "A Waltz Dream" made him an overnight star in 1908. After more than a decade in Europe, Johnson made his Metropolitan Opera debut in 1922. He was one of the Met's most admired artists for 13 seasons, then spent 15 years as the company's general manager.
Also on this date in 1959, the first single by Dolly Parton, "Puppy Love" was released. It was not a hit for the 13-year old Dolly, and was not the Paul Anka song that he and Donny Osmond had such success with.
Still in 1959, Desilu Playhouse on CBS-TV presented part one of a two-part show titled, The Untouchables. Robert Stack starred in the program and became a major TV star when The Untouchables become a weekly ABC series that fall.
In 1961, the US Federal Communications Commission (FCC) gave approval for FM stereo broadcasting. It would be another five or six years before FM stations went "underground" or "progressive" to attract listeners who were tired of the lack of audio quality on AM stations. FM stations to that time had broadcast in glorious monaural sound.
Also in 1961, the No. 1 Billboard Pop Hit was "Runaway" by Del Shannon.
In 1962, George Chandler, owner of Vancouver's CJOR AM600, died aged just 55.  He had bought New Westminster's CFXC in 1926, moved it to Vancouver and changed call letters. By late 1930 CJOR was installed in studios at 840 Howe St. in the basement of the Grosvenor Hotel where it remained throughout the next 53 years.
In 1966, The Beatles began recording the George Harrison composition "Taxman."
In 1968, The Rolling Stones recorded "Jumpin' Jack Flash."
Also in 1968, Apple Music ran advertisements soliciting tapes from unknown artists, offering financial inducements as part of a deal to release records on the Apple label. As a result of this campaign they signed Badfinger, James Taylor, Mary Hopkin, Jackie Lomax and David Peel, among others.
Still in 1968, the British rock group Deep Purple played their first live concert in Denmark. They were a hit in North America that year with their single "Hush," but it was not until 1969 that Deep Purple became popular in their home country.
In 1970, Elvis Presley released the single "The Wonder Of You." This version of the 1959 Ray Peterson hit peaked at #9 in North America, and #1 in the UK.
In 1971, Barbra Streisand recorded her version of The Carpenters' hit "We've Only Just Begun."  It was not released until 20 years later.
In 1974, the song "TSOP (The Sound of Philadelphia)" by MFSB featuring the Three Degrees topped the charts and stayed there for 2 weeks.
In 1976, the Rolling Stones' LP "Black and Blue" was released. It was the first Stones album to feature guitarist Ronnie Wood who replaced Mick Taylor.
In 1977, "Southern Nights," Glen Campbell's second #1 pop single (after "Gentle on My Mind"), was certified as a Gold Record.
In 1979, Johnny Carson was said to be leaving The Tonight Show. Newspapers around the country gave details about why the comedian and late-night host was said to be unhappy after 17 years on the show. Guess what? More moola, more vacation time and a four-day week (not working Mondays) was enough for the "Great Carsoni" to hang around NBC for another 12 years…
In 1980, comedian/actor George Burns became the oldest person (at age 84) to chart among Billboard's Hot 100 singles when "I Wish I Was 18 Again" peaked at #49.
In 1981, John Phillips of the Mamas and the Papas began a 30-day prison term in Los Angeles after pleading guilty to cocaine possession. The rest of his five-year sentence was traded for 250 days of community service.
Also in 1981, the last episode of the quirky series "Soap" (which introduced us to Billy Crystal) aired on ABC-TV.
In 1985, the British pop music group Wham!, featuring George Michael, became the first to release cassettes in the People's Republic of China. Selections from two of the group's albums were packaged and sold on the tape.
In 1987, Bob Dylan joined U-2 on stage in Los Angeles to perform "I Shall Be Released" and "Knockin' On Heaven's Door."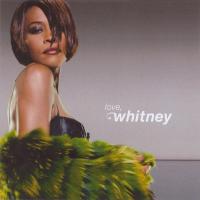 In 1988, the No. 1 Billboard Pop Hit was "Where Do Broken Hearts Go" by Whitney Houston.
In 1989, scientists announced the successful testing of high-definition TV.
In 1990, singer Janet Jackson was bestowed with a star on the Hollywood Walk Of Fame, at the start of 'Janet Jackson Week' in LA.
In 1991, UK singer and guitarist Steve Marriott, former leader of the Small Faces and Humble Pie, died in a house fire northeast of London. He was 44. The Small Faces' only top-20 hit in North America was 1967's "Itchykoo Park," but their "mod rock" made them big stars in their native Britain. Marriott left the Small Faces in 1969 to form the hard-rocking Humble Pie. He was replaced by Rod Stewart, and the Small Faces became simply The Faces.
Also in 1991,Wilson Phillips scored their third Billboard No.1 single with 'You're In Love.'
In 1992, Madonna and Time-Warner signed a deal reported to be worth as much as 60 million dollars. It called for the formation of Maverick, an entertainment company to be run by Madonna and her manager. Madonna called the package, comparable to Michael Jackson's deal with Sony, "the perfect marriage of art and commerce."
Also in 1992, 72-thousand fans jammed Wembley Stadium in London for an all-star charity concert honouring Queen lead singer Freddie Mercury, who had died five months earlier of AIDS. Nearly 100 performers joined in the tribute, which raised hundreds of thousands of dollars for the fight against AIDS. The show included Elton John performing with Axl Rose of Guns N' Roses, Def Leppard joining the three surviving members of Queen, and Annie Lennox duetting with David Bowie. The concert was broadcast to 70 countries.
Still in 1992, English comedian & TV star Benny Hill, famous for his sight gags & buxom women on the pratfall-filled Benny Hill Show, was found dead of a heart attack at age 67.
Also on this date in 1992, Johnny Shines, one of the last of the original Delta blues guitarists and singers, died in Tuscaloosa, Alabama at age 76.
Again in 1992, a host of ABC-TV's Good Morning America Joan Lunden broke her left shoulder when she was thrown from a horse.
In 1993, Windsor Ont.'s Shania Twain released her self-titled first album. Although not a hit at first it eventually sold more than a million copies in the US  and has been certified Platinum.
Also in 1993, Aerosmith released the album 'Get a Grip', which became their first album to debut at No.1. It went on to sell 7 million copies in the US alone and 20 million worldwide, as well as winning the band two Grammy awards.
In 1994, Barbra Streisand gave her first London concert in 28 years at Wembley Stadium.
In 1996, tickets ranging in price from $27.50 – $85.00 went on sale for the KISS reunion tour. This marked the first time in 15 years that all four original members of the '70's rock group had joined together in original costume and face paint.
In 1997, Michael Jackson was on hand to unveil a wax statue of himself at the Grevin Museum of Wax in Paris. Jackson provided one of his own outfits to dress the statue.
In 1999, the Los Angeles Police Department confirmed that Death Row Records founder Marion "Suge" Knight was a suspect in the murder of the Notorious B.I.G. The rapper, a Bad Boy/Arista artist, was killed in a drive-by shooting in 1997.
Also in 1999, Senor Wences, the Spanish comedian & ventriloquist who drew faces on his fist & was a big hit in his 48 appearances on CBS-TV's Ed Sullivan Show, died three days after his 103rd birthday.
Still in 1999, the "No Security" tour, the Rolling Stones' first arena outing in 20 years wrapped with a make-up date at the San Jose Arena in California. The tour grossed more than $64.6 million from only 33 dates.
Again in 1999, Billy Joel played a concert at the Meadowlands in New Jersey and announced he was about to retire from from touring or recording pop music. He planned to become immersed in classical music, but early in the new millenium returned to touring and singing his hits.
Yet one more time in 1999, actress Jane Seymour received a star on the Hollywood Walk of Fame, on what is now the Official Jane Seymour Day each year in L.A.
In 2002, 1940s and '50s crooner Alan Dale suffered cardiac arrest and died at age 76. Born Aldo Sigismondi in New York City, Dale hosted weekly radio and T-V shows while still in his early 20's. His hits included "Oh, Marie" and "Cherry Pink" — which stayed on the charts for 30 weeks in 1955. Dale scored another hit in 1956 with "Heart of My Heart."
Also in 2002, in the dispute over who owned the rights to Nirvana's recordings former members Dave Grohl and Kirst Novoselic asked a Seattle Court to prove that Courtney Love was mentally stable. They told the court that Love was 'irrational, mercurial, self-centered, unmanageable, inconsistent and unpredictable.'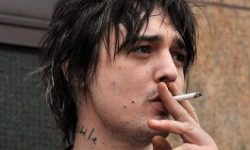 In 2006, Babyshambles singer Pete Doherty was arrested in east London on suspicion of drugs possession only hours after a court appearance. Doherty had earlier admitted to seven charges of possessing drugs when he appeared before magistrates in east London.
In 2007, guitars played by Eric Clapton, Jimi Hendrix and Carlos Santana were displayed at the Holy Grail Guitar Exhibition in Dallas.
In 2011, one half of the writing team that came up with the hilarious antics of TV's "I Love Lucy," Madelyn Pugh, died at age 90.  She began writing comedy with Bob Carroll Jr. in network radio's heigh day, for (among others) a Steve Allen series and Lucille Ball's "My Favorite Husband."
Also in 2011, veteran Los Angeles & Las Vegas radio deejay Ted Quillin, one of KFWB's "Seven Swinging Gentlemen" who introduced LA to rock and roll radio, died at age 81.
Still in 2011, Kid Rock made a surprise visit to Romeo High School in Detroit, his alma mater, and presented the school's music program with $5,000. His donation was matched by a contribution from Best Buy Mobile and the Grammy Foundation.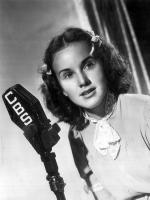 In 2013, Winnipeg-born singer/movie star of the late 1930's and 40's, Deanna Durbin, who (at age 13) got her start on CBS Radio's Eddie Cantor Show in 1935-37, died at age 91, in France, where, sick of the pressures of Hollywood, she fled to in 1949.
In 2016, professional wrestler/model/actress Chyna was found dead in her home at age 46. The cause was found to be an overdose of alcohol combined with anxiety medication.
In 2017, Toronto-based Rush — Geddy Lee, Alex Lifeson and Neil Peart — received the Allan Slaight Humanitarian Spirit Award at the annual Canadian Music & Broadcast Industry Awards Gala Dinner. The honour was for the group's achievements and longstanding career in the music industry, social activism and support of humanitarian causes.
In 2020, the founder of iconic UK seagoing pirate station Radio Caroline Ronan O'Rahilly died at age 79.
Today's Birthdays
Actor George Takei (Star Trek) is 85.
Singer Johnny Tillotson is 84.
Actor Ryan O'Neal (Bones, Miss Match, Peyton Place) is 81.
Actor Michael Brandon (Emerald Point N.A.S.) is 77.
Keyboardist Craig Frost of Grand Funk Railroad is 74.
Actor Gregory Itzin (The Mentalist, 24, Murder One) is 74.
Actress Jessica Lange (Feud: Bette & Joan, American Horror Story, Sybil) is 73.
Actress Veronica Cartwright (Bosch, Resurrection, LA Law) is 73.
Actress Louise Jameson (Doc Martin, EasrEnders) is 71.
Winnipeg born, Langford BC raised musician, sound engineer, and record producer Bob Rock is 68. 
Actor Clint Howard (Gentle Ben, Gung Ho) is 63.
Actor Mike Pniewski (Madam Secretary, The Good Wife, Drop Dead Diva) is 61.
Actor Crispin Glover (Best of Times, High School U.S.A.) is 58.
Actor Andy Serkis (Oliver Twist) is 58.
Actor Andrew Shue (Melrose Place) is 55.
Actress/voicist Lara Jill Miller (Gimme a Break, Doc McStuffins, Henry Hugglemonster) is 55.
Montreal-born actor William deVry (The Bold and the Beautiful, General Hospital) is 54.
Toronto-born CTV host/political journalist Evan Solomon (also Bell radio talk show host) is 54. 
Country singer Wade Hayes is 53.
Actor Shemar Moore (Criminal Minds, The Young & the Restless) is 52.
Actor Brody Hutzler (Days of Our Lives, The Young & the Restless) is 51.
Actress Carmen Electra (Baywatch, Hyperion Bay, Summerland) is 50.
Actor Scott Beehner (Interns of F.I.E.L.D., Zeke & Luther, The Young & The Restless) is 49.
Bassist-keyboardist Marty Crandall of The Shins is 47.
Actor/singer Joey Lawrence (Melissa & Joey, Blossom, Gimme a Break) is 46.
Actor Clayne Crawford (Lethal Weapon, Rectify, Rogue, The Glades, 24) is 44.
Toronto-born actor Matt Sadowski (Power Rangers S.P.D., Taste Buds) is 44. 
Actress Chrysta Bell (Twin Peaks 2017) is 44.
Multi-instrumentalist Clay Cook of the Zac Brown Band is 44.
Actress Ruth Connell (Supernatural) is 43.
Actress Georgina Rylance (Dinotopia) is 43.
Australian model Miranda Kerr (The Victoria's Secret Fashion Show) is 39.
Actor Tim Jo (Pitch, The Neighbors) is 38.
Actor Billy Magnussen (As the World Turns) is 37.
Actress Jadyn Douglas (Telenovela) is 37.
Actor John Patrick Amedori (Hindsight, Vanished) is 35.
Actor Alex Black (Ned's Declassified School Survival Guide) is 33.
Actor Carlos Valdes (The Flash) is 33.
Chart Toppers – April 20
1950
If I Knew You Were Comin' I'd've Baked a Cake – Eileen Barton
Music, Music, Music – Teresa Brewer
Peter Cottontail – Gene Autry
Long Gone Lonesome Blues – Hank Williams
1959
Come Softly to Me – The Fleetwoods
I Need Your Love Tonight – Elvis Presley
(Now and Then There's) A Fool Such as I – Elvis Presley
White Lightning – George Jones
1968
Honey – Bobby Goldsboro
Cry like a Baby – The Box Tops
Lady Madonna – The Beatles
Fist City – Loretta Lynn
1977
Don't Give Up on Us – David Soul
Don't Leave Me This Way – Thelma Houston
Southern Nights – Glen Campbell
It Couldn't Have Been Any Better – Johnny Duncan
1986
Kiss – Prince & The Revolution
Manic Monday – Bangles
Addicted to Love – Robert Palmer
Cajun Moon – Ricky Skaggs
1995
This is How We Do It – Montell Jordan
Red Light Special – TLC
Freak like Me – Adina Howard
The Heart is a Lonely Hunter – Reba McEntire
2004
Yeah – Usher featuring Ludacris and Lil' Jon
This Love – Maroon 5
One Call Away – Chingy
When the Sun Goes Down – Kenny Chesney with – Uncle Kracker
Today in Broadcast History compiled by Ron Robinson