ON THIS DAY in 1899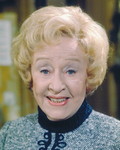 British actress Doris Speed was born in Manchester.  For 23 years she played pub landlady Annie Walker on the BBC's long-running TV serial Coronation Street. She died Nov. 16 1994 at age 95.
On this day in 1918, comedian Joey Bishop was born Joseph Gottlieb in the Bronx, New York. He appeared on television as early as 1948 and eventually starred in his own weekly comedy series playing a talk show host, then later for 2.5 years beginning in 1967 hosted a late night talk show on ABC opposite Johnny Carson.   He was welcomed into Frank Sinatra's 'Rat Pack,' and subbed 175 times for Carson on the Tonight Show (1971-76.)  Bishop died Oct. 17 2007 at age 89.
On this day in 1920, actress Bibi Osterwald was born in New Brunswick, New Jersey. She was a regular on TV series The Imogene Coca Show & Bridget Loves Bernie. She died of lung disease Jan 2 2002, one month shy of her 82nd birthday.
On this day in 1927, a forerunner of the F.C.C, the Federal Radio Commission, was created by a law signed into effect by U.S. President Calvin Coolidge.
On this day in 1928, English pop singer Frankie Vaughan was born Frank Abelson in Liverpool.   He scored with UK hit covers of American hit records, like Perry Como's "Kewpie Doll," Jimmie Rodgers' "Kisses Sweeter than Wine,"Boyd Bennett's "Seventeen," Jim Lowe's "The Green Door," and the Fleetwoods' "Come Softly to Me."  He had his own BBC TV variety show in the 60's. He died of a heart ailment Sep 17, 1999 at age 71.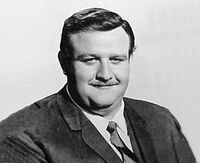 On this day in 1938, actor Victor Buono was born in San Diego. A very big man, he will be remembered by baby boomers for his indelible villains on the TV series Batman & Wild Wild West.  He guested on many talk shows, often reciting his own poetry.  He died after a heart attack Jan 1, 1982 at age 43.
Also in 1938, the kids radio adventure drama Challenge of the Yukon (about Sgt. Preston & his 'wonder dog' Yukon King) debuted in a 15 minute format on WXYZ Detroit.  It completed George W. Trendle's trilogy of juvenile adventures preceded by The Lone Ranger and The Green Hornet.  The show went to the networks (ABC, then Mutual) in 30 minute form 1947 to '55, and was retitled as Sgt Preston of the Yukon beginning in 1951.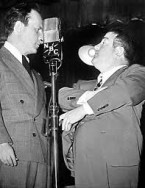 Still in 1938, the comedy team of Abbott & Costello made their debut as cast members on CBS Radio's "The Kate Smith Hour." They remained with the weekly program for two years while their film career got underway.
On this day in 1940, singer Angelo D'Aleo was born in New York City.  He was first tenor in the doowop group The Belmonts, who recorded some huge hits in the late 50's with Dion. (I Wonder Why, A Teenager in Love, Where or When.) Happy 80th Birthday, Angelo!
On this day in 1941, Jimmy Dorsey and his orchestra recorded the big band classic, "Amapola", on Decca Records.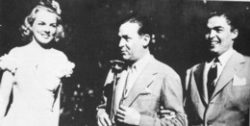 Helen O'Connell (left) and Bob Eberly (right) joined Dorsey (center) in a vocal duet on this very famous and popular song of the Big Band era; it stayed on the pop singles charts for 14 weeks, for most of the time at #1.
On this day in 1942, the No. 1 Billboard Pop Hit was "A String of Pearls" by the Glenn Miller Orchestra.
On this day in 1950, Ed, Gene, Joe and Vic, The Ames Brothers, reached the #1 spot on the pop music charts for the first time, as "Rag Mop" became the most favorite song in the U.S. The brothers enjoyed many successes with their recording efforts: "You You You" [1953], "The Man with the Banjo" and "The Naughty Lady of Shady Lane" [1954], "Tammy" and "Melody d'Amour" [1957].
On this day in 1951, the "Victor Borge Show" debuted on NBC TV.
On this day in 1953, 
 the chimpanzee J. Fred Muggs became a regular on NBC's Today Show, joining Dave Garroway, Jack Lescoulie & Frank Blair.
On this day in 1955, radio station CKLG signed on to serve North Vancouver with 1000 watts at 730 KHz., and a promise of "quality programming."  Within a decade it would be playing Top 40 wall-to-wall. 
On this day in 1956, Elvis Presley was in the RCA Victor studios in New York just six days after his first national TV appearance, to record "Lawdy Miss Clawdy" and "Shake Rattle And Roll."
On this day in 1957, the New York Times ran a story under the headline "Presley Records a Craze in Soviet Union." The article was about bootleg records being made in the Soviet Union since Elvis records were not legally available.
On this day in 1959, it was "the day the music died,"  as Don McLean named it in his 1972 hit, "American Pie."  22-year-old Buddy Holly, 28-year-old J.P. Richardson (The Big Bopper)and 17-year-old Ritchie Valens died in a chartered plane crash near Mason City, Iowa.
On this day in 1960, Reprise Records was formed by Frank Sinatra as a means of ensuring more artistic freedom for himself and his friends. This is the origin of his nickname 'Chairman of the Board.'
On this day in 1961, Bob Dylan made his first recordings, taping "San Francisco Bay Blues" and "Jesus Met the Woman at the Well" – at the home of friends Sid and Bob Gleason in East Orange, New Jersey.
On this day in 1964, the Beatles received their first gold record award for the single, "I Want To Hold Your Hand". The group also won a gold LP award for "Meet The Beatles". The album had been released in the United States only 14 days earlier.
On this day in 1965, Bobby Vinton guested on ABC-TV's "The Patty Duke Show."  The sitcom was in its second season.
On this day in 1966, Paul McCartney and Stevie Wonder met for the first time following Stevie's show at the Scotch of St. James nightspot in London.
On this day in 1967, the soon-to-be-smash-hit "Purple Haze" was recorded by Jimi Hendrix.
Also in 1967, Otis Redding, The Marvelettes, Aaron Neville, James and Bobby Purify andThe Drifters all appeared at Knoxville, Tennessee's Civic Coliseum. Tickets cost $2.50–3.50. Wow!
On this day in 1968, Paul McCartney recorded "Lady Madonna" at the Abbey Road studios in London. The record is credited to The Beatles, but McCartney played with unknown session musicians.
Also this day in 1968, one hit wonders The Lemon Pipers went to No.1 on the Billboard singles chart with 'Green Tambourine.'
On this day in 1969, The Beatles, over objections from Paul McCartney, hired manager Allen Klein to straighten out the band's financial affairs. The band's mismanagement and money problems eventually led to its breakup.
On this day in 1971, actor Jay C Flippen died after suffering an aneurism during surgery.  He was 72.   He was a radio announcer for the New York Yankees, one of the first game show hosts, and on TV is best remembered as C.P.O. Nelson on the 1962 sitcom 'Ensign O'Toole.'
Also this day in 1971, Lynn Anderson was awarded a Gold Record for the single, "Rose Garden". The country singer from Grand Forks North Dakota, was raised in Sacramento. In addition to being a singer, she was an accomplished equestrian and California Horse Show Queen in 1966.
On this day in 1973, the No. 1 Billboard Pop Hit was "Crocodile Rock" by Elton John. The single was the singer's first No. 1 song in North America.
Also this day in 1973, Dr. Hook's "Cover of the Rolling Stone" entered the Top 40 & peaked at #6.
On this day in 1976, David Bowie introduced his Thin White Duke character at a show at the Seattle Center Coliseum, the first stop on his latest tour.
On this day in 1977, Elton John resumed live performing in Sweden some 15 months after he'd vowed he was giving up live concerts.
On this day in 1978, Harry Chapin met with President Carter at the White House as Carter announced the establishment of a commission on hunger. Chapin spent months lobbying Congress for the creation of the commission.
Also this day in 1978,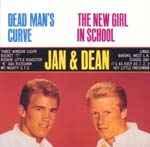 the TV movie "Dead Man's Curve," the story of Jan & Dean, premiered on ABC-TV.
Still in 1978, on the 19th anniversary of Buddy Holly's death, the Holly family home on 6th Street in Lubbock Texas was spared from a scheduled demolition by the new owner who had bought the house days earlier.
On this day in 1979, Wolfman Jack emceed a sold-out concert at the Surf Ballroom in Clear Lake, Iowa, which commemorated the 20th anniversary of the plane crash that killed Buddy Holly, Ritchie Valens and the Big Bopper. Featured performers in the "Tribute to Buddy Holly" show were Del Shannon, Jimmy Clanton and the Drifters.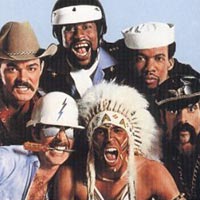 Also in 1979, the song "YMCA" by the Village People peaked at #2 on the pop singles chart.
On this day in 1982, the No. 1 Billboard Pop Hit was "Centerfold" by The J. Geils Band. Band member Peter Wolf once said the group turned down an offer to perform at Woodstock because the musicians didn't want to spend three days in the mud.
In 1984, Richmond's four-year-old CISL was given approval to move from 940 to 650 kHz and to increase power from 2,500 watts to 10,000 watts day and 7,500 watts at night. The move to 650 took place July 1, swapping frequencies with BCIT's carrier current campus station in Burnaby. 
On this day in 1989, actor/director John Cassavetes died of cirrhosis of the liver at age 59.  Besides directing his big screen 'cinema verite' successes he found time for frequent guest acting appearances on TV, and the lead in the 1959 series Johnny Staccato.
On ths day in 1991, actress Nancy Kulp (below), forever memorable as Jane Hathaway on TV's Beverly Hillbillies, died of cancer at age 69.

Also this day in 1991, singer Sinead O'Connor said she wouldn't accept any Grammy Awards or attend the ceremony because the show reflected "false and destructive materialistic values." The Irish pop singer had been nominated in four Grammy categories.
On this day in 1993, Gloria Estefan received a star on the Hollywood Walk of Fame. The pop star got the 1,974th star on the famous avenue, in front of the Hollywood Galaxy Shopping Complex on Hollywood Boulevard.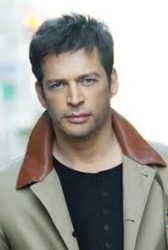 Also ths day in 1993, Grammy-winning singer and pianist Harry Connick Jr. struck a plea bargain agreement with New York authorities stemming from his December arrest at JFK Airport for having a gun in his carry-on bag.  The result was that Connick avoided a criminal record, did not have to spend time in jail, and would make – at his own expense – a public service announcement about carrying guns in the city.
Also this day in 1993, actor Tristan Rogers, who played Robert Scorpio on daytime TV's General Hospitl, was convicted of drunk driving.
Still in 1993, singer Gloria Estefan was on hand to help unveil her star on the Hollywood Walk of Fame.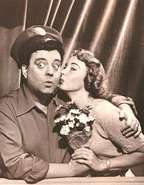 On this day in 1996, actress Audrey Meadows, who played Ralph Kramden's wife Alice on Jackie Gleason's The Honeymooners, died of lung cancer at age 69.
Also in 1996, blues legend B.B. King, along with Dr. John and trumpeter Al Hirt, guest starred on CBS-TV's "Touched by an Angel".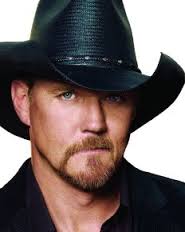 Again this day in 1996, much-in-demand session guitarist Wild Jimmy Spruill died after a heart attack at age 61. On this day in 1999, Trace Adkins ruined any chance fans had of seeing him dance on stage for a while when he seriously injured his ankle. The country singer was surveying some property outside Nashville when his truck got stuck in the mud. Working to get it out, he stepped into a sinkhole, fracturing and dislocating his ankle. He underwent surgery the following day. .
On this day in 2002, in New Orleans, Britney Spears performed the national anthem at Super Bowl XXXVI while U2 provided the half-time entertainment.  A Pepsi commercial featuring Britney debuted during the telecast, while Led Zeppelin's "Rock and Roll" was used in a Cadillac commercial.
On this day in 2003, authorities arrested producer Phil Spector at his mansion in suburban Los Angeles. The body of actress Lana Clarkson had been found in the foyer.
On this day in 2006,  actor Al Lewis ("The Munsters") died in New York after years of failing health at age 82.
On this day in 2007, The Dixie Chicks won five Grammys, including album of the year for "Taking the Long Way." The album had been largely ignored by country music radio.
Also in 2007, Daughtry was at No.1 on the Billboard album chart with the self-titled debut. Singer Chris Daughtry was the fourth-place finalist on the fifth season of American Idol. The album sold more than 1 million copies after just five weeks of release, becoming the fastest selling debut rock album of all time.
On this day in 2008, Super Bowl XLII became the most-watched Super Bowl telecast as 97.4 million Americans watched the New York Giants upset the previously unbeaten New England Patriots 17-14 on a last-minute TD catch by Plaxico Burress.  It stands as TV's 2nd largest audience, behind only the M*A*S*H* finale, Feb. 28 1983. Tom Petty & The Heartbreakers supplied the halftime entertainment.
On this day in 2010, actress Frances Reid, who played Alice Horton on NBC's Days of Our Lives for more than 40 years, died at age 95.
Also in 2010, actress MacKenzie Phillips appeared on The Oprah Winfrey Show with the revelation that her late father John Phillips of the Mamas and the Papas had forced incestuous sex on her for almost a decade.
On this day in 2012, actor Ben Gazzara, who apparently hated his 60's TV series 'Run for Your Life' which predated his bigscreen career, died of pancreatic cancer at age 81. He said the scripts were too predictable. Gazzara also co-starred (with Chuck Connors) in early TV's 'Arrest & Trial.'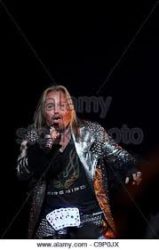 On this day in 2012, Mötley Crüe became the first Hard Rock band to headline in a Las Vegas casino when "Motley Crue in Sin City" opened at the Hard Rock Hotel.  The mayor proclaimed it Motley Crue Day.

On this day in 2013, more than 108 million US viewers watched Baltimore edge San Francisco 34-31 at Super Bowl XLVII in New Orleans. Jennifer Hudson sang "America the Beautiful,"Alicia Keys sang the national anthem, and Beyoncé headlined the halftime show. A 34-minute power outage delayed the second half of the game.
On this day in 2014, actor Richard Bull, best remembered for playing "Doc" on TV's Voyage to the Bottom of the Sea in the 1960's, and "Nels Oleson" in 147 episodes of Little House on the Prairie, died of pneumonia at age 89.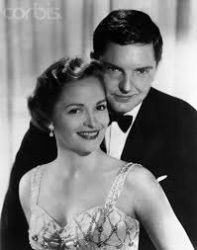 On this day in 2015,  actress/singer Mary Healy, who was part of a husband-and-wife comedy team with Peter Lind Hayes in the 1950s and '60s, appearing on television and in a "life in suburbia" WOR radio broadcast from their home in upstate N.Y., died at age 96.   They appeared together on two early 50's TV variety shows, "The Peter Lind Hayes Show" on NBC and "Star of the Family" on CBS.  The couple also had the leads in the NBC sitcom  "Peter Loves Mary," and were frequent guest panelists on the CBS game show "What's My Line?" and vacation hosts on Arthur Godfrey's TV & radio programs.
On this day in 2016, Earth, Wind and Fire vocalist and co-founder Maurice White died in his sleep in Los Angeles at age 74.  He had been battling Parkinson's disease since 1992, and had not toured with the pioneering soul and R&B group since 1994.
On this day in 2017, Metallica opened the Royal Arena in Copenhagen, Denmark. On opening night, James Hetfield fell ill causing the group to drop two songs from their set. The show the following evening was postponed.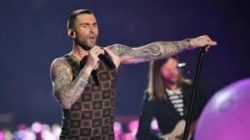 On this day in 2019, Maroon 5 headlined the Pepsi Super Bowl LIII Halftime Show in Atlanta with additional performances by Travis Scott and Big Boi.
Today's Birthdays
Actress Mariclare Costello (The Waltons, Sara, The Fitzpatricks) is 86.
Former NBC newsman/Today anchor Jim Hartz is 82.
Singer Angelo D'Aleo (see 1940 above) is 82.
Seattle-born actress Bridget Hanley (Trial By Jury, Harper Valley PTA, Here Come the Brides) is 81.
Actress Blythe Danner (Huff, Will & Grace) is 79.
Nova Scotia-born actor Stephen McHattie (Emily of New Moon, Cold Squad, Justice League) is 75.
Actress Brenda Dickson-Weinberg (Young & The Restless) is 75.
Guitarist Dave Davies of The Kinks is 75.
Singer Melanie is 75.
Actress Morgan Fairchild (Falcon Crest, Flamingo Road, Dallas) is 72.
Actress Pamela Franklin (Fantasy Island, Eleanor and Franklin) is 72.
Actor Nathan Lane (Charlie Lawrence, Teacher's Pet, Encore! Encore!) is 66.
Guitarist Lee Ranaldo of Sonic Youth is 66.
Actor Thomas Calabro (Melrose Place) is 63.
Actor Fredric Lehne (Chicago Fire, American Horror Story, Lost, Dallas) is 63.
Drummer Lol Tolhurst (The Cure) is 63.
Actress Michele Greene (The Unit, L.A. Law) is 60.
Country singer Matraca Berg is 58.
Actress Maura Tierney (The Affair, The Good Wife, Rescue Me, ER) is 57.
Actress Kathleen Kinmont (Renegade, Santa Barbara) is 57.
TV personality/actress Bon Blossman (Big Rich Texas) is 52.
Actor Matt Winston (John from Cincinnati, Fame LA) is 52.
Actor/voicist Warwick Davis (Star Wars Rebels) is 52.
Actress Elisa Donovan (Clueless, Sabrina The Teenage Witch) is 51.
Actor Ian Lithgow (3rd Rock from the Sun) is 50.
Edmonton-born actor Terry Chen (The Expanse, House of Cards, Strange Empire, Continuum, Combat Hospital) is 47.
Actress Isla Fisher (Arrested Development, Home & Away, Oliver Twist) is 46.
Actor/writer Tim Heidecker (various Tim & Eric series, Dexter) is 46.
Singer Daddy Yankee is 46.
Actress Maitland Ward (Rules of Engagement, Boy Meets World) is 45.
Musician Grant Barry is 45.
Actor Adrian R'Mante (The Suite Life of Zack and Cody) is 44.
Puyallup Wash.-born actress Kelly Sullivan (General Hospital, The Young & the Restless) is 44.
Actress/voicist Eliza Schneider (South Park) is 44.
Actor Costa Ronin (The Americans) is 43.
Actress/voicist Alisa Reyes (One World, The Proud Family) is 41.
Singer Jessica Harp of The Wreckers is 40.
Actress Bridget Regan (The Last Ship, Jane the Virgin, Legend of the Seeker, White Collar) is 40.
Actor Matthew Moy (2 Broke Girls) is 38.
Actor Corbin Reid (How to Get Away with Murder) is 34.
Rapper Sean Kingston is 32.
Actress Mariah Buzolin (Jane by Design, All My Children) is 31.
Actor Brandon Micheal Hall (God Friended Me, The Mayor, Search Party) is 29.
Chart Toppers – Feb. 3
1946
Symphony – The Freddy Martin Orchestra (vocal: Clyde Rogers)
I Can't Begin to Tell You – Bing Crosby with the Carmen Cavallaro Orchestra
Let It Snow – Vaughn Monroe
Guitar Polka – Al Dexter
1955
Sincerely – McGuire Sisters
Hearts of Stone – Fontane Sisters
Melody of Love – Billy Vaughn
Let Me Go, Lover! – Hank Snow
1964
I Want to Hold Your Hand – The Beatles
You Don't Own Me – Leslie Gore
Out of Limits – The Marketts
Begging to You – Marty Robbins
1973
Crocodile Rock – Elton John
Why Can't We Live Together – Timmy Thomas
Oh, Babe, What Would You Say? – Hurricane Smith
She Needs Someone to Hold Her (When She Cries) – Conway Twitty
1982
Centerfold – The J. Geils Band
Harden My Heart – Quarterflash
Turn Your Love Around – George Benson
The Sweetest Thing (I've Ever Known) – Juice Newton
1991
The First Time – Surface
Gonna Make You Sweat (Everybody Dance Now) – C & C Music Factory featuring Freedom Williams
Play that Funky Music – Vanilla Ice
Daddy's Come Around – Paul Overstreet
2000
What A Girl Wants – Christina Aguilera
Show Me the Meaning of Being Lonely – Backstreet Boys
Blue (Da Ba Dee) – Eiffel 65
Breathe – Faith Hill
2009
Single Ladies (Put A Ring On It) – Beyoncé
Just Dance – Lady Gaga featuring Colby O'Donis
Love Story – Taylor Swift
Country Boy – Alan Jackson
Today in Broadcast History compiled by Ron Robinson