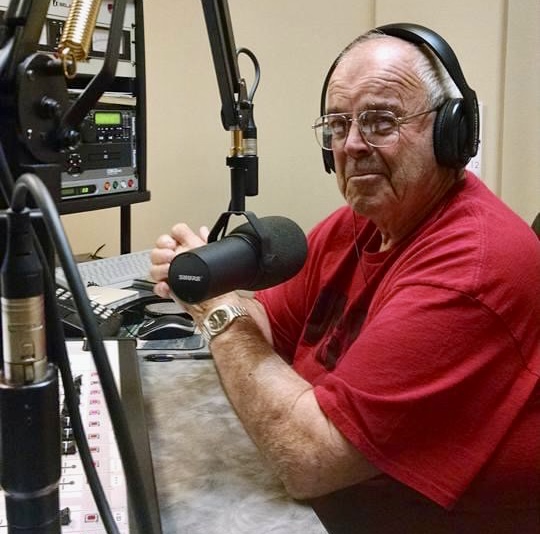 January 31, 2022
PORT ANGELES — Long-time KONP radio personality and sportscaster, Scooter Chapman is retiring.
Chapman announced he's hanging up his microphone after 70 years working at KONP in Port Angeles.
Chapman, a teenager at the time, began his radio career in 1951, when he arrived at the station and took on multiple tasks from sweeping floors to spinning a few disks. As a junior at Roosevelt High School, he started assisting Ralph Gallacci doing play-by-play for the Port Angeles Roughrider football games.  He gained a knowledge of sports by listening to Leo Lassen broadcast Seattle Rainier baseball games.
Chapman graduated high school in 1952 and attended the University of Washington.  He returned to Port Angeles and found time to hang around the station before a two-year stint in the Army as a radio broadcast specialist which paved the way for his journalistic career in communications.
Soon after arriving back in Port Angeles, he began working for the Evening News as a sports editor and at KONP as sports director.  This was in the days when the newspaper and the radio station were owned by the same family. For over 30 years he was sports editor for both KONP and the Port Angeles Evening News.
Chapman would be inducted into the Washington Interscholastic Activities Association (WIAA) Hall of Fame, not only for his announcing of games on radio, but also his newspaper and sports officiating careers.  In 2016 he was inducted into the Peninsula College Athletics Hall of Fame.  In September 2017, as a testament to his value to the community, the Port Angeles High School named the press box at the High School's Civic Field "Scooter Chapman Press Box".  In 2018 Chapman was inducted into the Port Angeles Roughriders Athletics Hall of Fame.
Chapman might be the most prolific volunteer of local refereeing, umpiring, reporting, and broadcasting with more than two thousand games officiated not to mention local parades, Salmon Derby and countless emceeing and announcing at various fundraisers and events. Scooter is known as the "Golden Voice" of Port Angeles.
To celebrate the week, Scooter will be on the 8:30 am Morning Scramble each morning. He will also join the 1 pm "Todd Ortloff Show" for a full segment on Wednesday and Thursday, February 2 and 3.  The show on Thursday the 3rd will be devoted to Scooter taking calls from listeners.
The community is encouraged to share thoughts and memories with Scooter by mail or electronically by visiting our website at www.myclallamcounty.com
Cards and memories may also be dropped off in person at the radio station anytime during the week. The address of KONP is 721 E First Street, Suite 101 in Port Angeles.
Read More HERE
ABOUT US – History of Radio Pacific and KONP – The First 76 years
KONP radio began regular broadcasting at 6:30 a.m. on February 3, 1945. It was in 1937 that the Evening Press Inc., a subsidiary of the Port Angeles Evening News Inc., first sought an AM radio license for the city of Port Angeles. Final FCC approval was delayed nearly 8 years due to international reallocation of frequencies, then suspension of all newspaper applications, and finally wartime suspension of all new construction.
The construction of KONP was followed quite closely by the Port Angeles Evening News and the Olympic Tribune; from the delivery of the 180' Douglas Fir cut in Indian Valley to be used as KONP's first radio tower, to the lighting of the tower's red beacon that was visible for many miles. Port Angeles finally had its own radio station. News was provided by United Press News of the World.
The first broadcast featured a piano and chatter program with Al Smith of CJVI in Victoria and music provided by the Port Angeles Concert Orchestra. Salutes from other northwest radio stations and local church services made up the second day of programming.
For many years, KONP provided Top 40 music. This music programming, which started with the sounds of the 'Big Band era' and popular artists of the time, progressed well into the 90's. In the mid 90's, KONP changed the on-air moniker to "Newsradio 1450 KONP" and switched to all news and talk format
Offering the most comprehensive local programming on the Peninsula, KONP provides local news, regional and national and world news, sports, talk, and up to date information about community events. KONP has won numerous awards and recognition for news and community information coverage. Many listeners rely on KONP Newsradio for traffic information, weather information, and most of all as the local 'home' of the Mariners, Seahawks, Huskies and now, the Kraken!
KONP has had several changes in ownership over the years. Today, Radio Pacific Inc is a partnership with majority owner Brown M. Maloney and minority owner Todd Ortloff who jointly purchased the company in 2002.
RPI strives to provide Port Angeles and surrounding areas with an innovative and meaningful audio landscape and takes pride in the fact that it is locally owned and has expanded operations to now include three distinctly different radio stations.
KONP "Newsradio 1450" AM and 101.7 FM in Port Angeles and 101.3 in Sequim, provides a live mix of community radio hosted by local on-air personalities along with a variety of syndicated national hosts. As an ABC affiliate, KONP broadcasts breaking national news every hour.
KSTI "The Strait Country" 102.1 FM, Port Angeles, is a mainstream country format with a superstar library of country music's most iconic starts from yesterday to today.
KZQM "Z-104" 104.9 FM in Sequim is the newest addition to RPI and features the golden era of pop, rock and soul; hit music of the '60s and '70s with a healthy dose of "oh wow" songs from the '50s and '80s.