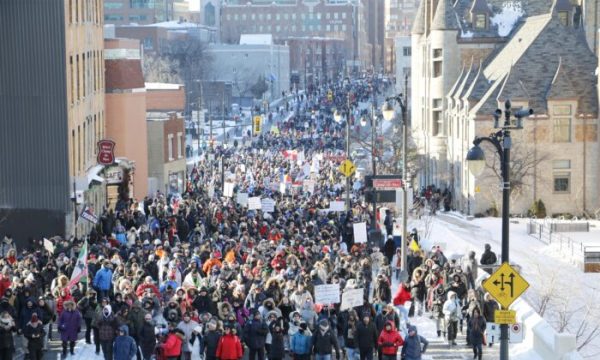 by Noé Chartier
January 8, 2022
MONTREAL—Several thousand protesters took to the streets of downtown Montreal Saturday to voice their opposition to the province's pandemic measures—whether the recently imposed curfew or the vaccine passport.
Not all were unvaccinated, with some taking a stand for freedom of choice or having received the first two doses and refusing a third due to constantly changing goalposts.
People's Party of Canada leader Maxime Bernier, who's been vocal in criticizing the restrictions and mandates, was in attendance with a group of his supporters.
"I'm here like everyone else to tell the Trudeau and Legault governments that enough is enough. It's not by trampling on our rights and freedoms that we're going to solve the pandemic," Bernier told The Epoch Times.
"They're trying to turn the non-vaccinated into the scapegoats of this pandemic. It's completely unjust, discriminatory. The real scapegoats are the politicians ruling us. They've had years to change the health-care system, which is a totalitarian, socialist, the state controls all—and that's why the system is crumbling."
Read More and View Images HERE