ON THIS DAY in 1898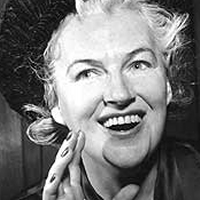 English comedienne & singer Gracie Fields was born Grace Stansfield in Lancashire.  Her hit records like Sally, Now is The Hour, Walter Walter, & The Biggest Aspidistra in the World were played all over the British Commonwealth & especially on English Variety Shows on Vancouver radio stations CJOR, CKWX & CKMO.  'Our Gracie' died from pneumonia Sep 27, 1979 at age 81.
On this day in 1911, Gypsy Rose Lee was born Rose Louise Hovick in Seattle.  Famous as a stripper, her life was the subject of the Broadway musical "Gypsy."  In TV she had her own two short-lived series, and guested on The Steve Allen Show, Batman, Burke's Law, The Name of the Game, US Steel Hour, Hollywood Squares & Pantomime Quiz, among others. She hosted a daytime talk show on KGO TV San Francisco, before dying of lung cancer Apr 26, 1970 at age 59.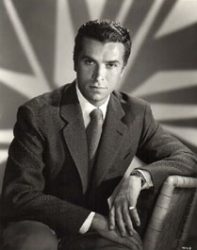 On this day in 1915, actor
Fernando Lamas
was born in Buenos Aires.  After a big screen career as a Latin lover, Lamas guest starred on TV over a 25 year period. He appeared repeatedly in the series Run for Your Life, It Takes a Thief, Mission Impossible, The Mod Squad, Switch, & the Love Boat.  He was still working when felled by cancer Oct 8, 1982 at age 67.
Also this day in 1915, actress Anita Louise was born in New York City.  In a 48 year film career starting as a child in the silent era, she guested on many early TV shows and had a running role in the series My Friend Flicka.  She suffered a stroke & died Apr. 25, 1970 at the age of 55.
On this day in 1928, singer Domenico Modugno was born in Italy.  He is best known in North America for his version of the song Volare, titled Nel Blu Dipinto di Blu, a huge hit in 1958. He died from a heart attack Aug. 6 1994 at age 66.
On this day in 1935, future TV star Bob Denver was born in New Rochelle NY.  His two TV shows, The Many Loves of Dobie Gillis & Gilligan's Island are memorable milestones in TV.  He died Sep 2, 2005 following surgery for throat cancer at age 70.
Also in 1935, sportscaster Dick Enberg was born in eastern Michigan.  During his approximately 60-year broadcast career, he provided play-by-play for various sports on numerous radio and TV networks, including NBC (1975–1999), CBS (2000–2014), and ESPN (2004–2011), as well for individual teams, such as UCLA Bruins basketball, Los Angeles Rams, California Angels and San Diego Padres.  He retired in 2016 and died of a suspected heart attack Dec. 21 2017 at age 82.
On this day in 1940, for the first time, television was used to present a sales meeting to convention delegates in New York City. They sat around watching a test pattern and listening to a loud tone before someone realized that TV wasn't practical to use, yet.
On this day in 1941, Sammy Kaye and his orchestra recorded "Until Tomorrow" on Victor Records.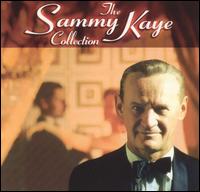 This song became the sign-off melody for Kaye and other big bands.
Also this day in 1941, the first demonstration of small-screen color television was given by the Columbia Broadcasting System. The TV failed miserably, since RCA had pretty much wrapped up the patent process on color TV at the time.
On this day in 1949, a radio adaptation of the movie 'Stagecoach' starring John Wayne and Ward Bond opened a 20-month run of 'Screen Director's Playhouse,' a weekly Hollywood anthology drama series on NBC.
On this day in 1955, Ed Sullivan's "Toast of the Town" on CBS TV featured pop singer Guy Mitchell, with actress Grace Kelly and author James Michener discussing the film "Bridges at Toko-Ri."  And a remote pickup from an arena in Philadelphia gave a preview of Shipstad & Johnson's "Ice Follies."
On this day in 1956, the Texas trio known as Buddy Holly and the Two-Tunes began a two-week tour of the southern United States as a supporting act for George Jones and Hank Thompson.
On this day in 1959, the western TV series "Rawhide" starring Clint Eastwood premiered on CBS TV. The show ran for 7 years.
Also in 1959, Dion and The Belmonts performed their newest song, "Teenager In Love," on ABC-TV's "American Bandstand."
On this day in 1960, singer Patsy Cline joined the Grand Old Opry.
On this day in 1961, "Wonderland by Night" by Bert Kaempfert topped the charts and stayed there for 3 weeks.  Kaempfert produced The Beatles first recording session when they were in Hamburg.
Also in 1961, 16-year old Brenda Lee recorded her next ballad, "You Can Depend on Me," which would soon peak at #6 on the pop singles chart.
Again in 1961, comedian Bob Newhart went to No.1 on the US album chart with 'The Button Down Mind Strikes Back!'
Still in 1961, singer Connie Francis was Ralph Edwards' surprise honoree on NBC-TV's "This Is Your Life."
On this day in 1962, at a studio in Nashville, Roy Orbison recorded his next Top Five chart entry, "Dream Baby (How Long Must I Dream)."
On this day in 1963, the No. 1 Billboard Pop Hit was "Go Away Little Girl" by Steve Lawrence.
Also in 1963, drummer Charlie Watts joined The Rolling Stones after leaving Blues Incorporated.
On his day in 1964, at Motown's "Hitsville USA" studios in Detroit The Temptations recorded their first Top 40 hit "The Way You Do The Things You Do."  The Smokey Robinson-written track was also their first R&B #1.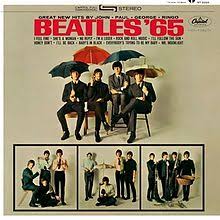 On this day in 1965, "Beatles '65" was the number-one album in the U.S. for the first of nine straight weeks (thru Mar 6). The tracks were: "No Reply", "I'm a Loser", "Baby's in Black", "Rock and Roll Music", "I'll Follow the Sun", "Mr. Moonlight", "Honey Don't", "I'll Be Back", "She's a Woman", "I Feel Fine", and "Everybody's Trying to Be My Baby".
On this day in 1968, RCA Victor released Elvis Presley's next single "Guitar Man," featuring the composer, Jerry Reed, on lead guitar. Reed's own recording had enjoyed a degree of success the previous year.
On this day in 1973, the Rolling Stones' plans to tour Asia were halted when Japan refused to grant Mick Jagger a visa. The Japanese rejected Jagger's request on account of his 1969 drug bust.
On this day in 1976, Queen were at No.1 on the UK singles chart with 'Bohemian Rhapsody'.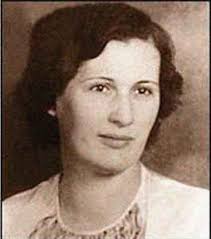 On this day in 1979, country vocalist/guitarist Sara Carter died at age 80. Known for her deep and distinctive singing voice, she was the lead singer on most of the recordings of the historic Carter Family act (which included June Carter Cash) in the 1920's and 1930's.
Also in 1979, a benefit concert called A Gift of Song was held at the United Nations General Assembly in New York. The performers were Olivia Newton-John, Rita Coolidge, the Bee Gees, Rod Stewart, Donna Summer, John Denver, Kris Kristofferson, Abba, and Earth Wind & Fire.
Still in 1979, K-Mart in the US refused to carry Steve Martin's "Let's Get Small" LP because they considered some of the material to be "in bad taste."
On this day in 1984, "WHERE'S THE BEEF?" was heard in a Wendy's commercial for the first time uttered by Clara Peller. Dave Thomas spent $8 million on the ads that promoted hamburger sales plus T-shirts, baseball caps, records, greeting cards and countless other items bearing the picture of the elderly cult star.
On this day in 1987, 
 actor Arthur Lake, who played Dagwood Bumstead for years in Blondie movies & radio shows, suffered a fatal heart attack at age 81.
On this day in 1988, Whitney Houston scored her sixth consecutive No.1 song with 'So Emotional'.
On this day in 1989, CBS's "Pat Sajak Show" made its debut on late night T-V, but was unable to compete with the likes of Johnny Carson and David Letterman on NBC, and was cancelled after 15 months.
On this day in 1991, actress Delta Burke filed suit against the producers of "Designing Women." She claimed they wrote her out of the show.
On this day in 1992, supporting actor Steve Brodie died of cancer at 72.  In a 45 year film career he appeared in scores of TV shows ..and had a recurring role as the sheriff in 1955's Life & Legend of Wyatt Earp.
Also this day in 1992, Sting guest starred on the TV cartoon series "The Simpsons," as "Radio Bart."
On this day in 1994 at noon, CKBD 600 AM "The Bridge" officially signed on in Vancouver as Canada's first contemporary Christian music (CCM) radio station with Rich Mullens:  "Awesome God".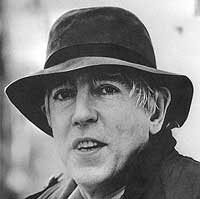 On this day in 1995, English satirist & writer Peter Cook  died from gastrointestinal bleeding at age 57.  He is widely regarded as the leading figure in the British satire boom of the 1960s, in such shows as Beyond the Fringe.  A frequent performer on British TV he was described as 'The funniest man who ever drew breath.'
Also this day in 1995, Tom Snyder began a 4-year run in the post-Letterman spot on CBS-TV with "The Late Late Show." This was 13 years after his decade as host of the "Tomorrow Show" in a similar time period on NBC.
Still in 1995, "Rolling Stone" released its annual music awards with the people voting Green Day as best new band, Pearl Jam as best band and Nirvana tapped as artists of the year. Among the magazine's critics' picks, Courtney Love is voted artist of the year, R.E.M. as best band and Green Day best new band.
On this day in 1996, the first episode of "3rd Rock from the Sun" aired on NBC.
On this day in 1997, a heart attack sent Frank Sinatra back to hospital, two months after suffering a mild heart attack & stroke, and two years after his final concert.   He died 16 months later at age 82.
Also in 1997, actor Jesse White, who was featured on TV's Ann Sothern Show and Private Secretary, but is best remembered as the original Maytag repairman (21 years), died after a heart attack and surgical complications at age 80.
On this day in 1999, Guru (Gang Star) was robbed outside a small recording studio in Woohaven, Queens. The three masked men stole $10,000 in jewelry.
On this day in 2000, the chauffeur who drove Puff Daddy and his girlfriend Jennifer Lopezfrom a New York night-club after a shooting was reported to be co-operating with prosecutors. Puff Daddy faced up to 15 years in jail for allegedly pulling a gun in the club.
Also this day in 2000, DMX were at No.1 on the US album chart with '…And Then There Was X.'
On this day in 2001, ABC-TV aired "The Mole" for the first time.
Hosting the reality show was Anderson Cooper.
On this day in 2002, after being convicted of cocaine possession, actress Yasmine Bleeth of the TV series Baywatch, Nash Bridges & Titans, was sentenced to two years of probation, regular drug tests, and 100 hours of community service.  She was also required to pay court costs.
On this day in 2003, a grand piano once owned by Elvis Presley was sold for $685,000.
On this day in 2005, actors Matthew Broderick and Nathan Lane were on hand to help unveil their new stars on the Hollywood Walk of Fame.

On this day in 2006, Medicine Hat radio station CHAT flipped from 1270 KHz to 94.5 MHz, retaining its Country music format.
Also in 2006, Nick Lachey and Jessica Simpson put the house they made famous in the MTV series Newlyweds up for sale after splitting up. The asking price was $3.75 million.
On this day in 2007, the soon-to-be-hit comedy Little Mosque on the Prairie premiered on CBC Television.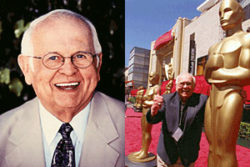 On this day in 2008, the Honorary Mayor of Hollywood, Johnny Grant died at age 84.  After breaking into show biz as a radio reporter & becoming a TV producer, he presided over more than 500 inductions to the Hollywood Walk of Fame.
Also in 2008, Spice Girl Victoria Beckham was named the worst dressed celebrity in an annual list of fashion disasters. Fashion critic Richard Blackwell, who had compiled the poll every year since 1960, said Beckham stepped out in "one skinny-mini monstrosity after another".
On this day in 2012, longtime Toronto radio talk show host, actor and TV quiz show panelist Larry Solway lost his battle with bladder cancer at age 83. His deep voice became known coast-to-coast via his CBC appearances on TV panel shows like "Flashback" and "This is The Law."
On this day in 2013, the man who first uttered the phrase "Elvis has left the building," Frank Page died of a respiratory infection at age 87.  He was the announcer on Shreveport radio station KWKH who introduced Elvis Presley to a wide audience on the "Louisiana Hayride" broadcast of October 16, 1954. Page ended a 65-year career with KWKH and retired in 2005.

On this day in 2014,  Journey's "Don't Stop Believin" topped a best car song poll conducted by Insurance.com.  Queen's "Bohemian Rhapsody" and AC/DC's "You Shook Me All Night Long" rounded out the Top 3.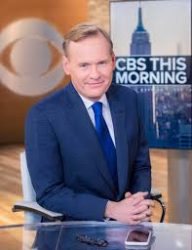 On this day in 2015, Lowell "Bud" Paxson, the co-creator of the Home Shopping Network who later amassed a trove of TV stations and launched the family-friendly network PAX-TV (now renamed ION-TV), died at his Montana home at age 80. On this day in 2016, a memorial service for Motorhead frontman Ian "Lemmy" Kilmister was held at the Rainbow Bar & Grill (a favored haunt) in West Hollywood.  Dave Grohl (Foo Fighters) and Slash were among those paying tribute. . On this day in 2018, CBS News announced that John Dickerson would become an official co-host of "CBS This Morning," succeeding Charlie Rose, who had been fired in November after allegations of sexual misconduct. Also in 2018, Guns N' Roses guitarist Slash was presented with a one-of-a-kind Gibson Les Paul Slash Anaconda Burst guitar at the Consumer Electronics Show (CES) in Las Vegas. The guitar was part of Slash's line of signature Gibson instruments. .
Today's Birthdays
Actress K Callan (Meet The Browns, Lois & Clark: The New Adventures Of Superman) is 86.
Singer Joan Baez is 81.
Guitarist Jimmy Page of Led Zeppelin is 78.
Actor John Doman (Gotham, The Affair, Borgia, The Wire) is 77.
Singer Buster Poindexter (AKA David Johansen) is 72.
Singer Crystal Gayle is 72.
Actor/voicist J.K. Simmons (Counterpart, BoJack Horseman, The Legend of Korra, Growing Up Fisher, The Closer, Law & Order) is 67.
Actress Kimberly Beck (Capitol, Lucas Tanner, Peyton Place, Eight Is Enough) is 66.
Actor/voicist Scott Klace (Bosch, The Secret Life of the Am. Teenager, King of the Hill) is 61.
Actor Joseph Culp (Mad Men) is 59.
Guitarist Eric Erlandson (Hole) is 59.
Actress Joely Richardson (Nip/Tuck) is 57.
Actress Rhoda Griffis (Drop Dead Diva, Army Wives, Satisfaction) is 57.
Actor David Costabile (Billions, Breaking Bad) is 55
Guitarist Carl Bell of Fuel is 55.
Singer Steve Harwell of Smash Mouth is 55.
Singer Dave Matthews of the Dave Matthews Band is 55.
Actress/director Joey Lauren Adams (Still the King, Vinnie & Bobby, Married With Children) is 54.
Actor Marco Sanchez (Walker Texas Ranger, SeaQuest DSV) is 52.
Actor Deon Cole (black-ish) is 50.
Actress/director Angela Bettis (Carrie 2002) is 48.
Actor Omari Hardwick (Dark Blue) is 48.
Montreal-born actor Patrick Sabongui (The Flash, The Art of More, Stargate: Atlantis) is 47.
Country singer Hayes Carll is 45.
Singer A.J. McLean of the Backstreet Boys is 44.
Actor Joshua Harto (The Mystery Files of Shelby Woo) is 43.
Guitarist Drew Brown of OneRepublic is 38.
Singer Paolo Nutini is 35.
Toronto-raised actress Nina Dobrev (The Vampire Diaries, Degrassi: Next Generation) is 33.
Halifax-born actor Steve Lund (Bitten, Haven) is 33. 
Actress Ashley Argota (The Fosters, True Jackson VP) is 29.
Actor Basil Eidenbenz ('Victoria' on PBS) is 29.
Actress Nicola Peltz (Bates Motel) is 27.
Singer/composer/actress Lauryn Alisa McClain (A.N.T. Farm) is 25.
Actress Kerris Dorsey (Ray Donovan, Brothers & Sisters) is 24.
Actor Tyree Brown (Parenthood) is 18.
Chart Toppers – Jan. 9
1948
Ballerina – Vaughn Monroe
Civilization – Louis Prima
I'll Dance at Your Wedding – Buddy Clark with the Ray Noble Orchestra
I'll Hold You in My Heart (Till I Can Hold You in My Arms) – Eddy Arnold
1957
Singing the Blues – Guy Mitchell
The Banana Boat Song – The Tarriers
Moonlight Gambler – Frankie Laine
Singing the Blues – Marty Robbins
1966
We Can Work It Out – The Beatles
She's Just My Style – Gary Lewis & The Playboys
Flowers on the Wall – The Statler Brothers
Giddyup Go – Red Sovine
1975
Lucie in the Sky with Diamonds – Elton John
You're the First, The Last, My Everything – Barry White
Junior's Farm/Sally G – Paul McCartney & Wings
The Door – George Jones
1984
Say Say Say – Paul McCartney & Michael Jackson
Say It Isn't So – Daryl Hall-John Oates
Twist of Fate – Olivia Newton-John
You Look So Good in Love – George Strait
1993
I Will Always Love You – Whitney Houston
Rump Shaker – Wreckx-N-Effect
In the Still of the Night (I'll Remember) – Boyz II Men
Don't Let Our Love Start Slippin' Away – Vince Gill
2002
Get The Party Started – Pink
Whenever, Wherever – Shakira
How You Remind Me – Nickelback
Where Were You (When the World Stopped Turning) – Alan Jackson
2011
Grenade – Bruno Mars
Firework – Katy Perry
We R Who We R – Ke$ha
Felt Good on My Lips – Tim McGraw
Today in Broadcast History compiled by Ron Robinson