ON THIS DAY in 1877
German inventor Ernst Siemens patented the first loudspeaker, improving on Alexander Graham Bell's telephone sound system from a year earlier.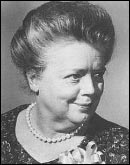 On this day in 1902, actress Frances Bavier was born in New York City.  She will be forever remembered as Aunt Bee on TV's Andy Griffith Show.  She died after a heart attack Dec 6 1989, just days before her 87th birthday.
On this day in 1908, actor Laurence Naismith was born in Surrey England. While much of his career was spent in the TV & cinema of his homeland, he was also featured in US series such as The Persuaders, Profiles in Courage & The Defenders.  He died in Australia June 5 1992 at age 83.
Also this day in 1908, actor/comedian Morey Amsterdam was born in Chicago.  While he was featured on NBC Radio's weekend Monitor service in the 50's & 60's, and had his own show in the earliest days of the TV era, he will always be best remembered as Buddy Sorrell on The Dick Van Dyke Show.  He died after a heart attack Oct 27, 1996 at age 87.
On this day in 1911, 
 band leader & drummer Spike (Lindley Armstrong) Jones was born in Long Beach Calif.  People who lived through the 40's and 50's will fondly remember his madcap recordings, like Cocktails for Two, Der Fuhrer's Face, You Always Hurt the One You Love, and All I Want for Christmas is my Two Front Teeth.  He had three different weekly TV series billed as The Spike Jones Show. He died from emphysema May 1, 1965 at age 53.
On this day in 1913, actor/song-&-dance-man Dan Dailey was born in New York City.  Besides a successful bigscreen career & a string of TV guest spots, Dailey starred in two television series, Faraday & Company and The Governor & JJ.  He died of anemia Oct 16, 1978 at age 64.
On this day in 1918, movie/TV exec James T. Aubrey Jr. was born in smalltown Illinois.  He rose to be president of first CBS & then MGM. He was an inspired TV programmer who alienated people with his abrasive manner.  He died after a heart attack Sep 3, 1994 at age 75.
On this day in 1928, America's original Funny Girl, Fanny Brice, recorded "If You Want the Rainbow (You Must Have the Rain)", a song from the play, "My Man" — on Victor Records.
On this day in 1932, the country singer known as The Silver Fox, Charlie Rich was born in Colt, Arkansas.  He won a Grammy for 1973's Behind Closed Doors; other big hits include Lonely Weekends, and The Most Beautiful Girl.  He died July 25, 1995 at age 62 from a blood clot in the lung.
On this day in 1935, actress Lee Remick was born in Quincy Mass.  Besides her big screen successes she took on roles in a number of TV mini series: Ike, Wheels, Mistral's Daughter, QB VII, and Around the World in 80 Days.  She died from liver & kidney cancer July 2, 1991 at age 55.
On this day in 1951, the No. 1 Billboard Pop Hit was "(It's No) Sin" by Eddy Howard.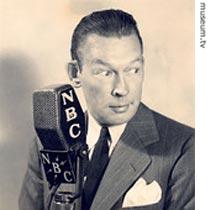 On this day in 1953, Fred Allen returned to radio from semiretirement to narrate Prokofiev's classic, "Peter and the Wolf", on the "Bell Telephone Hour" on NBC.
On this day in 1958, the CBC radio station in Yellowknife CFYK signed on at 1340 KHz.  It was the first station in the North West Territories.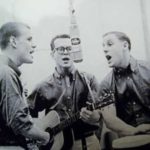 On this day in 1959, The Kingston Trio started an eight-week run at No.1 on the Billboard album chart with 'Here We Go Again!'

Also in 1959, a story in Billboard magazine told us the record industry's practice of payoffs to disc jockeys and radio station music directors was all but dead, after it was exposed in the government's "payola" investigation.
Still in 1959, the Ohio State University Research Center found that, although rock 'n' roll was the overwhelming favorite of teens aged 14 to 18, adults aged 19 to 70 listed it as their least favorite form of music.
On this day in 1961, Jimmy Dean's "Big Bad John" became the first country single to be certified gold by the Recording Industry Association of America.
On this day in 1962, Columbia Records released Bob Dylan's first single, "Mixed-Up Confusion" b/w "Corrina, Corrina."
On this day in 1963,  singer Dinah Washington died at 39 years of age, as a result of the lethal (but accidental) combination of alcohol and diet pills. She put her own unique style on many great songs, including "What a Diff'rence a Day Makes", "Unforgettable", and several hits with Brook Benton ("Baby [You've Got What it Takes]" and "A Rockin' Good Way [To Mess Around and Fall in Love]"). In all she had 34 top 10 hits on the Billboard R&B charts.
On this day in 1964, actor William Bendix, who played Chester A. Riley in the radio & TV versions of the sitcom Life of Riley, died in Los Angeles of lobar pneumonia at age 58.
On this day in 1965, Simon and Garfunkel recorded their next hit single, "I Am a Rock" backed with "Homeward Bound," the followup to their first #1, "The Sound of Silence."
On this day in 1966, singer Don Ho and the duo of Chad & Jeremy were guests on this week's episode of "Batman" on ABC-TV.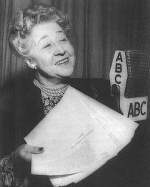 Also this day in 1966, actress Verna Felton died at age 76 following a stroke.  Her signature role (of many) on radio was Junior's "Gwammah" on the Red Skelton Show. On TV she played Hilda on the geriatric early sitcom December Bride.
On this day in 1968, rocker Marvin Gaye was number one in the U.S. with "I Heard It Through the Grapevine". The smash was stuck at the top of the charts all the way through Jan 1969. It turned out to be Gaye's biggest hit.
Also this day in 1968, Iron Butterfly's single "In-A-Gadda-Da-Vida" was certified Gold.
Still in 1968, Henry Mancini, his Orchestra and Chorus recorded their future #1 single, the "Love Theme From Romeo And Juliet" at the RCA Victor studios in Hollywood.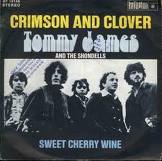 Again this day in 1968, Tommy James and the Shondells released "Crimson & Clover."
On this day in 1969, the Jackson Five made their network TV debut on Ed Sullivan's CBS variety show, singing "I Want You Back."
On this day in 1970, the singles "My Sweet Lord" by former Beatle George Harrison, and John Lennon's "Instant Karma!" were both certified to be Gold Records.
Also this day in 1970, the No. 1 Billboard Pop Hit was "The Tears of a Clown" by Smokey Robinson & the Miracles.
On this day in 1972, Alexander's department store in New York City stayed open late so Alice Cooper could do his Christmas shopping.
Also in 1972, Seals and Crofts' hit single "Summer Breeze" was certified as a Gold Record.
On this day in 1973, at the tender age of 13, singer Lorrie Morgan made her performance debut at Nashville's Grand Ole Opry, singing "Paper Roses."
On this day in 1974, the Styx version of "Lady" was released.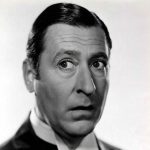 On this day in 1975, British-born actor Arthur Treacher died at age 81 of a heart ailment.
While he had a successful film career in the US, he is best remembered for his work as announcer & sidekick on TV's Merv Griffin Show.  On US radio he starred in the syndicated sitcom "The Smiths of Hollywood."
On this day in 1980, fans around the world paid tribute to John Lennon, six days after he was shot to death in New York City. Hundreds of silent vigils were held at 2 p-m Eastern time for ten minutes, at the request of Lennon's widow, Yoko Ono.
On this day in 1981, during their Ghost In The Machine World Tour The Police played the first of three sold out nights at the Wembley Arena in London.
On this day in 1983, the musical biography of singer Peggy Lee opened at the Lunt-Fontanne Theatre in New York City. The show was titled "Peg". You say you are not familiar with this gem? The reason could be that the show closed three days later after only five performances.
On this day in 1984, after 14 years in the booth, controversial sportscaster Howard Cosell retired from ABC-TV's Monday Night Football.
Also this day in 1984, Madonna had her first number-one hit when "Like a Virgin" hit the top of the "Billboard" singles chart.
On this day in 1985, Whitney Houston scored her first UK No.1 single with 'Saving All My Love For You'. The song had been a minor hit for Marilyn McCoo and Billy Davis Jr. in 1978 and was also a US No.1 for Houston.
On this day in 1986, at a concert in Sydney Australia Elton John recorded the live version of "Candle in the Wind" that was later released as a single.
On this day in 1988, CBS-TV won exclusive national rights to major league baseball's 1990-94 seasons for $1.1 billion.
On this day in 1989, stunt man/actor Jock Mahoney died in Bremerton Wash. after a debilitating stroke at age 70.  He was a Tarzan on the big screen, on TV he starred in "The Range Rider" & "Yancy Derringer."
Also in 1989, Canadian media mogul Izzy Asper gained 100% control of the Global Television Network.
On this day in 1991, Michael Jackson's "Dangerous" debuted at No. 1 on Billboard's pop albums chart where it stayed for 4 weeks.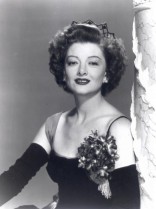 On this day in 1993,  actress Myrna Loy died from complications during surgery at age 88.  At the end of a lengthy bigscreen career she accepted roles in several TV movies & series such as Ironside, Columbo, The Virginian, Family Affair & Love Sidney.
On this day in 1995, documents declassified by the White House revealed that in the early '70's the FBI spied on John Lennon's anti-Vietnam-war activities in hopes of having the former Beatle deported. One agent's report even criticized Yoko Ono's singing ability!
Also this day in 1995, 80-year old Frank Sinatra made his last TV appearance as the special "Frank Sinatra: 80 Years My Way" aired on ABC-TV. The birthday fundraiser at the Shrine Auditorium in Los Angeles featured Bruce Springsteen, Bob Dylan, Arnold Schwarzenegger and Roseanne Barr as guest performers.
On this day in 1996, the song "Don't Speak" by No Doubt topped the charts and stayed there for 11 weeks.
Also this day in 1996, Ottawa diva Alanis Morissette  made the final stop of her tour at Richardson Field outside Honolulu.  After her last song, she celebrated the end of the tour by throwing whipped cream pies at her four band members.
On this day in 1997, actor Stubby Kaye lost his battle with lung cancer at age 79. Besides his Broadway & musical comedy film successes, he was a regular on Pantomime Quiz, & starred in the TV series Love & Marriage and My Sister Eileen.
Also in 1997, Garth Brooks was at No.1 on the Billboard album chart with 'Sevens', his fourth No.1 album.
On this day in 1998, actor Norman Fell of TV's "The Ropers" and "Three's Company," succunbed to cancer at age 74.
Also in 1998, Grammy-winning musician Billy Preston pleaded guilty to insurance fraud, and agreed to testify against the six other defendants in an automobile insurance scam that netted about $1 million.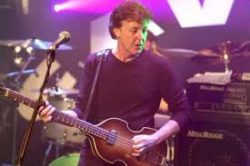 On this day in 1999, former Fab Four member Sir Paul McCartney played a one-off gig at the New Cavern Club in Liverpool, which replaced the original Cavern where the Beatles came into being more than three decades earlier. The show was recorded for TV and also went out live on the Internet.
Also this day in 1999, BMI named "You've Lost That Lovin' Feelin'" as the No. 1 composition on the performing rights group's list of "Top 100 Songs Of The Century."
On this day in 2000, Loverboy lead singer Mike Reno issued a statement concerning Scott Smith, the band's bassist who was swept off his sailboat Nov. 30: "We do not know what the future will bring as a band, but we remain together in everything we do. It hurts so very much right now, but our goal is to get through this together."
On this day in 2001, radio & TV producer John Guedel died at age 88.  He first brought Ozzie & Harriet to weekly radio comedy, and produced 'You Bet Your Life' for Groucho Marx and 'People Are Funny' for Art Linkletter. In 1956 TV Guide reported that he was producing as many as 25 half-hour radio and television shows a week.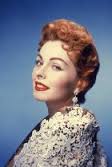 Also this day in 2001, NBC-TV announced that it would begin running hard liquor commercials. NBC issued a 19-point policy that outlined the conditions for accepting liquor ads.
On this day in 2003, actress Jeanne Crain died in Santa Barbara, California, suffering a fatal heart attack at age 78. She appeared in dozens of films, and TV shows including "Meet Me in St. Louis," "GE Theatre," "The US Steel Hour," and "Burke's Law."
Also this day in 2003, Alicia Keys was at No.1 on the Billboard album chart with 'The Diary Of Alicia Keys,' the singers' second US No.1.
Still in 2003, "Hey Ya" by OutKast hit #1 on the Billboard Top 100 & remained there for 9 weeks.
On this day in 2005, at Buckingham Palace, former Led Zeppelin guitarist Jimmy Page was appointed an Officer of the Order of the British Empire (OBE) by Queen Elizabeth.
On this day in 2006, Mike Evans, the first of two actors to play Lionel Jefferson on the hit TV spinoff from All in the Family, "The Jeffersons," lost his battle with throat cancer at age 57.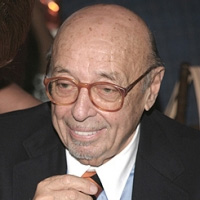 Also in 2006, Atlantic Records founder Ahmet Ertegün died at age 83, following a head injury suffered six weeks earlier when he fell at a Rolling Stones concert.
The music magnate was chairman of the Rock and Roll Hall of Fame and Museum — and was inducted into the hall himself in 1987. Ertegün helped shape the careers of John Coltrane, Ray Charles, the Rolling Stones, Led Zeppelin and many others.
On this day in 2007,  Billboard reported that The Police reunion tour, which earned more than $210 million, was the highest-grossing tour of '07.
On this day in 2010, character actress Neva Patterson died due to complications from a broken hip at age 90.
Her television credits included the series 'Nichols' and 'JJ & the Governor,'  plus numerous guest appearances spanning the first 40 years of the TV era.
Also in 2010, the Rock and Roll Hall of Fame announced that Alice Cooper (the band), Darlene Love, Dr. John and Tom Waits would be the 2011 inductees.
On this day in 2011, Michael Buble's "Christmas" was #1 on the Billboard Album chart.
On this day in 2012, radio and TV were filled with the horror of one of the deadliest mass shootings in US history. 20 children and six adults died at Sandy Hook Elementary School in Newtown, Connecticut at the hands of a lone gunman. 20 year old Adam Lanza had shot and killed his mother before embarking on the school rampage.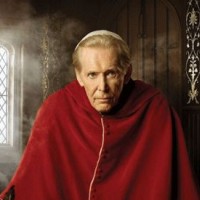 On this day in 2013, veteran actor Peter O'Toole died after a long illness at age 81.  While his most memorable roles were on the big screen, he did appear in a handful of TV movies and mini-series, including (as pictured) his portrayal of 'The Pope' in 2008's 'The Tudors.'
On this day in 2014, Bess Myerson, the 1945 Miss America winner who became a celebrated TV personality and then a New York City public servant, died in California at age 90.  For years beginning in 1959 she was a panelist on CBS-TV's game show I've Got a Secret, and also co-hosted Candid Camera (1966-67).  To date she is the only Miss America of Jewish heritage.
On this day in 2016, UK character actor Bernard Fox, perhaps best remembered for playing the womanizing witch doctor Dr. Bombay on ABC-TV's Bewitched, and the bumbling Colonel Crittendon on CBS-TV's Hogan's Heroes, died of heart failure at age 89.
On this day in 2017, the Federal Communications Commission rolled back the far-reaching net neutrality rules of the Obama administration, rules governing how internet-service providers treat traffic on their networks, a move that was likely to empower cable and wireless providers and transform consumers' online experience.
On this day in 2018, CBS confirmed it would give $20 million to 18 organizations dedicated to eliminating workplace sexual harassment, a commitment it made after CEO Les Moonves's resignation.
Today's Birthdays
Singer Abbe Lane is 89.
Actor Hal Williams (Sanford & Son, 227, Sinbad Show) is 83.
Pop singer Joyce Vincent-Wilson (Tony Orlando and Dawn) is 75.
Entertainment executive Michael Ovitz is 75.
Actress Elaine Princi (Another World, As the World Turns, One Life to Live) is 75.
Actress Dee Wallace (Just Add Magic, Sons & Daughters, High Sierra Search & Rescue) is 73.
Rhythm-and-blues singer Ronnie McNeir (The Four Tops) is 72.
Rock musician Cliff Williams (AC/DC) is 72.
Actress Celia Weston (Alice, Memphis Beat) is 70.
Actor Vijay Amritraj (What a Country, The Last Precinct) is 68.
Actor/voicist James Horan (All My Children, General Hospital, Roughnecks: the Starship Troopers Chronicles, Transformers Prime) is 67.
Rock singer-musician Mike Scott (The Waterboys) is 63.
Singer-musician Peter "Spider" Stacy (The Pogues) is 63.
Actor Don Franklin (SeaQuest DSV, Seven Days, The Young Riders) is 61.
Actress Cynthia Gibb (Search for Tomorrow, Fame) is 58.
Actor Ted Raimi (Xena: Warrior Princess, SeaQuest 2032) is 56.
Actress Nancy Valen (Baywatch) is 56.
Actor Michael Stoyanov (Blossom) is 55.
Actress Noelle Beck (As The World Turns, Loving) is 53.
Actress  Natascha McElhone (Designated Survivor, Californication) is 52.
Actor Archie Kao (Chicago P.D., CSI: Crime Scene Investigation) is 52.
Actor Marty Lindsey (Better Call Saul) is 51.
Singer/actress Tia Texada (Third Watch) is 50.
Actress Michaela Watkins (The Unicorn, Transparent, Casual, Trophy Wife, Sat. Night Live) is 50.
Actress Miranda Hart (Call the Midwife, Miranda) is 49.
Actress KaDee Strickland (Private Practice) is 46.
Rhythm-and-blues singer Brian Dalyrimple (Soul For Real) is 46.
Actress Tammy Blanchard (Guiding Light,  Judy Garland:Me & My Shadows) is 45.
Actress Sophie Monk (Popstars:Australia, Pool Guys, The Mystery of Natalie Wood) is 42.
Actress Amy Brassette (Cedric the Entertainer Presents) is 42.
Ontario-born actress Christine Horne (Lost Girl) is 40. 
Actor Matthew McNulty (Versailles) is 39.
Actor Jackson Rathbone (The Last Ship, Aim High, Finding Carter) is 37.
Actress Vanessa Hudgens (High School Musical) is 33.
Toronto-born actor Max Topplin (Suits) is 32.
Singer/songwriter Tori Kelly is 29.
Chart Toppers – Dec. 14
1949
Mule Train – Frankie Laine
I Can Dream, Can't I? – The Tommy Dorsey Orchestra (vocal: Jack Leonard)
Don't Cry, Joe – The Gordon Jenkins Orchestra (vocal: Betty Brewer)
Mule Train – Tennessee Ernie Ford
1958
To Know Him, is to Love Him – The Teddy Bears
Beep Beep – The Playmates
Problems – The Everly Brothers
City Lights – Ray Price
1967
Daydream Believer – The Monkees
The Rain, the Park and Other Things – The Cowsills
I Say a Little Prayer – Dionne Warwick
It's the Little Things – Sonny James
1976
Tonight's the Night (Gonna Be Alright) – Rod Stewart
The Rubberband Man – Spinners
Love So Right – Bee Gees
Thinkin' of a Rendezvous – Johnny Duncan
1985
Broken Wings – Mr. Mister
Say You, Say Me – Lionel Richie
Party All the Time – Eddie Murphy
Nobody Falls like a Fool – Earl Thomas Conley
1994
On Bended Knee – Boyz II Men
Here Comes the Hotstepper – Ini Kamoze
Another Night – Real McCoy
If You've Got Love – John Michael Montgomery
2003
Hey Ya! – Outkast
Suga Suga – Baby Bash featuring Frankie J
It's My Life – No Doubt
I Love This Bar – Toby Keith
Today in Broadcast History compiled by Ron Robinson