PRESS RELEASE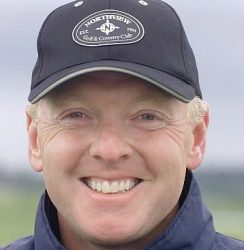 Long-time Radio & Television Broadcaster Barry Macdonald Among the Winners of the 2021 Eric Whitehead Inspired Service Awards
October 9, 2021
Vancouver, B.C. – On the same day that the BC Sports Hall of Fame announced its Class of 2021 Inductees, it also paid tribute to six winners of the annual Eric Whitehead Inspired Service Awards, including popular radio and television broadcaster Barry Macdonald of Pitt Meadows, B.C.  The Eric Whitehead Inspired Service Awards, named after the former sports editor of The Province newspaper and founder and first curator of the BC Sports Hall of Fame in 1966, will be celebrated tonight at the Annual Summit and AGM of the Sports Hall co-hosted by the City of Surrey at the Surrey Arts Centre.
This marks the third year of the Whitehead awards, which are designed as special awards to honour long-standing contributors to the sporting community in British Columbia, including those who have achieved what they have in the face of adversity, or were notable in their innovation, leadership and service to the BC sport system.
The 2021 Eric Whitehead Inspired Service Awards go to:
Steve Ewen (New Westminster, B.C.) of The Province and theprovince.com;
Brian Griffin (Qualicum Beach, B.C.) of BC Place;
Barry Macdonald (Pitt Meadows, B.C.), formerly of CBC-TV, the iconic CKVU sports magazine show Sports Page and TSN 1040 all-sports radio;
Lara Mussell-Savage (Chilliwack, B.C.), Director of Sport for ISPARC and a Trustee of the BC Sports Hall of Fame;
Terry Vandale (Elkford, B.C.), long-standing sport leader in curling and softball;
and
Robert H. Wright (Coquitlam, B.C.), former Chair of Sport BC and Tennis Canada.
Ewen, who for close to 25 years has covered hockey, lacrosse, baseball, basketball and more for The Province and TheProvince.com for close to 25 years, is certainly a mainstay in sport journalism in British Columbia. Among his many honours and credentials is a lifetime achievement award at the Paul Carson Broadcast & Media Awards in 2017. He has handled multiple beats simultaneously for The Province throughout his career, including while fighting cancer in recent years.
Griffin is retiring as Director of Facility Operations for BC Place after a 25-year career in which he helped make the stadium one of the busiest indoor-outdoor venues in Canadian sport and certainly a special event hub that is unrivalled in Canada for its hosting of football (BC Lions of the CFL and high school football), soccer (Vancouver Whitecaps FC of Major League Soccer and international men's and women's soccer, including the 2015 FIFA Women's World Cup, rugby (international 15s and World Rugby Sevens) and more. Griffin developed a reputation throughout his career as a tireless advocate for the tenants and partners of BC Place and BC Pavilion Corp. On his watch, BC Place became the first stadium in Canada to achieve Global Biorisk Advisory Council (GBAC) STAR accreditation.
Macdonald is one of the most popular television and radio broadcasters of all time in British Columbia. He is best-known for being one of the stars of Sports Page, the magazine show that revolutionized local and professional sports television coverage and was synonymous with its reverent style of humour and special features. Macdonald is synonymous with the show, as he was with TSN 1040 and the original TEAM 1040 all-sports radio station for most of its 20-year run. He also reported and anchored sports for CBC Television Vancouver. Macdonald accomplished all of that and more while battling depression, going public and becoming one of the most influential and compelling spokespersons for mental health.
Mussell-Savage, the 2005 winner of the National Tom Longboat Award as aboriginal athlete of the year in Canada, is the long-standing director of sport for ISPARC (the Indigenous Sport, Physical Activity and Recreation Council in British Columbia). She is not only a two-time world champion in ultimate (2000 and 2004), she has followed in her mother's footsteps as the Chief of the Skwah First Nation (Sto:lo). She is an honoured member of the Chilliwack Sports Hall of Fame and is a highly-respected, activist Trustee of the BC Sports Hall of Fame, chairing its Education Committee and the 100 Ravens fund-raising campaign 2019-2021. Under her watch, the BC Sports Hall of Fame last week launched Terry Fox: Inspiration in Action, a new elementary education module designed to reach young British Columbians about the Canadian icon who made the Marathon of Hope a global story of courage, determination and inspiration and who has Metis ancestry.
Vandale has served as a Board member and chair of various iterations of Curl BC (and its predecessor organizations) for more than 30 years, easily becoming one of the most respected curling and sport leaders in British Columbia. She gained national recognition by winning the Ray Kingsmith Award from Curling Canada. Always proud of her roots in Elkford, B.C. – where she is the chair of the Elkford Community Fund Steering Committee — Vandale doubled as a passionate promoter of women's softball in her community in the BC Kootenays, also serving that sport for three decades. Remarkably, she has been able to pour all of that energy and passion into curling, softball and sport in general while facing the adversity of multiple sclerosis.
Wright is best-known for his years as President of Sport BC and Chair of Tennis Canada. He developed a reputation as a leading change agent – provincially and nationally — in the best practices of governance and organizational structure and was among the first to advocate for the staff-centered, professional model of national sports federations. He transferred his title of President to the chief executive of Tennis Canada – at the time BC's own Bob Moffatt – and took on the title of Chair; a template that has since been followed by most progressive sports organizations in BC and across Canada. The son of basketball pioneer Ken "Hooker" Wright, he helped establish the Canadian Tennis Hall of Fame in 1992.
About the BC Sports Hall of Fame:
The BC Sports Hall of Fame celebrates extraordinary achievement in B.C. sport history and inspires future generations to make their dreams come true.  As a non-profit charitable organization, the Hall curates an astounding collection of 27,000 heritage artifacts and 100,000 archival documents representing 150-years of sport history in British Columbia. Through Hero in You Youth Education Programs, the BC Sports Hall of Fame reaches over 6,500 young learners each year across the province, advancing a mission of building outstanding community legacies by honouring the past and inspiring the future.
For more information, please visit bcsportshall.com or follow us on Twitter, Facebook, or Instagram @bcsportshall.
-30-
Media Contact
Josh Kilner
BC Sports Hall of Fame
778-989-1469
[email protected]