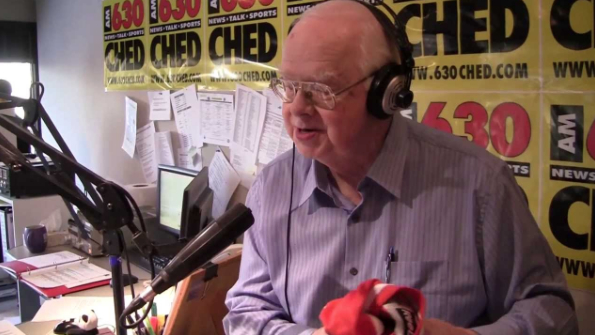 September 29, 2021
One of Canada's broadcast legends passed away on Tuesday, 28 September 2021. Radio reporter Ed Mason worked at a number of top stations across Canada — in an era when radio was king.
Mason ended his career with 630-CHED, at the time the top-rated radio station in Edmonton. He'd worked previously with CHQT in the city.
Details of his passing — in an email from his daughter Carlie — can be found at the very end of this item.
Rest In Peace, Eddie. We'll meet again.
Here's a blog piece I did on Eddie nine years ago when he suffered a heart attack. 
---
One of North America's premier police reporters dodged a bullet on Saturday night, 29 September 2012.
Ed Mason of 630-CHED suffered a heart attack at his home in nearby Sherwood Park.
He was rushed by ambulance to the Royal Alexandra Hospital in Edmonton's downtown core, then transferred to the intensive care unit at the Grey Nuns Community Hospital on the south side.
Mason began his broadcasting career in 1963. Let's put that in perspective, U.S. President John F. Kennedy was still around then. Mason is one of the longest serving police reporters. Anywhere.
Besides Edmonton, Ed Mason has hung his hat in markets such as Toronto and Victoria.
For more than four decades, Mason's scoops from confidential law enforcement insiders have been the envy of many journalists, more so in this age of 'news release journalism.'
It was Ed Mason who, in 1979, got a phone call through to the besieged U.S. Embassy in Tehran, Iran, where embassy staff were being held hostage. The exclusive interview went world-wide. Now, that's a scoop.
Back to the heart attack. According to Mason, he felt a burning sensation in his chest, broke into a cold sweat, made his way to his bedroom … all the while wondering what the hell was going on. A call went out to his daughter, a nurse, and immediately she knew that something was seriously wrong. She rushed home.
In no time, dad was in the back of an ambulance.
While the ambulance driver sped to hospital — dodging most of the potholes — medical technicians pumped Mason with drugs and hooked him up with more wires than you'd find in a 1960s radio studio. The monitors indicated the legendary broadcaster was in the middle of a full-blown heart attack: a 100 percent blockage of a coronary artery.
When Mason arrived at the hospital, doctors discovered more time bombs: a second artery was 90-percent blocked … and a third, 80 percent clogged. Those are not good numbers.
A cardiologist worked on the most severely blocked artery, putting in a stent to keep it open. Doctors later got the remaining two arteries working properly.
Mason has had a lot of highs in the course of his lengthy career; one high he didn't need was cholesterol. "Lifestyle changes are coming big time," he says.
Above: a younger and healthier Mason at 1050 CHUM, Toronto, in the 1970s. Photo courtesy of CHUM Radio and Puget Sound Radio.
Mason figures if he'd gone straight to bed Saturday night he would have awoken on the 'Other Side,' likely working his butt off to land another scoop … perhaps an interview with President Kennedy.
Mason was sent home on October 3rd. He may spend about a month recuperating, although the man says he's anxious to return to work. "My cardiac ultrasound confirmed normal function in the area first affected by Saturday's total blockage of the artery," the broadcaster reveals. "That is wonderful news heading into rehab boot camp."
One more thing about Mason's red-lights-flashing ride to the city on the weekend … the speeding ambulance was tailed by a mysterious sedan … right to the open doors of the hospital's emergency department. Who the heck was in hot pursuit? … an ambulance-chasing reporter? A police contact? No, just a Good Samaritan who handed the ambulance driver a hubcap that had fallen off.
On Monday morning, 29 October 2012, police reporter Ed Mason was back on the air at 630-CHED. Things went smoothly; Ed didn't miss a beat and neither did his ticker.
On 14 November 2012, Mason got some good news: his cholesterol level had dropped to half what it had been around the time of the heart attack. On the road to recovery.
On 14 March 2013, 630-CHED Program Director, Syd Smith, fired off this email to all staff on Ed Mason's Lifetime Achievement award:
Good morning everyone, at 8:45 this morning, we paid tribute to one of Canada's great radio newsmen.
Ed Mason has received the Radio and Television News Directors Association Lifetime Achievement Award.
This award is presented "to individuals who have distinguished themselves through outstanding service and continued excellence during the course of their career in broadcast journalism".
For those of us who have known and worked with Ed, this is a fitting description.  However, even that does not fully capture the impact he has made on our listeners, the industry, our radio stations and the people who work here.
Edmontonians are well served by a reporter who respects them enough to never stop working on  their behalf – reporting factual information in the proper context and without forgetting that it's okay to have some fun along the way.
Ed has made our industry stronger by mentoring the many young broadcasters he has worked with and by inspiring others through his work on the radio.
Please join me in congratulating and thanking Ed for his contributions to date and — if you missed the on air tribute — please have a listen to the produced piece put together by Bob Layton and Marc Patterson.
Syd
And for a listen to Ed's acceptance speech, broadcast in Toronto at a meeting of the Radio and Television News Directors Association. Ed couldn't fly to Toronto, and so he did what he does best: record a message.
Ed Mason is in select company. There are very few who can say they've survived 50 years in the broadcast business.
In a memo to station staff on 19 August 2014, News Director Bob Layton announced that Ed Mason will sign off at the end of August [2014].
At the urging of his doctor, one of Canada's broadcast legends will finally pull the plug and help ease the stress on his heart caused by getting up so early in the morning, the crazy non-stop deadlines, etc.
So long Ed, you've left quite the legacy. You broke a ton of stories and wrote them up with great flair, as only you could. You'll be missed. Your retirement is a loss not only to the broadcast industry, but to all Canadians.
On a sad note, Ed's wife — Carol Anne — died on June 2, 2020 at the Grey Nuns Hospital in Edmonton. Our deepest condolences to Ed and his family.
---
UPDATE – Early September 2021
On September 9, 2021, Ed Mason arrived for cancer surgery at the University Hospital in Edmonton, only to be turned away due to 'Covid overload' at the hospital. Click here for a story by Chris Chacon of Global News ..
DEATH
"It is with gut-wrenching sadness," writes his daughter Carlie, in an email on Tuesday evening, September 28, 202, "that I want to let you know that my dad passed away this afternoon."
"Ultimately he completed his surgery on September 15th but had trouble breathing and was put on a breathing machine on September 17th. He did improve significantly several days later and they removed the breathing tube."
"Unfortunately this past weekend he again went into respiratory distress and he would require to have the breathing tube re-inserted and it could be for an extended period of time. Dad was completely aware of his situation and decided against returning to the ICU. He did rally up until Monday morning but then the breathing worsened again."
"He was given adequate amounts of pain medication and my two sisters and I have been at his bedside the entire time."
"He passed away peacefully and on his own terms. He did not wish to have a funeral or service but I hope to do up a detailed obituary discussing his extraordinary life."
PS: I frequently find myself listening to the piece you did on my dad and I want to thank you for doing it. It was so well done and intriguing. Thank you. My dad spoke of you often."
Carlie add, The Official cause of death was likely severe lung infection (NOT COVID). His heart was working great. He turned 75 in July.
Byron Christopher