ON THIS DAY in 1903,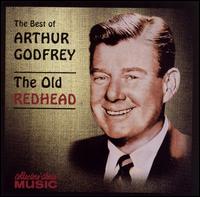 radio (& TV)'s future star Arthur (Morton) Godfrey was born in New York City. After gaining fame in Washington radio as morning deejay at WRC, he joined CBS in New York and became a daytime powerhouse on radio & later TV, when CBS-TV simulcast an hour (and later, 90 minutes) of the radio show.  He headed up two hit nighttime CBS-TV shows, Arthur Godfrey's Talent Scouts, and Arthur Godfrey and His Friends. His star took a tumble in the 1950's after the on-air firings of star singer Julius Larosa, and later, bandleader Archie Bleyer.   Godfrey successfully battled lung cancer but died of emphysema Mar 16, 1983 at age 79.
In 1916, TV/radio correspondent Daniel Schorr was born in the Bronx, New York.  Recruited to CBS News in 1953 by Edward R. Murrow, Schorr was instrumental in the network's exposes in the Watergate scandal that bought down President Nixon. He would later move to CNN, and in the last 25 years of his life, was a Senior News Analyst for National Public Radio.  He died July 23 2010, five weeks short of his 94th birthday.
In 1920, what is regarded as the first news program on radio was aired in Detroit, when election returns were broadcast. The station was 8MK, (which later became WWJ), owned by the Detroit Evening News. Only some 30 homes in the city were equipped with radio receivers.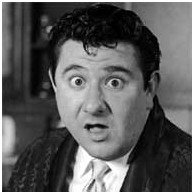 In 1924,
 future funnyman Buddy Hackett was born Leonard Hacker in Brooklyn.  While primarily a night club standup comic Buddy became a favorite guest on the TV talk show circuits of the 50's and 60's.  He starred in a short lived 1956 TV sitcom Stanley, and had recurring roles in several series later in life.  He succumbed to complications of diabetes June 30, 2003 at age 78.
In 1939, Frank Sinatra recorded "All or Nothing at All" with the Harry James Band. The tune failed to become a hit until four years later — after Ol' Blue Eyes had joined the Tommy Dorsey Orchestra.
In 1941, the family comedy "The Great Gildersleeve", a spin-off of the longtime laughfest "Fibber McGee and Molly" starring Harold Peary, began its lengthy run on NBC Radio's Red Network.  It would continue, surviving a critical change in the lead actor, for two decades.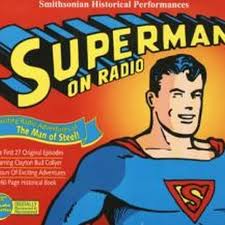 In 1942, one of radio's most famous introductions was heard for the first time. "Look! Up in the sky! It's a bird! It's a plane! It's Superman!" Able to leap tall buildings in a single bound … the caped crusader started on network radio on the Mutual Broadcasting System. Bud Collyer, later host of TV's "Beat the Clock" and "To Tell the Truth," played Clark Kent aka Superman. His identity was well guarded for years, until a "TIME" magazine article appeared in 1946, revealing that Collyer was the voice of the Man of Steel.
In 1951, Mercedes McCambridge starred in a late entry in the OTR era, Defense Attorney, which ran weekly on ABC Radio for the next 16 months.
In 1957, Elvis Presley appeared before a crowd of 26,000 at Vancouver's Empire Stadium, then just three years old. Tickets cost only $1.50, $2.50 and $3.50.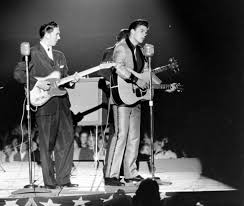 In 1958, Ricky Nelson started his concert career by appearing at the Steel Pier in Atlantic City, where he set an all-time attendance record for the venue of 44,221 people over two days. His supporting acts were comedian Henny Youngman and the Four Preps.
In 1963, Walter Cronkite started showing up in US living rooms during the dinner hour as anchor of the "CBS Evening News," a job he took over from Douglas Edwards on April 16, 1962.  Previous to this date, "CBS Evening News" had been shown from 7:30-7:45 p.m. and 7:15-7:30 p.m.
Also in 1963, the girl trio Angels started a three week run at No.1 on the Billboard pop singles chart with 'My Boyfriend's Back'.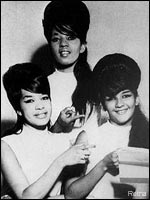 Still in 1963, The Ronettes first entered the Billboard pop singles chart with 'Be My Baby,' the girl group's only top 10 hit.
In 1964, J. Frank Wilson released the soon-to-be hit single "Last Kiss".
Also in 1964, Manfred Mann released their first single "Do Wah Diddy Diddy".
In 1965, during a North American tour The Beatles played two shows at the Cow Palace in San Francisco, to a total of 28,700 fans.

In 1968, The Rolling Stones released "Street Fighting Man" in North America. The song was written after Mick Jagger attended an anti-war rally at London's U.S. embassy, during which mounted police attempted to control a crowd of 25,000. Many American radio stations refused to play the song based on what were perceived as its subversive lyrics.
Also in 1968, Mason Williams had the #1 Easy Listening song for the third week–"Classical Gas".
In 1969, at England's Isle of Wight Pop Festival, Bob Dylan made his first paid appearance since his motorcycle accident three years earlier.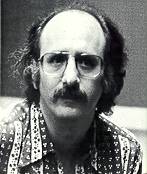 In 1970, singer Peter Yarrow of the folk music trio Peter, Paul & Mary was arrested for taking "immoral liberties" with a 14-year-old girl. He was later convicted and served three months in prison.
In 1973, Paul McCartney's "Live And Let Die" was certified Gold.
In 1974, "The Partridge Family" TV show aired its last episode, leaving David Cassidy free to pursue a solo music career.
Also in 1974, The Rolling Stones released the album Goat's Head Soup.
That same day in 1974, Keith Richards of the Stones was quoted as saying; 'I gave up drugs when the doctor told me I had six months to live.'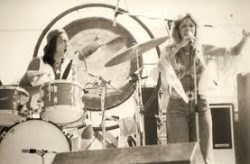 In 1975, Fleetwood Mac (pictured), Rod Stewart and the Faces, Loggins & Messina and Lynyrd Skynyrd all appeared in an afternoon concert at Balboa Stadium in San Diego.
In 1976, the first of 202 episodes of the sitcom "Alice" starring Linda Lavin aired on CBS-TV.
Also in 1976, a judge ruled that George Harrison was guilty of "subconcious plagiarism" from the song "He's So Fine" (a 1963 hit by The Chiffons.) The judge said that the chorus to Harrison's "My Sweet Lord" was identical to "He's So Fine," and it eventually (appeals went on for about five years) cost the former Beatle more than half a million dollars.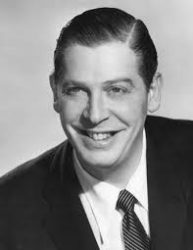 In 1981, the 30-year contract between 'Mr. Television', Milton Berle, and NBC-TV finally expired. Uncle Miltie had received $6 million for NOT being on the air since his show, "The Texaco Star Theatre" & later "The Buick-Berle Show", went off the air some 25 years earlier. NBC held Berle to the contract to keep him from appearing on competing networks.
In 1982, nearing the end of their 13-month Ghost in The Machine Tour, The Police played Vancouver B.C.
In 1984, CHUM Ltd. launched one of Canada's first specialty cable TV channels, Much Music.
In 1985, 'Brothers In Arms' by Dire Straits started a nine-week run at No.1 on the Billboard album charts. It went on to sell more than 20 million worldwide.

Also in 1985, Bryan Adams' '"Summer Of '69′" peaked at #5 on the Billboard pop singles chart.
Stil in 1985, Aretha Franklin made it five weeks at the top of the R&B chart for her "Freeway of Love".
In 1987, the French-language Quatre Saisons network launched La Maison Deschênes. The 30 minute Quebec drama was Canada's first daily TV soap opera.
Also in 1987, this day saw the largest preorder of albums in the history of CBS Records. 2.25 million copies of Michael Jackson's "Bad" album were shipped to record stores.
The LP followed in the tracks of the Jackson album, "Thriller", the biggest Jackson-seller of all time (35 million copies sold). The "Bad" album, while deemed successful, sold only 13 million copies.
Still in 1987,  Michael Jackson's "Bad" video was televised for the first time on CBS-TV.
In 1988, the CRTC approved the sale of Kelowna's CKOV-AM and CHIM-FM from the Browne family to Mel Cooper's Victoria-based Seacoast Communications Group. Big Jim Browne had started CKOV as a commercial station in 1931.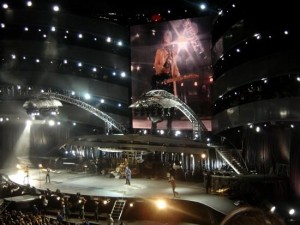 In 1989, The Rolling Stones opened their first concert tour in eight years at JFK Stadium in Philadelphia.
In 1990, Jackson Browne, Bonnie Raitt and Stevie Wonder sang 'Amazing Grace' at a memorial service held in Dallas for guitarist Stevie Ray Vaughan, who had been killed in a helicopter crash in Wisconsin 4 days earlier.
In 1991, Metallica's self-titled album debuted at No. 1 on Billboard's pop album chart. It featured 'Enter Sandman' 'Sad But True', 'The Unforgiven' and 'Nothing Else Matters' went on to sell over 10 million copies in the US alone.
Also in 1991, Bryan Adams spent a sixth week atop the singles chart with "(Everything I Do) I Do It For You".
                                                                                                                             In 1995, the Rock and Roll Hall of Fame and Museum opened in Cleveland. The city was argued to be the birthplace of rock beginning in the rooms of radio station WMMS, where disc jockeyAlan Freed first coined the term "rock 'n' roll" in the early 1950s.
In 1996, "Macarena" by Los Del Rio had been out for 37 weeks, but it was just getting started, spending a fifth week at #1.
In 1997, Britain's Princess Diana died in a car crash in Paris at age 36. The world's media, including broadcasters in Canada & the US, were consumed with the story for at least ten days.
Also in 1997, the Microsoft Network webcast U2's performance in Dublin. Internet participants are able to control remote PopCams at the concert, which allow users to see the performance from several perspectives. The event was accessible to any Internet user athttp://u2popmart.msn.com.
In 2000, songwriter Harold Clayton, who co-wrote the SOS Band hit "Take Your Time (Do It Right)," was killed in a hit-and-run accident in Los Angeles. He was 53.
In 2001 at 5 p.m., three Fraser Valley FM stations (CFSR-FM 107.1 Abbotsford, CKSR-FM 98.3 Chilliwack and CKIS-FM 100.3 Hope) officially launched as The Valley's Light Rock.  AM simulcasting ended Dec. 3rd and the AM frequencies of 850, 1240 and 1270 KHz went silent.
In 2002, jazz musician and bandleader Lionel Hampton, who also played in the Benny Goodman Quintet,  died of heart failure at age 94.
In 2003, Nelly, P. Diddy and Murphy Lee were at No.1 on the Billboard pop singles chart with 'Shake Ya Tailfeather.' The Neptunes were at No.1 on the album chart with 'The Neptunes Present Clones.'
In 2004, the cable TV series "Dog The Bounty Hunter," premiered on the A & E network.  The reality series profiled bounty hunter Duane Chapman (a.k.a. "Dog") as he tracked down fugitives who skipped trial dates or bail.
Also in 2004, British medical magazine Thorax issued a warning to music fans saying that listening to loud music in the car can give you a collapsed lung. One 19 year-old had been treated in Bristol after his left lung collapsed as his 1,000-watt bass box boomed out in his Fiat Panda.
In 2006, The Times of London ran a story on the demands of rock stars when on tour. Ozzy Osbourne  insists on an eye, ear, nose and throat doctor at each venue.
The Beach Boys require a licensed masseur, Meat Loaf a mask and one small tank of oxygen.David Bowie requests that the dressing room temperature be between 14c and 18c, and Paul McCartney must have a large arrangement of white Casablanca lilies in his dressing room. Mick Jagger must have an onstage autocue with the lyrics to all the songs, it would also tell him the name of the city in which they were performing.
In 2007, Hilly Kristal, founder of the New York punk club CBGB died from complications arising from lung cancer at the age of 75.  Kristal was credited with discovering Patti Smith and The Ramones.  The New York City venue, whose full title CBGB OMFUG stood for 'country, bluegrass, blues and other music for uplifting gourmandisers', was originally launched to showcase country music.
In 2008, CBS News correspondent Ike Pappas died of congestive heart failure at the age of 75.  Before his 25 year CBS career Pappas covered the Jack Ruby shooting of JFK assassin Lee Harvey Oswald in Dallas for New York's WNEW radio.
Also in 2008, Jerry Reed, the country singer and movie actor whose larger-than-life storytelling and flashy guitar work vividly evoked Southern life, died of emphysema at age 71.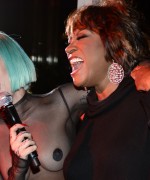 In 2009, the IRS filed a tax lien against singer Patti LaBelle for $337,104 in back taxes.
In 2011, Toronto radio man Bob Laine, who began his career in 1958 as CHUM's all-night deejay, and nearly 46 years later retired as corporate vice-president at the same company, succumbed to cancer at age 72.
Also in 2011, Dire Straits' '85 hit, "Money For Nothing," was reinstated on Canadian radio playlists.  A public outcry resulted from the Canadian Broadcast Standards Council (CBSC) labelling the song "unacceptable" after a single listener complained about the song's use of the word "faggot."  Said writer/broadcaster Alan Cross, "it made us look silly in the eyes of the broadcast community around the world."
In 2012, an icon of British show business, singer/comedian/actor Max Bygraves died of Alzheimer's disease in Australia at age 89.  Famed for the catchphrase 'I wanna tell you a story,' his UK broadcasting credits ran a span of almost 50 years from the BBC Radio comedy Educating Archie in the 1950's, to hosting the TV quiz Family Fortunes in the '80's.  He guested on numerous US TV shows, including Ed Sullivan, Jack Benny and Jackie Gleason.
In 2013, famed British-born broadcaster and journalist Sir David Frost suffered a fatal heart attack aboard a Cunard liner at age 74.  He was the only man to have interviewed all British prime ministers and all US presidents from the 1960's to the present day.  Frost was famous for his televised 1977 interview with President Nixon in which he got the disgraced leader to confess to his Watergate crimes. He had his own syndicated US TV talk show 1969-72.
In 2014, singer/songwriter Jimi Jamison, who fronted the 80's rock bands Cobra and Survivor, passed away after suffering a heart attack at age 63. He was Survivor's lead singer from 1984 until 1988, on hits like "The Moment of Truth" from The Karate Kid, and "Is This Love," and "Burning Heart" from Rocky IV. As a solo artist, he recorded "I'm Always Here," which became the memorable theme song for the TV series Baywatch.
In 2015, singer Janet Jackson opened a 37-date world tour in support of her 'Unbreakable' album at Rogers Arena in Vancouver.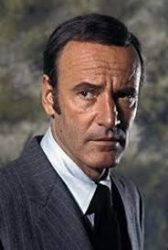 In 2017, actor Richard Anderson, best remembered as Oscar Goldman, the boss of Steve Austin (Lee Majors) and Jaime Sommers (Lindsay Wagner) in both The Six Million Dollar Man and The Bionic Woman TV series between 1974 and 1978 and their subsequent television movies, died at age 91.
Also in 2017, Glenn Beck cut 20% of the jobs at his conservative news and video site The Blaze, citing pressures on advertising and funding in an increasingly crowded field of digital media outlets that cater to right-leaning audiences.
In 2018, Alkaline Trio released their first album in five years, "Is This Thing Cursed?" Featuring the single "Blackbird," it was also their first effort since frontman Matt Skiba joined Blink-182.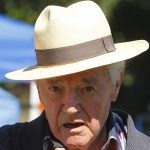 On August 19th, 2020, Canadian newspaper and magazine journalist Alan Fotheringham died at 87.
Today's birthdays:
Drummer Jerry Allison of Buddy Holly and the Crickets is 82.
Australian actor Jack Thompson is 81.
Singer Van Morrison is 76.
Violinist Itzhak Perlman is 76.
Guitarist Rudolf Schenker of Scorpions is 73.
Actor Richard Gere (Mother/Father/Son, And the Band Played On, Mustang: Journey of Transformation) is 72.
Actor Stephen Henderson (Law & Order, New Amsterdam) is 72.
Singer/guitarist Rick Roberts (Firefall) is 72.
Actor Olek Krupa (The Grid) is 66.
Singer Glenn Tilbrook of Squeeze is 64.
Drummer Gina Schock of The Go-Go's is 64.
Comedienne/actress/TV hostess Julie Brown (Just Say Julie, Clueless, Paradise Falls) is 63.
Ontario-born singer Tony DeFranco of The DeFranco Family is 62.
Actress Lisa Waltz (The Young & the Restless, Ask Harriet) is 60.
Television host Mark L. Walberg (Antiques Roadshow, The Moment of Truth) is 59.
Voice actor Dee Bradley Baker (Star Wars: The Clone Wars, Phineas and Ferb) is 59.
Keyboardist Larry Waddell of Mint Condition is 58.
Actor Jaime Gomez (Nash Bridges) is 56.
Actor Daniel Bernhardt (Mortal Kombat: Conquest) is 56.
Actor Jonathan Cake (Desperate Housewives) is 54.
Actress Cheryl Pollak (Live Shot, The Heights) is 54.
Actor Jonathan La Paglia (Seven Days, The District) is 53.
Guitarist Jeff Russo of Tonic is 52.
Actor Jonathan LaPaglia (Love Child, Cold Case) is 52.
Toronto-born actor Zach Ward (Titus, All of Us) is 51. 
Singer Deborah (Debbie) Gibson is 51.
Bassist Greg Richling of The Wallflowers is 51.
Actor Jason Presson (Trials of Live, Never Forget, Wishman) is 50.
Actor/comedian Chris Tucker (Chris Tucker Live, Def Comedy Jam, African American Lives) is 49.
Actress Sara Ramirez (Grey's Anatomy) is 46.
Actress Shar Jackson (Moesha) is 45.
Actress Lucy Speed (EastEnders) is 45.
Singer Tamara of Trina and Tamara is 44.
Actor Mike Erwin (Everwood, Jackie Chan Adventures, Jack & Bobby) is 43.
Ontario-born actor Joshua Close (The Pacific, The Unusuals) is 40.
Actor Joe Swanberg (Young American Bodies) is 40.
Actor Ryan Kelley (Teen Wolf) is 35.
Actor Brent Morin (Undateable) is 35.
Chart Toppers – Aug. 31
1952
Auf Wiedersehn, Sweetheart – Vera Lynn
Walkin' My Baby Back Home – Johnnie Ray
Kiss of Fire – Georgia Gibbs
It Wasn't God Who Made Honky Tonk Angels – Kitty Wells
1961
Wooden Heart – Joe Dowell
Michael – The Highwaymen
You Don't Know What You've Got (Until You Lose it) – Ral Donner
Tender Years – George Jones
1970
War – Edwin Starr
In the Summertime – Mungo Jerry
(If You Let Me Make Love to You Then) Why Can't I Touch You? – Ronnie Dyson
Don't Keep Me Hangin' On – Sonny James
1979
My Sharona – The Knack
After the Love Has Gone – Earth, Wind & Fire
Don't Bring Me Down – Electric Light Orchestra
The Devil Went Down to Georgia – Charlie Daniels Band
1988
Monkey – George Michael
I Don't Want to Go on With You like That – Elton John
I Don't Wanna Live Without Your Love – Chicago
The Wanderer – Eddie Rabbitt
1997
Mo Money Mo Problems – The Notorious B.I.G. featuring Puff Daddy & Mase
Quit Playing Games (With My Heart) – Backstreet Boys
2 Become 1 – Spice Girls
She's Got It All – Kenny Chesney
2006
Buttons – Pussycat Dolls
I Write Sins Not Tragedies – Panic! At The Disco
Promiscuous – Nelly Furtado featuring Timbaland
If You're Going Through Hell (Before the Devil Even Knows) – Rodney Atkins
Today in Broadcast History compiled by Ron Robinson