ON THIS DAY in 1873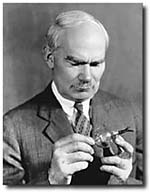 radio inventor Lee DeForest was born in Council Bluffs, Iowa. His invention of the electron tube, specifically the triode, a three element vacuum tube, made possible radio broadcasting as we knew it in the first half of the 20th century. However, he was forced into selling the rights to his patent to American Telephone and Telegraph for $500,000; considered by most to be foolish of AT&T. The rest is history.
In 1896, comedian and radio host Phil Baker was born in Philadelphia.  He came out of vaudeville (where he teamed with Ben Bernie) to star in 1933 as a comedian and accordion player in his own NBC radio series The Armour Jester.  The show moved to CBS and became first The Gulf Headliner and later Honolulu Bound. In the 1940s for six years he was the host of the CBS radio quiz show Take It or Leave It, which later became The $64 Question.  He died Nov. 30 1963 at age 67.
In 1911, announcer Hal Gibney was born in Woodland Calif.  In 1939 he left KPO San Francisco to move to L.A. to become the official West Coast announcer for NBC. He is best known as the announcer for NBC radio's The Six Shooter and ABC-TV's The Mickey Mouse Club. He was also the announcer (with George Fenneman) for both the radio and the original NBC-TV versions of Dragnet.  Gibney died June 5, 1973 at age 63.
In 1922, Calgary radio station CHCQ became CFAC, having changed call letters from CQCA a few months earlier, on May 9th.  CFAC is still with us today, branding as Sportsnet 960 the Fan. 
In 1925, Ted Rogers Sr. manufactured the world's first commercial AC (alternating current) vacuum tube. A few days later, Rogers displayed a Rogers Batteryless radio receiver using that very tube, at the Canadian National Exhibition (CNE) in Toronto. In 18 months, he had the world's first AC radio station, as CFRB (Canada's First Rogers Batteryless) signed on February 10, 1927.
In 1939, the radio program "Arch Oboler's Plays" presented the NBC Symphony, for the first time, as the musical backdrop for the drama, "This Lonely Heart."
Also in 1939, sportscaster Red Barber announced the first televised baseball games — on experimental TV station W2XBS in New York, the predecessor to WNBC. The Brooklyn Dodgers and the Cincinnati Reds played a doubleheader for the occasion.
In 1949, eight years before Elvis Presley first made the song a seasonal standard, Ernest Tubb recorded "Blue Christmas" for RCA Victor. By the end of the year it had reached #1 on the Country chart.
In 1955, the 1st color telecast of a tennis match (Davis Cup) was seen on NBC.
In 1957, Bobby Helms recorded "My Special Angel." It became his second straight Country #1 single, and reached #7 on the Billboard Pop Chart.
In 1958, the Board of Broadcast Governors was established to regulate broadcasting in Canada, independent of the CBC.   Ten years later the BBG became the CRTC.
Also in 1958, at the RCA Victor studios in Nashville, Homer and Jethro completed recording the LP "Life Can Be Miserable," and a parody of the Johnny Cash tune "I Guess Things Happen That Way."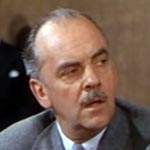 In 1963, actor/announcer Larry Keating succumbed to leukemia at age 67.  A staff announcer at NBC radio in the 1940's, he was probably best recognized as the voice of ABC Radio's This is the FBI for 12 years.   As a TV actor he was a regular on Burns & Allen and Mr. Ed.
Also in 1963, singer Cilla Black made her stage debut, opening for The Beatles at the Odeon Cinema Southport in Lancashire, England.
Still in 1963, The Ronettes released "Be My Baby," a future #2 pop single.
In 1964, Roy Orbison released "Oh Pretty Woman," which quickly became a worldwide hit, and the #1 single on the Billboard Hot 100.
In 1965, just back from a tour of the UK, the folk-rock pioneers The Byrds appeared at the Hollywood Palladium in California.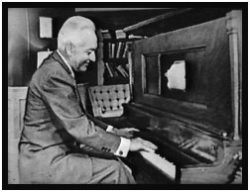 In 1966, radio & film actor Art Baker, the first host of TV's You Asked For It, died after a heart attack at age 67.
In 1967, Mick Jagger and Marianne Faithfull joined up with The Beatles in North Wales to seek guidance from Maharishi Mahesh Yogi. Paul McCartney told a news conference that the group had given up drugs.  "It was an experience we went through," he said.  "We don't need it anymore."
Also in 1967, Jimi Hendrix released "Purple Haze."
In 1968, Jeannie C. Riley's "Harper Valley P.T.A." was certified Gold. The single eventually sold more than six million copies, as Riley became the first woman ever to top both the U.S. Country and Pop singles charts with the same release.
Also in 1968, The Beatles released "Hey Jude" b/w "Revolution" in North America, the first 45 from their own Apple Records label, and their 17th number one on the pop charts.
In 1969, Elvis Presley performed the laughing version of "Are You Lonesome Tonight" in Las Vegas. Earlier that day his 18th and final #1 song, "Suspicious Minds," was rolled out  by RCA Victor.
In 1970, guitarist Jimi Hendrix played his last concert, at the Isle of Wight Pop Festival off the English coast. Backed by bassist Billy Cox and drummer Mitch Mitchell, Hendrix is reported to have played a strange, rambling set. Three weeks later, on September 18th, Hendrix died in London. The coroner's report said Hendrix choked on vomit following barbituate intoxication.
Also in 1970, Neil Diamond released his own composition "Cracklin' Rosie" which would become his first Billboard #1 pop single.
In 1972, Looking Glass started a two week run at No.1 on the Billboard Hot 100 with 'Brandy You're A Fine Girl'
In 1974, Canada's Bachman-Turner Overdrive released their third LP 'Not Fragile.' It became their best selling album, reaching #1 on the Pop charts.
In 1976, the band Aerosmith was featured on the cover of "Rolling Stone."
In 1978, the Canada Jam rock festival, put together by the promoters of the famous California Jams in 1974 and '78, was held in Mosport, Ontario, northeast of Toronto. The 110,000 fans who attended caused massive traffic tieups on roads leading to the site. Organizers were forced to helicopter in such headliners as the Commodores, Dave Mason, Kansas, the Village People, the Ozark Mountain Daredevils and Triumph. The festival was supposed to end at midnight but the music continued until 4 am.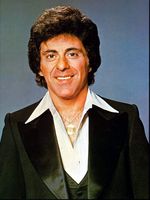 Also in 1978, Frankie Valli went to No.1 on the Billboard pop singles chart with the Barry Gibb song 'Grease'. It went on to sell over 2 million in North America.
In 1980, announcer/narrator Knox Manning died at the age of 76. His most notable bigtime radio assignment was as commercial spokesman (for Bromo Quinine) on the 1939-46 run of The Adventures of Sherlock Holmes. But his main income came from narration assignments on almost 100 films in the 30's 40's and 50's. After a career-threatening throat operation he ended up as news anchor for KDAY Radio, Santa Monica until retirement in 1961.
Also in 1980, the No. 1 Billboard Pop Hit was "Sailing"  by Christopher Cross. The single won Grammy Awards as record and song of the year. Cross also won  Grammys for best new artist, best arrangement accompanying vocalist and best album.
In 1981, Ottawa City Council designated 'Paul Anka Day' to celebrate his 25th anniversary in show-business. The council also named a city street 'Paul Anka Drive' in his honour. The Canadian singer songwriter had written over 900 songs including the classic 'My Way'.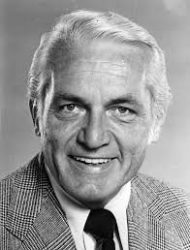 In 1986, actor Ted Knight, forever memorable as the bufoonish anchorman Ted Baxter on the 70's CBS sitcom Mary Tyler Moore, lost his battle with colon and bladder cancer at age 62.
In 1987, Sonny Bono announced he was a candidate for mayor of Palm Springs, California.  He won, and served four years, before successfully running for Congress.
In 1990, Randy Newman won an Emmy for composing music for "Cop Rock."
In 1991, Mariah Carey released the single "Emotions", the title track from her new album.
In 1993, a double sided acetate of the Beatles playing "Kansas City" and "Some Other Guy" in 1962 at the Cavern Club in Liverpool sold for approximately $32,000 at Christie's auction house in London, a world record price for a recording.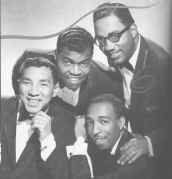 In 1995, Ronnie White of the Miracles died of leukemia at age 57. White wrote the Temptations' hit "My Girl" with Smokey Robinson. The Miracles racked up 29 top 40 songs including "Love Machine" between 1960 and 1977 and gave the Motown label its first million-seller in 1961 with "Shop Around."
Also in 1995, recording artist Seal (Seal Henry Olusegun Olumide Samuel) hit #1 with the single, Kiss from a Rose, from the film Batman Forever.  It remained at the tippy top of U.S. tune tabulations for just the one week.
In 1996, "Airwolf" star Jan-Michael Vincent was in a traffic accident in southern California that left him temporarily paralyzed.
In 1997, Chad Smith of the Red Hot Chili Peppers was admitted to hospital after crashing on his motorbike while driving down Sunset Boulevard in Los Angeles.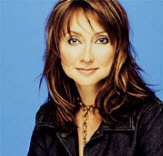 In 2000, Pam Tillis joined the Grand Ole Opry. The former Country Music Association female vocalist of the year was inducted by Marty Stuart during the TNN-televised portion of the show.
In 2001, Madonna filmed live footage during a concert at The Palace of Auburn Hills near Detroit. A DVD was released three months later as "Madonna – Drowned World Tour 2001."
Also in 2001, Maxwell started a two-week run at No.1 on the Billboard album chart with 'Now'.
In 2002, Peter Noone sued former Herman's Hermits drummer Barry Whitwam to try to prevent him from touring under the Hermits name with new personnel. He was unsuccessful.
In 2003, Jimi Hendrix was acclaimed the greatest guitarist in rock history by Rolling Stone magazine. Eric Clapton, Jimmy Page, Keith Richards, Chuck Berry, Stevie Ray Vaughan and Ry Cooder were also selected for the magazine's Top 10.
In 2004, singer Laura Branigan died of a brain aneurysm, aged just 52. She had had a 1982 No.2 single with 'Gloria' and a 1984 No.4 with 'Self Control'. She had also played Janis Joplin in the musical 'Love, Janis.'
In 2005, a plaque was unveiled by fellow Quarrymen John Duff Lowe and Colin Hanton at the site where the band that would become The Beatles made their first recordings. John Lennon, Paul McCartney and George Harrison recorded a version of Buddy Holly's "That'll Be The Day" and a Lennon-Harrison song, "In Spite Of All The Danger" as the Quarrymen at the Percy Philips studio in Liverpool in 1958.

Also in 2005, a post office near the Los Angeles studio where Ray Charles recorded much of his music was renamed after the R&B legend. Charles died in June 2004 at the age of 74, suffering from acute liver disease.
In 2007, police who raided the US home of rap star DMX, found 12 neglected pit bull terrier dogs and a number of guns. The bodies of three more dogs had been buried.
Also in 2007, High School Musical 2 soundtrack album was at No.1 on the Billboard chart. The Disney album stayed at No.1 for 4 weeks. The premiere of the musical brought in a total of 17.2 million viewers in the United States, almost 10 million more than its predecessor, making it the highest rated basic cable broadcast in U.S. history.
In 2008, Pink Floyd was presented with Sweden's Polar Music Prize for their contributions to music at a ceremony in Stockholm. Founding bandmembers Roger Waters and Nick Mason accepted a $157,000 cheque, which was presented by Sweden's King Carl XVI Gustaf.
In 2009, novelist/reporter and TV gadfly Dominick Dunne died of cancer at age 83. He became a TV regular during the O.J. Simpson murder trial.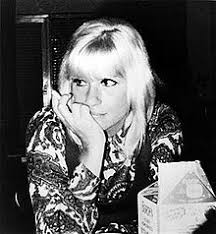 Also in 2009, songwriter Ellie Greenwich (Be My Baby, Da Doo Ron Ron, Then He Kissed Me, Leader Of The Pack, Do Wah Diddy Diddy, Chapel Of Love, River Deep Mountain High) suffered a fatal heart attack while in the hospital being treated for pneumonia. She was aged 68.
In 2010, "A Day In The Life" was announced as #1 on Rolling Stone's list of the Top 10 Beatles songs. "I Want To Hold Your Hand" was #2 while "Strawberry Fields Forever" sat at #3. George Harrison had two songs on the survey, "While My Guitar Gently Weeps" (#10) and "Something" (#6). Paul McCartney was represented by "Let It Be" (#8 ), "Hey Jude" (#7) and "Yesterday" (#4). John Lennon scored with "Come Together" (#9) and "In My Life" (#5).
In 2012, 'Parade' magazine asked Republican presidential candidate Mitt Romney which music acts he'd have perform at the White House. Romney mentioned Aerosmith, The Killers and the Beach Boys, along with The Eagles, Alabama, Garth Brooks, Kenny Chesney and Toby Keith.
In 2014, 
  Jennifer Anniston, Sandra Bullock, Dave Grohl (Foo Fighters), Avril Lavigne, Selena Gomez, Miley Cyrus, Gwen Stefani (No Doubt), Alanis Morissette and Sammy Hagar (Van Halen) were on hand as Chelsea Handler wrapped up her E! cable network talk show 'Chelsea Lately.'
In 2015, two television journalists with Roanoke's WDBJ-TV, reporter Alison Parker and photographer Adam Ward, were shot and killed by a disgruntled former coworker while conducting a live report in Moneta, Virginia.
In 2016, Coldplay's A Head Full Of Dreams Tour topped the Billboard Boxscore. They played 30 shows before 1.7 million fans. Iron Maiden's Book Of Souls Tour was #2.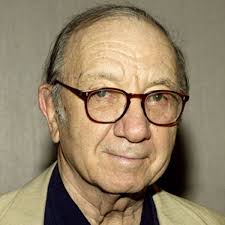 In 2018, a giant of Broadway, comedy writer Neil Simon, who also impacted TV with hits like Your Show of Shows, Caesar's Hour, The Odd Couple 1 & 2, The Garry Moore Show and The Phil Silvers Show, died at age 91.
Today's birthdays
Singer Vic Dana is 79.
Singer Valerie Simpson of Ashford and Simpson is 76.
Singer Bob Cowsill of The Cowsills is 72.
Actress Annette Badland (EastEnders, Midsomer Murders) is 71.
CBS News' "60 Minutes" correspondent Bill Whitaker is 70.
Actor Brett Cullen (Person of Interest, Devious Maids, Make It or Break It, Falcon Crest, Young Riders) is 65.
Actress Wanda De Jesus (Another World, CSI Miami, Live Shot) is 63.
Bandleader/saxaphonist Branford Marsalis is 61.
Guitarist Jimmy Olander of Diamond Rio is 60.
Actor/singer Chris Burke (Life Goes On) is 56.
Singer Shirley Manson of Garbage is 55.
Guitarist Dan Vickrey of Counting Crows is 55.
Drummer Adrian Young of No Doubt is 52.
Actor Kirk Fox (Who Gets the Last Laugh?, Parks & Rec, How to Rock) is 52.
No Doubt drummer Adrian Young is 52.
Saskatoon-born former CNN/HLN host/anchor (formerly of CHEK Victoria) Michaela Pereira (CNN's New Day, HLN's MichaeLA, KTLA Morning News, CHEK News) is 52.
Actress Melissa McCarthy (Mike & Molly, Sat. Night Live, Samantha Who?, Gilmore Girls) is 51.
Actor Carl Marino (Homicide Hunter: Lt. Joe Kenda, I [Almost] Got Away With It, Trauma) is 51.
Latin pop singer Thalia is 50.
Actor Gunner Wright (Life on Top) is 48.
Actress Meredith Eaton (2017's MacGyver, Boston Legal, Family Law) is 47.
Former CNN/Fox News TV anchor Kiran Chetry is 47.
Singer Tyler Connolly of Theory Of A Deadman is 46.
Actor Mike Colter (Luke Cage, Jessica Jones, The Good Wife, Ringer) is 45.
Actor Patrick Kennedy (Boardwalk Empire, Bleak House) is 44.
Actress Amanda Schull (Suits, Pretty Little Liars) is 43.
Actor Erik Valdez (General Hospital, Graceland) is 42.
Actor Macaulay Culkin (Kings, Wish Kid) is 41.
Actor Chris Pine (Wet Hot American Summer: 1st Day of Camp) is 41.
Actor Joel Rush (If Loving You is Wrong) is 40.
Actress Chrstina Cindrich (Private Islands) is 40.
Actress Nazneen Contractor (Covert Affairs, 24, The Border) is 39.
Singer Brian Kelley of Florida Georgia Line is 36.
Rhythm-&-Blues singer Cassie Ventura is 35.
Actress Jenny Gulley (Moonflowers) is 35.
Actress Riley Steele (Life on Top) is 34.
Actress Danielle Savre (Station 19, Too Close to Home, T@gged, Hollywood Heights, Heroes) is 33.
Actor Evan Ross (Wicked City, 90210) is 33.
Actor Dylan O'Brien (Teen Wolf) is 30.
Actress  Hayley Hasselhoff (Huge) is 29.
Actress Keke Palmer (Scream Queens, True Jackson VP) is 28.
Actress Claire Blackwelder (Power Rangers Dino Charge) is 28.
Actress Gracie Dzienny (Supah Ninjas, Chasing Life) is 25.
Actor River Shields (Beyond the Blackboard) is 24.
Chart Toppers – Aug. 26
1947
Peg o' My Heart – The Harmonicats
I Wonder, I Wonder, I Wonder – Eddy Howard
Across the Alley from the Alamo – The Mills Brothers
Smoke! Smoke! Smoke! (That Cigarette) – Tex Williams
1956
My Prayer – The Platters
Hound Dog /Don't Be Cruel – Elvis Presley
Allegheny Moon – Patti Page
I Walk the Line – Johnny Cash
1965
I Got You Babe – Sonny & Cher
Save Your Heart for Me – Gary Lewis & The Playboys
Help! – The Beatles
Yes, Mr. Peters – Roy Drusky & Priscilla Mitchell
1974
(You're) Having My Baby – Paul Anka
Tell Me Something Good – Rufus
I Shot the Sheriff – Eric Clapton
Old Man from the Mountain – Merle Haggard
1983
Every Breath You Take – The Police
Sweet Dreams (Are Made of This) – Eurythmics
She Works Hard for the Money – Donna Summer
Love Song – The Oak Ridge Boys
1992
End of the Road – Boyz II Men
Baby-Baby-Baby – TLC
November Rain – Guns N' Roses
Boot Scootin' Boogie – Brooks & Dunn
2001
Someone To Call My Lover – Janet Jackson
Let Me Blow Ya Mind – Eve featuring Gwen Stefani
Hit 'Em Up Style (Oops!) – Blu Cantrell
Austin – Blake Shelton
2010
Love The Way You Lie – Eminem featuring Rihanna
Dynamite – Taio Cruz
Mine – Taylor Swift
Free – Zac Brown Band
Today in Broadcast History compiled by Ron Robinson