Courtesy of

August 14, 2021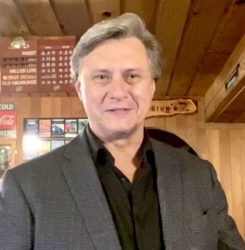 The man known as Shotgun McGwire hasn't been behind a microphone since 1997 but is returning to Westman on Q Country 91.5 as an Announcer in the afternoons on Q Country.
With over 25 years' experience in the radio industry Shotgun is excited to return to Brandon and Western Manitoba airwaves.  The former Marketing Director at Sand Hills Casino felt it was time to come back to what he loves.  "You gotta do what you know and love…I am excited about doing classic country music" said Shotgun.
Listeners that know you from the past at KX96 etc. can they expect something new from you?  "the old saying everything old is new again"
Ray Walker, as thousands of local people know from his days, on KX96 is very excited to return to the airwaves.  "I want to help the station bring it back to the glory it once was…It was a leader in broadcast landscape in Brandon"  Walker will be an Announcer on Q Country (evenings/weekends).
Station GM Brian "BK" Wortley told BDNMB.CA told that our on air staff quality has improved dramatically with bringing Shotgun and Ray back on the air.   We know our listeners will be excited to hear this news.