Obituary for Cam Cathcart
Vancouver Sun/The Province
June 19, 2021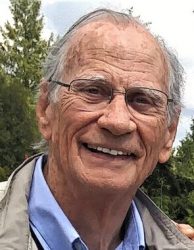 Cameron Cathcart passed away suddenly at his home on June 5, 2021 at age 83. He is mourned by his wife Christine, his children Shaun (Scott) and Erin and his grandchildren Daniel, Sam, Claire and Sophie. Cam was predeceased by his loving mother, Myra, and his wonderful sister and brother-in-law, Joan and Don Gallup.

Cam treasured family. He took so much happiness and pride in the lives and adventures of his children and grandchildren. He nurtured individual connections with his children and grandchildren and always offered them his love and support. Daniel, Sam, Claire and Sophie will miss Grampa's unique, personal and meaningful perspective; they always felt heard and loved, never judged.

Cam and Chris were a wonderful team. They met in Grande Prairie at the beginning of their careers and were married for over 60 years. Cam recently said that he hit the jackpot when he met Chris. Together they made homes in Lethbridge, North Vancouver, St. John's, Ottawa, Chevy Chase, Maryland and Toronto before returning to Vancouver. They also enjoyed many years of cottage life in the Cariboo and on DeCourcy Island. Cam and Chris loved hosting guests and were famous for their exhaustive, and exhausting, guided tours. In Saskatoon and Alberta, Chris's surviving siblings Greta (Jim), Ollie (Nancy), Carl (Diane) and many nieces, nephews, great-nieces and great-nephews remember Cam fondly.

Cam was born in Breakeyville, Quebec in 1938. His father, Leonard, died in 1945 and the small family eventually moved with Joan and Don to West Vancouver in 1952. Cam tried many jobs along the coast before he found his passion for journalism. He worked at several radio and TV stations in the west before commencing a 30 year career with the CBC. From local reporter to foreign correspondent, from radio and tv announcer to executive producer to TV host, Cam did it all!

Cam was a storyteller with a prodigious memory and had a true respect for history. Cam supported Canada's veterans, volunteered his time and expertise to many restoration projects in Vancouver and was MC of the Remembrance Day ceremonies at Victory Square for the last 18 years.

Cam's sudden death has been difficult, but in the end it's simple: he loved all of us and we loved him.
Published on June 19, 2021