ON THIS DAY in 1892,
actor Basil Rathbone was born in Johannesburg South Africa.

Starting with bit parts on the London stage in 1911, he progressed to Broadway & Hollywood, but not until 1939 did he find his signature role as Sherlock Holmes in 12 films & hundreds of radio plays. From 1949 until his death he was active in scores of TV guest roles. He died after a heart attack July 21 1967 at age 75.
In 1910, actress Mary Wickes was born Mary Wickenhauser in St. Louis. She played wisecracking second banana to a queue of comedy's best known legends on TV screens of the 1950s & 60s, notably Lucille Ball, Danny Thomas, Red Skelton, Bob Hope, Jack Benny, Jimmy Durante, Peter Lind Hayes and Gertrude Berg.  She also stole scenes as Miss Cathcart on the Dennis the Menace series. She succumbed to cancer Oct. 22 1995 at age 85.
In 1913, announcer/host/producer Ralph Edwards (below) was born in Merino Colorado.  He is best remembered as radio's host for the audience particpation show Truth or Consequences, which he created in 1940, and the TV host of This Is Your Life. In his early years in radio he was announcer on as many as 45 shows a week.  In his later years he was one of TV's most prolific producers. He died of congestive heart failure Nov 16, 2005 at age 92.

Also in 1913, physical fitness expert Lloyd Percival was born at Toronto. In 1941 track coach Percival started his Sports College, a correspondence school of sport on CBC radio, and registered almost 800,000 students. The weekly broadcasts were heard around Foster Hewitt's Saturday night hockey broadcasts.  In 1963 he established the Fitness Institute in Don Mills, Ont., and set up conditioning programs for many of Canada's finest athletes.  He died July 23 1974 at age 61.
In 1917, trombonist/bandleader Si (Simon) Zentner was born in New York City. In the 1940's he played with Les Brown, Harry James & Jimmy Dorsey.  In the 50's he played in LA studio sessions & on MGM sound stages.  In 1959, having landed a Liberty Recording contract, he formed his own big band, and toured extensively, at one point claiming 178 consecutive one-nighters.  His big hit was 1961's Up a Lazy River. He died of leukemia Jan 31, 2000 at age 83.

In 1926, actor/comedian Paul Lynde was born in Mt. Vernon, Ohio.  Best remembered as the hilarious center square on Hollywood Squares, his other TV credits include The Perry Como Show, Bewitched, The Dean Martin Show, Donny & Marie, & The Paul Lynde Show.  Cardiac arrest due to extreme substance abuse led to his death Jan 10, 1982 at age 55.
In 1939, Lionel Hampton and his band recorded Memories of You for Victor Records.
In 1944, the wire recorder was patented by Marvin Camras. Portable wire recorders were used by radio stations before the development of the much more user-friendly magnetic tape recorders.
In 1946, Edward Bowes (below), the host of radio's hit talent show "Major Bowes Original Amateur Hour" which debuted in 1934, died at age 71.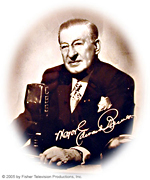 In 1962, at Western Recorders in Hollywood, Ricky Nelson taped "It's Up To You," which Imperial Records would not release until December.
In 1964, during their first tour of North America the Rolling Stones made an appearance on ABC-TV's "Hollywood Palace," performing "I Just Wanna Make Love To You," and "Not Fade Away." The show that week was hosted by Dean Martin.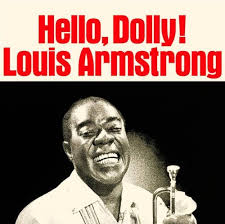 Also in 1964, Louis Armstrong started a six week run at No.1 on the Billboard album chart with 'Hello Dolly!'
In 1965, CBS- TV's Ed Sullivan Show featured two more "offshore" musical acts, Tom Jones singing "It's Not Unusual" and The Seekers performing "A World Of Our Own." Dee Dee Sharp and Steve Rossi also sang, while Sid Caesar, London Lee, and the team of Allen and Rossi were there for laughs.
In 1967, Motown released The Temptations' next Top 10 hit, "You're My Everything."
In 1970, the Beatles' "Long and Winding Road" reached number one on the Billboard Hot 100 chart. The song was never released as a single in Britain, and Paul McCartney disowned the record after producer Phil Spector added a background chorus of women's voices. Nonetheless, it was reported to have sold 1.2-million copies in its first two days of release. The album 'Let It Be' started a four-week run at No.1 the Billboard album chart on the same day.

Also in 1970, "In The Summertime" by Mungo Jerry hit #1 in the UK.
Still in 1970, their first single, "Make It with You," by David Gates and Bread, was released. It turned out to be the group's only number-one hit.
Again in 1970, Grand Funk Railroad headlined the show at the Ocean Ice Palace in New Jersey. Tickets cost just $5. The opening band was Steel Mill, featuring a 20-year old Bruce Springsteen.
In 1971, singer Francis Albert Sinatra made an attempt to retire from show business following a performance this night at the Music Center in Los Angeles.. "Ol' Blue Eyes" got a bit restless in retirement, however, and was back in 'Sinatra – The Main Event' at Madison Square Garden in November 1973.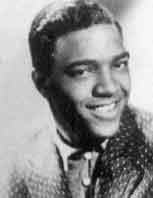 In 1972, Clyde McPhatter, former lead singer with the Drifters and Billy Ward and the Dominoes, died in New York at age 39 of complications from heart, liver and kidney disease. McPhatter joined the Dominoes in 1950 at the age of 17, and was featured on their hit recordings "Sixty-Minute Man" and "Have Mercy Baby." In 1953, McPhatter formed the Drifters, but was with them for only six records — all of which made the R-and-B Top 10 — before being drafted into the U-S Army. McPhatter had a successful solo career after leaving the service, scoring million-sellers with 1956's "Treasure of Love" and 1958's "A Lover's Question."
Also on this date in 1972, the Rolling Stones tour rolled into San Diego, California. Sixty people were arrested and 15 injured in rioting at the concert.
In 1973, Dolly Parton was in Nashville, recording her latest composition and next #1 Country hit, "I Will Always Love You."


The number is said to have been inspired by her recent split with her mentor & TV partner, Porter Waggoner.
In 1975, John Lennon made his last TV appearance on an ABC-TV salute to UK entertainment mogul Sir Lew Grade that had been taped in April. He sang "Imagine," along wth "Slipping and Sliding" and "Stand By Me,"' then retired to become a househusband and raise his son Sean.
Also in 1975, Jefferson Starship released the L-P "Red Octopus" which would soon become their best-selling album.
In 1977, the CBC signed on Brandon's CBWV-FM as a repeater of CBW-AM Winnipeg, thus allowing Craig Broadcasting's CKX AM1150 Brandon to disaffiliate from the national service. 
In 1979, child actress Darla Hood, feaured in the Our Gang comedies (1935-41) which in the '50's became TV staples under the title "The Little Rascals," contracted acute hepatitis while undergoing minor surgery & died at age 47.
In 1980, Billy Joel's "Glass Houses" hit #1 on the pop charts.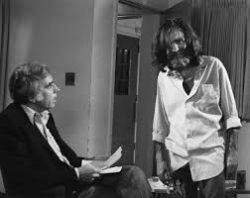 In 1981, TV host Tom Snyder interviewed serial killer Charles Manson on what has since become the most famous edition of his late-late night show "Tomorrow" on NBC.
In 1984, the Jacksons' "State of Shock," with Mick Jagger doing guest vocals, was released. The million-seller reached No. 3 on Billboard's Hot 100.
In 1986, bandleader and clarinetist Benny Goodman, known as the "King of Swing," suffered a fatal heart attack in New York at age 77. Of the big bands, none was bigger than Goodman's in the '30s and '40s. With the help of critic John Hammond, Goodman formed his first band in 1934. The following year, they created a sensation at the Palomar Ballroom in Los Angeles and began the swing era. In 1938, they were the first jazz band to play Carnegie Hall in New York. The Goodman orchestra's hits included his theme, "Let's Dance," "Stompin' at the Savoy" and "Sing, Sing, Sing."

In 1987, Garrison Keilor, host and storyteller on the award-winning public radio series, A Prairie Home Companion, left the program and its delightful shores of Lake Wobegon for Denmark where he intended to spend his time writing (he returned to the U.S. two years later). At the time he had been with the program for 13 years.
Also in 1987, one of the finest American actresses Geraldine Page, suffered a fatal heart attack at age 62.  Although best known for her stage mastery, she won one Oscar & two Emmies, the latter for a pair of Truman Capote televised dramas in the 60's, A Christmas Memory & The Thanksgiving Visitor.
Still in 1987, the song "Always" by Atlantic Starr topped the charts .. but only for the one week.
In 1988, the biggest charity rock concert since Live Aid three years earlier took place at London's Wembley Stadium, in protest against apartheid in South Africa. Among the performers were Sting, Stevie Wonder, Bryan Adams, George Michael, Whitney Houston and Dire Straits. Half the money raised was for anti-apartheid activities in Britain, while the rest went to children's charities in South Africa.
Also in 1988, George Harrison released one of his lesser singles "This is Love," which barely made it into Billboard's Top 20.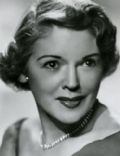 In 1989, actress 
Fran Allison
, who was Aunt Fanny on ABC Radio's Breakfast Club, and the human member of the kids puppet TV show, 
Kukla, Fran and Ollie
, died from myelodysplasia (sometimes called pre-leukemia) at age 81.
.
Also in 1989, rocker Jerry Lee Lewis was on hand to help unveil his star on the Hollywood Walk of Fame. In 1992, law enforcement officials in Texas called for a ban on Ice-T's "Cop Killer" album. Also in 1992, Billy Ray Cyrus started a 17-week run at No.1 on the US album chart with 'Some Gave All'.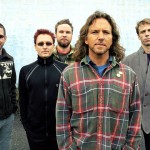 In 1995, Seattle rockers Pearl Jam gave up their 18-month fight against Ticketmaster. The band said it was impossible to run a tour without the agency. Pearl Jam had claimed Ticketmaster was a monopoly with unreasonable service charges. The band complained to the U-S Justice Department and testified before Congress.
Also in 1995, country singer Ty Herndon was arrested for allegedly exposing himself to an undercover policeman in a Fort Worth, Texas park. Herndon's arrest came about 90 minutes before he was to perform at a convention of Texas police chiefs. A charge of indecent exposure was dropped, but Herndon pleaded guilty to possession of methamphetamines and received five years' probation.
Still in 1995, Alanis Morissette released the album "Jagged Little Pill."  It went on to sell over 30 million copies world-wide, and Morissette became the first Canadian female to score a US No.1 album.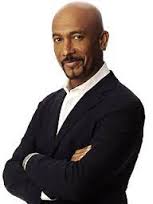 In 1996, two former employees of talk show host 
Montel Williams
 sued him, claiming he sexually harassed them. Four other women eventually joined the suit.
.
On this date in 1998, 11 people were hurt when lightning struck the Tibetan Freedom Concert at RFK Stadium in Washington, D-C. About 50-thousand people were in the stadium when the lightning hit, just after a set by Herbie Hancock. The rest of the evening's show was cancelled, but the second day went ahead as scheduled.
In 2000, 37-year-old Susan E Santodonato collapsed and died of a heart attack outside New York radio station Star 105.7 after a Britney Spears impersonator left the building. A crowd had gathered after a DJ claimed Britney Spears was in the studio.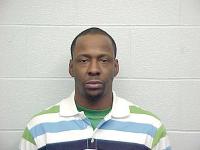 Also in 2000, Bobby Brown admitted he was an alcoholic, saying, 'I have a disease, I am an addict, I am an alcoholic'. The singer made the admission while appearing in a Florida court.
In 2001, Los Angeles authorities received hundreds of frantic calls over false rumours of a fatal car crash involving singers Britney Spears and Justin Timberlake.
In 2002, at the Sheraton Hotel in New York City, the Songwriters Hall of Fame inducted new members Michael Jackson, Barry Manilow, Sting, plus the team of Nickolas Ashford &Valerie Simpson.
In 2003, the elder statesman of music were rewarded in this year's Queen's Birthday Honours list for their services to music. Sting was awarded a CBE, Gerry Marsden an MBE, Errol Brown an MBE and Pink Floyd's David Gilmour a CBE.
Also in 2003, Elton John implored us all to practice safe sex as he opened a memorial garden at a British clinic that treated AIDS and HIV.
 In 2004, announcer Danny Dark, the voice of NBC Television for a number of years, the announcer who said "Sorry Charlie" in the StarKist Tuna commercials, and the voice of Superman in the 'Super Friends' TV cartoons, died of a pulmonary hemorrhage at age 63.
In 2005, a jury in Los Angeles acquitted Michael Jackson of all ten counts of child molestation, bringing a dramatic end to a trial that put a harsh spotlight on the troubled life of one of the world's best-known entertainers.
In 2006, activist and ex-model Heather Mills, the estranged wife of Paul McCartney, confirmed her intention to divorce the former Beatle.
Also in 2006, three of the original Beach Boys, Brian Wilson, Mike Love and Al Jardine, plus Bruce Johnston & David Marks, gathered in Hollywood for a celebration of the 40th anniversary of "Pet Sounds," as well as the double-platinum certification of their greatest hits compilation, "Sounds of Summer: The Very Best of The Beach Boys."
Still in 2006, in Orlando, Florida, Hank Williams Jr. taped the video that would open ESPN's Monday Night Football games. Among those appearing in the clip were Aerosmith's Joe Perry, Cheap Trick's Rick Nielsen and the E Street Band's Steven Van Zandt and Clarence Clemons.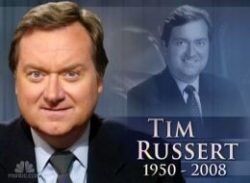 In 2008, TV newsman Tim Russert, the NBC Washington Bureau Chief and respected host of 'Meet the Press,' suffered a massive heart attack and died at age 58.
Also in 2008, a Chicago jury acquitted R. Kelly of all 14 charges of child pornography he was facing. They found the singer not guilty of making an explicit sex video that prosecutors claimed showed him having sex with a girl as young as 13. Both Kelly and the alleged victim, now 23, denied they were the people shown on the tape. The defence argued that the man on the videotape did not have a large mole on his back as does Mr. Kelly, and that the tape could have been doctored.
In 2010, Country Music Hall of Famer Jimmy Dean died of natural causes at age 81. He was entombed on his estate in Virginia, in a 9-foot-tall piano-shaped mausoleum overlooking the James River.  Dean's epitaph reads "Here Lies One Hell of a Man," a reference to his 1961 million-selling song hit "Big Bad John."
In 2013,
  the Songwriters Hall of Fame inducted Aerosmith's Steven Tyler and Joe Perry at their 44th Annual Induction and Awards Dinner in New York. Tony Hatch, Mick Jones & Lou Gramm (of Foreigner), Holly Knight and JD Souther were also inducted.
In 2014, Smashing Pumpkins frontman Billy Corgan announced that drummer Mike Byrne had left the group. "Mmm. Let's just say that Mike, like Elvis, has left the building," stated Corgan. Byrne, who was heard on '09's "Teargarden By Kaleidyscope" and '12's "Oceania," had been benched by Corgan in favor of Motley Crue's Tommy Lee for the album "Monuments To An Elegy."
In 2016, Grammy-winning songwriter, producer and guitarist Lincoln Wayne "Chips" Moman, who wrote and produced hits for Elvis Presley, Willie Nelson, Waylon Jennings, B.J. Thomas, Dusty Springfield and many others, died of complications from emphysema, one day after his 79th birthday.
Also in 2016,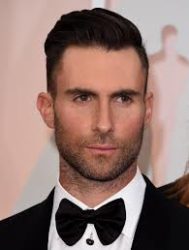 Adam Levine (Maroon 5) offered to pay for the funeral of Christina Grimmie, a singer on NBC-TV's The Voice, who was shot and killed following a concert in Orlando. Grimmie was a member of Levine's Season Six team on The Voice.
In 2017, Anita Pallenberg, the actress, model and former partner of Rolling Stones guitarists Brian Jones and Keith Richards, died at age 75 due to complications from Hepatitis C.
In 2018, Comcast made an unsolicited offer to buy most of 21st Century Fox for roughly US$65 billion, topping a bid from the Disney Corporation.  But when the latter upped its offer to US$71 billion Comcast dropped out a month later, setting its sights instead on UK's Sky Television.
Also in 2018,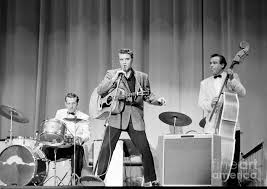 Elvis Presley's drummer from 1954 to '68, DJ Fontana, died at age 87 while recovering from a broken hip. He is heard on the iconic hit recordings "Blue Suede Shoes," "Jailhouse Rock," "Heartbreak Hotel," "Hound Dog," and more than 450 others.
In 2019, the Toronto Raptors completed an incredible run to claim their first NBA championship with a 114-110 win over Golden State in Game 6. And Canadians coast to coast were glued to their TV sets.
Today's Birthdays:
Actor Bob McGrath (Sesame Street) is 89.
Magician Siegfried Fischbacher of Siegfried and Roy is 82.
Actor Malcolm McDowell (Mozart in the Jungle, Franklin & Bash, Heroes, Entourage) is 78.
Singer Dennis Locorriere of Dr. Hook is 72.
Actor Simon Callow (Outlander) is 72.
Actor Richard Thomas (The Americans, The Waltons, Just Cause) is 70.
Actor Stellan Skarsgard (Chernobyl) is 70.
Actor Jonathan Hogan (One Life to Live, As the World Turns, The Doctors) is 70.
Actor/comedian Tim Allen (Home Improvement, Last Man Standing) is 68.
ESPN sportscaster Hannah Storm (formerly on CBS-TV's Early Show) is 59.
Actress Ally Sheedy (Citizen Jane, The Veteran, Life on the Line) is 59.
Bassist Paul deLisle of Smash Mouth is 58.
Writer/producer/director Greg Daniels (The Office, Parks and Recreation, King of the Hill) is 58.
TV producer/actress Laura  Kightlinger (Will & Grace, 2 Broke Girls, The Minor Acomplishments of Jackie Woodman, SNL) is 57.
Actress Lesli Kay (General Hospital, As The World Turns, The Bold and the Beautiful) is 56.
Actress Lisa Vidal (Being Mary Jane, Rosewood, The Division) is 56.
Singer David Gray is 53.
Singer Deniece Pearson of Five Star is 53.
Actress/writer/producer Laura Kightlinger (2 Broke Girls, Will & Grace) is 52.
Actor/singer Jamie Walters (Beverly Hills 90210, The Heights) is 52.
Musician Soren Rasted (Aqua) is 52.
Singer Rivers Cuomo of Weezer is 51.
Actor David Mendenhall (General Hospital) is 50.
Actress Shannon Fill (Star Trek: The Next Generation, Deceived by Trust: A Moment of Truth Movie) is 50.
Cape Breton fiddler Natalie MacMaster is 49.
Actress Missy Crider (The Others) is 47.
Actor Steve-O (Dr. Steve-O, Totally Busted) is 47.
Playboy Playmate of the Year-2001/actress Brande Roderick (Baywatch) is 47.
Model/commercial spokesperson Jennifer Nicole Lee (Ab Circle Pro)  is 46.
Writer/producer Jeff Davis (Criminal Minds, Teen Wolf) is 46.
Vancouver-born actor Tygh Runyan (Versailles, SGU: Stargate Universe, Kingdom Hospital) is 45. 
Actres Kym Marsh (Coronation Street) is 45.
Actor Ethan Embry (Grace & Frankie, Sneaky Pete, Once Upon a Time, Brotherhood) is 43.
Actress Esther Anderson (Siberia, Home & Away) is 42.
Actor Chris Evans (Opposite Sex) is 40.
Actress Sarah Schaub (Promised Land, Touched by an Angel, The Stand) is 38.
Actor Phillip Van Dyke (Hey Arnold, Noah Knows Best, The Home Court) is 37.
Singer Raz B (B2K) is 36.
Actresses Ashley and Mary-Kate Olsen (Full House, So Little Time, Two of a Kind) are 35.
Actress Kat Dennings (2 Broke Girls, ER, Raising Dad) is 35.
Actor Reece Noi (Game of Thrones) is 33.
Actor Cody Walker (In the Rough) is 33.
Actress Daisy Waterstone (The Durrells in Corfu) is 27.
Actress Kodi Smit-McPhee (Monarch Cove) is 25.
Actress DeVore Ledridge (Bizaardvark) is 20.
Chart Toppers – June 13
1945
Sentimental Journey – The Les Brown Orchestra (vocal: Doris Day)
Dream – The Pied Pipers
Laura – The Woody Herman Orchestra
At Mail Call Today – Gene Autry
1954
Little Things Mean a Lot – Kitty Kallen
Three Coins in the Fountain – The Four Aces
If You Love Me (Really Love Me) – Kay Starr
(Oh Baby Mine) I Get So Lonely – Johnnie & Jack
1963
It's My Party – Lesley Gore
Sukiyaki – Kyu Sakamoto
Da Doo Ron Ron – The Crystals
Act Naturally – Buck Owens
1972
The Candy Man – Sammy Davis, Jr.
Song Sung Blue – Neil Diamond
Nice to Be with You – Gallery
The Happiest Girl in the Whole U.S.A. – Donna Fargo
1981
Bette Davis Eyes – Kim Carnes
Stars on 45 medley – Stars on 45
Sukiyaki – A Taste of Honey
What are We Doin' in Love – Dottie West (with Kenny Rogers)
1990
Hold On – Wilson Phillips
Poison – Bell Biv DeVoe
It Must Have Been Love – Roxette
Love Without End, Amen – George Strait
1999
Livin' La Vida Loca – Ricky Martin
I Want It That Way – Backstreet Boys
I Drive Myself Crazy – 'N Sync
Please Remember Me – Tim McGraw
2008
Take a Bow – Rihanna
Bleeding Love – Leona Lewis
Love in This Club – Usher featuring Young Jeezy
I'm Still a Guy – Brad Paisley
Today in Broadcast History compiled by Ron Robinson