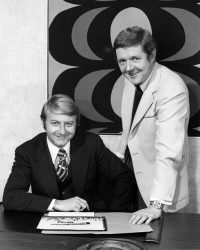 from Red Robinson's facebook page
May 3, 2021
Longtime friend and former ad agency partner Steve Vrlak passed today. My heartfelt condolences to his wife Valerie, his family and friends.
Steve and I met over 50 years ago when we both worked at CJOR. One of my favourite stories about Steve became an episode of the TV series Mad Men. Author Robin Brunet covers the details in
.
.
.
"On the AMC television series Mad Men, which debuted in 2007 and was set in the early 1960s, one episode depicts the entire staff of an advertising agency submitting their resignations in order to join a rogue colleague who has decided overnight to establish a rival agency in the same city.
.
After the episode aired, Robinson's former advertising partner Steve Vrlak telephoned him. 'The writers took what we did forty years ago and made it their own!' he shouted. 'They even used the same headline the press gave us: 'Staff Fires Boss.''
.
Robinson suspected the Mad Men writers had researched old trade magazines for their ideas and come across an incident that had occurred back in 1974: in local advertising circles, it was famous as the Robinson-Vrlak coup. Far from being disgruntled, Robinson was impressed that a plot he and Vrlak had hatched over a quarter century ago in the relatively obscure Vancouver ad world would be fodder for creative inspiration in Hollywood several generations later.
.
A more bare-bones scenario could not be conjured with respect to the launch of Vrlak Robinson Advertising: the partners and their crew rented two rooms in Vancouver's old Doric Hotel on Howe Street and set up a base of operations. 'From there, Steve and I and our six-member staff moved into an old house,' says Robinson. 'Our total billings after the first year were about six hundred thousand dollars, which wound up being next to nothing after we paid the staff and the overhead. But nonetheless, we were in control of a new business, and growth was steady.'
.
Clients eventually included the likes of Finning, RCA and
Coca-Cola
.
By the time Robinson sold his agency shares in 1989, Vrlak Robinson Advertising Ltd. had merged with Hayhurst Communications to become Vrlak Robinson Hayhurst, and the company occupied the entire eighth floor of Harbour Centre in downtown Vancouver. It had earned a place among the top six agencies in Western Canada, maintained its own public relations division, generated thirty million dollars in annual billings and handled a vast array of clients."
The advertising business is built on superlatives, but nobody can deny Steve Vrlak was one in a million. RIP old friend!