ON THIS DAY in 1897
Emile Berliner took out a Canadian patent on his gramophone talking machine. Manufacturing facilities were set up in Montreal. Berliner had built a crude model of his machine 10 years earlier at his home lab in Washington, D-C, and he applied for a U-S patent on it on September 26th, 1887.
On this day in 1914,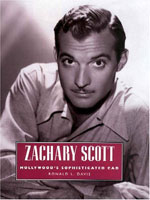 actor Zachary Scott was born in Austin Texas. He played both leading men & villains in film, and when TV arrived he was cast in several dozen guest star roles over a 15 year period. He died Oct 3, 1965 of a malignant brain tumor at age 51.
On this day in 1922, actor Steven Hill was born Solomon Krakovsky in Seattle. His two best-known roles are District Attorney Adam Schiff on the NBC television drama Law & Order, whom he portrayed for 10 seasons (1990–2000), and Dan Briggs, the original team leader of the Impossible Missions Force on the CBS-TV series Mission: Impossible, whom he portrayed in the initial season of the show (1966–67.) He died Aug. 23 2016 at age 94.
On this day in 1932, actor John Vernon was born in Zehner Saskatchewan. He first achieved Canada-wide celebrity as the star of the CBC coroner drama Wojek. He went on to a Hollywood career as actor/voice actor in TV series like Delta House, Matrix, Acapulco HEAT & Batman. He died after heart surgery Feb 1, 2005 a few weeks shy of his 73rd birthday.

On this day in 1940, Frances Langford recorded one of the classic songs of all time — and one that would become a Walt Disney trademark. "When You Wish Upon a Star" was recorded on Decca Records during a session in Los Angeles. One can still hear the theme in the opening credits of any Disney movie, video and TV program and those "I'm going to Disneyland/World!" commercials.
On this day in 1942, the Voice of America (VOA) radio service signed on, as a US propaganda tool during WWII. The shortwave transmitters (many located in Greenville North Carolina) continued to beam a variety of programming around the globe through the cold war, but service cuts began shortly thereafter and accelerated in the 21st century as the internet became more universal as a communication tool.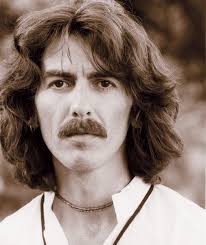 On this day in 1943, former Beatle George Harrison was born in Liverpool. The Rock & Roll Hall of Famer believed for most of his life his birthday was Feb 25 but a family birth record has his birth at near 11:50 p.m. Feb 24. He died Nov 29, 2001 at age 58, of lung cancer that had mestasticized to the brain.
On this day in 1944, Nicky Hopkins, one of the foremost studio keyboard players in rock music, was born in London. He got his start with Screamin' Lord Sutch's Savages and the Cyril Davies R-and-B All-Stars, two groups which included many soon-to-be-famous musicians. In 1964, Hopkins began working as a sessions player, recording with the Beatles, the Rolling Stones, the Who and other British bands. He died on September 6th, 1994, in Nashville of complications from abdominal and heart ailments. He was 50.
On this day in 1956, Cleveland Ohio, now the home of the Rock and Roll Hall of Fame, invoked a 1931 law barring people under 18 from dancing publicly without an adult guardian. It was a feckless & doomed attempt to slow the rock & roll revolution.
On this day in 1957, Buddy Holly recorded a new version of 'That'll Be The Day', the title being taken from a phrase used by John Wayne in the film 'The Searchers.'
That same day in 1957, Elvis Presley completed two days of taping at the Radio Recorders studio in Hollywood, including the single "Loving You," the title song of his second feature film, which he'd just finished filming and would be released that summer.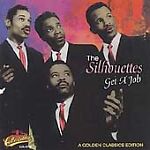 On this day in 1958, "Get a Job" by the Silhouettes topped the charts and stayed there for 2 weeks.
On this day in 1960, NBC-TV's Perry Como Show featured guests Kay Starr, Bert Lahr and The Mills Brothers. Perry sang "Smile," "So In Love," "When You Come to the End of the Day," and everybody joined him for "That's Entertainment."
On this day in 1963, The Rolling Stones got their first steady gig, performing on Sundays as the house band in the Crawdaddy Room at the Station Hotel in Richmond near London. They were paid what amounted to $67 a week.
Also this day in 1963, CBS-TV's Ed Sullivan Show originated at the Stardust in Las Vegas, and featured a 20-minute performance by Jimmy Durante and his vaudeville partners, Eddie Jackson and Sonny King. Also appearing were singer/actress Carol Lawrence, comedian Pat Buttram, and a plate spinner.



On this day in 1964, the Canadian music industry magazine RPM began publication in Toronto. RPM and its publisher, Walt Grealis, were major lobbyists for the Canadian content regulations imposed upon radio stations by the CRTC.   RPM also began the RPM Gold Leaf Awards in 1964 to honour Canadian talent. These awards later became known as the Junos, after then-CRTC chairman Pierre Juneau.
.
On this day in 1965, the Beach Boys recorded "Help Me Rhonda" which would soon become their second #1 single.
On this day in 1967, The Supremes began work on their next single, "The Happening," which would turn out to be their tenth #1 hit of the decade. The track was completed the next day.
On this day in 1969, the Jimi Hendrix Experience played its last concert in Britain at London's Royal Albert Hall. After the Experience broke up four months later, Hendrix formed Band of Gypsies.Also on this date in 1969, Johnny Cash recorded his second live prison performance, this one at San Quentin. It followed a concert the previous year at Folsom Prison. The L-P "Johnny Cash at San Quentin" contained the hit single "A Boy Named Sue." .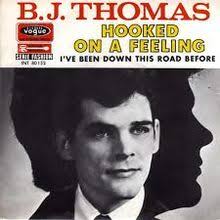 Still in 1969, the biggest B.J.Thomas hit single to date, "Hooked On a Feeling," was certified as a Gold Record.
On this day in 1970, actor Conrad Nagel died at age 72. A veteran of silent movies, his broadcasting credits include hosting both radio & early TV versions of The Silver Theatre, then on TV hosting Hollywood Preview & The Conrad Nagle Theatre. As well he guest starred on dozens of TV dramas including Studio One, Kraft TV Theatre, The Defenders & Route 66.
Also this day in 1970, Motown released the Jackson 5's second straight #1 pop single, "ABC."
On this day in 1973, "Killing Me Softly with His Song" by Roberta Flack topped the charts and stayed there for 5 weeks.
Also this day in 1973, The Byrds broke up for the first time after a performance at the Capitol Theatre in Passaic, New Jersey. Roger McGuinn was the sole original member remaining.
On this day in 1975, Led Zeppelin released the double LP "Physical Graffiti," their sixth studio album.

On this day in 1976, The Eagles' "Greatest Hits" L-P became the first album in the U-S to be certified platinum, with at least one million copies sold.
On this day in 1978, "The Second Barry Manilow Special" aired on ABC-TV with guest star Ray Charles. The unlikely pair dueted on "It's a Miracle."
On this day in 1979, the Sex Pistols released the album "The Great Rock N' Roll Swindle."
On this day in 1980, NBC premiered the TV movie "Harper Valley P.T.A.," based on Jeannie C. Riley's hit single.
On this day in 1981, Herman's Hermits' Peter Noone and singer/songwriter Stephen Bishop made guest appearances on the popular ABC-TV sitcom "Laverne and Shirley." The episode was titled "I Do, I Do."
On this day in 1982, Pat Benatar won a Grammy for "Fire and Ice," as Best Female Rock Performance. Kim Carnes, a former member of the New Christy Minstrels, wion the Record of the Year award for "Bette Davis Eyes." John & Yoko won Album of the year with 'Double Fantasy', Quincy Jones won producer of the year and Sheena Easton best new act.
On this day in 1985, rock singer David Crosby bolted from a drug treatment centre during his first supervised exercise period. He was recaptured the next day.
On this day in 1986, the Rolling Stones played a private gig at London's 100 Club in memory of pianist and sometime group member Ian Stewart.
On this day in 1987, radio & TV talk show host Larry King was stricken with a major heart attack, and underwent quintuple by-pass surgery.
On this day in 1988, Peter Chatman, the blues pianist known as Memphis Slim, died in Paris at the age of 72. Chatman wrote the standard "Every Day I Have the Blues," and helped spread blues music throughout the world.

On this day in 1990, 1950's balladeer Johnnie Ray died in Los Angeles of liver failure at age 63. Ray's biggest hit was his double-sided 1951 million-seller — "Cry" and "The Little White Cloud That Cried." He was known as the "Prince of Wails" for his raw and emotional style, which some say paved the way for rock 'n' roll.
Also on this date in 1990, k-d lang, John Fogarty, Bonnie Raitt and Levon Helm were among the artists gathering in Los Angeles to honour Roy Orbison, who had died in December 1988. Proceeds from the concert went to benefit the homeless. Bob Dylan unexpectedly joined Roger McGuinn, Chris Hillman and David Crosby to sing "Mr. Tambourine Man." It was the first time in 25 years that the four former Byrds had performed together onstage.
On this day in 1991, in Nashville, Webb Pierce, one of the biggest country stars of the 1950's and early '60s, died at age 65. The official cause of death was heart failure but he also suffered from pancreatic cancer. Pierce's high-pitched nasal voice was featured on three number-one hits in 1955 — "In the Jailhouse Now," "Love, Love, Love" and "I Don't Care." He also recorded the original version of the Everly Brothers' hit "Bye, Bye Love."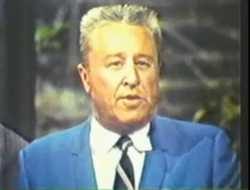 Also this day in 1991, comedian "Lonesome" George Gobel, the star of his own top rated NBC TV show from 1954-60, died after heart surgery at age 71. Most people remember George as a regular on the "Hollywood Squares" game show.
Still in 1991, newsman/anchor/quiz show host John Daly (What's My Line?) died of cardiac arrest at age 77.
On this date in 1992, Paula Abdul performed before six-thousand people in Guangzhou — formerly Canton — China, even though Chinese authorities had banned her album "Spellbound" for being too sexy. The concert was filmed by MTV for a "Paula Abdul in China" special.
Also this day in 1992, actress Tracy Gold went back to work on the set of the TV sitcom "Growing Pains." She had left the show to battle anorexia.
On this day in 1993, British rock legend Eric Clapton, who had been virtually ignored in the Grammy Awards for most of his career, won six Grammys, including the music industry's three major awards — record, album and song of the year.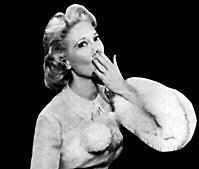 On this day in 1994, Dinah Shore, star of radio, T-V, records and movies, died in Beverly Hills, California, of ovarian cancer, just 5 days short of her 78th birthday. She joined the Eddie Cantor radio show in 1941, and two years later had her own program. She began her T-V career in 1951, with "The Dinah Shore Chevy Show." She once said that people identified her most with the slogan from that show — "See the U-S-A in your Chevrolet."
Also this day in 1994, the crooner often called France's Bing Crosby, Jean Sablon died at age 87. During WWII he had his own NBC radio show.
Also in 1994, comedian/actor Garrett Morris was shot during a robbery attempt. A bullet that was lodged dangerously near his spine was removed a week later, and eventually he fully recovered.
On this day in 1997, Dick Enberg became just the 4th sportscaster to receive a star on the Hollywood Walk of Fame.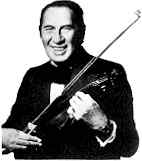 On this day in 1998, stand-up scomedian Henny Youngman died of complications from the flu at age 91. He is best remembered as the king of the one-liners, including "Take my wife, please."
Also this day in 1998, Elton John became "Sir" Elton when he was knighted at Buckingham Palace by the Queen. John's recording of "Candle in the Wind 1997," the song he sang at Princess Diana's funeral in September of that year, had sold more than 35 million copies.
Also this day in 1998, drummer Tommy Lee of Motley Crue was arrested for kicking his wife, Ladysmith BC's Pamela Anderson Lee. She filed for divorce. He eventually served four months in prison.
On this day in 1999, three Canadian singers won awards at the Grammys in Los Angeles. Celine Dion won best female pop vocal and record of the year for "My Heart Will Go On," Shania Twain won best country song and best country vocal performance for "You're Still the One" and Alanis Morissette took the best rock song award for "Uninvited." Lauryn Hill was the big winner of the night, capturing five Grammys, including album of the year for "The Miseducation of Lauryn Hill."
On this day in 2000, Carlos Santana won eight awards at this year's Grammys.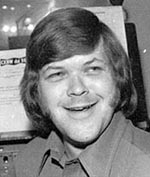 On this day in 2001, Vancouver Broadcaster Rick Honey died of throat cancer at age 53. His last air shift at AM 600 CKBD had been just two days earlier.
On this day in 2002, vibraphone/marimba player Arthur Lyman (Quiet Village, Yellow Bird) died in Honolulu of thoracic cancer at age 70.
On this day in 2003, Country Music Television (CMT) featured an entire day of Shania Twain programming.
On this day in 2004, actor John Randolph (below), a familiar face on movie & TV screens for 55 years, died at age 88. Among his scores of TV guest appearances were recurring roles as a father on the sitcoms "Angie" and "Roseanne."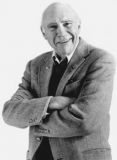 Also this day in 2004, "Bubba The Love Sponge" was fired by Clear Channel Communications from his several stations on the US East Coast.
On this day in 2005, Canadian singers Kate and Anna McGarrigle were honoured for lifetime achievement in folk music by ASCAP, the respected American songwriting association. The sisters, born a year apart in Montreal, had been recording music in English and French for 30 years.
On this day in 2006, death claimed popular actors Don Knotts in Los Angeles and Dennis Weaver (below) in Ridgway, Colo.; both at 81 years of age, and both as a result of cancer.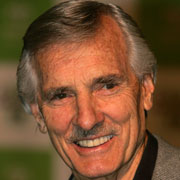 On this day in 2007, Arcade Fire made their first appearance on Saturday Night Live, performing "Intervention" and "Keep the Car Running".
On this day in 2008, Elton John was featured on the CBS newsmagazine 60 Minutes. He claimed that his '80s drug use and promiscuous behavior led him to make amends by starting the Elton John AIDS Foundation.
On this day in 2009, the United States Mint launched a new coin featuring legendary composer, pianist and bandleader Duke Ellington, making him the first African-American to appear by himself on a US coin.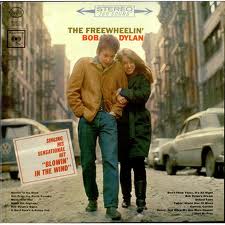 On this day in 2011, Suze Rotolo, the girlfriend of Bob Dylan in the early-Sixties, who walked arm-in-arm with the songwriter on the iconic cover of 'The Freehweelin' Bob Dylan' (above), died at age 67 after a long illness. She inspired such Dylan songs as 'Don't Think Twice', 'It's All Right', 'Boots Of Spanish Leather' and 'Tomorrow Is A Long Time'.
Also in 2011, Stevie Wonder, Smokey Robinson and Sheryl Crow were among the performers at the White House tribute to the Motown sound. Said President Obama, "Motown was the soundtrack of the civil rights era."
On this day in 2012, Kid Rock was featured on the fourth season of PBS' Live from the Artists' Den. His performance had been taped at Elvis Presley's Automobile Museum in Graceland, which had previously never been filmed for TV.
Also in 2012, Keith Richards of the Rolling Stones headed an all-star tribute to Howlin' Wolf's late guitarist Hubert Sumlin. In addition to Richards, Eric Clapton, Billy Gibbons (ZZ Top),Derek Trucks (Allman Brothers Band), Jimmie Vaughan (Fabulous Thunderbirds) and Buddy Guy also performed at New York City's Apollo Theater. The show benefited the Jazz Foundation of America.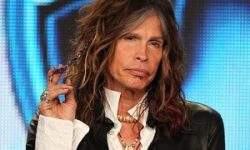 On this day in 2013, Aerosmith's Steven Tyler admitted he had used over $5 million dollars worth of cocaine. "Realistically, 5 or 6 (million), easy," said Tyler during an interview on Australia's 60 Minutes. "But it doesn't matter. You also could say I snorted half of Peru but, you know, it's what we did."
On this day in 2014, actor/writer Harold Ramis, who started as a writer/performer on the National Lampoon Radio Hour and then SCTV, before moving into bigscreen films, died of complications with his autoimmune system at age 69.
Also in 2014, talented Vancouver radio deejay Jack Kyle died at age 88.   He started in radio at CJVI Vicoria in 1943, moved to CKWX in 1947, and ultimately CKNW, after brief stints at CKLG and CJOR.  Retiring in 1981, his last eight years at NW was on the graveyard shift. Between 1962 and '65 Jack was part owner of CHUB Nanaimo. 
Still in 2014, the lead guitarist with Bill Haley and the Comets, Frank 'Franny' Beecher, who continued to play professionally until 2010, died at age 92.
On this day in 2015, "First Kiss" was released as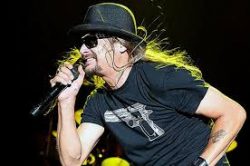 Kid Rock's first recording for Warner Bros. Records. The set included the songs "Johnny Cash," "Ain't Enough Whiskey," "Drinking Beer With Dad" and "One More Song."
On this day in 2016, George Nichopoulos, the Memphis doctor known as "Dr Nick" to Elvis Presley and Jerry Lee Lewis, and cherished by them for his apparent inability to say no to requests for sedatives, amphetamines and narcotics, died at age 88.
On this day in 2017, Shinedown's "How Did You Love" was #1 on Billboard's Mainstream Rock Songs airplay chart, the eleventh time they topped the list.
On this day in 2018, Greta Van Fleet topped Billboard's Mainstream Rock Songs airplay chart with "Safari Song." The group's debut single, "Highway Tune," was #1 on the chart for five weeks.
On this day in 2019,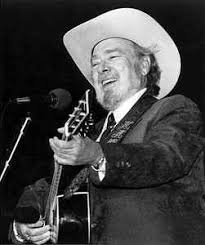 singer Mac Wiseman, the bluegrass balladeer and guitar player known as "the Voice With a Heart," whose hallmark was crossing musical genre lines, died of kidney failure at age 93.
Also in 2019, ABC's hostless Oscars telecast hailed Green Book as the Best Movie of the year, while Rami Malek and Olivia Coleman took top acting honors.
Today's Birthdays
Actor Dominic Chianese (Boardwalk Empire, The Sopranos) is 90.
Singer Joanie Sommers is 80.
Singer Paul Jones of Manfred Mann is 79.
Actress Jenny O'Hara (The Mindy Project, Transparent, King of Queens, Big Love, Facts of Life) is 79.
Actor Barry Bostwick (Spin City, Law & Order:SVU) is 76.
Singer-producer Rupert Holmes is 74.
Actor Edward James Olmos (Battlestar Gallactica, American Family, Miami Vice) is 74.
Bassist Lonnie Turner of The Steve Miller Band is 74.
Blues/rock musician George Thorogood is 71.
Actress Debra Jo Rupp (That '70s Show) is 70.
Ontario-born actress Helen Shaver (The Education of Max Bickford, Poltergeist: The Legacy, WIOU, United States) is 70.
Actress Melinda Naud (Operation Petticoat) is 66.
Former anchor/TV host Paula Zahn (CBS, CNN, Investigation Discovery) is 65.
Actor Mark Moses (Desperate Housewives) is 63.
Country singer Sammy Kershaw is 63.
Actress Beth Broderick (Sabrina the Teenage Witch, Hearts Afire) is 62.
Actor Emilio Rivera (Sons of Anarchy) is 60.
Actress Kasi Lemmons (Another World) is 60.
Singer/songwriter Michelle Shocked is 59.
Actor Todd Field (Once and Again) is 57.
Actor Alessandro Gassman (The Family) is 56.
Actor Billy Zane (Charmed, Boston Public, Twin Peaks) is 55.
Actress Bonnie Somerville (Code Black, Golden Boy, Kitchen Confidential, NYPD Blue) is 47.
Cape Breton fiddler Ashley MacIsaac is 46.
Jazz saxophonist Jimmy Greene is 46.
Actress Crista Flanagan (MADtv, Mad Men) is 45.
Actor Jay Kenneth Johnson (Days of Our Lives, North Shore) is 44.
Montreal-born actress Claire Brosseau (Bethune, The Business) is 44.
Ontario-born actress Nicole Lyn (Student Bodies) is 43. 
Actor Malcolm Barrett (Better Off Ted, Nerd Court, Luis) is 41.
R&B singer Brandon Brown of Mista is 38.
Drummer Matt McGinley of Gym Class Heroes is 38.
Actor Wilson Bethel (Hart of Dixie, The Astronaut Wives Club, The Young & the Restless) is 37.
Actor Jack Derges (EastEnders, Humans) is 34.
Actor Alexander Koch (Under the Dome) is 33.
Actor Louis Tomeo (Every Witch Way) is 19.
Chart Toppers – Feb. 24
1949
Far Away Places – Margaret Whiting
Powder Your Face with Sunshine – Evelyn Knight
Galway Bay – Bing Crosby
I Love You So Much It Hurts – Jimmy Wakely
1958
Don't/I Beg of You – Elvis Presley
A Wonderful Time Up There/It's Too Soon to Know – Pat Boone
Tequila – The Champs
Great Balls of Fire – Jerry Lee Lewis
1967
Kind of a Drag – The Buckinghams
Love is Here and Now You're Gone – The Supremes
Ruby Tuesday – The Rolling Stones
Where Does the Good Times Go – Buck Owens
1976
50 Ways to Leave Your Lover – Paul Simon
Theme from S.W.A.T. – Rhythm Heritage
Love Machine (Part 1) – The Miracles
Good Hearted Woman – Waylon & Willie
1985
Careless Whisper – Wham! featuring George Michael
Loverboy – Billy Ocean
Can't Fight This Feeling – REO Speedwagon
Baby's Got Her Blue Jeans On – Mel McDaniel
1994
The Power of Love – Celine Dion
The Sign – Ace Of Base
Whatta Man – Salt 'N' Pepa with En Vogue
I Swear – John Michael Montgomery
2003
All I Have – Jennifer Lopez featuring LL Cool J
Cry Me a River – Justin Timberlake
I'm With You – Avril Lavigne
The Baby – Blake Shelton
Today in Broadcast History compiled by Ron Robinson