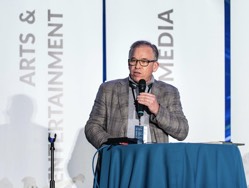 by Teresa Neumann
November 9, 2020
A famous quote—sometimes attributed to a modern totalitarian leader—says: "It's not people's votes that matter, it's the people that count the votes." Nothing could be more true this election. Gordon Pennington*, a credentialed poll challenger in Michigan, reveals shocking behind-the-scenes cases of ballot fraud, bias, contempt and election interference that he witnessed first-hand during ballot counting in Detroit's Cobo Arena the night of the election. It's a MUST READ for every American who values voting integrity and expects their ballot to be counted. There have been many wake-up calls in 2020, and this close election is just the newest of "unveilings" which is exposing yet another swamp that must be drained. (*Corrections have been made to the misspelling of Gordon Pennington's name)
The following is an interview with Gordon Pennington, former Director of Marketing for Tommy Hilfiger, who—as a Michigan resident and official poll challenger on election night—witnessed first-hand so many voter count violations it staggers the mind. His testimony is an urgent one, for Christians particularly, to pray and intercede on behalf of our nation. (Image: Gordon Pennington)
BCN: In a nutshell, Mr. Pennington, what did you witness in Detroit on the night of November 3, 2020?
PENNINGTON: I witnessed an absolute maelstrom—a violent storm—of activity and procedures negating the narrative that the tallying of votes in this election is being conducted and tabulated fairly. In reality, I saw that it is anything but.
BCN: How did you end up in Detroit on election night?
PENNINGTON: Well, early on the morning of Election Day, I voted in person in my home precinct of Owosso, Michigan. I can tell you, there were long lines before 7AM, but it went very smoothly and very quickly. When I finished there, I immediately drove to Cobo Arena in downtown Detroit to watch things unfold on the election counting floor in person.
BCN: They allowed you in the Arena?
PENNINGTON: Two weeks ago, I completed two hours of training through the organization Election Integrity Fund to become a credentialed poll challenger. I admit, and deeply regret, that until now, like many people, I had taken the integrity of our election process for granted. I thought it was high time I tried to witness the process personally.
BCN: What were your first impressions watching the vote-counting process?
PENNINGTON: Arriving on the huge counting floor (it was approximately 100,000+ square feet) inside Cobo Arena and Convention Center, I received my credentials, signed in and witnessed what at first seemed to be a well-ordered and comprehensive ballot accounting system. That is, until I started asking questions and watching closely.
Spread out across the massive floor space were 134 counting boards (picture an assemblage of 5 processors at 6 tables arranged in a rectangular arrangement) representing 503 precincts with about 930 poll workers paid by the Wayne County Election Board. Thus, we poll challengers had an enormous floor area to inspect simultaneous processes constantly.
Their poll workers original pay was $250 per day, but I was told that a Zuckerberg-funded foundation upped their pay to $600 per day. This included substitute poll workers who watched television in a large holding area on the second floor. Table supervisors were paid $700 a day. Get this: The Department of Elections had hired and trained 99% Democrats and 1% local Republicans as poll workers.
BCN: That's outrageous!
Read More HERE