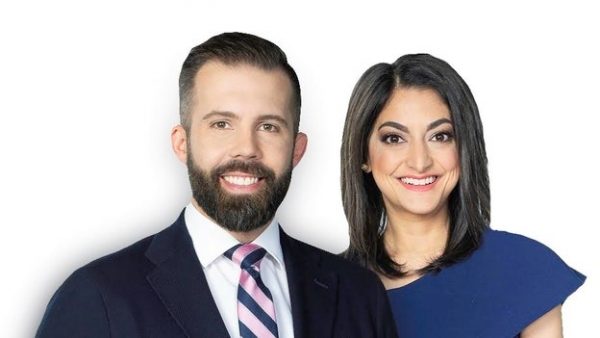 Bell Media
October 20, 2020
– Morrison returns to CTV News Edmonton to team up with Karmali at the helm of Edmonton's best morning show –
Tags: @CTVEdmonton, @ZiyahKarmali, @KentMorrison
EDMONTON (October 19, 2020) – CTV Edmonton announced today the appointment of Ziyah Karmali and Kent Morrison as Co-Hosts of CTV MORNING LIVE. Beginning Monday, Nov. 2, the duo joins the CTV MORNING LIVE team alongside traffic specialist Carla Turner, meteorologist Cory Edel, and reporter Nahreman Issa.
"We're thrilled to have Alberta's capital wake up on weekdays with Ziyah and Kent for the best morning show in the region," said Heather Kim, Director of News and Public Affairs, CTV Edmonton. "Our viewers count on CTV MORNING LIVE to start their day with all the news they need, and with Ziyah and Kent at the helm, we'll deliver a lively, informative, and interactive broadcast each morning."
Karmali is already a familiar face to viewers across the region, most recently as a weather anchor for CTV News Edmonton. Born and raised in Edmonton, she is a trusted voice having spent more than a decade working in local TV and radio. She began her career as a newspaper columnist prior to working in television, and is an avid sports fan who has worked with both Edmonton's CFL team as well as the Oilers Entertainment Group.
Returning to the CTV studio where he got his broadcasting start, Morrison joins the team from Global News' local morning program. He previously spent three years as a reporter with CBC News. With more than a decade of experience in local news, Morrison loves to shine a spotlight on the people and places that make Northern Alberta a great place to live.
CTV MORNING LIVE features breaking local news, detailed traffic reports, and up-to-the-minute weather forecasts for the viewers in Edmonton, as well as central and northern Alberta. Airing weekday mornings from 5:30 – 9 a.m. MT, CTV MORNING LIVE is an energetic three-and-a-half hours featuring all the news and information viewers need to get their day started.
About CTV News
CTV News is Canada's most-watched news organization both locally and nationally, and has a network of national, international, and local news operations. CTV News operations include CTV NEWS CHANNEL, BNN Bloomberg, CP24, and information programming, including CTV NATIONAL NEWS WITH LISA LAFLAMME, CTV NATIONAL NEWS WITH SANDIE RINALDO, W5, POWER PLAY, and QUESTION PERIOD. Flagship news sites include CTVNews.ca, as well as CP24.com and BNNBloomberg.ca, and are complemented by the CTV News, CP24, and BNN Bloomberg apps, and text-over-video product, ON THE GO, which provide a direct connection to Canada's most trusted news anytime and anywhere. With a perspective that is distinctly Canadian, CTV News brings Canadians the international and domestic news stories of the day and is the #1 news organization in Canada.