ON THIS DAY in 1883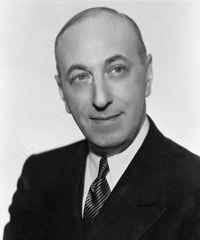 radio actor Art Van Harvey was born in Chicago.  His claim to fame was playing Vic in the iconic daytime radio smilefest from Chicago, Vic & Sade, written by Paul Rhymer, and set in "the small house halfway up in the next block."  During a more than 14 year run on radio, Vic and Sade earned critical and popular success.  According to Time Magazine, the Vic and Sade daily quarter-hour had 7,000,000 devoted listeners in 1943.  Van Harvey died Sept. 7 1957 at age 74.
In 1889, the first ship-to-shore wireless message was received in U.S. (at San Francisco.)
In 1923, Billy Jones and Ernie Hare, "The Happiness Boys", were heard on New York's WEAF radio for the first time, sponsored by Happiness Candy stores.
The two were billed as radio's first comedians and were also credited with creating and performing the first singing commercial.
In 1933, the BBC's experimental TV service featured the first televised boxing match between Archie Sexton and Laurie Raiteri in London.
In 1946, drummer with The Who Keith Moon (below) was born in Wembley, London. He gained notoriety for exuberant drumming and his destructive lifestyle that earned him the nickname, "Moon the Loon." He died Sept. 7, 1978 from an overdose of the sedative Heminevrin.
In 1954, Perez Prado recorded his soon-to-be #1 pop single "Cherry Pink And Apple Blossom White" for RCA Victor.
In 1956, the No. 1 Billboard Pop Hit was "Don't Be Cruel/Hound Dog," by Elvis Presley. Elvis caused an uproar with his pelvic undulations when he first performed "Hound Dog" on Milton Berle's TV show. The two-sided hit topped Billboard's single chart for 11 weeks, setting a record for the rock era that stood until 1992.
In 1957, singer Sam Cooke was in Hollywood to record his future Top 20 single" (I Love You) For Sentimental Reasons."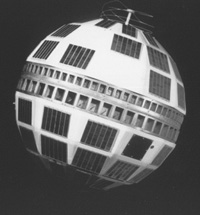 In 1962, the first live TV program was relayed between the U.S. and Europe through the U.S. Telstar satellite.
Also in 1962, Beatle John Lennon married Cynthia Powell. The still little-known group then played a gig that night at Liverpool's Riverpark Ballroom. The couple divorced Nov. 8, 1968, after Yoko Ono entered the picture.
In 1963, The Rolling Stones made their first appearance on the UK TV show Ready, Steady, Go! performing their debut single 'Come On.' The group made a total of 20 appearances on the show between 1963 and 1966.
In 1964, The Beatles concert at the Hollywood Bowl in Los Angeles was recorded, intended to be released as a forthcoming album.  Because there was so much screaming by teenaged girls the tapes sat unreleased until 1977, when "The Beatles at the Hollywood Bowl" LP came out, using the best songs from this show and one at the same venue a year later.
In 1965, the U.S. premiere of the motion picture " Help! ", starring The Beatles, was held for thousands of moviegoers wanting to see the group's first color motion picture. Their first film, "A Hard Day's Night", had been produced in black and white.
In 1966, on what would be their final tour of America, The Beatles performed at Shea Stadium, New York City, but with 11,000 empty seats in the 55,600 seat stadium. The boys earned $189,000 for their performance.
In 1967, Canadian folksinger/songwriter Joni Mitchell was in concert for the first time in the U.K. at the Marquee Club in London.
In 1968, disgusted by the acrimonious "White Album" recording sessions, Ringo Starr temporarily quit The Beatles.
Also in 1968, the New York Rock Festival (held in Queens) featured the Jimi Hendrix Experience and Big Brother & the Holding Company.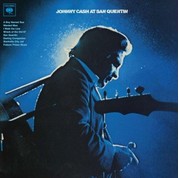 In 1969, Johnny Cash started a four-week run at No.1 on the US album chart with 'Johnny Cash At San Quentin.'
And the Rolling Stones started a four week run at No.1 on the Billboard singles chart with 'Honky Tonk Women,' the group's fifth chart topper in North America.
Also in 1969, CHQM owner Vancouver Broadcast Associates Ltd. was renamed Q Broadcasting Ltd.  Less than three months later, they purchased CKPG radio and television in Prince George, B.C.
Still in 1969, the Rolling Stones started a four week run at No.1 on the US singles chart with 'Honky Tonk Women,' the groups fifth US No.1.
In 1970, Lou Reed and the Velvet Underground performed together for the last time at the New York City club Max's Kansas City.
In 1974, Paul Anka's (You're) Having My Baby was the #1 Billboard hit for the second week in a row.
Also in 1974, drummer Max Weinberg (now musical director for Conan O'Brien) joined Bruce Springsteen`s E Street Band.
In 1975, actor Hank Patterson, who had recurring roles in TV's Green Acres, Petticoat Junction and Gunsmoke among others, died from pneumonia at age 86.
Also in 1975, Hamilton Joe Franks and Reynolds went to No.1 on the Billboard singles chart with, 'Fallin' In Love', their only chart topper.
In 1977, Linda Ronstadt released the single "Blue Bayou" which would go on to sell more than 2 million copies.
In 1978, Steve Martin received a Gold Record for his novelty single "King Tut."
In 1980, The Heatwave Festival took place in Toronto featuring the Talking Heads, Elvis Costello, The B-52's, The Pretenders, Rockpile and The Rumour. Advance sale tickets were $20, and $25 at the gate. Although some 85,000 people paid to attend, the festival reportedly lost more than $1 million.
In 1984, South Fork Ranch, the home of the fictitious Ewing clan of the CBS-TV show "Dallas", was sold. The ranch, a 200-acre spread near Dallas, was to be transformed from a tourist site into a hotel, according to the new owners.
In 1985, Aerosmith played at the Alpine Valley Music Theatre in East Troy, Wisconsin, the first concert on their 89 date 'Done With Mirrors' tour.
In 1990, composer/orchestra leader David Rose, who was musical director for Red Skelton on radio & TV for almost 25 years, succumbed to heart disease at age 80.
In 1991, Seattle radio station KKND "The End" FM 107.7 was born, billing its music as "The Cutting Edge of Rock."  It first gave airplay to local bands Pearl Jam, Nirvana and Soundgarden.  This launched the Seattle "grunge" movement internationally.
In 1993, the Los Angeles Police Department formally announced that Michael Jackson was the subject of a criminal investigation focussing on allegations of child sex abuse.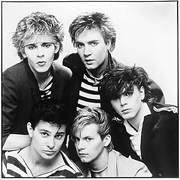 Also in 1993, Duran Duran got a star on the Hollywood Walk of Fame.
In 1995, actor Larry Hagman, star of TV's Dallas and I Dream of Jeannie, received a liver transplant, after admitting he had been a heavy drinker. He was said to have consumed four bottles of champagne a day, while on the set of Dallas.
In 1999, Martha Rountree, the journalist/producer who originated Meet the Press on Mutual radio, died at age 87.  She was the first moderator of what has become the longest running program on US TV.
Also in 1999, Beach Boys founder Brian Wilson filed a suit to dissolve a 1997 joint venture with Joe Thomas, who co-produced Wilson's last album, the 1998 Giant release "Imagination." The suit was filed by Wilson's wife and conservator Melinda.
Still in 1999, in a move designed to simplify downloadable music for Internet users while profiting from the fast-growing rage, Yahoo! Inc. launched a new portal,Yahoo! Digital.
In 2000, Richard Hatch was revealed as the winning castaway on the first season of CBS' "Survivor." Hatch won $1,000,000 for his 39-day stay on the island of Pulau Tida in the South China Sea.
Also in 2000, singer/songwriter Kenny Loggins, a native of Everett Washington, received a star on the Hollywood Walk of Fame.
In 2001, California Congressman Gary Condit gave an interview to ABC's Connie Chung. Condit denied involvement in Chandra Levy's disappearance and avoided directly answering questions about whether they had an affair.
Also in 2001, character film & TV actress Kathleen Freeman succumbed to lung cancer at age 82. She had an endless supply of comedic roles on TV's early sitcoms, including Topper, The Donna Reed Show, Hogan's Heroes, I Dream of Jeannie, and as the voice of Peg Bundy's mom on Married… with Children. She had at least 5 guest roles on The Lucy Show.
In 2002, CFEX-FM Victoria became CHBE, just over two years since originally signing on as a new FM for CFAX owner Mel Cooper. The station's slogan switched from "Extreme 107.3" to "All Hits B107.3", with a format of "a high energy mix of adult Top 40 hits from the '80s, '90s and today".  Today it is KOOL FM, owned for the past 11 years by Bell Media.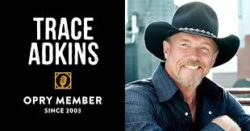 In 2003, Trace Adkins became the latest member of the Grand Ole Opry.
In 2005, big-voiced singer/actor Brock Peters died of pancreatic cancer at the age of 78. He had a recurring role on the Star Trek: Deep Space Nine series, as well as playing Admiral Cartwright in several Star Trek movies. He voiced Darth Vader for NPR's radio adaptation of thr Star Wars Trilogy.  And he was the voice of Lucius Fox on the 1990's animated Batman show.
In 2006, influential jazz trumpeter, bandleader & composer Maynard Ferguson, a native of Verdun Quebec and a member of the Canadian Music Hall of fame, died as a result of liver and kidney failure at age 78.
In 2007, comedy writer Buddy Sheffield sued Disney alleging that he originally came up with the idea for Hannah Montana but was never compensated by Disney. In the lawsuit, Sheffield claimed that he pitched an idea for a TV series with the name of 'Rock and Roland' to Disney Channel in 2001 with the plot of a junior high student who lived a secret double life as a rock star.
Also in 2007, Daughtry's concert in Las Vegas was filmed for AOL Music and was streamed in its entirety eight days later.
In 2008, Madonna kicked off her 86-date Sticky & Sweet Tour at the Millennium Stadium in Cardiff Wales. It became the highest grossing tour by a solo artist, breaking the previous record Madonna achieved with her 2006 Confessions Tour. Madonna's first venture with Live Nation was estimated to have grossed $280 million.
Also in 2008, the seventh annual edition of the Layne Staley (the late Alice In Chains frontman) Tribute and Benefit Concert took place in Seattle at Showbox Sodo. Hurt and Tantric were the headliners. The show raises money for local substance-abuse rehabilitation and education programs via the Layne Staley Fund.
In 2010, San Francisco newsman Dave McElhatton, who anchored at KCBS radio for 25 years, then at KPIX (TV) for 23 years, died after a stroke at age 81.
Also in 2010, songwriter George Davis Weiss, who penned such classic hits as "Can't Help Falling In Love," "The Lion Sleeps Tonight," and "What a Wonderful World," died at his New Jersey home at age 89.
Still in 2010, The Eagles headlined a concert at Giants Stadium in East Rutherford, New Jersey.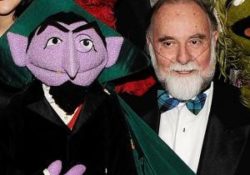 In 2012, puppeteer Jerry Nelson, for years on PBS's Sesame Street the man (and voice) behind "The Count" and other Muppet characters, died due to prostate cancer and chronic obstructive pulmonary disease at age 78.
In 2013, singer Linda Ronstadt first disclosed publicly that she was battling Parkinson's Disease, that she could no longer sing, and needed a wheelchair to get around.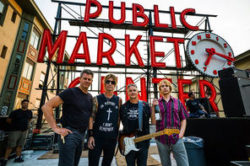 In 2015, Mike McCready (Pearl Jam), Duff McKagan (Guns N' Roses), Mark Arm (Mudhoney) and Barrett Martin (Screaming Trees/Mad Season) created a one-night only supergroup to pay tribute to Iggy Pop And The Stooges. They performed on the roof of Seattle's Pike Place Market.         In 2016, Seattle-born actor Steven Hill, who starred as District Attorney Adam Schiff  in 229 episodes of  NBC-TV's "Law & Order" and decades earlier played the leader of the Impossible Missions Force on CBS-TV's "Mission: Impossible," died at age 94.
In 2017, ESPN removed a sports announcer named Robert Lee from covering an upcoming University of Virginia football game after the violence in Charlottesville, Va., stemming from plans to remove a statue of Confederate Gen. Robert E. Lee.
In 2018, Pulitzer Prize-winning African-American composer, pianist and educator George Theophilus Walker died of complications from a kidney ailment at age 96.
Today's Birthdays
Actress Vera Miles (Alfred Hitchcock Presents, Twilight Zone) is 91.
Actress Barbara Eden (I Dream of Jeannie, Dallas) is 89.
Satirist Mark Russell (PBS Comedy Specials) is 88.
Actor/director/producer Tony Bill (The Fixer, Pictures of Hollis Woods, Dr. Kildare) is 80.
Actor Richard Sanders (WKRP In Cincinnati) is 80.
Singer Tony Micale (Reflections lead vocalist) is 78.
Singer Jimy Sohns (Shadows Of Knight lead vocalist) is 74.
Country singer/Disney narrator Rex Allen Jr. is 73.
Actor David Robb (Downton Abbey) is 73.
British singer Linda Thompson is 73.
A0tress Shelley Long (Cheers, Frasier) is 71.
Country fiddler-singer Woody Paul of Riders in the Sky is 71.
Singer-actor Rick Springfield (General Hospital) is 71.
Portland-born actor/music producer Mark Hudson (Hudson Brothers, Sara, Bonkers) is 69.
Actor Marc Vann (CSI: Crime Scene Investigation) is 66
Actor Skipp Sudduth (Third Watch, The Good Wife) is 64.
Toronto-born actor Chris Potter (Heartland, Kung Fu: the Legend Continues, X-Men) is 60.
Guitarist Dean DeLeo of Army of Anyone (and Stone Temple Pilots) is 59.
Tejano singer Emilio Navaira is 58.
Actor Ed Gale (Land of the Lost) is 57.
Vancouver-born former sports anchor/radio & TV hostess Jody Vance is 53.
Country musician Ira Dean (Trick Pony) is 51.
Actor/Fox Sports host Jay Mohr (Gary Unmarried, Ghost Whisperer, Last Comic Standing) is 50.
Actor Nicholas Guilak (Saving Jessica Lynch, Homeland Security) is 50.
New Westminster BC-born actor Aaron Douglas (Battlestar Galactica, The Killing, The Bridge) is 49.
Actor Jermaine 'Huggy' Hopkins (The Wayans Bros.) is 47.
Vancouver-born former child actor Joey Cramer (Stone Fox) is 47.
Actor Ray Park (Heroes) is 46.
Actor Scott Caan (Hawaii Five-O, Entourage) is 44.
Country singer Shelly Fairchild is 43.
Actor Andrew Rannells (Girls, The New Normal) is 42.
Singer Julian Casablancas of The Strokes is 42.
Actor John T. Woods (Misdirected) is 41.
Actress Clare Grant (Q.V.G., $5 Cover) is 41.
Actress Joanne Froggatt (Downton Abbey, Coronation Street) is 40.
Actress Jaime Lee Kirchner (Bull, The Mob Doctor, Mercy) is 39.
Actor Sam Horrigan (Grace Under Fire) is 39.
Saxophonist Andy Wild of Nathaniel Rateliff and the Night Sweats is 39.
Actress Erin Foster (Barely Famous, The O.C.) is 38.
Actor Trevor Wright (George Lopez) is 38.
Actress Annie Ilonzeh (General Hospital, Switched at Birth) is 37.
Actress Ruta Gedmintas (The Strain, The Borgias) is 37.
Musician Sky Blu of LMFAO is 34.
Actress Kimberly Matula (The Bold & the Beautiful) is 32.
Actress Jessica Lee Keller (Teen Beach Movie, Teen Beach 2) is 30.
Victoria-born actress Katherine Evans (The Killing) is 23.
Chart Toppers – Aug. 23
1944
I'll Be Seeing You – The Tommy Dorsey Orchestra (vocal: Frank Sinatra)
Amor – Bing Crosby
Milkman, Keep Those Bottles Quiet – Ella Mae Morse
Is You Is or Is You Ain't (Ma' Baby) – Louis Jordan
1953
No Other Love – Perry Como
I'm Walking Behind You – Eddie Fisher
Vaya Con Dios – Les Paul & Mary Ford
Hey Joe! – Carl Smith
1962
Breaking Up is Hard to Do – Neil Sedaka
The Loco-Motion – Little Eva
You Don't Know Me – Ray Charles
Wolverton Mountain – Claude King
1971
How Can You Mend a Broken Heart – The Bee Gees
Mr. Big Stuff – Jean Knight
Take Me Home, Country Roads – John Denver
I'm Just Me – Charley Pride
1980
Magic – Olivia Newton-John
Sailing – Christopher Cross
Upside Down – Diana Ross
Drivin' My Life Away – Eddie Rabbitt
1989
Right Here Waiting – Richard Marx
On Our Own – Bobby Brown
Cold Hearted – Paula Abdul
Sunday in the South – Shenandoah
1998
I Don't Want to Miss a Thing – Aerosmith
Iris – Goo Goo Dolls
Never Ever – All Saints
I'm Alright – Jo Dee Messina
2007
Big Girls Don't Cry (Personal) – Fergie
Hey There Delilah – Plain White T's
Beautiful Girls – Sean Kingston
Never Wanted Nothing More – Kenny Chesney