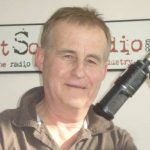 ON THIS DAY in 1876
Telephone inventor Alexander Graham Bell made the world's first long-distance call from Brantford to the Bell homestead in Paris, Ontario, using a 13 km long line strung from Brantford.
In 1909, Leo Fender, the man who perfected the electric guitar, was born in Beuna Park, California. Fender's company manufactured the first mass-produced solid-body electric guitar in 1948. Fender's Telecaster and Stratocaster models are favorites of rock guitarists. Fender died of complications from Parkinson's March 21 1991 at age 81.
In 1913, actor Noah Beery Jr. was born in Kansas City Mo.  Probably his most memorable part was his continuing role as the hero's father in TV's Rockford Files.  He died Nov 1 1994 at age 81.
In 1914, actor Jeff Corey was born in the Bronx, NY.  His career began in radio drama where he was a much-in-demand supporting player, and continued through hundreds of roles on the big screen and in TV.  He was proudest of his work on the Rod Serling series, 'Night Gallery.'  He died August 16th 2002 following a fall at age 88.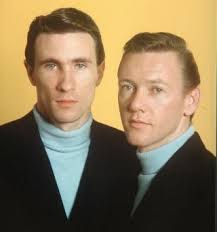 In 1940, Bobby Hatfield (pictured right), one half of The Righteous Brothers, was born in Beaver Dam, Wisconsin. Hatfield and Bill Medley were the leaders of the blue-eyed soul movement in the 1960s. Many of The Righteous Brothers hits, such as "You've Lost That Lovin' Feelin'," a number-one hit in 1964, were produced by Phil Spector. Hatfied died in his sleep November 5, 2003 at age 63, after a cocaine-fuelled heart attack.
.
In 1948, Allen Funt's "Candid Camera," a video version of his "Candid Microphone" radio show, debuted on ABC.
.
In 1951, Hank Williams recorded "Half as Much" for MGM Records. It reached #2 on the country music chart. The following year Rosemary Clooney's version of the song was #1 for three weeks on the pop chart.
In 1958, the No. 1 Billboard Pop Hit was "It's All in the Game," by Tommy Edwards.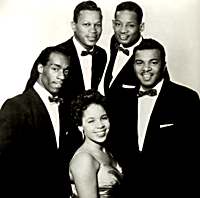 In 1959, four members of The Platters, at the time one of the top singing groups in North America, were arrested in a Cincinnati hotel and charged with aiding and abetting prostitution, lewdness and assignation. Four 19-year-old women with them were charged with prostitution. All the accused were eventually acquitted, but not before the Platters' career was seriously harmed by what many considered to be trumped-up charges.
Also in 1959, "A Big Hunk of Love" by Elvis Presley topped the charts and stayed there for 2 weeks.
In 1960, Vancouver's CHQM-FM signed on for the first time at 103.5 MHz, initially as a straight mono simulcast of CHQM 1320 AM, which itself had begun only eight months earlier.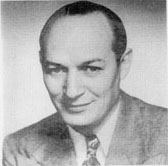 In 1962, pioneering sportscaster/announcer Ted Husing, who did it all in the early years of CBS radio, died of complications from a brain tumour at age 60.  Much of his structure of football play-by-play is still in wide use today.
In 1963, the song "Fingertips – Part 2" by Little Stevie Wonder was at #1 on the Billboard pop singles charts and stayed there for 3 weeks. At age 13, Stevie became the youngest singer to top the charts.
Also in 1963, comedy writer Allan Sherman released the single  "Hello Muddah, Hello Fadduh! (A Letter From Camp)" in which a boy describes his summer camp experiences to the tune of Ponchielli's Dance of the Hours.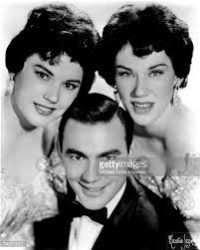 Still in 1963, the singing group The Browns  joined the Grand Ole Opry.
In 1964, Capitol Records released in the US The Beatles' recordings "Do You Want To Know A Secret" b/w "Thank You Girl," "Please Please Me" b/w "From Me To You," "Love Me Do" b/w "P.S. I Love You," and "Twist And Shout" b/w "There's A Place" in the U.S. These had already been hits in the UK, and were now being made available to feed the growing hunger of the Fab Four's new American fans.
In 1968, the No. 1 Billboard Pop Hit was "Hey Jude," by The Beatles. The song was the biggest for the best-selling rock group of all time. It stayed at No. 1 for nine weeks.
In 1970, the trial of Jim Morrison on indecent exposure charges began in Miami. The Doors frontman was found guilty and sentenced to six months of hard labor, but was freed when an appeal was launched. Following Morrison's death 11 months later he was finally granted a full pardon in December 2010.
Also in 1970, Elvis Presley played the first night of a four-week engagement, playing 2 shows most nights at The International Hotel in Las Vegas.
In 1972, Paul and Linda McCartney were arrested in Sweden on charges of drug possession.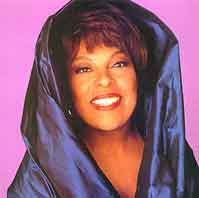 In 1974, "Feel Like Makin' Love" by Roberta Flack topped the charts and stayed there for a week.
Also in 1974, John Denver went to No.1 on the Billboard album chart with 'Back Home Again'.
In 1975, "Manhattan Transfer," the summer variety show starring the singing group of the same name, premiered on CBS-TV.
In 1976, Elton John played the first of ten sold out nights at Madison Square Gardens in New York City. The $1.25 million generated from the shows broke the record set by The Rolling Stones in 1975.
In 1985, Kenny Baker, the boyish-looking tenor who sang on The Jack Benny (radio) Show in the 1930's, died following a heart attack at age 72.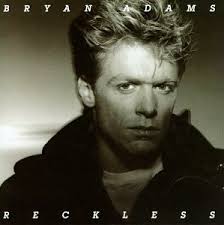 Also in 1985, Canadian singer/guitarist Bryan Adams scored his first Billboard No.1 album with 'Reckless.'
Still in 1985, Madonna's album "Like a Virgin" became the first solo album by a female artist to be certified for sales of five million copies.
In 1987, Clara Peller, the older woman who gained fame after shouting "Where's the beef?" in a 1984 Wendy's fast food advertising campaign, died at age 82.
Also in 1987, Wilson Pickett was found guilty in a New Jersey court of possessing a shotgun with intent to endanger life following his involvement in a fist fight in a bar.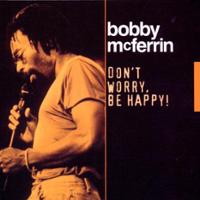 In 1988, "Don't Worry, Be Happy," by Bobby McFerrin, became the first a cappella song to reach No. 1 on the Billboard Hot 100. McFerrin's bubbly No. 1 hit got former president George Bush (the elder) in trouble when the hopeful Republican used the song without permission as an election campaign song.
In 1991, longtime CKNW sportscaster Al Davidson died at age 66.  He was the irascible, mercurial sports voice of the station for 30 years before his termination 4 years earlier.
Also in 1991, nearly two dozen people were injured when fans started pushing and shoving at a Florida mall where actor Luke Perry of the TV show "Beverly Hills 90210" was appearing.
Still in 1991, country singer Vince Gill joined the Grand Ole Opry.
In 1992, Def Leppard kicked off the North American leg on their 248-date Seven Day Weekend world Tour at New York's Madison Square Garden.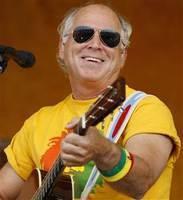 In 1995, Jimmy Buffett led a celebration for U.S. President Clinton's 49th birthday at the White House.
In 1997, Puff Daddy & the Family went to No.1 on the Billboard album chart with 'No Way Out.'
In 1998, former Guns N' Roses drummer Steven Adler, 33, was sentenced to 150 days in jail for beating two women he dated and for violating his probation from an earlier domestic violence conviction.
In 1999, it was announced that Paul "Bonehead" Arthurs was leaving Oasis.
In 2001, Chicago Cubs broadcaster/Baseball Hall of Famer Lou Boudreau died of cardiac arrest at age 84.
In 2002, Lisa Marie Presley married actor Nicolas Cage at a resort in Hawaii. The marriage was Ms. Presley's third, after earlier marrying musician Danny Keough and pop star Michael Jackson.  Cage filed for divorce four months later.
In 2004, drummer Charlie Watts of the Rolling Stones was confirmed as undergoing treatment for throat cancer. He has since battled the disease into remission.
In 2005, "60 Minutes" newsman Mike Wallace was arrested after he argued with New York city inspectors over whether his driver was double-parked. Wallace had just left a restaurant with a take-out order of meat loaf.
Also in 2005, Mariah Carey had the Billboard #1 pop single with 'We Belong Together.'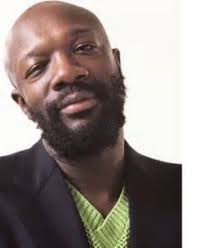 In 2008, US singer-songwriter Isaac Hayes died at his home in Memphis, at the age of 65, apparently from a stroke suffered while running on a treadmill. He won an Oscar for the 1971 hit Theme From Shaft, and was also known as the voice of Chef from the hit TV show, South Park. Hayes was married four times and had 12 children.
.
In 2010, producer David L. Wolper, who gave us TV's Welcome Back Kotter, Chico And The Man, The Thorn Birds and Roots, died due to congestive heart disease and complications of Parkinson's disease at age 82.
In 2011, country music singer Billy Grammer, whose 1959 million-seller "Gotta Travel On" reached the top of both the country and pop charts, died at age 85.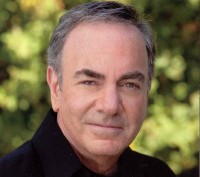 In 2012, singer/songwriter Neil Diamond became the latest recipient of a star on the Hollywood Walk of Fame.
In 2013, singer Eydie Gorme, who enjoyed decades-long success as half of the duo Steve & Eydie and as a solo artist in her own right, died after a brief, undisclosed illness, six days short of her 85th birthday.  Her biggest hit was 1963's Grammy-nominated 'Blame it on the Bossa Nova.'  She first came to national attention as a singer on Steve Allen's 'Tonight Show' on NBC-TV.
Also in 2013, guitarist Jody Payne, who played in Willie Nelson's band for 35 years, died of cardiac issues at age 77.
In 2015, NASCAR's 'Gentle Giant,' Buddy Baker, who won the 1980 Daytona 500, and had a lengthy post-racing career as a broadcaster, lost his battle with lung cancer at age 74.  He had signed off his "Late Shift" show at Sirius-XM satellite radio a month earlier after revealing the discovery of an inoperable "huge tumor" in his lung.
In 2016,
 Ontario-born sportscaster John Saunders, who worked for ESPN for almost 30 years, who handled Toronto Raptors play-by-play for six years in the late 90's, died at age 61. Cause of death was an enlarged heart together with complications from diabetes.
In 2018, Pearl Jam's second "Home Show" at Seattle's Safeco Field, to raise awareness of and money for the city's homeless, featured a cover of the late Chris Connell's (Soundgarden) song "Missing."
 

Today's Birthdays
Actress Lynn Cohen (Law & Order, Sex & the City) is 87.
Singer Ronnie Bennett Greenfield (Ronnie Spector) of The Ronettes is 77.
Actor James Reynolds (Days of Our Lives) is 74.
Singer-flutist Ian Anderson of Jethro Tull is 73.
Singer Patti Austin is 72.
Mandolin player Gene Johnson of Diamond Rio is 71.
Actor Daniel Hugh Kelly (Ryan's Hope, All My Children) is 68.
Actress Diane Venora (Chicago Hope) is 68.
Actor Rick Overton (Chaos) s 66.
Actor Don Swayze (Movie Stars, True Blood, Carnivale) is 62.
Actress Rosanna Arquette (What About Brian, Shirley) is 61.
Actor Antonio Banderas (And Starring Pancho Villa as Himself) is 60.
Drummer Jon Farriss of INXS is 59.
Actor Chris Caldovino (Boardwalk Empire) is 57.
Singer Neneh Cherry is 56.
Singer Aaron Hall of Guy is 56.
Actress Claudia Christian (Babylon 5) is 55.
Singer Lorraine Pearson of Five Star is 53.
Singer Michael Bivins (Bell Biv Devoe, New Edition) is 52.
Playboy Playmate (July '98)/sportscaster/actress Lisa Dergan Podsednik is 50.
Actor Justin Theroux (The Leftovers, The District) is 49.
Actress Angie Harmon (Law & Order, Rizzoli & Isles) is 48.
Actress Emily Warfield (Days of Our Lives, American Crime) is 48.
Actor/narrator Michael McGlone (Trauma: Life in the ER, Mobsters, The Kill Point) is 48.
Actor Rick Otto (The Wire, Hollywood Heights) is 47.
Country singer Jennifer Hanson is 47.
Actor Craig Kirkwood (Mission Genesis, Running the Halls) is 46.
Actress Tessie Santiago (Queen of Swords, Good Morning Miami, Twentysixmiles) is 45.
TV host/producer Josh Gates (Destination Truth, Expedition Unknown) is 43.
Actor Leo Fitzpatrick (The Heart She Holler, The Wire) is 42.
Actress JoAnna Garcia Swisher (Reba, Better With You) is 41.
Singer Cary Ann Hearst of Shovels and Rope is 41.
Ontario-born actress Roxanne McKee (Game of Thrones) is 40.
Singer Nikki Bratcher of Divine is 40.
Actress Yaani King Mondschein (Saving Grace, Roomieloverfriends, The Haves & the Have Nots, Blood & Oil) is 39. 
Actor Vincent Rodriguez III (Crazy Ex-Girlfriend) is 38.
Actress Katrina Begin (Boomtown, No Ordinary Family) is 38.
Actress Megan Stevenson (Review) is 37.
Actor Ryan Eggold (The Blacklist, 90210) is 36.
Actor Charley Koontz (CSI: Cyber, Community) is 33.
Actor Lucas Till (MacGyver 2016) is 30.
Actor Tyler Steelman (Suite Life of Zack & Cody) is 30.
TV personality Kylie Jenner.(Keeping Up with the Kardashians) is 23.
Actor Jeremy Maguire (Modern Family) is 9.
Chart Toppers – August 10th
1945
Dream – The Pied Pipers
I Wish I Knew – Dick Haymes
If I Loved You – Perry Como
Oklahoma Hills – Jack Guthrie
1953
No Other Love – Perry Como
I'm Walking Behind You – Eddie Fisher
I Believe – Frankie Laine
Rub-A-Dub-Dub – Hank Thompson
1961
Tossin' and Turnin' – Bobby Lewis
I Like It Like That – Chris Kenner
Last Night – Mar-Keys
I Fall to Pieces – Patsy Cline
1969
In the Year 2525 – Zager & Evans
Crystal Blue Persuasion – Tommy James & The Shondells
Honky Tonk Women – The Rolling Stones
All I Have to Offer You (Is Me) – Charley Pride
1977
I Just Want to Be Your Everything – Andy Gibb
I'm in You – Peter Frampton
Best of My Love – Emotions
Rollin' with the Flow – Charlie Rich
1985
Shout – Tears For Fears
Never Surrender – Corey Hart
The Power of Love – Huey Lewis & The News
I'm for Love – Hank Williams, Jr.
1994
Stay (I Missed You) – Lisa Loeb & Nine Stories
Fantastic Voyage – Coolio
Can You Feel the Love Tonight – Elton John
Summertime Blues – Alan Jackson
2003
Crazy In Love – Beyoncé Knowles featuring Jay-Z
Where Is The Love? – Black Eyed Peas featuring Justin Timberlake
Rock Wit U – Ashanti
It's Five O'Clock Somewhere – Alan Jackson (with Jimmy Buffett)