For Immediate Release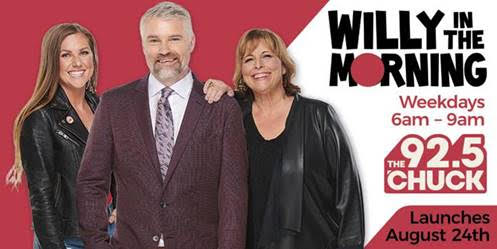 EDMONTON, August 4, 2020 – Looking for something to drown out the sound of those morning Zoom calls? CHUCK @ 92.5 proudly announces the launch of popular morning show Willy in the Morning, starting Monday, August 24. Ready to have some fun on the Edmonton airwaves, Willy Percy, Kim Seale and Alece Anderson will be on-air with CHUCK @ 92.5 from 6 a.m. to 9 a.m. on weekday mornings.
"The Willy in the Morning team is known for their sharp-wit, sense of humour and great energy," said Ronnie Stanton, Regional Program Director, Western Canada, Corus Entertainment. "We can't wait to introduce the show to CHUCK listeners on August 24."
Willy in the Morning is a top-rated morning show on Vancouver's Rock 101 and launched on Q107 Calgary last year. The seasoned team of radio veterans have been working together for over seven years, with a combined total of seven decades worth of radio experience at stations across western Canada.
– 30 –
SOCIAL MEDIA LINKS:
Follow Corus PR on Twitter @CorusPR
Facebook: @chuck925
Twitter: @CHUCK925
Instagram @chuckat925
CHUCK @ 92.5 is part of the Corus Entertainment Network.