from Pat's son Jeff O'Day….
about his Dad, the radio Legend…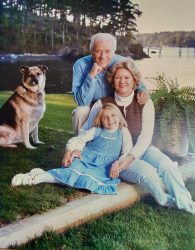 It is with great sorrow to announce, Pat O'Day has left the Arena.
Dad passed peacefully at his home in the San Juan Islands today.
Beating lung cancer was an incredible victory for him, unfortunately it wreaked havoc on his lungs.
In his final days his sprits were high, he lived every day as though it were his last…. He knew the gifts he had been given and how spectacular his life had been, Dad was ready.
The Pacific Northwest will always seem a little empty without the legendary Pat O'Day, All we can do is focus on the incredible role he had in making the Emerald City a better place to live, and the difference he made in people's lives.
As his Son, I could have never imagined a better role model for me as a Father. I have never met a more faithful, loving husband to his Wife Stephanie, his sons Garry, Jeff, Jerry, and daughter Kelsey.
He will be in my thoughts every day for the rest of my life.
Please respect the family's privacy through this time.
Jeff O'Day
…
Courtesy of the Seattle PI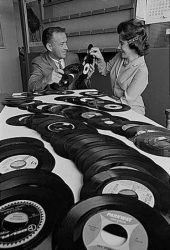 SEATTLE – Legendary Seattle disc jockey, concert promoter and Seafair race announcer Pat O'Day has died. He was 85 years old.
O'Day, who was dubbed the "godfather" of Seattle's teen dance scene, died peacefully Tuesday at his home in the San Juan Islands, his family announced.
As Seattle's highest-profile DJ of the 1960s and the region's dominant dance promoter, O'Day ran Northwest rock 'n' roll for nearly a decade and is credited with bringing the Seattle music scene to national prominence.
He is probably best remembered as the afternoon drive personality at Seattle's KJR, where he would eventually become program director and general manager. He owned KYYX in the mid-1970s and early 1980s.
Read More with Photos HERE
…
From Jerry O'Day's facebook page…
I will forever be grateful for the connection and beautiful relationship I have had with my father, Pat O'Day, They say that we pick our parents, but I wasn't smart enough to have made that decision.
.
My father was a gift from God! I adore him and cherish the many memories we had for 63 years. A few weeks ago, he was sharing his thoughts with me about his life. He said that he doesn't want anyone to feel bad when he passes. "I have had a great run, and wouldn't change anything. I have been lucky enough to live many lives…and for that I am thankful." Rest in peace, Pat. 
.
…
To ME, Pat was always a mentor, a role model. He was perhaps the most successful broadcaster in Puget Sound history, a promoter, a guy who kept super accomplishing in most everything he did. I had the privilege of working for Pat at KYYX-FM in Seattle. KYYX-FM was a visionary radio station, playing music of the 80's, a national leader and a powerhouse in the Pacific Northwest.
I have many stories. Here are just two:
THE KYYX-FM "CORPORATE FLAG" – I was widely know in those days for colorful, even flamboyant, sports coats. One day, I was wearing a custom made patchwork-style, multi-colored sports coat. Pat grabbed it, put it on a pole and hung it out of the radio stations 3rd floor window and dubbed it "The KYYX-FM corporate flag"!!!!
PAYCHECK – I used to pull a lot of stunts on Pat and the KYYX-FM General Manager, Bob Bingham. One day, Bingham came to me and said "Pat wants to see you in his office". I thought "what the hell did I do this time?" Pat wanted to present me with my monthly commission check. MY check was bigger than Bob Bingham's check (the General Manager) and even bigger that Pat's check (the owner!!!!). Something like this would NEVER happen in todays broadcasting world with all the huge corporate ownerships. ONLY with the entrepreneur, Pat O'Day, who did not hesitate to pay someone for creating super success.
Thanks, Pat O'Day, I will always remember what you did for me.
Pat's last Interview with George Towes sharing about giving his heart to Jesus Christ and being saved… Pat is now in Paradise for Eternity…
Thanks to Mike Barer for sharing this video below…