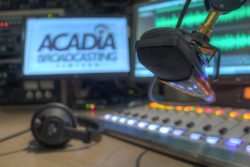 Acadia Broadcasting Limited, the parent company of this radio station, has entered into a letter of intent with HFX Broadcasting Inc. to purchase its two Halifax radio stations, CKHZ-FM and CKHY-FM, the companies announced Monday.
Chris Pearson, the president of Acadia Broadcasting Limited, welcomes the opportunity to acquire two stations in Halifax, increasing Acadia's presence in Nova Scotia. Acadia currently owns CKBW and CJHK in Bridgewater, CJLS in Yarmouth and CIGO in Port Hawkesbury.
"We're certainly looking forward to adding to the diversity of the Halifax market with our local brand of radio," said Pearson in a release. "We appreciate the opportunity provided to us by Evanov Communications."
Evanov Communications is the parent company of HFX Broadcasting. CKHZ-FM first went on air in August 2006 after Evanov won a competitive process for a new radio licence in the Halifax area from the Canadian Radio-television and Telecommunications Commission (CRTC). CKHY-FM started broadcasting in October 2010, becoming HFX Broadcasting's second Halifax-based station.
Paul Evanov, the president and CEO of Evanov Communications says the company is pleased to sell the stations to a broadcaster with strong roots in the region.
"Our companies have been in discussions about this for some time. We are very pleased that Acadia, a strong, independent East Coast broadcaster, will benefit from the addition of these stations to their roster," said Evanov in a release. "It is important to us that independent broadcasters, while adjusting to economic and market conditions, remain a vital component of the Canadian radio ownership landscape."
Acadia also owns four stations in New Brunswick, CHWV and CHSJ in Saint John, CHTD in St. Stephen and CKNI in Moncton.
The company also owns seven stations in Ontario, CJRL in Kenora, CKDR in Dryden, CKDR-2 in Sioux Lookout, CKDR-5 in Red Lake, CFOB in Fort Frances, and CJUK and CKTG in Thunder Bay.
The purchase of CKHZ-FM and CKHY-FM is subject to approval by the CRTC.
A version of this story originally appeared in Huddle, an Acadia Broadcasting content partner. Huddle Today Limited and Acadia Broadcasting Limited are each part of the Ocean Capital Group.