ON THIS DAY in 1904,
actor Ralph Bellamy was born in Chicago.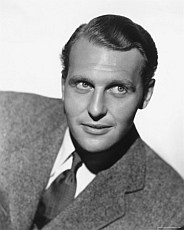 He starred in the early TV series Man Against Crime, & was host of Frontier Justice.  He played FDR in two mini-series, The Winds of War and War & Remembrance, and had feature roles in the mini-series Wheels, Arthur Hailey's The Moneychangers, Once an Eagle, & Testimony of Two Men. He died of a lung ailment Nov 29, 1991 at age 87.
In 1910, country singer/songwriter Red Foley was born Clyde Julian Foley in Blue Lick Kentucky. His hit songs include "Chattanoogie Shoe Shine Boy", "Old Shep", "Sugarfoot Rag", "Tennessee Saturday Night," & "Peace in the Valley."  Over two decades he sold in excess of 25 million records. He was host of the 50's ABC TV show Ozark Jubilee, and later was a regular on the 1962 Fess Parker series Mr. Smith Goes to Washington.  He died after a heart attack Sep 19, 1968 at age 58.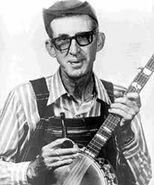 In 1915, country comedian/banjo player "Stringbean" was born David Akeman in Jackson County Kentucky.  He appeared regularly on radio on Grand Ole Opry, and on TV first in Ozark Jubilee & later (1969) on Hee Haw, for which most people will remember Stringbean.  He & his wife were murdered in their home by burglars Nov 11, 1973..he was 58.
In 1941, WNBT-TV, channel 4 in New York City, was granted the first construction permit to operate a commercial TV station in the United States. (WNBT signed on the air on July 1, 1941 at 1:29 p.m. but just months later went dark for the duration of WW2.) Owned by Radio Corporation of America (RCA), the station later changed its call letters to WRCA and finally WNBC.
In 1942, 'Suspense,' known as 'radio's outstanding theatre of thrills', debuted on CBS radio. The program kept millions of loyal listeners in suspense every week for the next 20 years.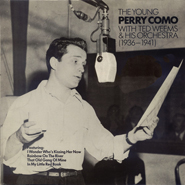 In 1943, singer Perry Como was signed by RCA Victor Records, just days after he had been planning to return to his Pennsylvania hometown and resume his career as a barber. He stayed with the label throughout his 50 year career.
In 1945, the original host of allnight radio's  Coast to Coast AM Art Bell was born. In 1992 he took the paranormal-themed show national via Premiere Networks, and  at its peak had more than 500 stations carrying the show.  Later that decade Bell announced the first of a number of temporary 'retirements.'  He permanently left the weekday show in 2003, but frequently returned to host on weekends over the next four years.  On July 20, 2015, he returned to radio with a new show Midnight in the Desert, which was mainly available streaming online.  However he quit the show after five months, citing security concerns at his home.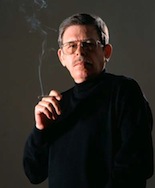 Art Bell died April 13 2018 at age 72.
In 1954, guitarist Danny Cedrone died of a broken neck suffered when he fell down a staircase.  Ten weeks earlier the 33 year old had recorded the lead guitar break on 'Rock Around The Clock' with Bill Haley and His Comets, for which he was paid a mere $21, although it is widely considered one of the greatest rock and roll guitar solos of all time.
Also in 1954, the televised Senate Army-McCarthy hearings ended.
In 1957, "So Rare" by the Jimmy Dorsey Orch peaked at #2.
Also in 1957, Pat Boone was in Hollywood to record what would be his 12th Top Ten single "Remember You're Mine" for the Dot label.
In 1958, Bobby Darin was in New York to record his own composition, "Early In The Morning," as the followup to his breakthrough hit "Splish Splash".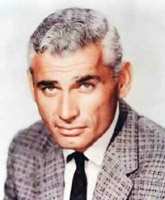 In 1961, actor Jeff Chandler, who starred on radio as detective Michael Shayne, and as Our Miss Brooks' love interest Mr. Boynton, died due to loss of blood during disc herniation surgery at age 42.  It was ruled medical malpractice.
In 1962, the Ed Sullivan Show on CBS-TV featured the Dave Brubeck Quartet playing their lone Top 40 hit track "Take Five."  The Highwaymen sang "Michael Row the Boat Ashore," Robert Goulet also sang, while impressionist Frank Gorshin and rhyming comedian Nipsey Russell supplied the laughs. And retired baseball superstar Ted Williams had tips for young athletes.
In 1964, The Supremes released the first of their five #1 hit singles in a row, "Where Did Our Love Go."
In 1965, working at Abbey Road studios The Beatles completed work on the new Paul McCartney song 'Yesterday' with the overdubbing of an additional vocal track by Paul and a string quartet.
Also in 1965, The Kinks arrived in New York City to start their first U.S. tour.
In 1966, in London The Beatles finished recording "Got To Get You Into My Life" at EMI's Abbey Road Studios. Paul McCartney later revealed that the song concerns marijuana, and was written just after he first smoked the drug.

Also in 1966, Paul McCartney bought a farm in Kintyre, Scotland, that was the inspiration for his 1977 ballad "Mull Of Kintyre," recorded by Wings.
In 1967, Barbra Streisand sang for more than 135,000 fans at her free concert in New York's Central Park.  It was videotaped and released Sept. 15th as the CBS-TV special (and Columbia soundtrack album) "A Happening In Central Park."
Also in 1967, Moby Grape released 5 singles simultaneously on CBS Records.
Still in 1967, the Hollies' "Carrie Ann" was released.

Again in 1967, "Somebody To Love" by Jefferson Airplane peaked at #5.
In 1968, Seattle's KOL-FM 94.1 switched from automated background music to "Progressive Rock",  a format based on album cuts and album sales, instead of the singles used in Top 40 radio.  Today it is soft a/c 'The Sound' KWSD-FM.
Also in 1968, the studio bubblegum group "Ohio Express" received a gold record for their single "Yummy, Yummy, Yummy."
In 1969, jazz man Charles Mingus came out of a two-year, self-imposed retirement to make a concert appearance at the Village Vanguard in New York City.
In 1971, Carole King went to No.1 on the Billboard album chart with 'Tapestry' for the first of 15 consecutive weeks.
In 1972, keyboardist Ron (Pigpen) McKernan played his final gig with the Grateful Dead at the Hollywood Bowl. He died the following March of alcohol-induced liver failure and internal bleeding.

Also in 1972, the No. 1 Billboad Pop Hit was "The Candy Man," by Sammy Davis Jr. The biggest pop hit of Davis' career, the song is featured in the film "Willie Wonka and the Chocolate Factory."
Still in 1972, Paul McCartney released "Mary Had a Little Lamb." The musical version of the nursery rhyme reached No. 28 on Billboard's Hot 100 and No. 9 in Great Brit[/img]ain.
Again in 1972, The Rolling Stones album 'Exile On Main Street' started a four-week run at the top of the Billboard charts.
In 1973, actor Luis Van Rooten, who on radio played the lead in Nero Wolfe, and a variety of supporting roles all over the TV & radio dial, died at age 66.
Also in 1973, Dolly Parton recorded 'I Will Always Love You' in RCA's Studio "B" in Nashville. It was dedicated to her one-time partner and mentor, Porter Wagoner (the two were splitting professionally at the time).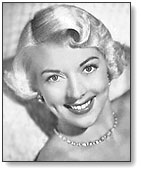 In 1974, actress Pamela Britton, best remembered as TV's Blondie, and Mrs. Lorelei Brown on the series My Favorite Martian, died of a brain tumour at age 51.
In 1977, guitarist Michael Schenker of the British hard-rock band U-F-O went into hiding for six months rather than tell the band that he wanted to leave. Schenker, a German, later said he didn't speak English well enough to explain how he felt. He eventually split with U-F-O in 1979 to form his own group.
Also in 1977, three years after the breakup of "Traffic," blue-eyed soul singer Steve Winwood released his first solo album, "Steve Winwood" on the Island label.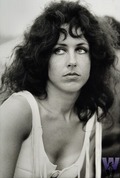 In 1978, Grace Slick was considered too drunk to go onstage with Jefferson Starship at the Lorelei Festival in West Germany, but did so anyway, performing badly and shouting Nazi taunts at the audience. The crowd rioted, destroying most of the band's equipment and causing damage totalling more than a million dollars.  The debacle led Slick to split with the band, as well as her husband of 8 years Paul Kanter. She did not return to Starship until 1983.
Also in 1978, Andy Gibb's 'Shadow Dancing' hit the top of the pop singles chart, thus making Gibb the first solo artist in the history of Billboard Magazine to have his first three releases reach No.1.  Spending seven weeks in the top spot, 'Dancing'  became the best selling single of 1978.

Still in 1978, "Cheeseburger In Paradise" by Jimmy Buffett peaked at #32 on the pop charts.
In 1980, Led Zeppelin began what would be their last tour of Europe with a show at Dortmund, Germany.
In 1982, disgraced former U.S. President Richard M. Nixon was interviewed by Diane Sawyeron "The CBS Morning News."
In 1984, the No. 1 Billboard Pop Hit was "The Reflex," by Duran Duran. It was the group's first No. 1 hit in North America.
 Also in 1984, actor Chet Allen, who was TV's first Amahl in the Christmas favorite Amahl & the Night Visitors (1951), died at age 51.
In 1985, "The Discovery Channel" signed on in the U.S.  First program was "Iceberg Alley."  Discovery Channel has since expanded to at least 27 channels all over the world.
Also in 1985, the notoriously reclusive Bob Dylan opened up on Bob Coburn's syndicated radio show "Rockline," taking calls from fans.
Still in 1985, Judy Norton-Taylor, who played the role of Mary Ellen on TV's The Waltons, said goodbye to her good-girl image as she was photographed nude for Playboy magazine.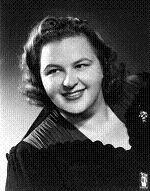 In 1986, rotund singer Kate Smith, whose rendition of "God Bless America" made her a symbol of U-S patriotism, following a long career in 30's & 40's radio as well as early TV, died of diabetes at age 79.
Also on this date in 1986, singer-pianist Bert Pearl, the founder of Canada's "The Happy Gang" musical troupe, died in hospital in Los Angeles at age 73. The Winnipeg native began "The Happy Gang" show on C-B-C radio in 1937, and its 22 years made it Canada's longest-running radio show. In 1955 Bert Pearl left the show & moved to California and became musical director for the Jimmy Durante and Gisele MacKenzie T-V shows. The "Happy Gang" reunited for a 1975 concert at Toronto's Canadian National Exhibition.
Still in 1986, Stevie Wonder opened his first North American tour in five years in Seattle. The tour, which played 64 cities in the U-S and Canada, carried the same name as Wonder's "In Square Circle" album. It was a tribute to a new U-S holiday in honour of Martin Luther King.
In 1988, Jack Leonard, the star vocalist for the Tommy Dorsey Orchestra (before Sinatra) from 1935 to '39, died of cancer in Los Angeles at age 73. He sang on two of Dorsey's biggest hits — "Marie" and "All the Things You Are."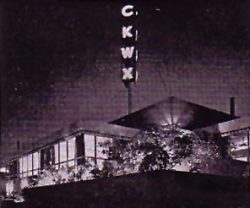 Also in 1988, Vancouver's CKWX AM 1130 moved to its new studios at 2440 Ash Street. The 1275 Burrard Street studios (above) had opened in 1956 as a strong positive statement about radio's future in the first decade of the so-called 'TV era.' 
In 1989, Ringo Starr announced he would begin touring again for the first time in several years. His first All-Starr Band included Clarence Clemons, Joe Walsh, Billy Preston, and Nils Lofgren.
Still in 1989, New Kids On The Block went to No.1 on the Billboard singles chart with 'I'll Be Loving You Forever', the group's first No.1 song.
In 1991, country entertainer Minnie Pearl suffered a debilitating stroke at age 78.  While it ended her career on stage she survived another 5 years, mostly in a nursing home.
Also in 1991, the 100th episode of "Star Trek: The Next Generation" aired.


In 1992, Dewey Balfa, the Louisiana fiddler who took Cajun music from the bayous to a national audience, died at 65 in Eunice, Louisiana. Balfa was described as the premier ambassador for Cajun music and culture throughout the world.
In 1994, O.J. Simpson, charged with the murders of Nicole Brown Simpson and Ronald Goldman, could not be located and was declared a fugitive from justice.  He was spotted in a white Ford Bronco belonging to Simpson's friend Al Cowlings on a Los Angeles freeway. Simpson had a gun (according to Cowlings who talked to police by phone from the Bronco). The pair led police on a 60-mile, televised low-speed pursuit through L.A. Seen by a world-wide audience, it was a gripping, if not excruciatingly slow, show.
Also in 1994, Latin pop singer Jon Secada fell through the rostrum as he was approaching the stage to perform to an estimated one-billion television viewers during the opening ceremonies of the World Cup soccer tournament in Chicago. Secada could not pull himself out, and since the band was already playing, he began singing with only his head above stage level. He was eventually pulled from the hole, and moved to centre stage to finish his performance. Secada was later diagnosed with a dislocated shoulder.

In 1995, British pop star Cliff Richard became Sir Cliff after being awarded a knighthood.
Also in 1995, Rod Stewart set an attendance record for Wembley Stadium with a concert crowd of 90,000. The 1985 Live Aid concert drew 72,000.
In 1997, Ozzy Osbourne cancelled his solo set and his reunion with Black Sabbath scheduled for an "Ozzfest" tour stop near Columbus, Ohio. Osbourne claimed he had lost his voice. Other groups on the bill performed as scheduled, but disappointed fans set fires and damaged the outdoor facility. Twenty-three people were arrested and three were slightly hurt. Osbourne and Black Sabbath played a makeup date two weeks later.
In 1998, r&b vocalist Jody Watley said she was told "by the powers that be" at Atlantic Records that although they intended to release her album "Flowers" outside of North America, the label would not release the project in the U.S.   Watley said she received no explanation when she was informed of the decision.
 In 2000
, the 
Grand Ole Opry
, carried since 1925 on WSM radio in Nashville, began webcasting at 
http://www.opry.com
 and 
http://www.wsmonline.com
.
.
In 2005, Soul Asylum bassist Karl Mueller died of throat cancer in Minneapolis. He was 41.
In 2006, veteran supporting actor Arthur Franz died of emphysema and heart disease at age 86.  He was featured on TV from the early days of live productions in dozens of series episodes and at least 8 TV movies.
Also in 2006, Ron Wood of the Rolling Stones entered rehab to kick his drinking habit, and recovered in time to join the Stones for their next world tour a month later.
Still in 2006, as part of her birthday honours list Queen Elizabeth awarded Aussie entertainer Rolf Harris with a CBE (Commander of the British Empire). His more recent arrest & trial on child molestation charges has severely tarnished his reputation.
In 2007, TV producer Ed Friendly, who with George Schlatter, created the 1960s' comedy hit Rowan & Martin's Laugh-In, then went on to produce NBC's hit dramatic series Little House on the Prairie, succumbed to cancer at age 85.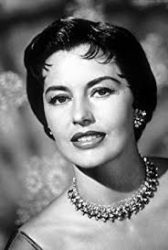 In 2008, 86-year old actress and dancer Cyd Charisse succumbed to a heart attack she had suffered the previous day.  Although mostly remembered for her big screen dancing Charisse was an oft-featured guest actress in dozens of TV series, and a co-star in her final role in the TV movie "The Empire State Building Murders" earlier in the year.
Also in 2008, George Michael kicked off the North American leg of his '25 Live' 106-date world tour at the San Diego Sports Arena in California.
In 2010, the former Guns 'n' Roses guitarist Slash was honored with his own star on the Hollywood Walk of Fame.
Also in 2010, Phil Collins received the Johnny Mercer Award at the 17th Songwriters Hall of Fame Awards in New York City. The award is the organization's highest honor.
In 2012,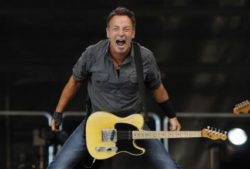 Bruce Springsteen played his longest show when he turned in a three-hour-and-48-minute, 32-song, set at the Estadio Santiago Bernabeu in Madrid.
in 2013, Pink Floyd's entire catalog was made available on Spotify. The band said their catalog would be unlocked if fans were successful in pushing the '75 track "Wish You Were Here" past a million spins. The effort took less than four days.
In 2014, veteran UK actress Patsy Byrne, who played dim-witted Nursie in the BBC-TV comedy 'Blackadder', died at age 80. The actress, who became well-known in the second series of the hit 1980s comedy, was classically trained and toured with the Royal Shakespeare Company.
In 2016, film actor Ron Lester, who had recurring roles in two 1999 TV comedies, Freaks & Geeks and Popular, died due to liver & kidney failure at age 45.
In 2017,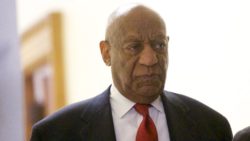 the first Bill Cosby sexual assault trial ended as a mistrial, as the jury failed to reach a verdict after five days of deliberations.
In 2018, to mark Father's Day, Toni Cornell, the daughter of the late Soundgarden frontman Chris Cornell, posted a video on YouTube of her and her father performing an acoustic cover of Prince's "Nothing Compares 2 U." Cornell died a little over a year earlier – 5/18/17.
In 2019, the mother of CNN anchor Anderson Cooper, the legendary socialite Gloria Vanderbilt, passed away at age 95.
In 2020, Victoria-born jazz musician/bandleader Hugh Fraser died.
Today's Birthdays:
Actor Peter Lupus (TV's Mission: Impossible) is 88.
Actor William Lucking (Sons of Anarchy, Murder She Wrote, Outlaws) is 79.
Singer Barry Manilow is 77.
Lead singer/guitarist Russell Smith with the Amazing Rhythm Aces is 71.
Actress Susan Damante (Adventures of the Wilderness Family, Romance Theatre) is 70.
Ontario-born Vancouver & Calgary hockey TV analyst John Garrett is 69.
Comedian Joe Piscopo (100 Deeds for Eddie McDowd, Sat. Night Live) is 69.
Rock and contemporary Christian singer Lenny LeBlanc is 69.
Actor Mark Linn-Baker (Twins, Perfect Strangers, Hanging With Mr. Cooper) is 66.
Actress Kelly Curtis (The Sentinel, Search & Rescue) is 64.
Actor Jon Gries (Dream Corp LLC, The Pretender) is 63.
Victoria-born actor Stephen Shellen (La Femme Nikita, Counterstrike) is 63.
Musician Philip Chevron (The Pogues) is 63.
Actor Daniel McVicar (The Bold & the Beautiful) is 62.
Singer Jello Biafra (Dead Kennedys) is 62.
Actor Thomas Haden Church (Divorce, Wings, Ned and Stacy) is 60.
Actor/talk show host Greg Kinnear (Rake, The Kennedys, Later) is 57.
Former chilld actress Erin Murphy (Bewitched) is 56.
Former child actress Kami Cotler (The Waltons, Me & the Chimp) is 55.
Actor Joshua Leonard (Heartbeat, Bates Motel) is 55.
Actress Dana Eskelson (Prince Street) is 55.
Actor Jason Patric (Wayward Pines, Teach 109, Toughlove, Sat. Night Live) is 54.
Singer Kevin Thornton of Color Me Badd is 51.
Actor/writer Michael Showalter (Wet Hot American Summer, Stella, The State) is 50.
Actor-comedian/voicist Will Forte (Sat. Night Live, The Last Man on Earth, Gravity Falls, Lab Rats, The Cleveland Show) is 50.
Actor Mark Umbers (Home Fires) is 47.
Toronto-born actress Jennifer Irwin (Breaking In, Still Standing, Slings And Arrows) is 45.
Actor Joshua Leonard (Bates Motel) is 45.
Actor Steven Martini (Prince Street) is 45.
Actress Heather Mazur (Awkward, Crash) is 44.
Actor Scott Adkins (EastEnders) is 44.
Actor Arthur Darvill (DC's Legends of Tomorrow, Broadchurch, Doctor Who) is 38.
Actress Jodie Whittaker (Doctor Who, Broadchurch) is 38.
Actor/rapper Jamal Mixon (The Parkers) is 37.
Actor Manish Dayal (The Resident, Halt & Catch Fire, 90210) is 37.
Country singer Mickey Guyton is 37.
Actor-rapper Herculeez of Herculeez and Big Tyme is 37.
Actor John Gallagher Jr. (The Newsroom) is 36.
Thunder Bay-born actress Marie Avgeropoulos (Cult, The 100) is 34.
Actress Rebecca Breeds (Pretty Little Liars, The Originals) is 33.
Rapper Kendrick Lamar is 33.
Actor Damani Roberts (King of Queens, All About the Andersons) is 24.
Actor KJ Apa (Riverdale) is 23.
Twin actresses Cali & Noelle Sheldon (Friends) are 18.
Chart Toppers – June 17
1949
Riders in the Sky – Vaughn Monroe
Again – Doris Day
Bali Ha'i – Perry Como
One Kiss Too Many – Eddy Arnold
1958
The Purple People Eater – Sheb Wooley
Do You Want to Dance – Bobby Freeman
Yakety Yak – The Coasters
All I Have to Do is Dream – The Everly Brothers
1967
Groovin' – The Young Rascals
She'd Rather Be with Me – The Turtles
Somebody to Love – Jefferson Airplane
All the Time – Jack Greene
1976
Silly Love Songs – Wings
Get Up and Boogie (That's Right) – Silver Convention
Misty Blue – Dorthy Moore
I'll Get Over You – Crystal Gayle
1985
Everybody Wants to Rule the World – Tears for Fears
Heaven – Bryan Adams
Things Can Only Get Better – Howard Jones
Country Boy – Ricky Skaggs
1994
I Swear – All-4-One
I'll Remember – Madonna
Any Time, Any Place/And On and On – Janet Jackson
That Ain't No Way to Go – Brooks & Dunn
2003
Miss Independent – Kelly Clarkson
Bring Me to Life – Evanescence
Get Busy – Sean Paul
Beer for My Horses – Toby Keith (with Willie Nelson)