(My Pillow CEO Mike Lindell speaks about the coronavirus in the Rose Garden of the White House, Monday, March 30, 2020, in Washington.

(Alex Brandon/AP)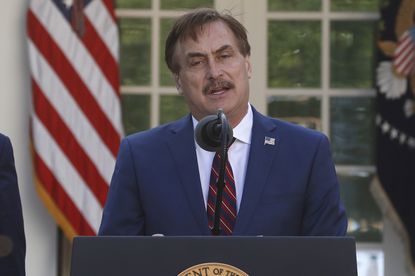 June 15, 2020
Several major advertisers, including T-Mobile, Disney and Papa John's, have pulled their financial support for "Tucker Carlson Tonight" following the host's criticism of the Black Lives Matter movement. However, one of the biggest advertisers on Fox News has no plans to follow suit.
In a statement to Newsweek, MyPillow CEO Mike Lindell, a vocal Trump supporter and Minnesota chairman of his reelection campaign, said the ads would continue.
"MyPillow is not changing its advertising. I make all my advertising decisions based on what is best for my customers and my employees. MyPillow believes all lives matter and values all our employees and customers, treating them like family."
Lindell himself is the star of MyPillow's advertising campaigns.