From the obituary published in the Vancouver Sun & Province.
It is with a heavy heart that we announce the passing of a loving husband, father, grandfather and great-grandfather, Ferdy Baglo, age 93, of Chilliwack, BC. He leaves behind his wife of 72 years, Magda (nee Johanson), and their four children: Glenn (Les) of North Vancouver, Carolyn (Eddie) of Burnaby, Dale (Elaine) of Victoria, Louise (Doug) of Chilliwack. He also leaves behind 10 grandchildren and 9 great- grandchildren.
Ferdy Baglo's lifelong love of communications began at the age of 16, when he was hired at radio station CKMO (later known as CFUN). In 1944, when CKNW radio was established, he was asked to be their first music director, and felt privileged to be a key member of their original staff.
There was a weekly live radio performance by a trio – "Fireside Harmonies with the Johanson Sisters". Magda Johanson, upon seeing Ferdy at the controls exclaimed, "Hands off girls! He's mine!". And he soon was!
In 1947, Ferdy craved a break from the hectic pace of radio, and signed aboard a freighter – as a crew member working his way to the Far East. A lifelong interest in photography and travel thus began. Upon his return, Ferdy proposed to Magda on Christmas Eve and they married the following March.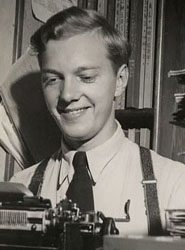 In 1951, Ferdy moved to Victoria and radio station CKDA.  But within the year he answered a call to the ministry, moving the family to Saskatoon, to attend the Lutheran seminary there-while simultaneously working shifts at CKOM radio. His first parish calling was to churches in Stockholm, Broadview, and Debuc in Saskatchewan.
In 1960, just two years after his ordination, the Lutheran church headquartered in New York offered Ferdy an extraordinary opportunity: a job offer that would take him to East Africa! After ten months of orientation at the mission school in Chicago, the entire Baglo family took up residence at an African village located on the 5,000 foot level of Mount Kilimanjaro. There, from 1961 to 1965, Ferdy would organize the construction of a production studio in Moshi and direct the recording of music and educational programs (usually performed in Swahili, but peppered with songs from other tribal languages) for broadcast throughout East Africa.
Upon the completion of his term there, Ferdy moved his family back to Chicago for re-orientation, and in late 1965, to the west coast of Canada, where he organized and pastored a new church in Tsawwassen: Benediction Lutheran.
In the 1970s, after a brief return to radio during which he worked to complete his Masters Degree in Sacred Theology, Ferdy led congregations firstly in Burnaby, then Langley, and finally Edmonton. In 1985, a communications job lured Ferdy to Winnipeg, where he became editor of the church's monthly national magazine, The Canada Lutheran.
In 1991, Ferdy retired, enabling a move back to the coast to be closer to family members and growing grandchildren. Still, during his "retirement" years, Ferdy served as editor of the national devotional publication "Eternity for Today" and contributed as a Canadian correspondent to the Ecumenical News International Geneva, in addition to performing many other clergical requests. His last guest appearance in the pulpit was to deliver his inspiring "Birth of a Nation" message for Canada Day 2016.
Ferdy and Magda came to spend twenty-seven years at their home in Chilliwack, often entertaining friends collected from a lifetime of travel and fellowship. After a fall at home in 2018 until his passing in 2020, Ferdy lived in a care facility, where Magda constantly visited. His first and no doubt last memories of Magda will be the songs she sang at their first hello and their last bittersweet goodbye. "Mungu ni Pendo" (Our God Is Love).
Ferdy passed away of natural causes on the evening of May 15, 2020. While no memorial service can be planned at this time, Ferdy Baglo will no doubt be remembered by many as a kind and considerate "scholar", a gentle man with a resonant and reassuring voice, whose thoughtfulness won him friends wherever his lifelong travels took him.