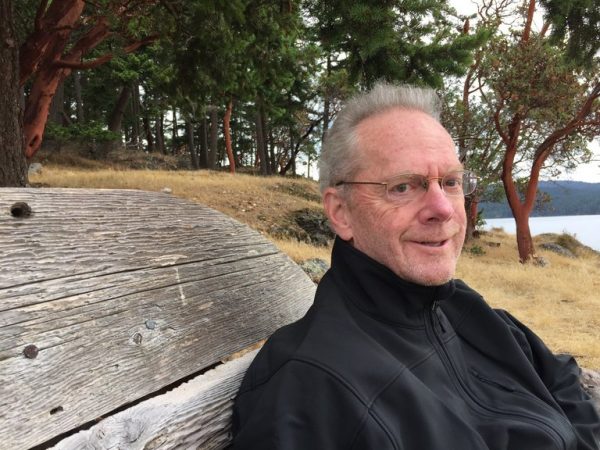 "I think when he was with his radio friends, he kept that funny persona up," Brown said Friday. "Even when his Parkinson's started to come in and he had a tremor on the right side of his body, he would tell them, 'I'm really good at making martinis and playing the tambourine.'
"But when Charlie would come home, one of the things I always told him was that our house was his safe place. 'Don't be on.' He could shut it off pretty fast."
Brown grew up in Burien and got his start in broadcasting hosting a morning radio show at Eastern Washington State College (now Eastern Washington University). After college, he got a job at KPUG-AM in Bellingham, then spent six years at KJRB-AM in Spokane.
He moved to Seattle in 1974 for a stint at KJR-AM, where he stayed for six years until he "retired" after a dispute over vacation time, according to a post on Puget Sound Media,
Not long after, Brown learned that a new general manager named Michael O'Shea was coming up from Los Angeles to convert a religious talk-radio station into what would be called "The New 93," and was looking for a program director and morning host.
Brown called three times before O'Shea — who knew of the DJ's "wild and zany" reputation — relented, and agreed to what he thought would be 45-minute lunch. It turned into a "four-hour gab fest" about radio, O'Shea said in an phone interview from his home in California.
"We just bonded," he said. He hired Mr. Brown as program director and morning DJ on the spot, and with a handshake.
The station launched on St. Patrick's Day 1981, with a tiny budget, no studio, no microphone in the control room and no way to record promos. But it made its own luck.
Mr. Brown knew that the KJR-AM studios had a broken bathroom window. So, at 3 a.m., he would crawl through, slip into the production studio while dodging the on-air DJ, rack a tape and record promo liners that he had written in advance, then slip back out and play them the next morning.
Read more  HERE.