May 13, 2020
courtesy InsideRadio.com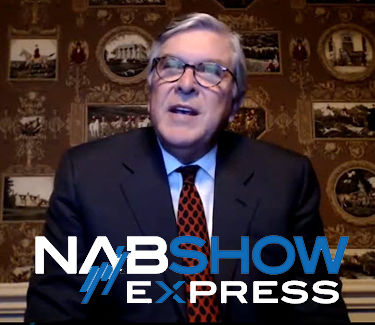 The NAB Show, which typically draws roughly a hundred thousand people to Las Vegas each April, was sidelined by the COVID-19 pandemic. But the show must go on, and its virtual replacement, which the National Association of Broadcasters has dubbed NAB Show Express, got underway with a message of fortitude. "Broadcasters endure," said NAB President Gordon Smith on Wednesday.
Smith said that he has heard from broadcasters that the pandemic has led to some "very difficult" decisions by its member companies, such as laying off employees, taking out loans to make payroll, or even closing their doors. "Right now, you are in the darkest valley, but know that for most Americans, you are their beacon of light and hope," he said. "As the world faces an uncertain situation with the COVID-19 pandemic, your work is more important than ever."
From hurricanes and 9/11 to countless charity events, local radio and TV has traditionally made public service part of its core business mission. Smith said as broadcasters feel the suffering of their communities, the industry is once again stepping up to raise funds for those who have lost their jobs, help feed the hungry, and support small businesses and local restaurants. "The response from broadcasters – who themselves are fighting for their lives and livelihoods – has been nothing short of phenomenal," he said.
The NAB estimates radio and television stations have now donated nearly $100 million dollars' worth of airtime for public service announcements related to the coronavirus. The tally for the initiative, which launched March 12, doesn't include the PSAs that local radio and television stations have created and aired on their own.
Read more  HERE.