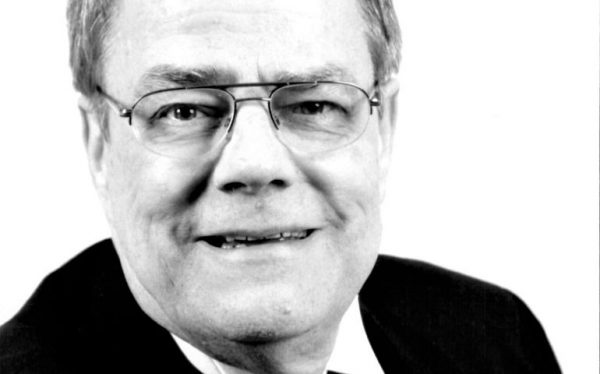 Nevin Grant pic provided by Heather Grant
.
Dave Charles Mourns The Loss Of Nevin Grant
.
Nevin Grant, a radio legend, and champion of CanCon for many years at CKOC, Hamilton, passed peacefully this afternoon May 6th, 2020.
His devoted wife Heather called me in tears having lost Nevin, the love of her life. For those of us close to him, we all lost someone very special Wednesday. The song American Pie by Don McLean came into my head after learning of Nevin's passing.  The day that music died … well, it never will, because Nevin Grant would never ever allow that to happen.
How can I possibly say thank you on behalf of the many radio personalities and music artists Nevin helped in his 38-year radio career, myself included?
It's impossible.  Let me give you some highlights of Nevin Grant's life and career:
He would have received the Allan Waters Lifetime Achievement Award and induction in the Canadian Broadcasters Hall of Fame this year. Neill Dixon assures me that we'll honour Nevin next year as CMW was cancelled due to the Covid pandemic. Neill was a promo rep for RCA Records in the early days of his career and knew Nevin well.
Nevin Grant 'The Hitmaker' was music director and later became PD of 1150 CKOC Hamilton from 1968 to 2003.
He started his career at CKOC in 1965 as a copywriter, moving into music, assistant program director and then program director.
He was an avid record collector from the 1950s, with over 15,000 45 RPM singles (not counting albums) from pop, rock, R & B, Soul and blues artists. One of my greatest joys was playing music trivia with Nevin.  He beat me every time I tried to better him.  Damn, he was good.  Only our mutual music friend Larry LeBlanc was at that elite level of music knowledge.
Nevin was a master at developing music research systems. His 1150 CKOC Hit Charts were very accurate because Nevin created amazing research systems and the record companies respected that. If CKOC charted a record, you'd better believe that was selling too. No amount of hype could change the honesty of Nevin's chart research. The CKOC Top 40 charts were widely collected throughout Southern Ontario.
Nevin was the 'heart and soul' of CKOC and supported and championed new Canadian artists like Hamilton's own Ray Materick. Also, great acts like Crowbar. Lighthouse, Keith Hampshire, Tranquility Base, and Peter Foldy.
In 1969, he was there to welcome the new 30-percent CanCon regulations with open arms. I remember the night he came into our CKOC control room and said every third song we play at CKOC would, from then on, be Canadian.
Nevin went on to be head of the Maple Leaf Music System with J. Robert Wood and other notable radio programmers to make sure that Canadian artists were heard on radio stations in their own country.
Nevin coached many great radio talents.  Among them: Roger Ashby, Ronald J. Morey, Gord James, Brent Sleighthom, Mike and Peter Jaycock, Hal Weaver, John Mitter, John Novak, Mike Kramer, Marty Adler, Bob Bratina, Rockin' Ray Michael, Ted Yates, and myself. Luckily we were to have Nevin Grant as our radio and music coach.
J Robert Wood, Roger Ashby and I had lunch with Nevin a few years back.  We noticed that his memory on music just never seemed to fade.  Sharp as ever.  As some of you may know, 1150 CKOC competed head-on with 1050 CHUM for Top 40 audiences.  When I was offered a position at 1050 CHUM, it was Nevin who said 'go and do it'. We never lost touch. He's the reason that I went on to develop my programming and international consulting career. I owe much of that to Nevin who helped me in my formative years.
Nevin loved to perform. He wrote and performed in the British Invasion stage show that he wrote and produced. He was a great background singer and loved the stage. Now you know!