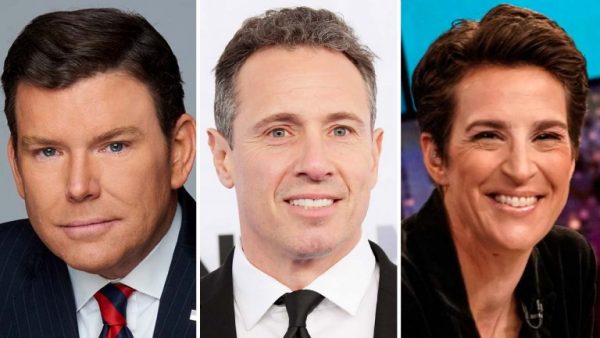 April was a huge month for cable news, with all three major channels posting big increases over the same time a year ago. Fox News and MSNBC each set all-time records, and CNN had its highest-rated month in more than a decade.

The three big cable news networks owned the top spots across all of cable for the month both in primetime and the total day: Fox News ranked first in both measures, averaging 3.68 million viewers in primetime — its best month ever — and 2.24 million for the whole day, per Nielsen same-day figures. MSNBC (2.04 million) ranked second in primetime, just ahead of CNN's 1.95 million. The two switched places in total-day rankings, with CNN at 1.36 million and MSNBC at 1.28 million.
The latter marks MSNBC's best showing ever in the total-day ratings. Several of the channel's daytime shows hit highs in April, including MSNBC Live With Stephanie Ruhle (1.4 million viewers), Andrea Mitchell Reports (1.6 million) and Deadline: White House (2.3 million).
Special Report With Bret Baier averaged 5.26 million viewers for the month on Fox News, leading all of cable news by a sizable margin. The Five (4.69 million) finished second; both shows frequently overlapped with the highly watched daily White House pandemic briefings.
Read more  HERE.