by Dylan McCullough for Kelowna Now        April 6 2020
.
There's a good chance much of the Okanagan has spent some time watching John Krasinski on The Office as self-isolation practices continue.
However, few could imagine Kransinski shining a spotlight on the region in his new web series Some Good News.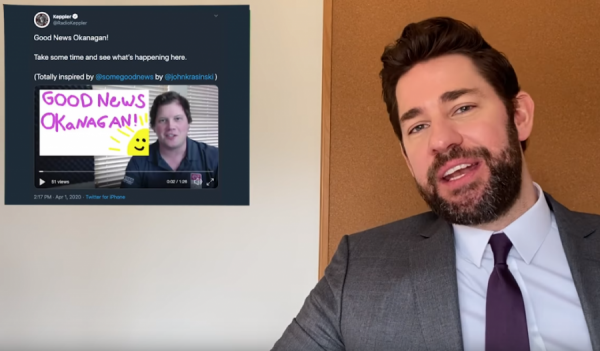 On Sunday, Krasinski kicked off Some Good News by hilariously calling out radio DJ Stephen Keppler from EZ Rock Kelowna.
"In Okanagan, Canada, @RadioKeppler anointed himself as my SGN coanchor without consulting a lawyer and he did a frustratingly good job," said Krasinski in this week's episode.
Krasinski proceeds to play a video clip of Keppler's where the local DJ highlights some good Kelowna related news such as an end to paid parking
Watch it below, with Keppler's call out coming about one minute into the video:
The Kelowna DJ took a moment to reply to Krasinski on Sunday night, inviting co-star from the Office onto his own radio show.