ON THIS DAY in 1917

arranger/bandleader Bill Finegan was born in Newark NJ. He arranged for the Glenn Miller Orchestra (1938-42), and for the Tommy Dorsey Orchestra (42-52.)  From 1952-57 he was co-leader (with Eddie Sauter) of the Sauter-Finegan Orchestra. He also wrote much special material for radio and television. He died June 4 2008 of pneumonia at age 91.
In 1920, pianist/composer Stan Freeman was born in Waterbury Connecticut.  In 1946, after getting out of the US Army he joined the Tex Beneke band. He was a piano soloist with the Cincinnati, Buffalo and Washington symphony orchestras. He played in night clubs across the USA and in London, and was featured as a team with Cy Walter. He also had his own radio shows, and made many records. He died of emphysema Jan 13 2001 at age 80.
In 1921, singer/actress Marilyn Maxwell was born in Clarinda Iowa. She was a radio singer before signing a film contract with MGM, singing & being ogled on the Abbott & Costello radio show. She was most famous as the blonde bombshell on Bob Hope's many USO tours around the world. She died March 20 1972 after a heart attack at age 51.
In 1922,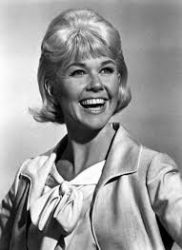 singer/actress Doris Day was born Doris Kappelhoff in Cincinnati. She began her career as a big band singer in 1939, achieving commercial success in 1945 with two No. 1 recordings, "Sentimental Journey" and "My Dreams Are Getting Better All the Time" with Les Brown & His Band of Renown. She left Brown to embark on a solo career and recorded more than 650 songs, and hit after hit, while making movies from 1947-67. Her 20 year career on the big screen was followed by her own 30-minute weekly CBS sitcom, 'The Doris Day Show' from 1968-73.  She died May 13 2019 at age 97.
In 1923, actress Jan Sterling was born in New York City.  Her pouty, sullen, sexy ways on screen didn't quite make her an A list movie star, and she capped her career with roles in TV's The Guiding Light & the miniseries Backstage at the White House.  She died March 26 2004 after a series of strokes at age 82.
In 1930, soprano Emma Albani, the first Canadian-born artist to achieve international fame, died in London.
Also in 1930, the fledgling film industry patted itself on its collective back at the 2nd Annual Academy Awards, presented to movies made during the 1928-1929 year. (Movies made during the 1929-1930 year were honored seven months later on November 5.) Best Picture was The Broadway Melody, Warner Baxter was voted Best Actor for his role in In Old Arizona, while Mary Pickford took home the Best Actress award for her part in Coquette.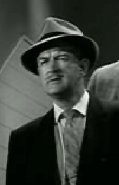 In 1939, Mr. District Attorney was heard for the first time on NBC radio. The serial about the "champion of the people" was originally a 15-minute nightly program. In June of '39, the program went to a half-hour weekly format. Pictured is Jay Jostyn who played the title role from 1940-52, when Mr. District Attorney became a syndicated TV show.
In 1942, People Are Funny was first heard on NBC radio. Art Baker was the show's first host. Art Linkletter took over the popular program on radio in 1943 and later moved it to television.
In 1943, Richard Manuel, pianist with The Band, was born in Stratford, Ontario. Manuel was still in high school when he joined Ronnie Hawkins' band, the Hawks. They became Bob Dylan's backing group in 1965 and were renamed The Band. Richard Manuel hanged himself in a Florida motel bathroom in 1986.
In 1948, "The Louisiana Hayride" known as the "Cradle of the Stars," debuted on radio station KWKH in Shreveport, Louisiana, with country stars Kitty Wells, Hank Williams, Johnny & Jack and the Mercy Brothers among the guests.  Horace Logan was the first host and producer.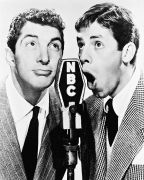 In 1949, the comedy team of Dean Martin and Jerry Lewis started their own weekly 30-minute show on NBC radio.  It never really caught on, because Lewis' brand of physical comedy was much more suited to a visual medium.
Also in 1949, radio station KQW, licensed to San Jose, California changed its call to KCBS San Francisco.
In 1952, Harry Belafonte recorded his first songs for RCA Victor at Manhattan Center in New York City. Hugo Winterhalter backed up the singer with an 18-piece orchestra. Among the sides recorded were A-Roving and Chimney Smoke.
In 1953, TV Guide was published for the first time — from Radnor, Pennsylvania (near Philadelphia). The publication reached a circulation of 1,500,000 readers in its first year.

In 1955, Fred Astaire appeared on television for the first time on CBS TV's Toast of the Town, with host Ed Sullivan, and danced with a golf club.  Also on the playbill were singers Sammy Davis Jr., Julius Larosa and Dorothy Dandridge.
In 1956, Elvis Presley performed on NBC-TV's "The Milton Berle Show," broadcast live from the aircraft carrier USS Hancock at San Diego. Elvis sang three songs, "Heartbreak Hotel," "Money, Honey," and "Blue Suede Shoes," viewed by an estimated 40 million people.
In 1957, Lloydminster radio station CKSA had its official opening, though they'd been on the air for a few days, at 1150 kHz with 1,000 watts of power.
Also in 1957, Elvis Presley performed twice at Ottawa's Auditorium, at 4:30 pm and 8:30, one day after his two shows in Toronto. His only other Canadian concert was at Empire Stadium in Vancouver that August.
In 1959, BBC Radio banned the Coasters' hit recording "Charlie Brown" due to its use of the word "spitball." The ban lasted only two weeks.

In 1960, the Everly Brothers made their British concert debut at the New Victoria Theatre in London.
Also in 1960, Elvis Presley recorded the songs "It's Now Or Never," "Fever" and "Are You Lonesome Tonight?" at the RCA Victor studios in Nashville.
In 1961, Paul Anka was a guest on the CBS-TV sitcom  "Make Room For Daddy." It wasn't much of an acting stretch, since Anka played himself.
Also in 1961, The Marcels started a three week run at No.1 on the Billboard singles chart with the Rodgers and Hart song 'Blue Moon.'
Still in 1961, 15-year-old Brenda Lee released what would be her 5th Top 10 hit, the ballad "You Can Depend on Me."
In 1965, Bob Dylan appeared on the pop music charts for the first time. Subterranean Homesick Blues entered the Top 40 at number 39. Dylan would chart a total of 12 singles on the pop charts between 1965 and 1979.

In 1965, the first big hit by Sam the Sham and the Pharaohs, "Wooly Bully" was released. It would go on to sell 3 million copies.
In 1969, rocker Jim Morrison turned himself in to the FBI in Los Angeles. He was wanted on six charges of lewd behavior and public exposure at a concert in Miami a month earlier. The Doors star was also charged with interstate flight to avoid prosecution in Florida, and was later released on $2000 bail.
In 1970, the British pub rock band Brinsley Schwarz was launched in a blaze of publicity. More than 100 English journalists were flown to New York for the group's first U-S appearance. The concert was a disaster, but the group survived and members like Nick Lowe and Ian Gomm had successful solo careers.

In 1971, "Just My Imagination (Running Away with Me)" by The Temptations topped the charts and stayed there for 2 weeks.  It was their 2nd No. 1 hit.
In 1973, Capitol Records issued two of the Beatles' greatest hits packages — "The Beatles — 1962-1966" and "The Beatles — 1967-1970."
In 1975, rocker Steve Miller was charged with setting fire to the clothes and personal effects of a friend, Benita DiOrio, and resisting arrest. However when the woman reneged on pursuing the charges they were dropped the following day.
In 1976, "Disco Lady" by Johnny Taylor topped the charts and stayed there for 4 weeks.
In 1977, Sid Vicious played his first concert with the Sex Pistols at "The Screen On The Green" in London.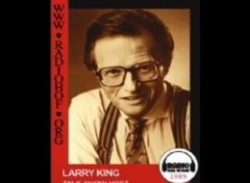 In 1978, the "Larry King Show," an interview and call-in program airing late nights on Mutual Radio, was moved from Miami to the network headquarters in Washington, D.C.
Also in 1978, the TV variety special "Cher.. Special" with guests Rod Stewart, Dolly Parton and The Tubes, aired in prime time on ABC.
Still in 1978, the stars came out to honor Star Wars and other films of 1977 at the 50th anniversary of the Academy Awards. Bob Hope starred as the host of the festivities at the Dorothy Chandler Pavilion. Although Star Wars won in six of the 10 categories in which it was nominated, Annie Hall took 4 Oscars including Best Picture, Best Director (Woody Allen) & Best Actress (Diane Keaton
In 1979, British singer and songwriter Kate Bush made her concert debut in Liverpool, England.
In 1980,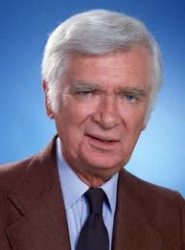 the final original episode of "Barnaby Jones" starring Buddy Ebsen, aired on CBS-TV.
In 1982, actor Warren Oates suffered a fatal heart attack at age 53.  His first job in TV was as stunt tester on 1950's Beat the Clock.  He appeared in New York-based live TV dramas like Studio One, but his drawl was deemed more appropriate for westerns.  In Hollywood he became a favorite of casting directors on filmed TV shows like Gunsmoke, The Virginian, Rawhide, The Rifleman, Wanted: Dead or Alive, Trackdown, etc etc.
Also in 1982, John Chancellor stepped down as anchor of the The NBC Nightly News, to be succeeded by the team of Roger Mudd and Tom Brokaw as coanchors.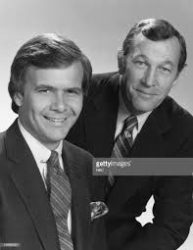 In 1984, producer Jack Douglas was awarded $3 million in royalties owed him by the estate of John Lennon, for his efforts on the 1980 Lennon/Ono album "Double Fantasy," released just 3 weeks before John's death.
Also in 1984, Van Halen's "Jump", their only #1 single, was certified as a Gold Record.
In 1986, the British pop group Simply Red began its first U-S tour in Los Angeles. The band's "Holding Back the Years" was beginning its climb to the top of the Billboard pop chart.
In 1988, the No. 1 Billboard Pop Hit was "Get Outta My Dreams, Get into My Car" by Billy Ocean.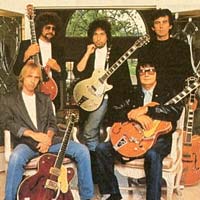 Also in 1988, The Traveling Wilburys, the all-star group comprised of George Harrison, Jeff Lynne, Roy Orbison, Tom Petty and Bob Dylan – began recording their "Handle With Care" album at a studio in Malibu.
In 1989, Pepsi scrapped plans to air commercials featuring Madonna's song "Like a Prayer." The company cited public confusion between the ads and the song's controversial video, which showed Madonna caressing a priest. Thus its denunciation by the Vatican.
Also on this date in 1989, 23 people were arrested when fans without tickets tried to crash a Grateful Dead concert in Pittsburgh.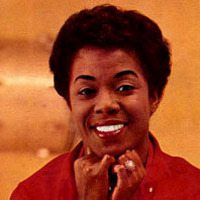 In 1990, legendary jazz singer Sarah Vaughan, known as the "Divine One," died in Los Angeles of lung cancer eight days after her 66th birthday.
In 1991, Paul McCartney was featured on MTV's acoustic showcase "Unplugged." The hour-long show, taped in London 10 weeks earlier, featured Paul's wife Linda on keyboards.
In 1992, actress Margaret Barker, who had running roles in TV soaps Another World, Edge of Night, & The Secret Storm, died of lung cancer at age 83.
In 1993, Ray Charles became the first performer to score chart hits in six different decades when his version of Leon Russell's "A Song For You" entered the Billboard Hot R-and-B singles chart. Charles' first track to chart had been 1949's "Confession Blues" as a member of The Maxin Trio.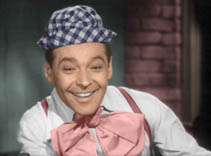 Also in 1993, Pinky Lee, host of his own NBC-TV kids show in the early 50's, suffered a heart attack and died at age 85.
In 1994, one of early TV's top commercial spokespeople, Betty Furness died at age 78.   She had become nationally known through her live Westinghouse commercials, and later was consumer reporter for WNBC TV New York.
Also in 1994, two new books claimed that Rolling Stones guitarist Brian Jones was murdered in his swimming pool in 1969. The alleged killer was London builder Frank Thorogood, who died in '93. The coroner had ruled Jones drowned while under the influence of alcohol and drugs.
In 1998, Michael Jackson's wife, Debbie Rowe Jackson, gave birth to their second child — a girl — in Beverly Hills, California.

Also in 1998, Dave Navarro left the Red Hot Chili Peppers.
In 1999, British composer-lyricist Lionel Bart succumbed to cancer in London at age 68. Bart was famed for his 1960 musical "Oliver," but squandered his fortune on booze and other excesses.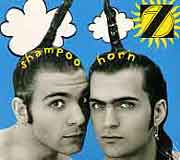 Also in 1999, "Happy Hour," a variety show hosted by Dweezil and Ahmet Zappa, debuted on cable's USA Network. The show, a wacky cross between "Laugh In" and "The Match Game," featured celebrity guests, as well as musical performances.
In 2000, things got ugly in Boston as the Ruff Ryders/Cash Money tour featuring top rappers DMX and Eve pulled into town. A brawl broke out backstage at the FleetCenter arena, during which five people were stabbed and one man was struck with a marble bench. The show was officially cancelled at 11 p.m. without any of the major acts having performed.

Also in 2000, Mariah Carey was admitted to hospital in Boston for treatment for food poisoning and dehydration caused by some raw oysters she ate in Atlanta two days before.
In 2001, blues singer-guitarist Lester "Big Daddy" Kinsey died of prostate cancer at age 74. Known for his croaky voice, Kinsey and his three sons were known as Big Daddy Kinsey and His Fabulous Sons. The sons later formed the Kinsey Report.
In 2005, the Juno Awards were presented in Winnipeg. Relative newcomers such as k-os, Billy Talent, and Feist, won multiple music awards. Avril Lavigne tied with k-os for the highest number of Junos received — three — for recordings released during 2004.
Also in 2005, former Alice in Chains bassist Mike Starr was arrested in Seattle for "investigation of property destruction and theft" after allegedly pulling a hood ornament off a car.
In 2006, Calgary's 66-CFFR switched from Oldies to become 660 News.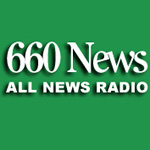 Also in 2006, Nickelback nabbed Group of the Year and Rock Album of the Year honors at the Juno Awards. Neil Young was also a two time winner earning the Adult Alternative Album of the Year honor for "Prairie Wind," and the Producer of the Year trophy for his work on "The Painter."  Bryan Adams was inducted into Canada's Music Hall of Fame.
Still in 2006, "Dani California," the first single from the Red Hot Chili Peppers' ninth album, "Stadium Arcadium," made its radio premiere when Houston disc jockey Don Jantzen played the song continuously on his three hour show.
In 2007, Rolling Stones guitarist Keith Richards denied his earlier assertion that he had snorted the ashes of his late father during a drugs binge. Jane Rose, Richards' manager, told MTV News the remarks were made "in jest", and she could not believe they'd been taken seriously.
In 2008, Mariah Carey smashed Elvis Presley's US chart record by scoring the 18th number one pop single of her career with 'Touch My Body', from her new album E=MC2. Only The Beatles, with 20, had more hit singles.
Also in 2008, Apple became the number one music retailer in the United States.

In 2011, Jon Bon Jovi and his wife Dorothea were victims of a robbery at their New Jersey home. The thief, later apprehended, reportedly made off with more than $100,000 worth of Dorothea's jewelry.
Also in 2011, the British singing sensation Adele set a record for the longest stay by a female with the #1 UK album, when her second album, "21," notched 10 straight weeks atop the chart. The prior record had been set 21 years earlier by "The Immaculate Collection," the first Greatest Hits album by Madonna.
In 2012, in New York, Elton John and Sting performed at a Carnegie Hall charity benefit for the Rainforest Fund.
In 2013, NBC announced that Jimmy Fallon (below) would succeed Jay Leno on the Tonight Show, and the program would be moved back to New York, the changes to take effect in the spring of 2014.                                                                                                        
In 2014, Arthur "Guitar Boogie" Smith died two days after his 93rd birthday.  He was a musician, songwriter, and producer of records, as well as a radio and TV host for decades. Smith hosted the first nationally syndicated country music show on television, and ran the first commercial recording studio in the Southeast.
Also in 2014, David Letterman announced he would retire from CBS-TV's The Late Show in 2015 (May 20th).
In 2015, Robert "Bob" Burns, the founding Lynyrd Skynyrd drummer who appeared on the band's "Sweet Home Alabama," "Gimme Three Steps" and "Free Bird," died in a single-car accident in Cartersville, Georgia, at age 64.
In 2016, 
 Burnaby-born actor/singer/deejay Don Francks died in Toronto of lung cancer at age 84. He starred on the Vancouver-based Burns Chuckwagon CBC-TV show in the mid 1950's, and became the overnight DJ at CKMO Vancouver.  In the early 70's he was known as Iron Buffalo allnights on CKVN/C-FUN.  On TV, he won two ACTRA Awards and appeared in many series including The Man From U.N.C.L.E., Mannix and, more recently, La Femme Nikita and Hemlock Grove.
Also in 2016, the iHeartRadio Music Awards honoured U2 for their contributions to the music industry and social causes with an Innovator Award.
In 2018, "Welcome To The Jungle" by Guns N' Roses was named "Best Workout Song Of 2018" in Gold's Gym's March Music Madness competition, an interactive bracket-based competition with songs nominated by celebrities.
In 2019, the Seattle-based cellphone giant T-Mobile struck a deal to offer Viacom channels to its customers, extending the telecom operator's foray into a turbulent pay-television industry.
Today's Birthdays:
Songwriter/producer Jeff Barry is 82.
Soap star Eric Braeden (The Young & the Restless) is 79.
Actress Marsha Mason (Frasier, Nightmares & Dreamscapes, Young Dr. Kildare) is 78.
Singer Wayne Newton is 78.
Singer Tony Orlando is 76.
British singer/guitarist Richard Thompson is 71.
Country bassist Curtis Stone of Highway 101 is 70.
Actor Tomas Arana (Intelligence 2014) is 65.
Actor John Laughlin (The White Shadow) is 64.
Guitarist Mick Mars of Motley Crue is 64.
Actor/TV host Alec Baldwin (Match Game, Sat. Night Live, 30 Rock, Will & Grace) is 62.
Actor David Hyde Pierce (Frasier) is 61.
Actress Lesley Sharp (Scott & Bailey) is 60.
Comedian-actor Eddie Murphy (Sat. Night Live, The PJ's) is 59.
Actress Elizabeth Gracen (Highlander, Suspense) is 59.
Actor Bill Sage (Nurse Jackie) is 58.
Singer-guitarist Mike Ness of Social Distortion is 58.
Hamilton Ont.-born actress Angela Featherstone (Exes and Ohs, The Guardian) is 55.
Retired actress Julie Anne Haddock (The Facts of Life) is 55.
Chef/TV personality Cat Cora (Iron Chef, Around the World in 80 Plates) is 53.
Singer/actor Sebastian Bach (Skid Row, Gilmore Girls, Trailer Park Boys) is 52.
Actor Ben Mendelsohn (The Outsider, Bloodline) is 51.
Rock musician Tony Fredianelli (Third Eye Blind) is 51.
Actress Leigh-Allyn Baker (The 7D, Good Luck Charlie) is 48.
Actress Jennie Garth (90210. Beverly Hills 90210, What I Like About You) is 48.
Actress Catherine McCormack (Lights Out) is 48.
Actor Adam Scott (Big Little Lies, Ghosted, Parks & Recreation) is 47.
Actor Jamie Bamber (NCIS, Monday Mornings, Body of Proof, Law & Order: UK, Battlestar Galactica) is 47.
Guitarist Drew Shirley of Switchfoot is 46.
Montreal-born actor Alessandro Juliani |(Battlestar Gallactica, Hot Wheels: Battle Force 5) is 42.
Actor Matthew Goode (The Good Wife, Downton Abbey, Dancing on the Edge) is 42.
Actor Robert Hy Gorman (The Home Court, Falcon Crest) is 40. 
Vancouver-born actress Cobie Smulders (How I Met Your Mother, A Series of Unfortunate Events) is 38.
Actress/voicist Chrissie Fit (General Hospital, The Subpranos, Milo Murphy's Law) is 36.
Actress Paula Rhodes (The New Adventures of Peter & Wendy, Barbie: Life in the Dreamhouse, A Good Knight's Quest) is 35.
Singer Leona Lewis is 35.
Actress Amanda Bynes (What I Like About You, All That, The Amanda Show) is 34.
Actor Jerry Messing (Freaks and Geeks) is 34.
Actress/voicist Rachel Bloom (Crazy Ex-Girlfriend, Robot Chicken) is 33.
Actress Hayley Kiyoko (CSI: Cyber) is 29.
Vancouver-born actress/voicist Sarah Jeffery (Shades of Blue, Rogue, Descendants: Wicked World) is 24. 
Actor Jackson Bond (In Case of Emergency) is 24.
Actress Kiana Lede (Scream: The TV Series) is 23.
Actress Paris Jackson (Star) is 22.
Bassist Sam Kiszka of Greta Van Fleet is 21.
Chart Toppers -April 3
1951
If – Perry Como
Mockingbird Hill – Patti Page
Aba Daba Honeymoon – Debbie Reynolds and Carleton Carpenter
The Rhumba Boogie – Hank Snow
1960
The Theme from "A Summer Place" – Percy Faith
Puppy Love – Paul Anka
Sink the Bismarck – Johnny Horton
He'll Have to Go – Jim Reeves
1969
Dizzy – Tommy Roe
Time of the Season – The Zombies
Aquarius/Let the Sun Shine In – The 5th Dimension
Who's Gonna Mow Your Grass – Buck Owens
1978
Night Fever – Bee Gees
Stayin' Alive – Bee Gees
Lay Down Sally  – Eric Clapton
Ready for the Times to Get Better – Crystal Gayle
1987
on Me – Club Nouveau
Nothing's Gonna Stop Us Now – Starship
Tonight, Tonight, Tonight – Genesis
Small Town Girl – Steve Wariner
1996
Because You Loved Me – Celine Dion
Down Low (Nobody Has to Know) – R. Kelly (featuring Ronald & Ernie Isley)
Ironic – Alanis Morissette
You Can Feel Bad – Patty Loveless
2005
Since U Been Gone – Kelly Clarkson
Caught Up – Usher
Obsession (No Es Amor) – Frankie J featuring Baby Bash
That's What I Love About Sunday – Craig Morgan