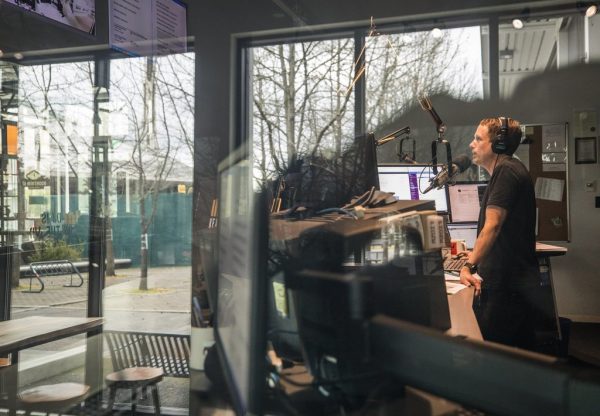 But these days there is no crowd. The stream of laptop-toters and curious tourists who normally give KEXP's spiffy, 4-year-old headquarters its pulse are gone, chased out by the global COVID-19 crisis that's upended life in Seattle and across the world.
"It's like I'm back at KCMU, DJ-ing in the dark," says Richards, referring to the station's predecessor and its solitary digs. "It is really symbolic, as we DJ, to look upon an empty Gathering Space, an empty courtyard. It reminds us what's going on. I gotta say, I don't like it. But it tells me every day this is the world I live in."
KEXP's offices are a ghost town, too, with few staffers coming in beyond the DJs, who now rotate between two booths as a safety measure. However, amid the physical isolation of a quarantining city, the community-funded station has been overwhelmed by messages from listeners eager to share their stories and offer words of encouragement. Even for a nonprofit indie station that prides itself on listener engagement, the volume has been high. On a recent Friday, Richards says he received 500-600 emails and texts — an unprecedented amount that has been flowing in since the beginning of March.
"Everyone wants to hear a human voice and music to help them escape," he says. "I can't keep up with it."
While Seattle's flagship radio station — with its small army of local DJs regularly playing hometown artists — is unabashedly local, it's well known outside the city and the inbox deluge is coming from online listeners around the world. A note from a West Seattleite sharing their home-schooling challenges might follow one from an anxious quarantiner in Ukraine. During these uncertain times, KEXP's transmissions from under the Space Needle's shadow have been a source of comfort and connection for many.
Read the rest of the story  HERE.