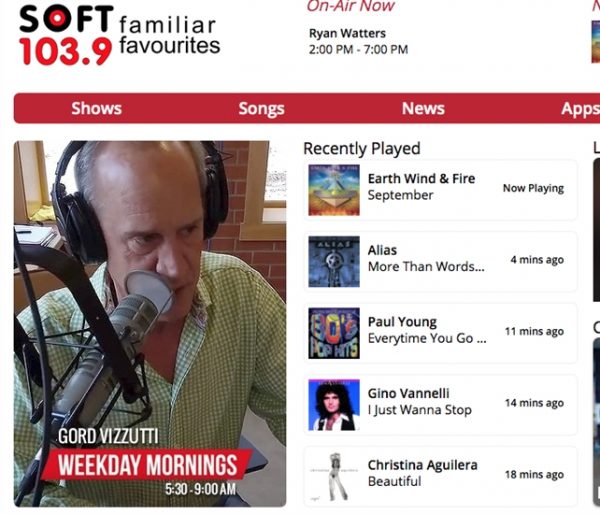 Image Credit: SUBMITTED/Soft 103.9
.
March 31, 2020 – 3:00 PM
.
Employees of Kelowna radio station Soft 103.9 said today they were hit in the latest round of media cuts.
In a Facebook post, one employee said: "One hour you are reporting the story and then you are the story. Avenue Radio, owners of Soft 103.9, has declared bankruptcy putting several wonderful people out of work."
The station is expected to go dark on Friday, according to the employee. Another employee confirmed the information, though didn't want to go on the record.
Avenue Radio, according to the CRTC last year, is wholly owned by Early Frost Investments Ltd., which is in turn wholly owned by J. Nicholas Frost. It shared an office in downtown Kelowna with Castanet.
Frost, however, said he had no comment on the station going dark, but to look out for a story on Castanet later today.
Frost sold Castanet to Glacier Media nearly a year ago for $22 million.
At that time, Glacier Media announced it would pay $2 million for Castanet's shares in Avenue Radio.
The acquisition of the Avenue Radio shares were subject to Canadian Radio-television and Telecommunications Commission Approval. That approval had yet to be granted after nearly a year.
Media agencies across the globe have reported reaching sky-high readership in the wake of the COVID-19 pandemic. Many that rely on advertising to survive, however, have suffered and there have been layoffs across the industry.
Last week Black Press, the largest newspaper chain in B.C., announced that it too was feeling the pinch and moved all of its properties to once a week distribution.
"Effective immediately, we are having to make the temporary decision to publish the Vernon Morning Star, Kelowna Capital News, Penticton Western News once per week as opposed to twice per week," according to an email sent to Capital News paper carriers.
Read the rest of this Infotel.ca story HERE.
HOW MANY OTHER ADVERTISER RELIANT STATIONS WILL FALL THIS SPRING??