Longtime Seattle broadcaster retiring from KIRO after more than three decades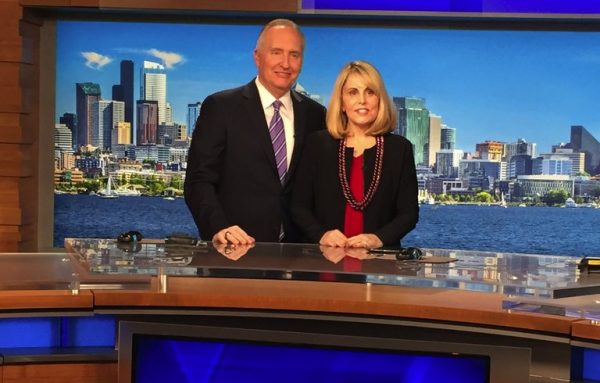 Steve Raible is that rare guy in sports — and journalism — who has gotten to make his own decisions about when it's time to walk away.
The KIRO news anchor and former Seahawks receiver understands just how remarkable this is as he prepares to retire as KIRO anchor later this spring — news that he announced on the air during Wednesday night's broadcast. He'll still be in our lives as the Seahawks radio play-by-play man, but at 65 he thinks it's time to step away from his day job.
"I've had two jobs in my adult life, working for the Seahawks as a player and broadcaster and working for KIRO 7 radio and television," Raible said. "And I've been able to make that decision both times. Not a lot of guys can do that, especially in football. You're told that, 'Hey, listen, you don't figure into our plans anymore. You're just not quite fast enough.' Or, 'We've got young guys who are making less money.'
"This way I kind of made that choice myself. It's the same with the TV gig. Because those young guys are coming in this business, too. Those guys with more hair and a deeper voice and who look better on camera."
Born and raised in Louisville, Kentucky, Raible played tight end at Georgia Tech and was drafted as a wide receiver by the expansion Seahawks in 1976 with the 59th overall pick. Raible was a rookie receiver for the Seahawks when they earned their first win, in 1976 against Tampa Bay. (His memories of that historic game are still sharp.) He played in 84 games for the Seahawks, making 68 catches for 1,017 yards and three touchdowns, all the while doing some broadcast work in the offseason.
He suffered a collapsed lung and missed much of the 1981 NFL season. The following offseason there were a number of opportunities at KIRO and he decided to make the leap rather than play a seventh season, something the Seahawks were open to.
"I think I made the right decision then," Raible said. "And so I think I'm making the right decision now."
Raible is making the move to spend more time with Sharon, his wife of 39 years. She has lupus and rheumatoid arthritis, and after four decades of waiting around for her husband's 12-hour days to end, the two will spend more time together while traveling the world.
Read the rest of the story  HERE.