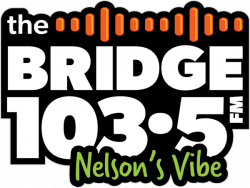 Vista Radio's CHNV-FM, one of four stations serving Nelson BC, has reverted to a prior identity after a decision that the Variety Hits format adopted in 2014 wasn't working.
Dropping the 103.5 The Juice branding, the station is now identifying as "103.5 The Bridge, Nelson's Vibe."
The playlist for the new format includes the best of Pop from such artists as Billy Eilish, Coldplay and The Black Keys, interspersed with more Alternative contributors such as Modest Mouse and Foster the People, and Classic Hits from the likes of Led Zeppelin and Aerosmith.
Program Director Sheldon Button delivers the breakfast show from 6-10 am; Middays with Matt fills the 10-2 slot; and Australian transplant Elouise handles Ellie in the Afternoon from 2-6 pm.
Our thanks to Connie Thiessen at Broadcast Dialogue for bringing this to our attention.